The Artistry of Ron Hinkle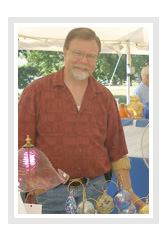 Fenton USA partnered with glass artisan Ron Hinkle to develop marvelous blown ornaments. A native of Buchannon, West Virginia, Ron is fascinated by the movement and flow of molten glass. His work has been featured on the West Virginia Governor's Christmas Tree and the Christmas Pageant of Peace trees at the White House.
Ron uses his glassmaking skills to create the classic Christmas tree ball shape, finished with a delicate loop of applied glass.
Each ornament is proudly signed by the talented Fenton artist who handpainted it. Shown are a few of Ron's creations for Fenton USA. These special ornaments sold out quickly.
The images below show Ron at work creating a Burmese ornament for Fenton Art Glass. (Photos below courtesy of Kitty Vickers, 2008)
Signature Pieces
01804X6
4 1/4'' Ron Hinkle
Limited Edition Ornament
with Bethlehem scene designed
by Kim Barley
Sold Out!

01804XM
4 1/2'' Limited Edition Roses Ornament
by Ron Hinkle for Fenton
with Roses design by Michelle Kibb
Sold Out!

C7377
Made for QVC in 2008,
this Cobalt Blue
4-1/2'' Ornament with
Canaan Valley design
by Kim Barley
Sold Out!