Frank O. Myers, Fenton's First Basket Handler
Frank O. Myers, Fenton's First Basket Handler About 1900, glassworker Frank O. Myers got his start at a glass factory in Indiana, Pennsylvania, the very same plant where our company's founder, Frank L. Fenton, had begun as a glass decorator in 1897.
A loyal member of American Flint Glass Workers Local Union No. 71, Myers became an apprentice, first learning to gather glass and, before long, mastering pressing and blowing operations.
By about 1910, Myers was a skilled finisher, able to reshape pieces, such as flaring and crimping the tops of vases in many different ways.
He was also adept at attaching handles to cruets or pitchers then called "jugs." From time to time, his employer marketed glass baskets, and Myers was the fellow who put the handles on the baskets.
The glass plant was destroyed by fire in mid-1931, leaving many without jobs. Myers came to work at Fenton on February 1, 1932, transferring his union card to Local Union No. 22 of the AFGWU, which enrolled Fenton's skilled glassworkers.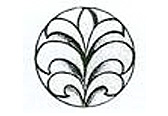 When Fenton decided to create baskets about 1939, Myers became our first basket handler. "He was very good at that job," Frank M. Fenton recalled, "and very helpful in training other skilled glassworkers to become handlers. That was important to us in the early 1940s when several different baskets were in our line."
For more information on creating Fenton handles, click here.