Robert Bomkamp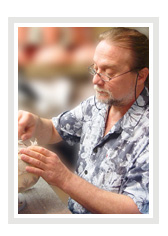 Artists Robert Bomkamp and Kelsey Murphy call their southern West Virginia studio "Made in Heaven," and the name is an apt one, indeed. Collectors and museums alike have come to regard Kelsey and Robert's work as "heavenly!"
Kelsey and Robert specialize in glass cameo carving, an exacting art that demands both skill in design and great dexterity in execution. They teamed with Fenton Art Glass to design and produce some remarkable limited edition pieces. Kelsey's Dragonflies on Ebony Favrene was part of Fenton's limited edition Horizons group in 2006, and her Gauley River Sunrise Vase (limited to 375) on Fenton's Burmese glass was an instant hit with Fenton collectors when it debuted in late 2006. Likewise, Robert's West Virginia Woodland lamp on Burmese sold out in record time.
Cameo carving is a painstaking process. After the glass has been annealed, a special mask is taped to the surface of the glass. Using an advanced "vignetting" technique, each piece is carefully sand carved, by hand, using aluminum oxide crystal under pressure to take away some of the surface. Great individual skill and experience are needed to control this operation, as many distinct stages of successive cameo carving are required to create the remarkable depth and the intricate details.
Fans and collectors of Kelsey Murphy and Robert Bomkamp's exquisite modern cameo glass may be interested in http://groups.yahoo.com/group/cameoglass. Discussion of other modern cameo glass artists, as well as the history of cameo glass, and anything else relating to cameo glass, is permitted.
Signature Pieces
02950QM
8-1/2'' Ginger Jar Set
"Just Ripe" Limited to 350 pieces
2009 Studio Fenton by
Kelsey Murphy
and Robert Bomkamp
$645.00 - Buy Now!

07707Z7
Temple Jar, 6-1/4'' ''Berry Temple''
Limited to 350 pieces
Kelsey Murhpy and Robert Bomkamp
$375.00 - Buy Now!

088116R
7-3/4'' Diameter Spring Watch Cameo
Carved Bowl ; Limit: 195
Designed by Kelsey Murphy and
Robert Bomkamp for Studio Fenton
$495.00 - Buy Now!

0897365
9'' Fairy Frolic Sandcarved Vase
Kelsey Murphy and Robert Bomkamp
Limited Edition Vase
$1,100.00 - Buy Now!