Fenton Glass Jewelry Site Coming Soon. . .
To Fenton Art Glass Collectors and Jewelry Fans,
The October 2, 2015 Fenton eNewsletter announced our new relationship with the John Barton Company of Philadelphia, PA. Our goal is to increase our product offerings and marketing reach and we are very excited about the prospects. John Barton markets fine men's jewelry and their current business includes major retailers and a number of name brand designer lines. They have a strong design staff working to bring new design directions to the Fenton Art Glass Jewelry brand. This background will be a very good fit with the special history and skills of Fenton.

We are pleased to announce the launch of their new web site, Fentonglassjewelry.com, on February 15th. Shown below is a screen shot from their web site. Fenton Glass Jewelry will offer handcrafted art glass beads and jewelry accessories, including many of our popular styles, as well as 74 new bead designs for first half 2016.

Starting Monday all sales of active and new bead styles will go through the new website. There are a number of convenient new features such as a wish list and an easy review of similar beads.

For a limited time, our current web site, fentonartglass.com, will continue to have available a selection of retired beads available. Please check there for last chance offers on limited quantity and custom designed beads.

Our designers, Truda "TJ" Mendenhall and Jena Lane Blair, have been working continuously for the last three months with the team at John Barton to develop the new designs. We are very excited about the results as the new collections are a beautiful combination of coordinating and timely colors and styles. Be sure to check them out on the new web site on Monday, February 15th!
Best personal regards,
George W. Fenton
---
Find a Fenton Dealer. . .
Many authorized Fenton dealers around the country still have beautiful Fenton Art Glass selections AND many now carry the Fenton jewelry line! Click here to find a Fenton dealer near you!
---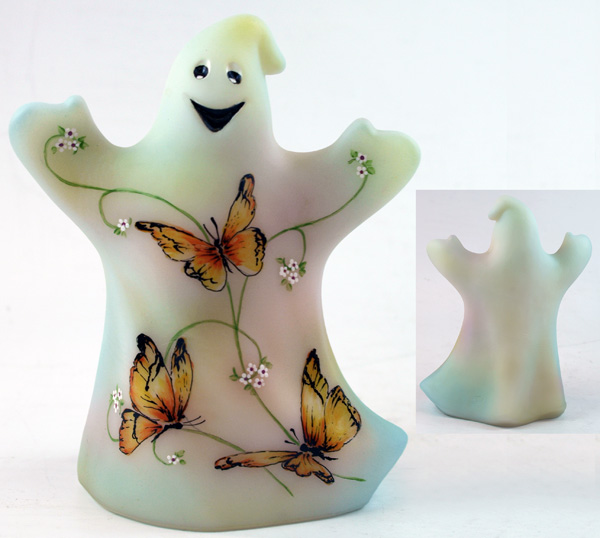 NEW Fenton Gift Shop
Limited Editions . . .
Fenton Gift Shop is pleased to
offer these four new Limited Edition selections. Each piece features a design by our award-winning Fenton artists, and will be hand painted, signed, numbered, and dated.

Included in this grouping are a 5.75" Opal Satin Ghost figurine, a 3.5" Crown Tuscan Sitting Cat figurine, an 8" Opal Satin Chessie Cat Covered Box and an 11" Opal Satin Alley Cat figurine, all handcrafted by Mosser Glass. Each of these Limited Edition pieces was made exclusively for the Fenton Gift Shop, using a Fenton mould.

You'll love the beautiful butterflies gracing the front of this Opal Satin Ghost figurine! Frances Burton airbrushed the entire figurine in soft pastel shades and added colorful orange and gold butterflies with black tipped wings. These winged beauties are fluttering gracefully amongst petite flower buds. Each Golden Butterflies Ghost is $95.
The soft pink pink pastel hue of Crown Tuscan glass provides the perfect canvas for Kim Barley's hand painted "Spring is in the Air!" design on our Sitting Cat figurine.

From the colorful flowers, stylized bluebird and bright butterfly to
the adorable snail and pink heart on the cat's nose, this figurine is a must have for any Fenton figurine collector. Each "Spring is in the Air" Sitting Cat figurine is $75.
Pre-orders for the Golden Butterflies Ghost figurine and the "Spring is in the Air" Sitting Cat figurine will be accepted until midnight (ET) on Monday, February 15th.
Kim Barley chose a beloved nighttime poem as her design theme for our Opal Satin Chessie Cat Covered Box. Her sleeping black and white kitten is shown snuggling with its own kitty toy. Twinkling stars and a golden moon watch over this tender scene. Kim added white dots and petite gem accents adorn this set for a wonderful "twinkling" effect. Each Twinkle Little Star Chessie Cat Covered Box is $210.

To pre-order any of these Limited Editions, please call the
Fenton Gift Shop: 1-800-319-7793, ext. 342 or send an email,
listing items you want to: purchasing@fentongiftshop.com. You may also request that we add your email address to Fenton Gift Shop's mailing list so you may receive future limited edition notifications.

Our magnificent 11" Alley Cat is handcrafted in Opal Satin and features
a hand painted design by Robin Spindler. She airbrushed the background in soft green tones of foliage and trees. As you view each side of this figurine you'll be amazed at the meticulous details of each hummingbird, the nests, and tree branches.

Robin's colorful hues capture the iridescence of these jewel-toned birds. And, as always, you've got to love that face (see close-up photos)!
Each Hummingbirds at Home Alley
Cat is $250.

Pre-orders for the Twinkle Star
Chessie Cat Covered Box and the Hummingbirds at Home Alley Cat will be accepted until midnight (ET) on Wednesday, February 17th.
---
If you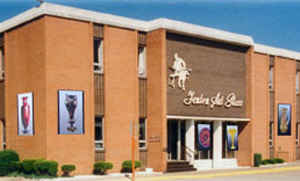 have a question about a piece of glass. . .
We no longer have the staff to respond to questions regarding glass identification, values of antique glass, or related matters that come to us through "Ask Fenton" or by telephone. There are two collector clubs devoted to Fenton glass, the Fenton Art Glass Collectors of America (FAGCA) and the National Fenton Glass Society (NFGS), that may be of assistance to you. Reference books on Fenton Art Glass are also available on our web site: http://www.fentonartglass.com/shop/product.asp?c=0&l=books and magazines, however, they do not include current price guides. We suggest you contact your local antiques dealer(s), the local library, or one of the collector clubs: http://www.fentonartglass.com/collectors. You may also find your piece listed on eBay, which may provide current pricing information. The Williamstown Antique Mall may also provide assistance: 304-375-6315. Otherwise, please send email inquiries about glass production to: purchasing@fentonartglass.com
---
Fenton's Weekly eBay Auctions. . .
Here's your opportunity to own a beautiful, unique, rare, or one-of-a-kind item through our weekly eBay Auctions! Each one-of-a-kind art glass creation is dated, identified and signed by the award-winning Fenton artist who designed it. Shown here are our latest offerings. Items featured this week. . .
This spectacular, one-of-a-kind Persimmon vase reflects all of the skills and talents of award-winning Fenton designer J. K. "Robin" Spindler. Her depiction of a lion family (male lion, lioness and cub) is called "Standing Guard." Made of Persimmon glass, this masterpiece stands 11" tall and will make a splendid statement in any home! All the hand painted details are meticulously done . . .
a great example of Robin's talents and skills. Persimmon is a cased glass with an inside layer of pure Milk Glass. This vase is identified, dated and signed on the underside.

Rosalene glass, made with pure gold in the batch, is a classic color from Fenton Art Glass, and this one-of-a-kind vase (7.5" tall) with hand painted roses decoration by Frances Burton is a splendid example. The exterior has a wonderfully soft, satin finish, and the interior is shiny, so the distinctive pink blush of Rosalene glass is shown to perfection! Note the ruffles and the tri-crimp, done by a skilled glassworker at Fenton. The delicate pink roses and green foliage are meticulously hand painted . . . a great showcase for the skills and talents of Frances Burton. This vase is identified, dated and signed on the underside.

Staged by a professional photographer in the 1950s, this 8" x 10" black and white photo captures a finisher's bench from the glass production area at Fenton Art Glass in Williamstown, West Virginia. Various glassworkers' tools can be seen on the bench, along with a bucket (used to keep finisher's paddles wet) and a long snap that would be used to
hold a glass item. This shot was done during the planning stage for a Fenton catalog. NOTE: This photo has the words "FPO Property of Fenton Art Glass" on it for this auction listing. The actual photo does not have this lettering.

Take a look at these offerings and other "Buy It Now" items available on our Fenton eBay Auctions.
---
For questions or comments, please do not reply to this email. Instead, email: askfenton@fentonartglass.com.

This email has been sent to you because you have agreed to receive offers and information from the Fenton Art Glass Company. We respect your privacy and do not sell your personal information. For details, please review our privacy policy.

How to unsubscribe: If you prefer not to receive offers or information from Fenton Art Glass, please use this page to unsubscribe.

If you use a Challenge-Response system for email, please make certain that you can receive our email by adding askfentononline@fentonartglass.com to your Allow List.

For specific instructions for major ISPs, click here.

The sender of this email is the Fenton Art Glass Co., 700 Elizabeth St., Williamstown, WV, 26187