Fenton USA Jewelry Presents. . . "Retired" Holiday Jewelry
Make your holiday fashion statement with handcrafted art glass jewelry from Fenton! As we prepare new designs for 2016, we are pleased to offer the "retired" seasonal selections shown below. Please note that quantities are limited and these items are available while supplies last! Be sure to check with your local Fenton retailer for their holiday specials! Click here to locate a Fenton dealer near you or click on each image below to order from the Fenton Art Glass web site!
Penguin
Playtime
$45

Feliz Navidad
$35
1 remains!

Cinnamon Gumdrop
$35

Peppermint
Twist
$39.50

Christmas
Cactus
$35

Velvet Kelly Green Bead-tween Spacer, $27.50

Velvet Cinnamon
Bead-tween Spacer $27.50

11074
Christmas Eve Pendant
Sterling Silver Fitting
Designed by
Jena Lane Blair
and
Truda ''TJ'' Mendenhall
$97.50, Buy Now!

Just eight remain of this "Christmas Eve" Pendant. The inspiration behind this design: "Not a creature was stirring!'' This pendant goes great with our Hammered Cable or Omega Chain Necklace!


The art glass part of this pendant measures approximately one inch in height with the overall pendant size
at two inches. The hand applied decoration was designed by Truda ''TJ'' Mendenhall with a three dimensional effect by Jena Lane Blair.

Each Pendant is initialed by the artist who completed it. We also have a matching smaller bead also named Christmas Eve... perfect to create a matching necklace and bracelet set!

Fenton USA Jewelry is handcrafted with quality and tested for durability and will fit most jewelry accessories, including our own line of handcrafted accessories.


11080 Oh Christmas Tree Earrings
$45.00/pr. Just 2 pair remain! Buy Now!

Add a touch of fun to your look this holiday season with our sparkling Oh Christmas Tree earrings with Swarovski crystal red accents. Designed by Kim Barley, each earring measures approx. 1" in height and features nickel free earwire. These earrings have been retired and are available while supplies last.
---
NEW Limited Editions from Fenton Gift Shop. . .
Fenton Gift Shop is pleased to offer new Limited Edition selections. Each piece features a design by our award-winning Fenton artists, and will be hand painted, signed and dated. Included are an 11" Opal Satin Alley Cat, a 5.5" Opal Satin Ghost figurine, a 3.5" Opal Satin Snowflake Ornament, an 8" Crown Tuscan Chessie Cat Covered Box, and a 5" Opal Satin Mouse Figurine on Fount ─ each made by Mosser Glass for the Fenton Gift Shop, using Fenton moulds.

There are so many wonderfully detailed areas on this Alley Cat that it is hard to capture in photos!

Robin Spindler created this marvelous hand painted winter scene complete with a church and a cabin with a colorful red roof! Icicles border a majestic waterfall flowing on the front of this Alley Cat. Note the two Deer standing near the water and don't miss that glowing campfire inside a tiny cave that is tucked into the space on the cat's curled tail! Each Winter Waterfall Alley Cat is $265.

Below: We continue our hand painted scenes from a beloved holiday story with another Opal Satin Ghost figurine, designed by Robin Spindler.Can you recognize the character depicted on this figurine?! And, if you purchased the first Tales of a Scrooge Ghost figurine, you'll want this one as well! Each Tales of a Scrooge #2 Ghost Figurine is $90.



A wonderful keepsake gift for someone special or treat yourself! Fenton designer Frances Burton has airbrushed the front of this Opal Satin 3.5" Snowflake Ornament in soft hues of blue and hand painted a whimsical holiday design of a Penguin holding a candy cane. Each Ornament will be signed by the artist who completed it and dated 2015. The back of the ornament has a beautiful snowflake design embossed in the glass. Each Candy Cane Penguin Snowflake Ornament is $39.50.
Pre-orders for the Winter Waterfall Alley Cat Figurine and the Tales of a Scrooge #2, and the Candy Cane Penguin Snowflake Ornament will be accepted until midnight on Monday, November 23rd.
Shown below: Handcrafted in Crown Tuscan, This 8" tall Chessie Cat Covered Box features a hand painted design by Robin Spindler.

She calls this design "Silent Night" and you can see how she came up with the name. . . the napping cat on the front and a shepherd guarding his flock and marveling at the bright shining star on the other side of this piece. Beautiful no matter how you view it!

Robin added gem accents for the star and as decorative details on the lid. Each Silent Night Chessie Cat Covered Box is $220.
Shown below: Handcrafted in Opal Satin by Mosser Glass, this 5" Mouse on Fount is a "must have" for Fenton Mouse figurine collectors! Kim Barley's festive holiday design surrounds the base and the mouse has been airbrushed in a natural color. Kim has added an adorable expression on the face and pink accents on the ears. Each Holiday Lights Mouse on Fount is $110 and limited to just ten pieces.
Pre-orders for Silent Night Chessie Cat Covered Box and the Holiday Lights Mouse on Fount will be accepted until midnight on Wednesday, November 25th.

To pre-order any of these Limited Edition items, contact the Fenton Gift Shop: 1-800-319-7793, ext. 342 or email, listing the item(s) you wish to purchase to: purchasing@fentongiftshop.com. You may also request that we add your email address to Fenton Gift Shop's mailing list so you may receive future limited edition notifications. Fenton Gift Shop's hours (ET): Wednesday, Thursday, Friday, and Saturday 10 a.m.- 3 p.m. and closed Sunday, Monday and Tuesday.
---
Great Holiday Gifts from Fenton Gift Shop. . .
Start your holiday shopping at Fenton Gift Shop! There is a nice selection of handcrafted art glass that was made at the Fenton factory. Prices vary, so be sure to call and reserve your item today and then check it off your holiday gift list! These collector favorites are available at Fenton Gift Shop, located at 420 Caroline Avenue, Williamstown, WV 26187. If you can't make it to Fenton Gift Shop, simply call or email to place your order: 800-319-7793, ext. 342 or email: purchasing@fentongiftshop.com. Please keep in mind, there may be just one or two of each item available while supplies last!

Deck your halls in Cobalt Blue with a sprinkle of Periwinkle this holiday season! Fenton Gift Shop has a nice selection of items in hues of blue from which to choose, including wonderful Cobalt Blue Christmas trees in three sizes, as well as our popular glass slippers, mini baskets and hummingbird figurines.

Create a unique gift with our versatile two-way votive candle holders . . . place wrapped candies inside the top opening or use as a candle holder with a taper or tea light. Shown at the top right is an Opal Mist Iridized two-way 4.5" Drapery Votive candleholder. A rainbow of colors is available. . . while supplies last at $27.50 each plus shipping (for mail orders).

The Angel figurines shown at right were included in our "Everyday Angels" collection. These inspiring winged cherubs come in an array of colors for year-round enjoyment. Each angel has a sentiment hand painted on the front of the gown with 22K gold highlights and sparkling ice for added charm and appeal. Shown are the "Faith" angel in blue and the "Hope" angel in iridized crystal. These hand painted angel figurines are $47.50 each plus shipping.

Fenton Gift Shop is open on Wednesday, Thursday, Friday and Saturday from 10 a.m. to 3 p.m. (ET) and closed on Sunday, Monday and Tuesday. Please contact the Fenton Gift Shop (304) 375-7772 or (800) 319-7793, ext. 342 if there is something you are interested in. . . We'll be glad to assist you!
---
Great Holiday Gift Idea!
A talented artist and devoted Franciscan nun, the art created by Sister Maria Innocentia Hummel is renowned for characteristic simplicity, celebration of innocence and warm reflection on human nature. Sister Hummel's natural, simple, harmonious and sometimes humorous works focus on the essential elements of the unspoiled innocence of childhood. Sister recognized childhood as an occasion of 'peace and goodness' that must be protected for each generation of children.

The enduring quality of the art, and the constant reminder that it is 'all about the children' is an appeal to the heart that spawned a worldwide legacy now into its second century. Since 1932 the craftsmen of ARS AG, Switzerland, have reproduced the sacred art of Sister M. I. Hummel, to be loved and enjoyed by countless generations.

The "Umbrella Girl" Pendant shown at right is handcrafted by Fenton Art Glass as an exclusive for M.J. Hummel Gifts by Newboden.

This Pendant features the popular and colorful "Umbrella Girl" Motif 152 appliqué on the front and the signature M.I. Hummel and Bee appliqué on the reverse side of a cream-colored art glass pendant.


This Pendant is gift boxed and includes a 24″ gold-tone chain.
Made in USA. $99.00 each, just six remain! Buy Now!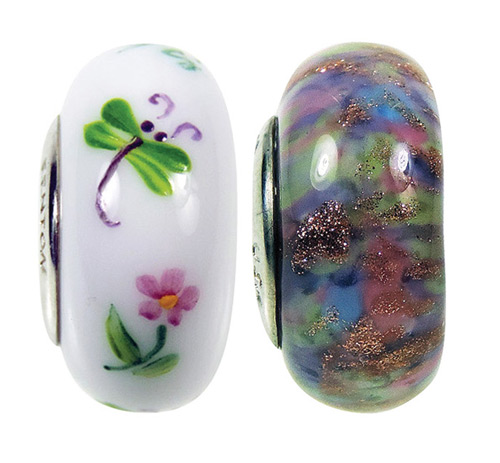 ---
Frequent Buyer Program. . . Earn YOUR Free Limited Edition Bead!
Here's your opportunity to receive a beautiful limited edition bead absolutely FREE!
Simply purchase ten beads from any authorized Fenton jewelry dealer or from our website: www.fentonartglass.com and you'll qualify for a bonus bead! Click here for details!
Current offerings are the Gracie (decorated) and Mikayla (Vasa Murrhina) beads shown at right.
Click here to view our handcrafted art glass beads. NOTE: If you have purchased ten beads,
let us know if we haven't notified you. . . please email: askfenton@fentonartglass.com and put "Frequent Buyer Qualifier" in the subject line.
---
Fenton Custom Designs for Beads. . .
We've received many requests for specially designed beads. Most of these designs are exclusive to one retailer or organization, so we can not sell them on our website. If your group or store is interested in a custom designed bead, please call for details at 800-933-6766, ext. 209. Click here to view custom designed beads with contact info for the retailers or organization from whom you may purchase them. Be sure to check back as we will be updating this list regularly! Please contact the retailer or organization listed beside each Custom Design bead and be
sure to say you saw it mentioned in the Fenton Newsletter!
---
Fenton's Weekly eBay Auctions. . .
Here's your opportunity to own a beautiful, unique, rare, or one-of-a-kind item through our weekly eBay Auctions! Shown here are our latest offerings.
Items featured this week...

Made by Fenton Art Glass as a special order for the Fenton Gift Shop in 1992, this Grape and Cable covered tobacco jar is a great example of "slag glass!" The glass colors used to create the "slag" effect are Fenton's Sea Mist Green and Milk Glass. When slag glass is produced, no two examples will be alike, as the glass colors mix and blend together differently every time! The mould for the tobacco jar was inspired by an original Northwood item that dates from about 1910. The Fenton mould was first used about 1968. The Grape and Cable tobacco jar is one of the most popular collectibles in the history of Fenton Art Glass.
Here's a once-in-a-lifetime opportunity to acquire a great two-part fairy light and gain insight into the design process for new products at Fenton Art Glass. The Ruby Santa two-part fairy light (4.75" tall) was introduced for Christmas 2003, and it became an instant hit. Ruby glass really glows when the tea-light (provided) is lit! The clever design was the work of sculptor Jon Saffell. He created a clay sculpture of this two-part fairy light to show at a New Product Development committee meeting. Jon's sculpture allowed committee members to see how the two parts would fit together. That group gave the "go ahead" to have the cast iron moulds made so the Santa fairly light could be produced in Fenton glass colors. Jon's clay sculpture is really a one-of-a-kind item, and you'll be able see how his design concepts were carried over into glass.
These two wonderful Fenton figurines are a perfect fit to any Fenton collection, and both of them are personally signed by Fenton Art Glass President George Fenton and by Fenton Gift Shop President Randy Fenton! The hand painted "Winter Aura" decoration on French Opalescent glass was designed by Michelle Kibbe for the Fenton Christmas line in 2009, and this Songbird (4" long) and Fawn (3.5" long) figurines are perfect for your holiday home decor or to add to a collection of Fenton Art Glass animal figurines. There is a bit of glitter or "ice" accents on the pine trees in this design, and the overall color effect is really quite splendid, as you can see in the photos. Each figurine is also signed by "P. Lauderman," the talented Fenton artist who completed each of these!
Take a look at these offerings and "Buy It Now" items available on our Fenton eBay Auctions. This Fenton eBay auction ends at noon (ET) on Wednesday, November 25th.
---
For questions or comments, please do not reply to this email. Instead, email: askfenton@fentonartglass.com.

This email has been sent to you because you have agreed to receive offers and information from the Fenton Art Glass Company. We respect your privacy and do not sell your personal information. For details, please review our privacy policy.

How to unsubscribe: If you prefer not to receive offers or information from Fenton Art Glass, please use this page to unsubscribe.

If you use a Challenge-Response system for email, please make certain that you can receive our email by adding askfentononline@fentonartglass.com to your Allow List.

For specific instructions for major ISPs, click here.

The sender of this email is the Fenton Art Glass Co., 700 Elizabeth St., Williamstown, WV, 26187