Browse Our Catalogs
---
2015 Jewelry Collection III. . .
Please browse the latest offerings included in our Fenton USA Jewelry 2015 Collection III. This collection is now shipping to authorized Fenton dealers around the country and is also available to order online or from the Fenton Art Glass web site. Simply click on each image for details and/or place an order. Check with your favorite Fenton dealer or shop our website for the latest in handcrafted art glass beads and accessories from Fenton USA Jewelry! Click here to locate a Fenton dealer near you!

Styles for any occasion, from dressy to casual, with new introductions for seasonal beads, bracelets, earrings, and pendants. Combine with Fenton's sterling silver accessories to create your own unique style this season! Jena Lane Blair designed all of the jewelry and glass treatments and Truda "TJ" Mendenhall designed the hand applied decorations. Each hand applied decoration is initialed by the artist who completed the piece.
Create it. . . Wear it. . . Love it!
---
Fenton USA Jewelry 2015 Collection III - Pg. 1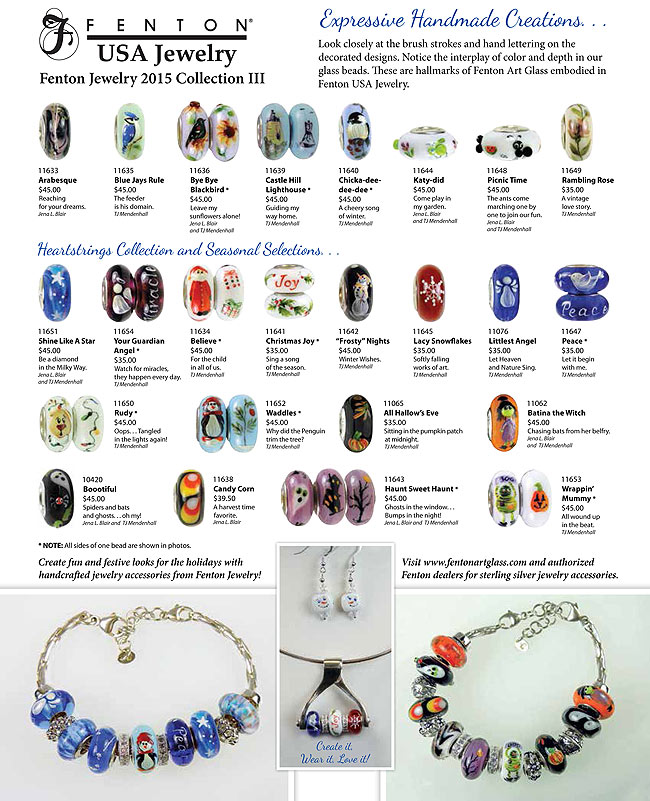 ---
Fenton USA Jewelry 2015 Collection III - Pg. 2
---
Expressive, Handmade Creations!
Share this page with a friend or mark your "wish list" choices and give to someone as a gift idea hint! Click here to view the entire Fenton USA Jewelry collection by ware#.
Don't forget about our Frequent Buyer Program. . . Earn YOUR Free Limited Edition Bead!
Here's how it works: Simply purchase ten beads from a single authorized Fenton jewelry dealer or from our website www.fentonartlgass.com and you'll qualify for a bonus bead! Click here for details! We offer two designs as our 2015 Frequent Buyer Program Beads. Click here to view the Fenton USA Jewelry collection. If you have purchased ten beads, let us know if we haven't notified you. . . please send us an email at askfenton@fentonartglass.com and put Frequent Buyer Qualifier in the subject line. Don't forget to accessorize with our Sterling Silver Jewelry! Click here to view the complete line of earrings, bracelets, pendants, and necklaces, including the pieces shown in this brochure.
Create it. . . Wear it. . . Love it!