Fenton Gift Shop Presents NEW Limited Edition Selections!
Our talented team of artists has created beautiful and creative designs, now available for pre-order on these made in America Limited Edition selections. Each Limited Edition will be signed, numbered and dated by one of our designers. The Crystal Iceberg Paperweight was made by Mosser Glass. The other Limited Editions were made by Mosser, using original Fenton moulds, for Fenton Gift Shop. RETURN POLICY: Returns are accepted on "undamaged" items. Returns are to be shipped within 30 days of receipt, at customer expense, to the Fenton Gift Shop, 2242 Williams Hwy., #108, Williamstown, WV 26187. A 5% restocking fee will be applied for this return. For damaged items, please contact Fenton Gift Shop at 800-319-7793, ext. 342.

This week's featured items include a hand painted landscape scene of a Moose in winter by Michelle Kibbe on our 8.75" Opal Satin Vase.

Michelle created her realistic scene with blue skies and a marvelous winter landscape with tall brown and white trees. Note the rustic barn that sits amongst the trees. A large bull moose with impressive antlers and watchful eyes rests on the snow-covered ground.

Did you know. . . The impressive antlers on the male moose are actually bone that is an extension of the skull. Their antlers grow in spring and, at the beginning of each winter they shed their antlers. Each Winter Moose Vase is $165.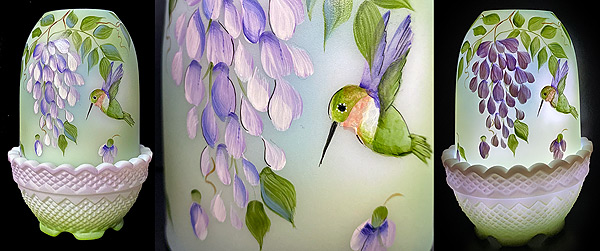 Collectors have enjoyed the charm of Fenton fairy lights for more than half a century. The flickering flame from a small candle inside a Fenton Fairy Light always seems to warm an entire room. Kim Barley's "Wisteria Hummingbird" design on our 4.75" Opal Satin Fairy Light will delight collectors as well as bird watchers. Her details on the cascading Wisteria blossoms were created in hues of soft purple, pink and white for lovely results. A stylized male Ruby-throated Hummingbird hovers near one of the Wisteria clusters. Different views of this fairy light are shown above. Note the top right view with the tea light emitting the soft glow. A wonderful gift for someone special. . . don't forget Easter is in April and Mother's Day is in May! Each Wisteria Hummingbird Fairy Light is $90 and includes a battery-operated tea light.

We offered an Iceberg Paperweight in a recent eBay auction that featured a design of a tiger resting on a branch above the water. Since then we've had requests for something similar to be offered as a Limited Edition selection. Your requests have been heard! Michelle Kibbe created another version on this 5.5" w. crystal Iceberg Paperweight (made by Mosser Glass). This version has a large male tiger at the watering hole. The tiger appears alert as if it detected movement or heard a noise. Note those mesmerizing golden eyes! Michelle added green leaves as accents to frame the scene. Each Tiger Iceberg Paperweight is $100.
Pre-orders for the Winter Moose Vase, Wisteria Hummingbird Fairy Light and the Tiger Iceberg Paperweight will be accepted until midnight on Monday, March 2, 2020. Please call Fenton Gift Shop at 1-800-319-7793, ext. 342 or email: purchasing@fentongiftshop.com to place your pre-order and include the names of the items you want to purchase in the subject line. Please include your full name and daytime phone so we may follow-up on your request. We may have customers with the same first name, so we also need a last name for verification.
The impressive size of this 11.5" Opal Satin Vase provides the perfect glass canvas for Robin Spindler's spectacular hand painted "Fox Kits" design.

The hand painted details are beautiful to behold, from the lush rose-pink blossoms to the delicate butterflies. Robin added a few gemstone accents to the butterflies for extra sparkle.

The fox kits are curious and seem to be checking out those fluttering butterflies, while the mother keeps an eye on their activities.

Did you know. . . The female fox is called a "vixen" and the male fox is called a "dog fox" or a "tod". The baby foxes are called "pups", "kits" or "cubs" and are born between March and May. A group of foxes is called a "skulk" or a "leash".

Each Fox Kits Vase is $210.

Here's the perfect companion piece for the Fox Kits Vase shown above. . . our 4.25" Natural Fox! This figurine is handcrafted in Caramel glass, which provides excellent background coloring for the body and the hand painted details by Robin Spindler. Note those golden-brown eyes! Each Natural Fox Figurine is $80.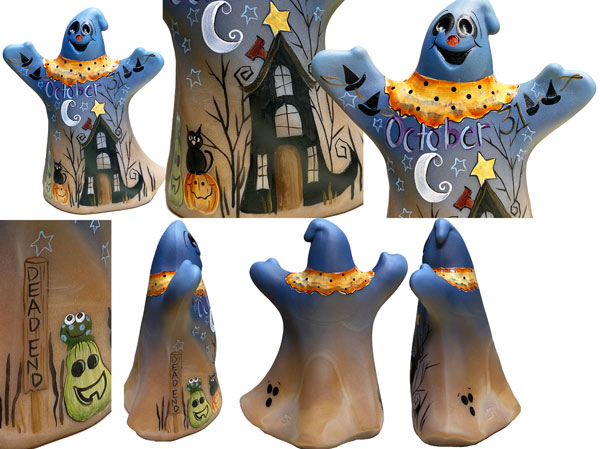 Kim Barley created this fabulous and fun whimsical Halloween design for our 5.75" Ghost figurine. This version is hand painted on Caramel glass. Note the interesting color swirls, especially on the back. Kim added blue tones as the background on the top half, leaving the bottom half in rich Caramel glass, perfect for her "DEAD END" and the green spotted frog peeking above the green carved gourd. Each Oct. 31 Dead End Ghost Figurine is $115.
Michelle Kibbe's recent design (February 7 newsletter) of a dragonfly was so popular that she decided to continue it on our 3.5" Sitting Bear figurine. The Opal Satin has been airbrushed to a soft skin tone. The delicate dragonfly adorns the top of the head in hues of purple, pink white, and black.

Michelle created colorful pink and yellow blossoms over the front area and added another bloom on the back. Note the adorable expression and those eyes! This adorable figurine is sure to please the young and the young-at-heart. Each Dragonfly Sitting Bear Figurine is $80.

Pre-orders for the Fox Kits Vase, Natural Fox Figurine, Oct. 31 Dead End Ghost Figurine, and the Dragonfly Sitting Bear Figurine will be accepted until midnight on Wednesday, March 4, 2020.

To pre-order any of these Limited Editions, call Fenton Gift Shop at 1-800-319-7793, ext. 342 or send an email to: purchasing@fentongiftshop.com and include the names of the items you want to purchase in the subject line.
Please include your full name and daytime phone so we may follow-up on your request. We may have customers with the same first name, so we also need a last name for verification.
---
Fenton Gift Shop Gifts for All Occasions. . .
Visit Fenton Gift Shop for unique and beautiful handcrafted gifts! Choose from a wide, varied selection of Fenton Art Glass, including vintage glass and new Limited Editions in beautiful colors and designs, as well as unique gift items.

Visiting our area? Stop by the WV Welcome Center (Exit 185 off of I-77) for a free Visitor's Guide for our area. Fenton Gift Shop is located in a small strip mall on State Route 14 in Boaz, just minutes from the original Fenton Art Glass factory site. Interested in any of the items shown here? Call 800-319-7793, ext. 342.

Fenton Gift Shop
2242 Williams Highway, Ste. 108, Williamstown, WV 26187

800-319-7793, ext. 342
304-375-7772 purchasing@fentongiftshop.com
---
Glass Identification Requests. . .
We no longer have staff to research inquiries about glass: value, history, identification, etc. Reference books on Fenton Art Glass do not include current price guides. We suggest you contact your local antiques dealer, the local library, or one of the collector clubs: http://www.fentonartglass.com/collectors. The Williamstown Antique Mall (local) may also assist you: 304-375-6315 or email: antiquemall@suddenlinkmail.com. A piece like yours may be listed on eBay, which can provide current pricing information. Otherwise, please email glass "production" questions to: askfenton@fentonartglass.com. For info on selling or placing a value on your Fenton Art Glass, click here.
---

Fenton Art Glass Authorized eBay Auctions. . .
Here's your opportunity to own a lovely "one-of-a-kind" Fenton Art Glass creation through our weekly Fenton Art Glass eBay auctions. These Fenton Art Glass eBay auctions will end at 2 p.m. (ET) on Wednesday, March 4, 2020. Please click on the ebay logo to view all featured items.
Shown, far left: Designed and sand carved by cameo glass artists Kelsey Murphy and Robert Bomkamp, this Persimmon glass vase (10.75" tall)
is a thing of beauty! Titled "Morning Sun," the vase features a highly detailed scene of trees
and ground foliage as well as geese
in flight.
Persimmon is a cased glass,
having milk glass
on the interior and ruby glass on the exterior.
Sand carving is a difficult, labor intensive process involving design work to conform to the shape of the vase, followed by masking the surface to lay out the design. The cameo artist uses aluminum oxide crystals under pressure to take away some of the outer layer of glass, and this meticulous process creates both the intricate design and the varying tones of orange and yellow that you can see in the photos. On the underside, this vase has the words "Morning Sun" as well as the Fenton USA logo and the signatures of Kelsey Murphy and Robert Bomkamp. Fenton Gift Shop president/treasurer Randy Fenton has also personally signed this vase.

Perfect for Spring, this one-of-a-kind stylized Cat figurine (5" tall) in hand painted Opal Satin glass by Fenton artist Michelle Kibbe is a real sight to behold! The lush, multi-colored flowers are a perfect complement to the remarkably lifelike hand painted Bluebird that is perched on a branch ... we can almost hear its delightful song to welcome Spring.

We are pleased to offer a unique design by Fenton artist Kim Barley for this "butter tub", made by Mosser Glass.
Before refrigerators were used in households, butter was stored in a round or rectangular covered dish. This version is handcrafted in Black Raspberry glass, with a satin finish on the outside and a glossy interior. This versatile 4.5" x 4.5" Covered Box may be used as a treasure box to store precious keepsakes or as a candy box. . . or think "outside the box" and discover a new use for this Covered Box. Award-winning Fenton artist Kim Barley's wonderful hand painted "Rock and Roll" motif on this Covered Box is definitely designing "outside the box"! Kim is a super fan of a certain Rock and Roll legend, (initials are "EP"). She honors one of his popular hit songs with this design. Musical notes represent the opening lines of a love song... the red hearts are a hint to the title! The lid is painted to represent an LP on a record player. Kim hand lettered "ROCK AND ROLL" as well as the years 1950, 1960, and 1970 on the handle. The keyboard and musical notes encircle the box. We're sure this Covered Box is sure to start many an interesting conversation. These official Fenton Art Glass eBay auctions will end at 2 p.m. ET on Wednesday, March 4, 2020.
---
NOTE: If you can not see the images in this newsletter after it arrives in your email "in box", please use the "Trouble viewing this email? Click here" link at the top of the page. The newsletter link will open as a new page in your web browser, complete with images. Our website is currently undergoing maintenance. We apologize for this inconvenience.