Fenton Gift Shop Presents. . . New Limited Editions!
Our talented team of artists has created beautiful and creative designs, now available for pre-order on these made in America Limited Edition selections. Each Limited Edition will be signed, numbered and dated by one of our designers. The Cobalt Iceberg Paperweight was handcrafted by Mosser Glass. The other Limited Editions were made by Mosser, using the original Fenton moulds, for Fenton Gift Shop. RETURN POLICY: Returns are accepted on "undamaged" items. Returns are to be shipped within 30 days of receipt, at customer expense, to the Fenton Gift Shop, 2242 Williams Hwy., #108, Williamstown, WV 26187. A 5% restocking fee will be applied for this return. For damaged items, please contact Fenton Gift Shop at 800-319-7793, ext. 342.
Above: Michelle Kibbe chose the petite Northern Saw-whet Owl as her subject for this 7" tall by 5.5" wide Cobalt Iceberg Paperweight, handcrafted by Mosser Glass. The rich blue color of the glass provides the perfect canvas for Michelle's wonderful rendition of this little owl. The owl is perched on a pine cone covered branch with a full moon and pine tree landscape in the background. Note those adorable golden eyes!

Did you know. . . Northern saw-whet owls are the smallest owls in eastern North America and are about the same size as an American robin. Speckles and stripes in the feathers of Northern Saw-whet owls provide camouflage when they are roosting and hunting. Each Saw-whet Owl Iceberg Paperweight is $110.

Right: A colorful dragonfly adorns the tail area of this 4.25" Opal Satin Fox Figurine. Michelle Kibbe's hand painted design also includes flower blooms in a raspberry hue with green leaves. A single flower adorns the top of the head as well as a stem on the other side. Note those black eyes and black tipped ears! The photo below shows additional views of this figurine. The figurine has a light brown background with green tones on the painted area. Each Dragonfly Fox Figurine is $80.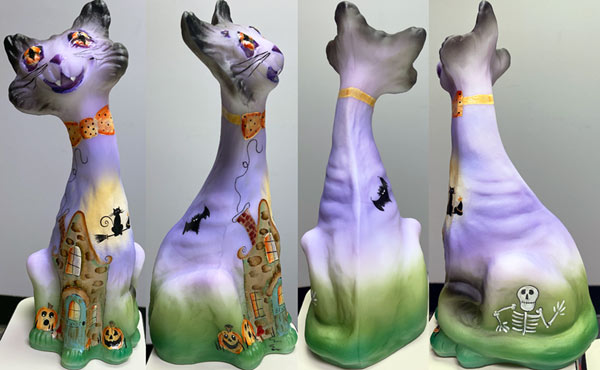 Kim Barley continues her popular Halloween theme with her "Beware" hand painted design on our 11" Opal Satin Alley Cat.

You'll delight in all of the whimsical details... from the skeleton and bat to the rustic stone house with the word "BEWARE" on the door to the black cat on the witch's broom. A witch hat is attached to the broom handle. The bottom area of the figurine is painted in dark green with a blend of purple and white hues above.

Kim added gray accents and whiskers to the face. Note those bright orange and black eyes edged in purple, purple nose and that smile with pointy front teeth!

The Alley Cat is among the most collectible items in Fenton history and one of Fenton's most popular items since it was first made in 1970. Fenton collectors just can't seem to get enough of the Alley Cat's characteristic grin!


The mould for this piece originated at the U.S. Glass Co. in Tiffin, Ohio during the 1920s and was purchased by Fenton Art Glass in the mid-1960s. Since that time, this Alley Cat has been made in a rainbow of colors and decorative treatments. Each Beware Alley Cat Figurine is $185.
Pre-orders for the Saw-whet Owl Iceberg Paperweight and the Dragonfly Fox and Beware Alley Cat Figurines will be accepted until midnight on Monday, February 10, 2020. To pre-order, please call Fenton Gift Shop at 1-800-319-7793, ext. 342 or email to: purchasing@fentongiftshop.com and include the names of the items you want to purchase in the subject line. Please include your full name and daytime phone so we may follow-up on your request. We may have customers with the same first name, so we also need a last name for verification.
Robin Spindler continues to channel another era with her latest "tie-dye" design. For this week's Limited Editions, Robin chose to paint her popular design on our Opal Satin Santa figurine.

She airbrushed and hand painted the 8" tall figurine, resulting in an amazing blend of multi-colored brushstrokes producing the "tie-dye" pattern.

You'll love the vibrant shades of blue, red, yellow, orange, green, and pink. We're sure this figurine will appeal to the young as well as the young-at-heart!

The scroll in Santa's hand has the words "Peace on Earth" hand lettered on it and also includes a gem accent. Santa has bright blue eyes with long eyelashes. The robe has white fur trim and a blue and white striped cord.

If you recently ordered Robin's Tie-Dye design on the Vase, as well as the Bear, Dino, Toad, and Turtle figurines, then you'll want to add this Santa as a companion piece for your "Tie-Dye" collection. Each Tie-Dye Santa Figurine is $125.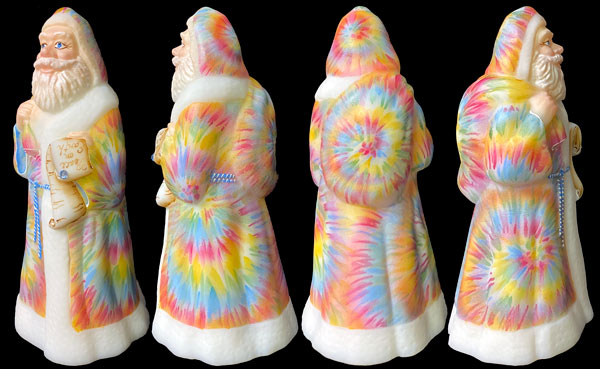 We're pleased to offer another Halloween-themed design for a seasonal decorating favorite, the Pumpkinhead Figurine.

Kim Barley's fun design features several interesting elements, including the cat whiskers on the pumpkin's face! Note those arched eyebrows above the orange and black eyes and that big grin!

Kim added a stack of pumpkins hand painted with unique motifs in white, black, orange and yellow. Other whimsical details include an unusual and colorful witch's hat, a black house that has googly eyes, and turquoise sneakers peeking out from underneath the gown!

Kim also hand lettered "Trick or Treat Oct. 31" on the treat bag with a grinning face and black bat silhouette design.

Sculptor Suzi Whitaker designed the mould for this figurine and "Pumpkinhead" joined Fenton's cast of colorful Halloween characters in 2007.


Each Mr. Whiskers Pumpkinhead Figurine is $110.

Our 4" Opal Satin Turtle Figurine sports a vibrant, artistic design by Michelle Kibbe that includes swirls, flowers, lattice, stripes, and other patterns. She created the black dots using a "stipple" technique with the end of a paintbrush. The body is airbrushed in a nice blend of orange and purple. Michelle added realistic look to the feet, tail and head of this turtle figurine. Note the smiling expression on the face! Each Stipples & Swirls Turtle Figurine is $80.
Cat enthusiasts and figurine collectors will want to add "Cranky Cat" to their collection! Kim Barley's hand painted design on our 3.75" Opal Satin Sitting Cat figurine resembles a petite feline internet celebrity that had a permanent grumpy expression due to its "under bite" teeth alignment.

Our "Cranky Cat" figurine has big blue eyes with white whiskers. The downward turn of the mouth makes this figurine even more adorable! The body is painted in soft brown, black, gray and white tones. Each Cranky Cat Figurine is $80.

Pre-orders for the Tie Dye Santa, Mr. Whiskers Pumpkinhead, Stipples & Swirls Turtle, and Cranky Cat Figurines will be accepted until midnight on Wednesday, February 12, 2020.

To place your pre-order for any of these Limited Editions, please call Fenton Gift Shop at 1-800-319-7793, ext. 342 or send an email: purchasing@fentongiftshop.com and include the names of the items you want to purchase in the subject line. Please include your full name and daytime phone so we may follow-up on your request. We may have customers with the same first name, so we also need a last name for verification.
---
Fenton Gift Shop

Gifts for All Occasions

Visit Fenton Gift Shop for unique and beautiful handcrafted gifts! Choose from a wide and varied selection of Fenton Art Glass, including vintage glass and new Limited Editions in beautiful colors and designs, as well as other unique gift items.

Visiting our area? Stop by the WV Welcome Center (Exit 185 off of I-77) for a free Visitor's Guide for our area. Fenton Gift Shop is located in a small strip mall on State Route 14 in Boaz, just minutes from the original Fenton Art Glass factory site. Interested in the glass selections shown here? There may be just one of each available!

Fenton Gift Shop

2242 Williams Hwy., Ste. 108

Williamstown, WV 26187

800-319-7793, ext. 342

304-375-7772

purchasing@fentongiftshop.com
---
Glass Identification Requests. . .
We no longer have staff to research inquiries about glass: value, history, identification, etc. Reference books on Fenton Art Glass do not include current price guides. We suggest you contact your local antiques dealer, the local library, or one of the collector clubs: http://www.fentonartglass.com/collectors. The Williamstown Antique Mall (local) may also assist you: 304-375-6315 or email: antiquemall@suddenlinkmail.com. A piece like yours may be listed on eBay, which can provide current pricing information. Otherwise, please email glass "production" questions to: askfenton@fentonartglass.com. For info on selling or placing a value on your Fenton Art Glass, click here.
---
Fenton Art Glass Authorized eBay Auctions. . .
Here's your opportunity to own a lovely "one-of-a-kind" Fenton Art Glass creation through our weekly Fenton Art Glass eBay auctions. These Fenton Art Glass eBay auctions will
end at 2 p.m. (ET) on Wednesday, February 12, 2020. Click on logo below to view all items.
This unique, one-of-a-kind Chocolate glass vase (10" tall) features both meticulous sandcarving by Cathy Mackey and exquisite hand painting by Fenton artist Michelle Kibbe. Cathy's intricate sandcarved scene depicts rolling hills, leafy trees and foliage as well as a shaft of sunlight shining down on a church in the distance (can you see the steeple?). Michelle's hand painted Bluebirds are true to life in every way ... from the male and female couple on the front of the vase to the bachelor male on the reverse side! Michelle's hand painted flowers and berries have the look of an impressionistic artwork by Monet! Chocolate glass was first perfected in 1900 by Jacob Rosenthal, and he became Fenton's first factory manager in 1906. This interesting color reveals various shades during the sandcarving process, as you can see in the photos. This unique, one-of-a-kind hand painted vase is identified, dated and signed on the underside: "hand painted by M. Kibbe 2020" and it is also personally signed by both Cathy Mackey and longtime Fenton Art Glass Co. vice-president and factory manager Tom Fenton.

This 8" Lighthouse was handcrafted in Opal Satin glass (5" base) and crystal (3" top), using Fenton Art Glass moulds that were not used for production before glassmaking halted at the Fenton Art Glass factory in 2011. Award-winning Fenton artist J. K. "Robin" Spindler created an intriguing one-of-a-kind scene featuring a Lighthouse and two Seagulls on this 8" Opal Satin Lighthouse Fairy Light. Her remarkable design encircles the vase. The hand painted details are meticulously executed. White pinpoints of stars fill the night sky high above the raging waters filled with foamy waves. The windows of the lighthouse keeper's cottage glow with a warm light as the wide beam of light shines from the Lighthouse tower. Two seagulls fly above the foamy seas with a brilliant white star in the background. You'll also receive a battery operated tea light that fits perfectly on the top of the base of this Lighthouse in a recessed area measuring approximately 1-1/5" diameter.

Fenton artist Michelle Kibbe designed and hand painted this wonderful one-of-a-kind Opal Satin glass Pumpkinhead figurine. The Pumpkinhead (note the big grin!) is true to life with its orange color and green top. The arms and hands grasp a green drawstring bag (note those patches!), but the black cat with green eyes is surely the focal point of this one-of-a-kind Pumpkinhead figurine! The collar features hand painted stars and crescent moon accents, and the base has an attractive checkerboard pattern with yellow/orange floral accents. These official Fenton Art Glass eBay auctions will end at 2 p.m. ET on Wednesday, February 12, 2020.
---
NOTE: If you can not see the images in this newsletter after it arrives in your email "in box", please use the "Trouble viewing this email? Click here" link at the top of the page. The newsletter link will open as a new page in your web browser, complete with images. Our website is currently undergoing maintenance. We apologize for this inconvenience.