Fenton Gift Shop Presents. . . New Limited Editions!
Our talented team of artists has created beautiful and creative designs, now available for pre-order on these made in America Limited Edition selections. Each Limited Edition will be signed, numbered and dated by one of our designers. The Covered Box (Butter Tub) was handcrafted by Mosser Glass. The other Limited Editions were made by Mosser, using the original Fenton moulds, for Fenton Gift Shop. RETURN POLICY: Returns are accepted on "undamaged" items. Returns are to be shipped within 30 days of receipt, at customer expense, to the Fenton Gift Shop, 2242 Williams Hwy., #108, Williamstown, WV 26187. A 5% restocking fee will be applied for this return. For damaged items, please contact Fenton Gift Shop at 800-319-7793, ext. 342.
Right: Our 8" Opal Satin Chessie Cat Covered Box is perfect for storing treats and goodies!

Add Michelle Kibbe's hand painted design of adorable bunnies and mice and it's sure to be popular with the young and young-at-heart.

Michelle created a soft background in Spring colors and added pinstriping and polka dots on the lid. She also added leaves and petite blue berries as accents.

While the small white kitten snuggles in the blue blanket, a bunny peeks around it at a brown-eyed mouse holding a wee carrot. The cat's golden eyes are partially open, perhaps sensing the small critters nearby.

Michelle hand painted a mouse and bunny on the back side of this box too. Note those big brown eyes and sweet expressions on the animals. Additional views of this Chessie Cat Covered Box are shown in the bottom photo.

This popular "Chessie" cat character was used as a symbol of the Chesapeake and Ohio Railway. They used this artwork with their advertising slogan, suggesting that when traveling on their railway you would "sleep like a kitten".

In addition to the artist's signature, the base of this box is embossed with the words "Chessie by Fenton".

Each Bunnies 'n Mice Chessie Cat Covered Box is $150.






We're pleased to offer our Owl Figurine in one of the newer glass colors . . . Eggplant.

This lovely color is perfectly suited for the splendid scenes created by our talented Fenton Gift Shop design team.

Michelle Kibbe chose to depict a Dutch Windmill as the theme for her hand painted design on this 5.5" satin finished figurine.

The large Dutch Windmill, set amongst a lush green and shoreline landscape, graces the front portion of the owl figurine. Note the dark green plants rising out of the blue water on the base of the figurine.

Michelle added large blue-white floral designs on the wings and on top of the head. Petite white polka dot accents highlight the blue and white eyes.

Did you know. . . The typical Dutch Windmill, also called the "Tower Type", has a huge tower of stone, brick or wood. The oldest Mill in Holland dates back to the 8th Century.

Each Dutch Windmill Owl Figurine is $95.

Our popular 3.5" Eggplant Bear Figurine is even more adorable with Kim Barley's hand painted "Daisy Bee" design.

A black and yellow buzzing bee adorns the small white patch on front of the bear's purple shirt. A large white daisy headband adorns the bear's head. The bear is holding another daisy in one paw. Kim added white polka dot accents on the ears on one paw.

As always, Kim created a fabulous whimsical design for the face, complete with green eyes with long black lashes and a pink heart-shaped nose!

Note all the views of this cute figurine in the photos shown at right. Each Daisy Bee Bear Figurine is $80.
Pre-orders for the Bunnies 'n Mice Chessie Cat Covered Box, Dutch Windmill Owl and the Daisy Bee Bear Figurines will be accepted until midnight on Monday, February 3, 2020. To pre-order, please call Fenton Gift Shop at 1-800-319-7793, ext. 342 or email to: purchasing@fentongiftshop.com and include the names of the items you want to purchase in the subject line. Please include your full name and daytime phone so we may follow-up on your request. We may have customers with the same first name, so we also need a last name for verification.



We are pleased to offer another unique, new design for our "butter tub", made by Mosser Glass. Before refrigerators were used in households, butter was stored in a round or rectangular covered dish.

This version is handcrafted in Black Raspberry glass, with a satin finish on the outside and a glossy interior. This versatile 4.5" x 4.5" Covered Box may be used as a treasure box to store precious keepsakes or as a candy box. . . or think "outside the box" and discover a new use for this beautiful Limited Edition!

Kim Barley's wonderful hand painted "Rock and Roll" motif on this Covered Box is definitely designing "outside the box"!

As many of you know, Kim is a super fan of a certain Rock and Roll legend, (initials are "EP"). She honors one of his popular hit songs with this design. Musical notes represent the opening lines of a love song... the red hearts are a hint to the title! The lid is painted to represent an LP on a record player. Kim hand lettered "ROCK AND ROLL" as well as the years 1950, 1960, 1970 on the handle. The keyboard and musical notes encircle the box. We're sure this Covered Box is sure to start many an interesting conversation! Each Rock and Roll Covered Box is $90.
Michelle Kibbe hand painted this 4" Opal Satin Stretching Cat figurine in natural brown-gray tones.

A black and white "cat" mask adorns the face. Michelle added spider webs, leaves and pumpkins. Perhaps this cat is prowling through a pumpkin patch on a cool autumn evening while seeking tricks and treats! This figurine will make the perfect gift for the cat enthusiast or figurine collector. Each Masked Kitty & Pumpkins Stretching Cat Figurine is $80.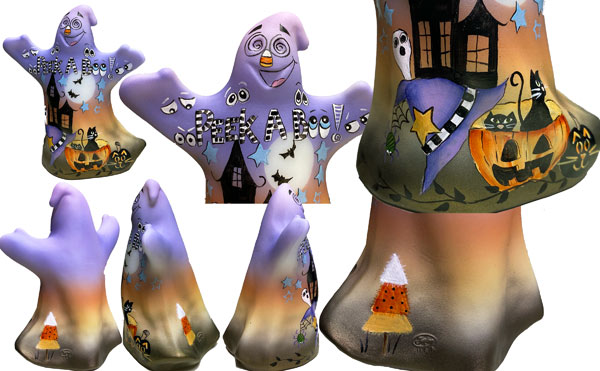 Sculptor Jon Saffell designed the Ghost, which debuted in the Fenton Halloween line in 2002. Collectors were quick to embrace the latest Halloween figurine. Kim Barley created another great whimsical Halloween design that is fun and colorful. She hand lettered "PEEK A BOO!" on the front with several expressive pairs of "peeking" eyes framing the words. A haunted house is set against a full moon amidst an orange/purple background that includes a ghost and blue stars. Note the candy corn nose, spiral eyes and laughing expression on the face of this ghost. The large purple witch hat has a black and white striped band matching the words and a golden star. Kim added a spider web, complete with dangling spider on the tip of the hat. There's also a large jack-o-lantern with two black cats inside and a black cat with orange face. Kim added a tall stylized candy corn on the side of this figurine, which is sure to become a favorite for your seasonal display! Each Peek A Boo! Ghost Figurine is $115.

Fenton Gift Shop is proud to offer beautiful hand blown glass ornaments. These iridized (approx. 3-1/2" dia.) ornaments are hand blown by Ron Hinkle, a glass artisan from Buckhannon, West Virginia. Ron uses his glass-making skills to create the classic ball shape, finished with a delicate loop of applied glass. This ornament was made with different shades of white frit and sprayed with Ron's "magic" iridescent spray. This ornament features a Limited Edition design by Michelle Kibbe with a peacock feathers theme. Michelle transformed the opalescent colors into shades of purple, gold and blue with banding accents. Colorful peacock feathers dominate the glass canvas of this ornament. See the second image above where Michelle added her signature and the "2020" date. This is a beautiful design on a lovely hand blown ornament . . . and you can display this Limited Edition all year! Each Peacock Feathers Ornament is $65.
Pre-orders for the Rock and Roll Covered Box, Peek A Boo! Ghost Figurines, Masked Kitty & Pumpkins Stretching Cat, and the Peacock Feathers Ornament will be accepted until midnight on Wednesday, February 5, 2020. To pre-order, call Fenton Gift Shop at 1-800-319-7793, ext. 342 or send us an email to: purchasing@fentongiftshop.com and include the names of the items you want to purchase in the subject line. Please include your full name and daytime phone so we may follow-up on your request. We may have customers with the same first name, so we also need a last name for verification.
---
Fenton Gift Shop

Gifts for All Occasions

Visit Fenton Gift Shop for unique and beautiful handcrafted gifts! Choose from a wide and varied selection of Fenton Art Glass, including vintage glass and new Limited Editions in beautiful colors and designs, as well as other unique gift items.

Visiting our area? Stop by the WV Welcome Center (Exit 185 off of I-77) for a free Visitor's Guide for our area. Fenton Gift Shop is located in a small strip mall on State Route 14 in Boaz, just minutes from the original Fenton Art Glass factory site.

Interested in any of the glass selections shown at right? There may be just one of each available!

Fenton Gift Shop

2242 Williams Hwy., Ste. 108

Williamstown, WV 26187

800-319-7793, ext. 342

304-375-7772

purchasing@fentongiftshop.com
---
Glass Identification Requests. . .
We no longer have staff to research inquiries about glass: value, history, identification, etc. Reference books on Fenton Art Glass do not include current price guides. We suggest you contact your local antiques dealer, the local library, or one of the collector clubs: http://www.fentonartglass.com/collectors.
The Williamstown Antique Mall (local) may also assist you: 304-375-6315 or email: antiquemall@suddenlinkmail.com.
A piece like yours may be listed on eBay, which can provide current pricing information. Otherwise, please email glass "production" questions to: askfenton@fentonartglass.com. For info on selling or placing a value on your Fenton Art Glass, click here.
---
Fenton Art Glass eBay Auctions. . .
Here's your opportunity to own a lovely "one-of-a-kind" Fenton Art Glass creation through our weekly Fenton Art Glass eBay auctions. These Fenton Art Glass eBay auctions will end at 2 p.m. (ET) on Wednesday, February 5, 2020. Items featured this week. . .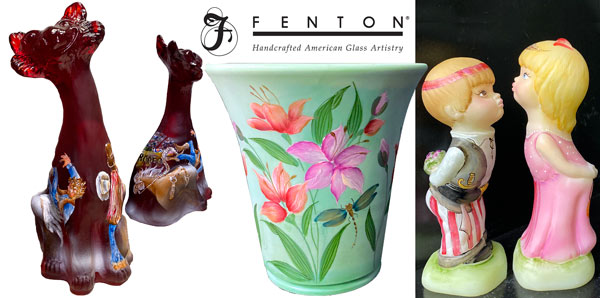 Here's a spectacular, one-of-a-kind hand painted Alley Cat (10.75" tall) from award-winning Fenton designer Robin Spindler. The Alley Cat is Fenton's Ruby glass, and Robin's creative design of "Buckin' Broncos" features a scene of Palomino horses and a cowpoke being tossed from the saddle ... all watched by a colorful rodeo clown. The Alley Cat is an all-time favorite among Fenton Art Glass collectors since its introduction in 1970. This Alley Cat mould originated at the U. S. Glass Co. in Tiffin, Ohio, during the 1920s.

With opaque Chameleon Green glass for her canvas, award-winning Fenton designer Kim Barley designed and hand painted this attractive, one-of-a-kind 6" tall Flip Vase. The vivid colors of the hand painted flowers really stand out from the background glass color, so this vase makes quite a statement! Note the swirls of color in the glass. As you can see from the photos, the floral motif completely encircles the vase, so it's a real showpiece from any angle! The hand painted texture and intricate details are meticulously done, from each flower petal to the delicate tendrils and foliage. Note the interior diamond optic pattern inside the vase, too. This one-of-a-kind hand painted Chameleon Green Flip Vase is identified, signed and dated on the underside: "Kim Barley 2020 OOAK".

The "Princess" and the "Pirate" are ready to go out for "trick or treat," and this delightfully cute pair of hand painted, one-of-a-kind figurines from Fenton artist Michelle Kibbe are sure bring smiles to all those who enjoy Halloween fun. The figurines are handcrafted in Opal Satin glass. The Princess stands 4.75" tall while the Pirate is 4.5" tall. Note all the wonderful hand painted details: the brown-eyed Pirate is clad in red/white striped trousers and sports a black vest with skull & crossbones, while the blue-eyed Princess looks regal in pink with a pearl necklace. The Princess carries a pumpkin for treats, while the Pirate clutches a floral bouquet (perhaps he hopes to impress the Princess?). Each hand painted, one-of-a-kind figurine is identified, dated and signed on the underside: "hand painted by M. Kibbe 2020 OOAK". These Fenton Art Glass eBay auctions will end at 2 p.m. ET on Wednesday, February 5, 2020.
---
NOTE: If you can not see the images in this newsletter after it arrives in your email "in box", please use the "Trouble viewing this email? Click here" link at the top of the page. The newsletter link will open as a new page in your web browser, complete with images. Our website is currently undergoing maintenance. We apologize for this inconvenience.