NOTE: If you can not see the images in this newsletter after it arrives in your email "in box", please use the "Trouble viewing this email? Click here" link at the top of the page. The newsletter link will open as a new page in your web browser, complete with images. Our website is currently undergoing maintenance. We apologize for this inconvenience.
NEW Limited Editions from Fenton Gift Shop. . .
Fenton Gift Shop is pleased to offer NEW Limited Editions! Our talented team of artists has created these beautiful designs, now available for pre-order. Each Limited Edition will be signed, numbered and dated by one of our designers. These Limited Editions were made by Mosser, using the original Fenton moulds, for the Fenton Gift Shop. We are offering our Ghost figurine in our latest color, Caramel. RETURN POLICY: Returns are accepted on "undamaged" items. Returns are to be shipped within 30 days of receipt, at customer expense, to the Fenton Gift Shop, 2242 Williams Hwy., #108, Williamstown, WV 26187. A 5% restocking fee will be applied for this return. For damaged items, please contact Fenton Gift Shop at 800-319-7793, ext. 342.
Michelle Kibbe loves to hand paint scenes with birds, and this one-of-a-kind Opal Satin Santa figurine (8" tall) showcases her talents and skills. The various birdhouses and the brilliant red Cardinal have a wonderfully whimsical quality to them. The varied birdhouse styles add to the eye appeal of this hand painted Santa figurine. There's even a nice log cabin style birdhouse!

These colorful birdhouses are set amidst green holly leaves and red berries. Santa's robe is painted in a soft blend of blue to purple with holly and berries on one sleeve

(and look for the snowflakes on the robe). Just take a peek at Santa's list ... "Bird Seed! Each Birdhouses Santa Figurine is $125.
| | |
| --- | --- |
| | Kim Barley continues her "Holiday Garland" design on our Opal Satin 3.75" Snowlady and 4" Snowman Figurines. She created a snowy landscape in soft white and blue tones with painted snow details. A chubby Cardinal perches on the blade of a snow shovel on the Snowman and another Cardinal adorns the purse of the Snowlady. Kim added falling snow and a brown string garland that includes a red heart, colorful mitten, golden star, and a gingerbread man. Each figurine has rosy cheeks with a wide smile, green eyes and an orange carrot nose. The hat on each figurine has a holly sprig with a golden star accent. See the photos below for additional details. These figurines were designed by Fenton Art Glass sculptor Jon Saffell. Along with our Snowman Fairy Light, they were included in a grouping called "Frosty Friends" for several years. We're sure this "Holiday Garland" Snowcouple will become a seasonal decorating favorite! Each Holiday Garland Snowman and Snowlady Figurines are $140 for the pair and limited to ten. |
This 8" Lighthouse is handcrafted in Opal Satin glass (5" base) and crystal (3" top), using Fenton Art Glass moulds that were not used for production before glassmaking halted at Fenton in 2011.

Michelle Kibbe created an interesting underwater scene including colorful foliage and Seahorses. A Seahorse pair adorns one side of the Fairy Light base, while another Seahorse floats amongst the foliage on another side. Additional views are shown below. The base is airbrushed in soft blue-green hues of water with a stripe pattern accent in multiple colors encircling the base.

Did you know... Seahorse couples greet each other daily with a unique dance that may also involve changing color. Seahorses make noises, during feeding and courtship, that can be heard underwater. This sound reminds one of smacking your lips.


A battery-operated tea light is included with each Lighthouse. It fits perfectly on the top of the base in a recessed area. Each Seahorses Lighthouse Fairy Light is $130.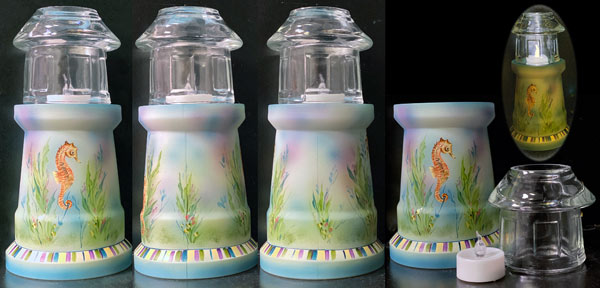 Pre-orders for the Birdhouses Santa Figurine, Holiday Garland Snowman and Snowlady Figurine Pair and the Seahorses Lighthouse Fairy Light will be accepted until midnight (ET) on Monday, November 25, 2019. To place your pre-order for any of these latest Limited Editions, please call Fenton Gift Shop at 1-800-319-7793, ext. 342 or send an email to purchasing@fentongiftshop.com and include the names of the items you want to purchase in the subject line. Please include your full name and daytime phone so we may follow-up on your request. We may have customers with the same first name, so we also need a last name for verification.
Sculptor Jon Saffell designed the Ghost Figurine which debuted in the Fenton Halloween line in 2002. Collectors were quick to embrace the latest Halloween figurine and it remains a collector favorite.

Fenton Gift Shop is pleased to offer this popular figurine in our latest color, Caramel. Kim Barley created another wonderfully whimsical design that includes many of the fun, traditional Halloween symbols!

The front of the Ghost figurine features a trio of pumpkins, each one sporting a unique design. One pumpkin provides the "face" on top with large green eyes and a wide grin. The middle pumpkin has a skull and two stars for buttons and Kim also hand lettered the word "BOO" in purple with black outline. Another grinning carved pumpkin adorns the base.

There's also a spider web with a dangling purple and white polka dotted spider, a scraggly black cat, colorful candy corn, vines, stars, and swirls. Kim created a checkered pattern along the base. A flying bat with the decorative accents is painted on the backside.

The different swirls of the caramel color lend an interesting effect to this figurine. See the photos below for additional views. Each BOO Pumpkins Ghost Figurine is $115.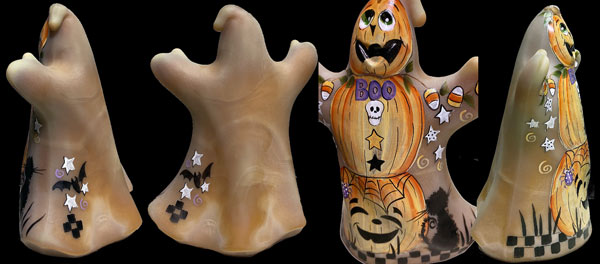 The impressive 11.5" size and shape of this Opal Satin Vase provides the perfect canvas for Robin Spindler's remarkable winter scene. Her hand painted details are meticulously executed.

A cowboy trudges through heavy snow, leading his horse by the reins. However, this horse isn't just any horse! It is called a "Knabstrupper", a rare Danish breed (see details in the figurine description).

Robin created a beautiful winter landscape with snow covered trees in the distance. Additional views are shown below. Note the view which shows a Knabstrupper foal, amidst the barren trees, perhaps attempting to either escape from the cowboy or head back to his stall in the much warmer barn! This Knabstrupper Horse vase will definitely start an interesting conversation when on display in your home! Each Knabstrupper Horse Vase is $220.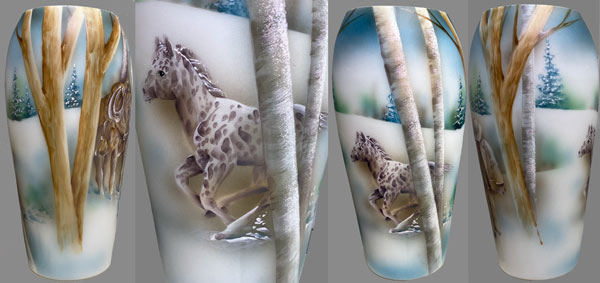 The perfect companion piece for the magnificent vase shown above is this approx. 4" long Opal Satin Knabstrupper Horse Figurine, also designed by Robin Spindler. She hand painted this figurine to resemble the rare Knabstrupper horse.

Did you know. . . The Knabstrupper (nab-strup-er) is a breed of rare Danish horse characterized by an unconventional range of coloration on the coat. This coloration reminds one of similar patterns you might see on Dalmatian dogs. The Knabstrupper breed is very rare, with a reported population of around 600 world-wide. These horses are also widely admired by horse enthusiasts, and are especially popular among children. This figurine would make the perfect "unique" gift for the horse enthusiast or figurine collector! Each Knabstrupper Horse Figurine is $80.
Michelle Kibbe hand painted a delightful holiday scene on our 3.25" Opal Satin Snowflake Ornament that is sure to bring a smile!

Santa Claus peeks out of a chimney to see a curious red-nosed young Buck deer watching him. Michelle painted the ornament in a rosy red color. A snowflake design is embossed in the glass on the reverse side of this ornament. A ribbon, suitable for hanging, is provided with each ornament.


Each Peek-a-boo Santa Snowflake Ornament is $55.
Pre-orders for the BOO Pumpkins Ghost Figurine, Knabstrupper Horse Vase, Knabstrupper Horse Figurine, and the Peek-a-boo Santa Snowflake Ornament will be accepted until midnight (ET) on Wednesday, November 27, 2019. Please call Fenton Gift Shop: 1-800-319-7793, ext. 342 or email: purchasing@fentongiftshop.com and include the names of the items you want to purchase in the subject line. Please include your full name and daytime phone number so we may follow-up on your request. We may have people with the same first name, so we also need a last name for confirmation of the order.
---
Visit Fenton Gift Shop for Holiday Gift Ideas. . .
Visit Fenton Gift Shop for holiday gift ideas! Choose from our varied selection of handcrafted Fenton Art Glass, including vintage glass and new Limited Editions in beautiful colors and designs, as well as other unique gift items.

Visiting our area? Stop by the WV Welcome Center (Exit 185 off of I-77) for your free Visitor's Guide (coupon inside). Fenton Gift Shop is located in a small strip mall on State Route 14 in Boaz, just five minutes from the original factory site. Address: 2242 Williams Highway, Suite #108, Williamstown, WV 26187.

Interested in an item shown here? Call or email Fenton Gift Shop: 800-319-7793, ext. 342 purchasing@fentongiftshop.com

Hours: 10 a.m.-4 p.m. (ET) Open Tuesday-Saturday
---
Glass Identification Requests. . .
We no longer have staff to research inquiries about glass: value, history, identification, etc. Reference books on Fenton Art Glass do not include current price guides. We suggest you contact your local antiques dealer, the local library, or one of the collector clubs: http://www.fentonartglass.com/collectors.
The Williamstown Antique Mall (local) may also assist you: 304-375-6315 or email: antiquemall@suddenlinkmail.com.
A piece like yours may be listed on eBay, which can provide current pricing information. Otherwise, please email glass "production" questions to: askfenton@fentonartglass.com. For info on selling or placing a value on your Fenton Art Glass, click here.
---
Fenton Art Glass eBay Auctions. . .
Here's your opportunity to own a lovely and unique "one-of-a-kind" Fenton Art Glass creation through our weekly Fenton Art Glass eBay auctions. These Fenton's eBay auctions will end at 2 p.m. ET on Wednesday, November 27th. Items featured this week. . .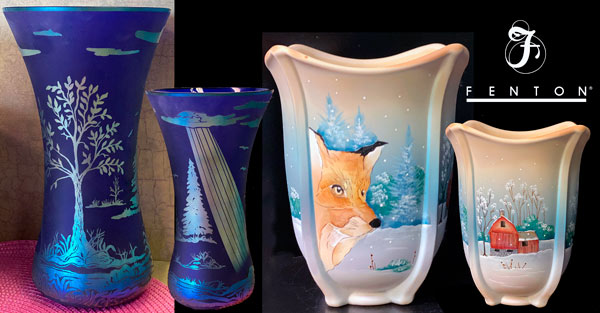 Favrene is a favorite glass color among Fenton glass collectors, and this dramatic sand carved Favrene vase (9.75" tall) from artist Cathy Mackey is sure to find a place in some lucky collector's collection. The clouds, foliage and trees in silhouette were created by meticulous masking and careful sand carving, and the vivid iridescence of this special glass really makes every element of the design stand out. The depiction of shafts of sunlight is particularly eye catching, and all who see this Favrene vase will appreciate its artistry. Fenton's Favrene is a special cobalt blue glass that contains pure silver in the glass batch. Special reheating techniques are needed to create the vivid iridescent surface that has made Favrene a "classic" Fenton glass color. This Favrene vase is signed by Cathy Mackey on the underside, and it was also personally signed by Tom Fenton, (son of Frank M. Fenton) who was the longtime factory manager and vice-president at Fenton Art Glass until his retirement.

With Chocolate glass for her canvas, award-winning Fenton artist Kim Barley designed and hand painted this splendid one-of-a-kind vase (7.25" tall). Each panel of this square vase is beautifully hand painted, ranging from scenes of snow-covered trees in Winter and a realistic barn with stone foundation to a majestic Red Fox that surveys the panoramic landscape with its piercing eyes. All the details are meticulously hand painted, and every brushstroke is perfectly executed. Chocolate glass is a classic Fenton color, and the warn brown tones add much to Kim's delightful design. This one-of-a-kind hand painted vase is identified, signed and dated on the underside: "Kim Barley 2019 OOAK". These Fenton's eBay auctions will end at 2 p.m. ET on Wednesday, November 27th.
---