NOTE: If you can not see the images in this newsletter after it arrives in your email "in box", please use the "Trouble viewing this email? Click here" link at the top of the page. The newsletter link will open as a new page in your web browser, complete with images. Our website is currently undergoing maintenance. We apologize for this inconvenience.
Fenton Gift Shop Introduces NEW Color & NEW Limited Editions!
We welcome the month of November by introducing a NEW color for Fenton Gift Shop ─ Caramel, as well as NEW Limited Editions! Our talented team of artists has created these beautiful designs, now available for pre-order.

Each Limited Edition will be signed, numbered and dated by one of our designers. The Cobalt Iceberg Paperweight was made by Mosser Glass. The other Limited Editions were also made by Mosser, using the original Fenton moulds, for the Fenton Gift Shop. RETURN POLICY: Returns are accepted on "undamaged" items. Returns are to be shipped within 30 days of receipt, at customer expense, to the Fenton Gift Shop, 2242 Williams Hwy., #108, Williamstown, WV 26187. A 5% restocking fee will be applied for this return. For damaged items, please contact Fenton Gift Shop at 800-319-7793, ext. 342.

Right: This adorable approx. 3" Opal Satin Mouse figurine has a lovely hand painted "natural" design by Kim Barley. It would make a perfect Christmas gift for someone special or a "sweetheart" of a gift for Valentine's Day! This petite figurine sports brown shoes and a colorful vest made with a pattern of red squares, floral print and hearts. A red scarf completes this tiny fella's outfit. Kim added red hearts and tiny white floral accents on each ear. Note those large blue eyes! Additional views are shown below. Each Red Hearts Mouse Figurine is $80.

The dark blue color of this 7" tall x 5.5" wide tall Cobalt Iceberg Paperweight provides an excellent canvas for Michelle Kibbe's hand painted design of an ancient ocean resident, the Sea Turtle. The turtle appears to be climbing onto the underwater land surface, creating foaming waters around it. Michelle added water bubbles, shells and underwater foliage to her scene. Did you know. . . Sea Turtles can be found in all oceans of the world except in the polar area. Out of seven known species of Sea Turtles, six of them are critically endangered. Each Sea Turtle Iceberg Paperweight is $110.

Christmas trees are the heart of the American holiday tradition. Collect and enjoy this 6.5" Ruby Tree for your holiday celebrations.

Michelle Kibbe's hand painted decoration features large, beautiful poinsettias in shades of red, pink and white. These lush blooms encircle the base of the Ruby tree.

Michelle added small clusters of pine cones and berries with white flowers that provide attractive accents on the upper branches of the tree, allowing the rich Ruby glass to shown through the design. Michelle sprayed the top of the tree in a hue of gold metallic that really sparkles.

The first Fenton Tree (5535) was offered in the 1992 Christmas catalog supplement. The 6.5" tree was created by designer Cathy See. It was first offered in Ruby, Green and iridized crystal. Each tree was accented with a tiny gold bird on one of the branches. Two smaller trees were added a year later. Collectors have enjoyed including the Fenton trees in their seasonal decorating. Each Pine Cones & Poinsettias Tree is $80.

Pre-orders for the Red Hearts Mouse Figurine, the Sea Turtle Iceberg Paperweight and the Pine Cones & Poinsettias Tree will be accepted until midnight (ET) on Monday, November 4, 2019.

To place your pre-order for any of these Limited Editions, please call Fenton Gift Shop: 1-800-319-7793, ext. 342 or send an email: purchasing@fentongiftshop.com and include the names of the items you want to purchase in the subject line.

Please include your full name and daytime phone so we may follow-up on your request. We may have customers with the same first name, so we also need a last name for verification.
Robin Spindler recently created an intriguing Milky Way Galaxy, shooting star and Lighthouse scene on our Lighthouse Fairy Light that was very popular with collectors.

She continues that design theme on this 11" Opal Satin Vase. Her remarkable design encircles the vase. A moon is high in the night sky above the raging waters filled with foamy waves.

The Milky Way Galaxy appears behind the lighthouse, which casts brilliant beams across the star-filled sky. You can see the Milky Way Galaxy in the background. The windows of the lighthouse keeper's cottage glow with a warm light.

Each Milky Way Galaxy Vase is $165.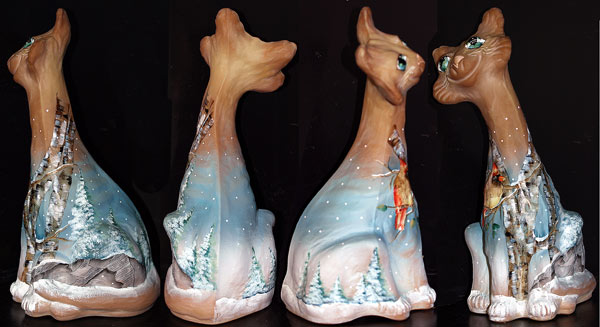 We are pleased to introduce a NEW Caramel color for our 11" Alley Cat Figurine. Caramel is a rich color that reminds one of the sweet candy with the same name!

The inside of this figurine is shiny, while the outside has been satin finished for Kim Barley's wonderful hand painted winter scene of a female Cardinal perched on a branch amidst the falling snow.
A wintry landscape of snow-covered trees encircles this figurine. Note that characteristic grin with white whiskers and those large green eyes. The Alley Cat is among the most collectible items in Fenton history. This whimsical figurine has also been one of Fenton's most popular items since it was first made in 1970. The mould for this piece originated at the U.S. Glass Co. in Tiffin, Ohio during the 1920s and was purchased by Fenton Art Glass in the mid-1960s. Since that time, this Alley Cat has been made in a rainbow of colors and decorative treatments. Each Winter Cardinal Alley Cat Figurine is $185.

For those of you who have cats as pets, the scene on this Opal Snowflake Ornament may be familiar! Michelle Kibbe hand painted a large black and white cat napping on a rug in front of a warm fire. Two stockings are in view next to a Christmas tree. Hang this 3.25" ornament on your tree or use it as a window decoration. A snowflake design is embossed in the glass on the reverse side of this ornament. A ribbon, suitable for hanging, is provided with each ornament. This Snowflake Ornament, dated 2019, makes an excellent keepsake gift for someone special or treat yourself! Each 2019 Napping Cat Snowflake Ornament is $55.

Our 5.5" Eggplant Owl Figurine is adorned in winter splendor with beautiful snowflakes and hues of aqua-blue designed and hand painted by Kim Barley. Kim created the dark gold eyes and added black and gold stripes, aqua edging and whilte polka dot accents to create a mesmerizing effect. A curli-que design tops the head. The legs are also brown with gold stripes and note those vibrant aqua talons! The lovely Eggplant color shows through the aqua-blue tones that Kim used on the body and the base to create the perfect color harmony. The wings are painted a soft brown which shades to the Eggplant color. Kim added large aqua-white accent dots on the wings with smaller white dots on the tail feathers. Each Snowy Flakes Owl Figurine is $95.

Pre-orders for the Milky Way Galaxy Vase, Winter Cardinal Alley Cat Figurine, 2019 Napping Cat Snowflake Ornament, and the Snowy Flakes Owl Figurine will be accepted until midnight (ET) on Wednesday, November 6, 2019.


Please call or email Fenton Gift Shop: 1-800-319-7793, ext. 342 or purchasing@fentongiftshop.com and include the names of the items you want to purchase in the subject line. Please include your full name and daytime phone number so we may follow-up on your request. We may have people with the same first name, so we also need a last name for confirmation of the order.
---
Visit Fenton Gift Shop
for Beautiful Seasonal Decorating Ideas!
Stop in and choose from our varied selection of handcrafted Fenton Art Glass, including vintage and new Limited Editions in beautiful colors and designs. Other unique gift items are also available at Fenton Gift Shop. Visit the WV Welcome Center (Exit 185 off of I-77) for your free Visitor's Guide (coupon inside!). Fenton Gift Shop is located in a small strip mall on State Route 14 in Boaz, five minutes from the original factory site.


Interested in an item shown here?

Call Fenton Gift Shop: 800-319-7793, ext. 342 or send an email to: purchasing@fentongiftshop.com


Hours: 10 a.m.-4 p.m. (ET)
Open Tuesday-Saturday
Fenton Gift Shop
2242 Williams Hwy., Suite 108, Williamstown, WV 26187.
---
Glass Identification Requests. . .
We no longer have staff to research inquiries about glass: value, history, identification, etc. Reference books on Fenton Art Glass do not include current price guides. We suggest you contact your local antiques dealer, the local library, or one of the collector clubs: http://www.fentonartglass.com/collectors.
The Williamstown Antique Mall (local) may also assist you: 304-375-6315 or email: antiquemall@suddenlinkmail.com. A piece like yours may be listed on eBay, which can provide current pricing information. Otherwise, please email glass "production" questions to: askfenton@fentonartglass.com. For info on selling or placing a value on your Fenton Art Glass, click here.
---
Fenton Art Glass eBay Auctions. . .
Here's your opportunity to own a lovely and unqiue "one-of-a-kind" Fenton Art Glass creation through our weekly Fenton Art Glass eBay auctions. These Fenton's eBay auctions will end at 2 p.m. ET on Wednesday, November 6th. Items featured this week. . .

Created in 2011 at Glass Axis Studio in Columbus, Ohio by internationally-recognized glass artist, Doug Frates, this art piece was one of several commissioned by Tom Fenton for his Artful Remembrance project.

This impressive vase is 11.75" tall with an 8.25" dia. opening and weighs about six pounds. Doug Frates calls this style of coloring "Sedona," and it is one of the silvered finishes for which he has become famous. Doug Frates is a former United States Marine who served in Iraq in 2003.

This vase also has a black ring around the top and is signed by Doug. His signature is large, but it blends in, so you need to look closely near the bottom of the piece. The finished bottom of the vase reveals the characteristic pontil mark typical of offhand glass artistry. The bottom surface displays an inscribed alphanumeric Artful Remembrance identification code.
Former Fenton Art Glass artist Christy Riggs hand painted this splendid Burmese Diamond Optic glass vase (approx. 4.25" tall). The design features flowers in shades of pink and white with delicate white accents. Green foliage can also be seen. There is a raised beaded pattern below the crimp. Burmese is a classic Fenton glass color, made with pure gold in the glass batch, and special reheating techniques mastered by Fenton glassworkers create the delicate pink blush that collectors love. This hand painted Burmese Diamond Optic vase is identified, dated and signed on the underside: "Hand painted by C. Riggs". These Fenton's eBay auctions will end at 2 p.m. ET on Wednesday, November 6th.
---