NOTE: If you can not see the images in this newsletter after it arrives in your email "in box", please use the "Trouble viewing this email? Click here" link at the top of the page. The newsletter link will open as a new page in your web browser, complete with images. Our website is currently undergoing maintenance. We apologize for this inconvenience.
NEW Fenton Gift Shop Limited Editions Available for Pre-Order!
Our talented team of artists has created some beautiful designs, now available for pre-order. Each Limited Edition will be signed, numbered and dated by one of our designers. The Iceberg Paperweight was made by Mosser Glass. The other Limited Editions were made by Mosser, using the Fenton moulds, for the Fenton Gift Shop. RETURN POLICY: Returns are accepted on "undamaged" items. Returns are to be shipped within 30 days of receipt, at customer expense, to the Fenton Gift Shop, 2242 Williams Hwy., #108, Williamstown, WV 26187. A 5% restocking fee will be applied for this return. For damaged items, contact Fenton Gift Shop at 800-319-7793, ext. 342.
Michelle Kibbe researched fox breeds to depict on our 4.5" Opal Satin Fox Figurine and discovered the Canadian Marble Fox. This interesting fox has thick white fur with large patches and stripes of black on the body, across the face and on the ears. Michelle hand painted the figurine in a realistic style. Note those large brown eyes! Each Canadian Marble Fox Figurine is $80.

Did you know. . . The coloration of the Canadian (Arctic) Marble Fox is created from the intervention of humans when breeding the red fox. Marble foxes occur as genetic mutations, called color phases. The kits are born in captivity.


Michelle continues her Canadian Marble Fox design on this 8.75" Opal Satin Vase. She hand painted a rocky landscape that encircles the vase. The Fox closely observes a bird perched on a small branch. Michelle added colorful foliage accents. Additional views are shown below. Each Canadian Marble Fox Vase is $175.

| | |
| --- | --- |
| Kim Barley's Give Thanks design on our 2.75" Eggplant Mouse Figurine is sure to become a collector favorite! Kim adorned this figurine in colorful seasonal attire, including a striped sweater, blue slacks and brown shoes. She hand painted the words "give Thanks" on one ear with a turkey and a pumpkin on the other ear. A large sunflower is painted on one side. As always, the large eyes and expression on the face is sure to make you smile! Each Give Thanks Mouse Figurine is $80. | |
Pre-orders for the Canadian Marble Fox Vase, Canadian Marble Fox, and the Give Thanks Mouse Figurines will be accepted until midnight (ET) on Monday, October 7, 2019. Call Fenton Gift Shop to order: 1-800-319-7793, ext. 342 or send an email: purchasing@fentongiftshop.com and include the names of the items you want to purchase in the subject line and include your full name and daytime phone so we may follow-up on your request. We may have customers with the same first name, so we also need a last name for verification.
Sculptor Jon Saffell designed the Fenton Art Glass Ghost Figurine (#5278) and it debuted in the Fenton Halloween line in 2002. Collectors were quick to embrace this Fenton Halloween figurine with the friendly smile.

Michelle Kibbe has transformed this 5.75" Opal Satin Ghost figurine into a "scarecrow", complete with straw stuffing! The scarecrow hangs on a wooden pole and is decked out in colorful patchwork clothing.

You'll love the hand painted details: bib overalls, brown jacket and the red heart patch that adorns one knee. Additional photos below show all views of this figurine, from the brown cloth hat, the autumn landscape with brown fence to the patchwork details on the face. Note the black crow perched on one of the scarecrow's outstretched arms. The crow has a bit of straw in its beak, perhaps borrowing some for use in a nest?

Did you know. . . Scarecrows are usually dressed in old clothes and placed in an open field to discourage crows, blackbirds and starlings from feeding on seeds and sprouting crops. There's even been research that shows that realistic facial features and brightly colored clothes may be better at shooing away birds. Also, moving a scarecrow around every few days often helps. Each Mr. Scarecrow Ghost Figurine is $115.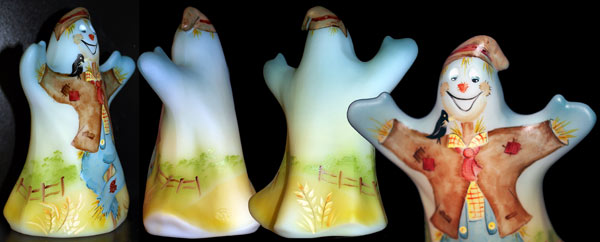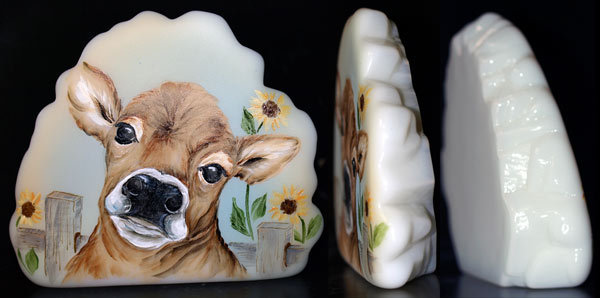 Michelle Kibbe's depiction of a cow on this 4" x 4.5" Opal Iceberg Paperweight is simply splendid! Those large brown eyes will bring lots of "ooohs and aaahs". . . even if you're not a fan of bovines! We have had requests for designs featuring cows and we are pleased to deliver! Michelle added a background with a fence and large sunflowers in full bloom. Each How Now Brown Cow Iceberg Paperweight is $80 and limited to 14.
This adorable dinosaur makes a perfect addition to your collection. The design for this figurine was created by former Fenton Art Glass sculptor Suzi Whitaker and entered the Fenton Art Glass product line in 2007.

This sweet 4" figurine is handcrafted in Opal Satin glass and features a delightful scene by Kim Barley. The Dinosaur is munching on some leaves, while a young Pterodactyl takes flight for perhaps the first time.

Another Dinosaur has just hatched from its speckled egg. Kim painted the Dinosaur's body in soft green hues and added golden stripes on the tail and colorful flower and vegetation accents. Note those large golden black eyes.

Each Dino Babies Dinosaur Figurine is $80.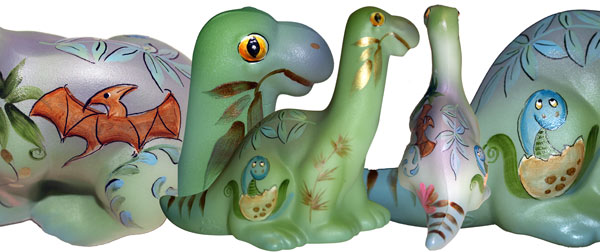 Robin Spindler continues to channel another era with her latest "tie dye" design. She chose the 4" Opal Satin Turtle Figurine for her latest figurine. Robin airbrushed and hand painted the figurine, resulting in an amazing blend of multi-colored brushstrokes producing the "tie-dye" pattern. You'll love the vibrant shades of blue, red, yellow, orange, and green in this Turtle! We're sure this figurine will appeal to the young as well as the young-at-heart! Note the Turtle's friendly grin, large eyelashes and polka dot accents on the head. If you recently ordered Robin's Tie-Dye Dino and Tie-Dye Toad figurines, then you'll want to add this latest figurine as a companion piece for your collection. Each Tie Dye Turtle Figurine is $80.
Pre-orders for the Mr. Scarecrow Ghost Figurine, How Now Brown Cow Iceberg Paperweight, Dino Babies Dinosaur Figurine, and the Tie Dye Turtle Figurine will be accepted until midnight (ET) on Wednesday, October 9, 2019. To place your pre-order, please call Fenton Gift Shop: 1-800-319-7793, ext. 342 or email: purchasing@fentongiftshop.com and include the names of the items you want to purchase in the subject line.

Please include your full name and daytime phone number so we may follow-up on your request. We may have people with the same first name, so we also need a last name for confirmation of the order. If you know of someone who may be interested in receiving our weekly eNewsletters, please have them contact purchasing@fentongiftshop.com to have their email address added to our mailing list. Our emails go out weekly with the current Limited Edition offerings.
---
Shop Fenton Gift Shop's Seasonal Decor. . .
Stop in and choose from our varied selection of seasonal decor, including vintage and new Limited Edition handcrafted Fenton Art Glass in beautiful colors and designs.


Traveling near us?
Visit the WV Welcome Center (Exit 185 off of I-77) for your Visitor's Guide to our area (coupon inside!).
Fenton Gift Shop is located in a small strip mall on State Route 14 in Boaz, five minutes from the original factory site.


Interested in an item shown here? Contact Fenton Gift Shop: 800-319-7793, ext. 342
Hours: 10 a.m. - 4 p.m. (ET) Tuesday-Saturday
Fenton Gift Shop, 2242 Williams Hwy., Suite 108, Williamstown, WV 26187.
---
Glass Identification Requests. . .
We no longer have staff to research inquiries about glass: value, history, identification, etc. Reference books on Fenton Art Glass do not include current price guides. We suggest you contact your local antiques dealer, the local library, or one of the collector clubs: http://www.fentonartglass.com/collectors.
The Williamstown Antique Mall (local) may also assist you: 304-375-6315 or email: antiquemall@suddenlinkmail.com. A piece like yours may be listed on eBay, which can provide current pricing information. Otherwise, please email glass "production" questions to: askfenton@fentonartglass.com. For info on selling or placing a value on your Fenton Art Glass, click here.
---
Fenton Art Glass eBay Auctions. . .
Here's your opportunity to own a beautiful "one-of-a-kind" Fenton Art Glass creation through our weekly Fenton Art Glass eBay auctions. These Fenton's eBay auctions will end at 2 p.m. ET on Wednesday, October 9. Items featured this week. . .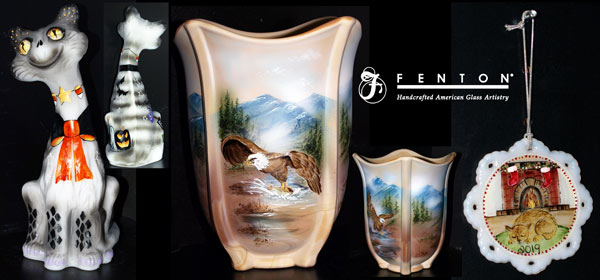 Halloween will be here soon, and this one-of-a-kind hand painted Alley Cat (11" tall) from Fenton artist Kim Barley will really make a statement! The grey striped background is just perfect for all of Kim's wonderful hand painted details: bats, stars, candy corn, pumpkins, signage, a festive orange and black bow, purple toes ... and just look at those eyes above the Alley Cat's characteristic grin! The Alley Cat, first made by Fenton in 1970, is among the best-loved and most collectible Fenton Art Glass products. This one-of-a-kind hand painted Alley Cat figurine is identified, dated and signed inside: "Kim Barley 2019 OOAK".
With Chocolate glass for her canvas, Fenton artist Michelle Kibbe designed and hand painted this spectacular one-of-a-kind square vase (7.5" tall). Each panel of this vase has a different hand painted scene, ranging from mountains and pine trees to depictions featuring a soaring Bald Eagle. As you can see from the photos, the visual details of Michelle's hand painting are remarkably lifelike as a majestic Bald Eagle swoops to catch a fish in the stream and another one soars above the landscape. Chocolate glass originated about 1900 in Greentown, Indiana, where it was perfected by Jacob Rosenthal, who later became the first Fenton Art Glass factory manager. Fenton has made Chocolate glass at various times, including the 1976 Bicentennial and the 100th anniversary of the glass company in 2005. The square vase originated at the Duncan Miller glass factory in the 1920s, and Fenton Art Glass acquired this mould in the 1960s. The four tall panels provide great latitude for Fenton's decorators to showcase all of their hand painting talents and skills. This one-of-a-kind hand painted vase is identified, dated and signed on the underside: "hand painted by M. Kibbe 2019 OOAK".
It's not too early to be thinking about Christmas ... especially when you see this splendid one-of-a-kind Opal ornament (3.25" diameter) designed and colorfully hand painted by Fenton artist Michelle Kibbe. In this hand painted scene, the family cat is curled up in front of the fireplace, and the Christmas stockings ("hung with care" we're sure!) are there for all to see while awaiting Santa's visit. Note the embossed snowflake on the reverse side. The attached silver cord makes this ornament ready to hang on your tree. This one-of-a-kind hand painted ornament is dated "2019" on the front and identified, dated and signed on the reverse side: "M. Kibbe 2019 OOAK". These Fenton's eBay auctions will end at 2 p.m. ET on Wednesday, October 9.
---