NOTE: If you can not see the images in this newsletter after it arrives in your email "in box", please use the "Trouble viewing this email? Click here" link at the top of the page. The newsletter link will open as a new page in your web browser, complete with images. We apologize for this inconvenience.
NEW Designs and Limited Editions
from Fenton Gift Shop. . .

Our talented design team has created some marvelous new seasonal designs, now available for pre-order. Each Limited Edition will be signed, numbered and dated by one of our talented designers. The Iceberg Paperweight was made by Mosser Glass. The other Limited Editions were also made by Mosser, using the Fenton moulds, for the Fenton Gift Shop.

RETURN POLICY: Returns are accepted on "undamaged" items. Returns are to be shipped within 30 days of receipt, at customer expense, to the Fenton Gift Shop, 2242 Williams Hwy., Suite 108, Williamstown, WV 26187. A 5% restocking fee will be applied for this return. For damaged items, please contact Fenton Gift Shop at 800-319-7793, ext. 342.

Right: Kim Barley created a unique look for our 8" Opal Satin Chessie Cat Covered Box. Recalling the history of the sleeping kitten, Kim's design includes various "graffiti" art that may be found at a railroad brickyard. She created a painted brick wall as background for the wide awake gray kitten.

Graffiti covers the surface of the Chessie Cat Covered Box, including where the paint of a brick wall has peeled away to reveal the rusty red bricks. Additional photos below show the various forms of "graffiti" on this two-piece covered box set, including "Art is Smart", "Love", "Peace", "Rock N Roll", and "Dream". She also added the lettering for the "CSX" railroad. Kim added more of the revealing brick design on the lid (see image below).

The popular "Chessie" cat character was used as a symbol of the Chesapeake and Ohio Railway. They used this artwork with their advertising slogan that when traveling on their railway you would "sleep like a kitten". Fenton created this item especially for the Chesapeake & Ohio railway company. In addition to the artist's signature, the base of this box is embossed with the words "Chessie by Fenton". Each Graffiti Cat Chessie Cat Covered Box is $150.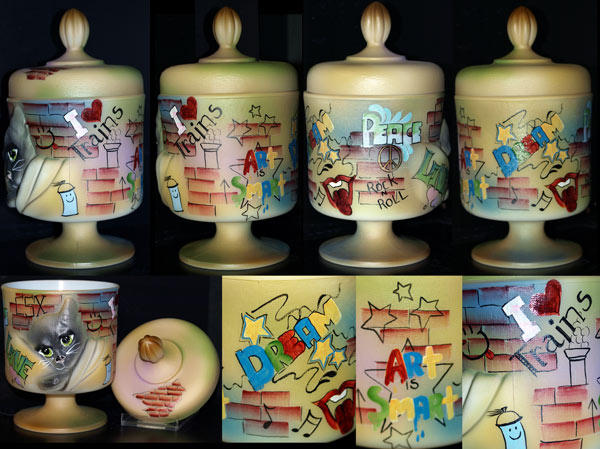 Michelle Kibbe is anticipating the coming holiday season with her lovely "Pine Cones & Ornaments" hand painted design on our 5" Opal Satin Stylized Cat. A perfect addition to your seasonal decorating!

The figurine has a light blue hue and Michelle added pine sprigs with red berries on top of the head. Three round ball ornaments are nestled on another group of pine.

The scarf has beautiful designs in squares, including snowflakes and the pine cone and berries motif. Note that heart-shaped nose and those blue eyes that appear to be looking up at the holly atop the head!

Sculptor Jon Saffell designed the (5065) Cat figurine, known as the Stylized Cat, in 1999, much to the delight of our cat fanciers! Each Pine Cones & Ornaments Stylized Cat is $95.
Michelle Kibbe's "Snowflakes & Snowmen" design on our Limited Edition Santa figurine was so popular that she hand painted our Opal Satin Snowcouple figurines as perfect companions. The 4" Snowman sports a black hat with red and white striped band, red scarf and green gloves. The 3.75" Snowlady has a blue scarf with zigzag trim and green gloves like the other snowman on the Santa. Both figurines have bright red heart-shaped buttons and delightful expressions. Additional views are shown below. The Snowlady also has a blue and white check pattern purse. Snowflakes and decorative designs adorn her cape and scarf. The Snowman also has snowflakes. A winter landscape scene encircles the base of each figurine. Each Sid & Sally Snowflake Snowcouple Figurine Set is $140.


Designed by
Jon Saffell, our Snowman and Snowlady figurines debuted as part of the Frosty Friends grouping in 2000. Shown here are Jon's concept drawings for these figurines (1999).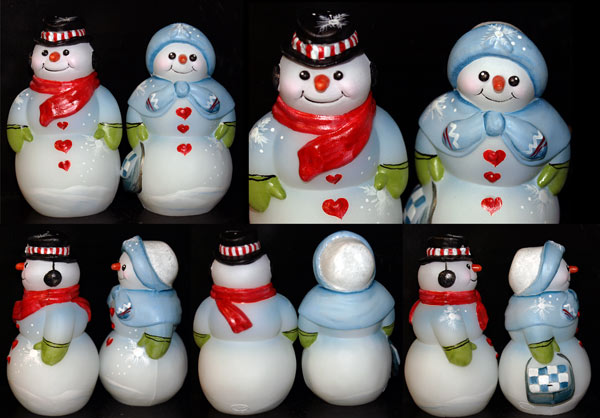 Pre-orders for the Graffiti Cat Chessie Cat Covered Box, Pine Cones & Ornaments Stylized Cat and the Sid & Sally Snowflake Snowcouple Figurine Set will be accepted until midnight (ET) on Monday, September 30, 2019. Please call Fenton Gift Shop to order: 1-800-319-7793, ext. 342 or email: purchasing@fentongiftshop.com and include the names of the items you want to purchase in the subject line. Include your full name and daytime phone so we may follow-up on your request. We may have customers with the same first name, so we also need a last name.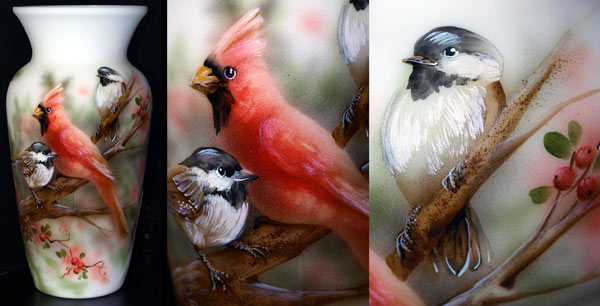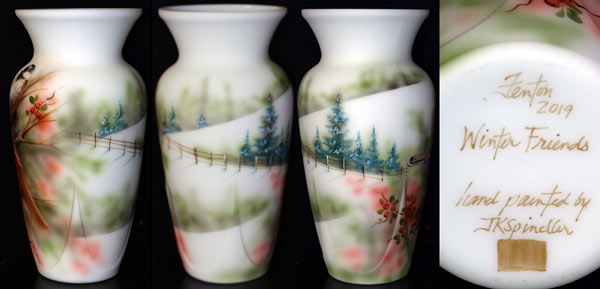 The elegant shape and larger size of this 11" Opal Satin Vase provides an excellent glass canvas for Robin Spindler's beautiful "Winter Friends" design. A colorful red male cardinal and two chickadees perch companionably on branches. A winter landscape with brown fence and pine trees provide a background scene and it encircles the vase. Each vase will also include the name "Winter Friends" as well as Robin's signature and the date and number of the Limited Edition. Each Winter Friends Vase is $190.
Among the most collectible items in Fenton history, the Alley Cat is also one of Fenton's most popular items since it debuted in 1970.

Collectors just can't seem to get enough of the Alley Cat's characteristic grin!

The mould for this figurine originated at the U.S. Glass Co. in Tiffin, Ohio during the 1920s. Purchased by Fenton Art Glass in the mid-1960s, this Alley Cat has since been made in a many colors
and glass treatments.

This 11"
Alley Cat was made in an Eggplant color at Mosser Glass, using the Fenton mould.
Kim Barley created the perfect whimsical design to go along with that grinning face... bees hover around the flowers and blackberries on the figurine. She added two petite flowers on the nose. The cat's eyes are looking upward, perhaps carefully observing the movements of that buzzing bee! You can see another bee just above the cat's white polka dotted tail. Kim created a unique color effect, almost like a mulberry color, by using the eggplant color and blue hues above. Each Blackberries 'n Bees Alley Cat Figurine is $190.
Handcrafted by Mosser in crystal glass, this 7" x 5.5" Iceberg Paperweight is perfectly suited for Robin Spindler's amazing "Winter Wonderland" hand painted design.

The scene features two forest friends, a fawn and a rabbit, observing the breathtaking beauty of

a "winter wonderland".

The afternoon sun is setting against a sky painted in soft pink, blue and yellow hues. A stream, flowing through the winter landscape, reflects the beauty of nature. Snow covered banks create a frame around the scene. Robin created the reflection of the sky in the shimmering crystal clear water of the stream. Snow begins to fall amongst the tall trees.

Robin used a "reverse painting" technique where she painted part of the scene on the back portion of the iceberg. She then painted a solid color background over that section. The front area of the paperweight is handpainted with the animals and snow covered ground and creates an outline effect. Each Winter Wonderland Iceberg Paperweight is $110.
Michelle Kibbe created an adorable red-nosed reindeer design for this iridized Opal glass 3.25" diameter Snowflake Ornament. Each ornament will be signed by the artist and dated 2019. We believe this ornament will become a decorating favorite. This ornament has a snowflake design embossed in the glass on the reverse side. The hand painted scene has a flying reindeer with a holly and berry wreath for its collar. The antlers are stylized with a curly-que design. Large snowflakes against a blue sky provide the background for Michelle's delightful design. Your ornament can be even more festive by using the ribbon included with each ornament for hanging. Each 2019 Reindeer Snowflake Ornament is $55 and includes a ribbon (not shown).
Pre-orders for the Winter Friends Vase, Blackberries 'n Bees Alley Cat Figurine, Winter Wonderland Iceberg Paperweight and the 2019 Reindeer Snowflake Ornament will be accepted until midnight (ET) on Wednesday, October 2, 2019. To place your pre-order, please call Fenton Gift Shop: 1-800-319-7793, ext. 342 or email: purchasing@fentongiftshop.com and include the names of the items you want to purchase in the subject line.

Please include your full name and daytime phone number so we may follow-up on your request. We may have people with the same first name, so we also need a last name for confirmation of the order. If you know of someone who may be interested in receiving our weekly eNewsletters, please have them contact purchasing@fentongiftshop.com to have their email address added to our mailing list. Our emails go out weekly with the current Limited Edition offerings.
---
Find Unique Gifts at Fenton Gift Shop!

Stop in and choose from our colorful selection of "creatures great and small" as well as a nice selection of seasonal decor, including vintage and new Fenton Art Glass.


Traveling near us?
Visit the WV Welcome Center (Exit 185 off of I-77) for your Visitor's Guide to our area (coupon inside!). The shop is located in a small strip mall on State Route 14 in Boaz, five minutes from the original factory site.


Fenton Gift Shop, 2242 Williams Highway, #108, Williamstown, WV 26187
Hours: 10-4 Tuesday-Saturday 800-319-7793,ext. 342
---
Glass Identification Requests. . .
We no longer have staff to research inquiries about glass: value, history, identification, etc. Reference books on Fenton Art Glass do not include current price guides. We suggest you contact your local antiques dealer, the local library, or one of the collector clubs: http://www.fentonartglass.com/collectors. The Williamstown Antique Mall (local) may also assist you: 304-375-6315 or email: antiquemall@suddenlinkmail.com. A piece like yours may be listed on eBay, which can provide current pricing information. Otherwise, please email glass "production" questions to: askfenton@fentonartglass.com. For info on selling or placing a value on your Fenton Art Glass, click here.
---
Fenton Art Glass eBay Auctions. . .
Here's your opportunity to own a beautiful "one-of-a-kind" Fenton Art Glass creation through our weekly Fenton Art Glass eBay auctions. These Fenton's eBay auctions will end at 2 p.m. ET on Wednesday, October 2. Items featured this week. . .
| | |
| --- | --- |
| | With satin finished Rosalene glass for her canvas, award-winning Fenton designer Robin Spindler created and hand painted this stunning one-of-a-kind vase (11.5" tall). Her depictions of the White Tiger mother and cubs are breathtaking to behold! One view has the mother with a cub and another view has a cub peering out of the dense foliage. The soft pink background is a perfect contrast to the hand painted flowers and greenery, and the White Tigers are remarkably realistic. Note those splendid blue eyes! Rosalene, a classic Fenton glass color, has pure gold in the batch that is responsible for the wonderful pink blush that Fenton collectors have come to love since the 1970s. |
Fenton artist Michelle Kibbe has this splendid one-of-a-kind Opal Satin hand painted Owl figurine (5.75" tall) decorated to absolute perfection in anticipation of the coming Winter and holiday season! You'll love the hand painted smiling snowman and the vivid red male Cardinal bird, but don't overlook the many delightful details: snowflakes, delicate pine trees, wrapped presents, holly sprigs, etc. The airbrushed blue background is just right for the contrasting hand painted design elements in rich purple tones, as you can see in the photos! These Fenton's eBay auctions will end at 2 p.m. ET on Wednesday, October 2.
---