NOTE: If you can not see the images in this newsletter after it arrives in your email "in box", please use the "Trouble viewing this email? Click here" link at the top of the page. The newsletter link will open as a new page in your web browser, complete with images. Our website is currently undergoing maintenance. We apologize for this inconvenience.
Celebrate Friday the 13th with NEW Fenton Gift Shop Limited Editions!
The fear of Friday the 13th is also called "friggatriskaidekaphobia" or "paraskevidekatriaphobia". Don't let the date or the big words scare you. . . there's nothing to fear with these latest Limited Edition selections from Fenton Gift Shop! Now available for pre-order, each Limited Edition features a hand painted design and will be signed, numbered and dated by one of our talented designers. The "butter tub" or Covered Box was made by Mosser Glass. The other Limited Editions were made by Mosser, using the Fenton moulds, for the Fenton Gift Shop. RETURN POLICY: Returns are accepted on "undamaged" items. Returns are to be shipped within 30 days of receipt, at customer expense, to the Fenton Gift Shop, 2242 Williams Hwy., Suite 108, Williamstown, WV 26187. A 5% restocking fee will be applied for this return. For damaged items, please contact Fenton Gift Shop at 800-319-7793, ext. 342.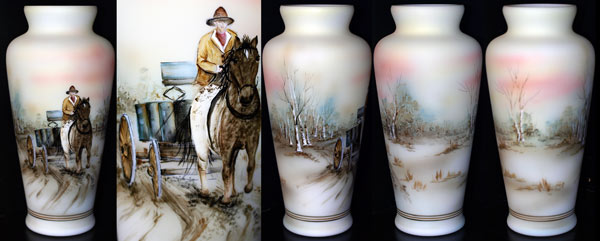 Michelle Kibbe's hand painted design on our 10.75" Opal Satin Vase hearkens back to another era. A country scene set in late autumn encircles the vase. Michelle added a trio of delicate bands in brown tones to complement her design. The wagon driver maneuvers a farm wagon along a rutted country road. The wheels have wooden spokes and there's a raised seat on the wagon, which allows for plenty of space for storage of goods. Michelle added soft hues of blues and reds in the sky. Did you know. . . the front wheels on a wagon are smaller than the rear ones because of engineering! The lower height of the front wheel helps to level the wagon and increases the turning radius. As the diameter of the wheel increases, the draft size of the animal needed to pull the wagon decreases, making it easier on the horses, mules, or oxen to pull the wagons and carriages. Each Horse Drawn Wagon Vase is $155.
The perfect companion piece to the vase shown above is this 3.75" long Appaloosa Foal Figurine by Michelle Kibbe. Sculptor Suzi Whitaker designed the mould for a new horse figurine that debuted in 2006. It was named the "Fenton Foal" and has since become a collector favorite. Michelle hand painted this Opal Satin figurine in natural tones to resemble an Appaloosa Foal, which is known for its beautiful spots. This Appaloosa has a soft brown coat with darker brown head, mane and tail. Perfect gift for figurine collectors as well as horse enthusiasts. Each Brown Appaloosa Fenton Foal Figurine is $80.
We are pleased to introduce this new design for one of the latest shapes to be included in our product line ─ a Jadeite glass "butter tub" made by Mosser Glass. Before refrigerators were used in households, butter was stored in a round or rectangular covered dish. Michelle Kibbe adds to the beauty of the Jadeite glass with her hand painted design of lovely purple, blue, ivory and white stylized flowers. Delicate scrollwork and crosshatch details with golden bands complete this set. This 4.5" x 4.5" Jadeite piece is very versatile. Use it as a treasure box to store your precious keepsakes or as a candy box. . . or think "outside the box" and come up with your own use for this beautiful Limited Edition! This set is satin finished on the outside and has a glossy interior. Each Beautiful Blooms Covered Box is $90.
Pre-orders for the Horse Drawn Wagon Vase, Brown Appaloosa Fenton Foal Figurine and the Beautiful Blooms Covered Box will be accepted until midnight (ET) on Monday, September 16, 2019. Please call Fenton Gift Shop to order: 1-800-319-7793, ext. 342 or email: purchasing@fentongiftshop.com and include the names of the items you want to purchase in the subject line. Include your full name and daytime phone so we may follow-up on your request. We may have customers with the same first name, so we also need a last name.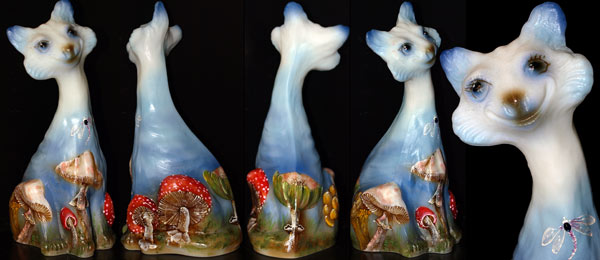 Robin Spindler's recent design featuring the Fly Agaric Mushroom was so popular she decided to try her design on our 11" Opal Satin Alley Cat Figurine that was finished using an acid etch process. Note the interesting opaque and translucent areas on this figurine. Robin chose to depict several "poisonous" mushrooms in vibrant colors. Her hand painted design encircles the base of the figurine and includes the following toxic and uniquely-named mushrooms: Fly Agaric, Green Spored Lepiota, Jack-o'-lantern, Destroying Angel, and Emetic Russula. Robin used vibrant red, orange, green, golden-yellow and other hues to create her design. She added a dragonfly adorned with a sparkling blue gemstone accent just below the neck area. Truly a unique design and definitely a conversation starter when on display!
Among the most collectible items in Fenton history, the whimsical Alley Cat figurine has also been one of Fenton's most popular items since it was first made in 1970. Fenton collectors just can't seem to get enough of the Alley Cat's characteristic grin! The mould for this piece originated at the U.S. Glass Co. in Tiffin, Ohio during the 1920s and was purchased by Fenton Art Glass in the mid-1960s. Since that time, this Alley Cat has been made in a rainbow of colors and decorative treatments. Each Mushrooms Galore! Alley Cat Figurine is $195.
You'll want to pre-order this Limited Edition Santa, not only for seasonal decorating, but to treasure as a family keepsake!

Robin Spindler depicts the Fenton Art Glass Gift Shop with a unique hand painted design on our 8" Opal Satin figurine.

A rendition of the Fenton Gift Shop appears on the back of Santa's robe, which Robin has airbrushed in a soft blue and added light brown for the fur trim. She added a star with a sparkling golden gemstone.

On the front of this figurine, Santa has a firm grip on his bag stuffed full of goodies. In the other hand, Santa holds his "naughty or nice" list. Hand lettered on the list are the names of Fenton siblings Christine, Don, Randall, and Shelley (the children of Wilmer "Bill" Fenton).

The Santa figurines designed by sculptor Jon Saffell in the 1990s quickly became very popular Fenton collectibles as well as holiday gifts. Each Fenton Family List Santa Figurine is $125.
Kim Barley welcomes the coming season with her "Happy Fall y'all!" design on our 5.75" Ruby Satin Ghost Figurine. Kim created an adorable scene with a black cat dressed as a ghost, laughing pumpkins, purple bat and stars. She added a large sunflower and hand painted "OCTOBER" on the back side of the figurine. Note the large full moon on one hand.
Each Happy Fall Y'All Ghost Figurine is $115.
Kim Barley created a cute design on our 3.75" Opal Satin Sitting Cat Figurine of a butterfly flitting amongst lovely flowers. She painted the figurine in light gray tones for the body and added white to the chest, paws and to the tip of the tail. A large blue and white stylized flower adorns the head. As always, Kim created an expressive face with large eyes and a pink nose. Each Butterfly Floral Sitting Cat Figurine is $75.
Pre-orders for the Mushrooms Galore! Alley Cat, Fenton Family List Santa, Happy Fall Y'All Ghost and the Butterfly Floral Sitting Cat Figurines will be accepted until midnight (ET) on Wednesday, September 18, 2019. To place your pre-order, please call Fenton Gift Shop: 1-800-319-7793, ext. 342 or send us an email: purchasing@fentongiftshop.com and include the names of the items you want to purchase in the subject line.

Please include your full name and daytime phone number so we may follow-up on your request. We may have people with the same first name, so we also need a last name for confirmation of the order. If you know of someone who may be interested in receiving our weekly eNewsletters, please have them contact purchasing@fentongiftshop.com to have their email address added to our mailing list. Our emails go out weekly with the current Limited Edition offerings.
---
Stop in and choose from our selection of seasonal decor of handcrafted vintage and new glass with beautiful designs and colors.


Traveling near us? Visit the WV Welcome Center (Exit 185 off of I-77) for your Visitor's Guide to our area (coupon inside!). Fenton Gift Shop is located at 2242 Williams Highway, Suite 108 in Williamstown, WV 26187. The shop is located in a small strip mall on State Route 14 in Boaz, five minutes from the original factory site.

Visit Fenton Gift Shop for Seasonal Glass Decor Ideas!
Hours: 10-4 (ET) Tuesday-Saturday
---
Glass Identification Requests. . .
We no longer have staff to research inquiries about glass: value, history, identification, etc. Reference books on Fenton Art Glass do not include current price guides. We suggest you contact your local antiques dealer, the local library, or one of the collector clubs: http://www.fentonartglass.com/collectors.
The Williamstown Antique Mall (local) may also assist you: 304-375-6315 or email: antiquemall@suddenlinkmail.com. A piece like yours may be listed on eBay, which can provide current pricing information. Otherwise, please email glass "production" questions to: askfenton@fentonartglass.com. For info on selling or placing a value on your Fenton Art Glass, click here.
---
Fenton Art Glass eBay Auctions. . .
Here's your opportunity to own a beautiful "one-of-a-kind" Fenton Art Glass creation through our weekly Fenton Art Glass eBay auctions. These Fenton's eBay auctions will end at 2 p.m. ET on Wednesday, September 18. Items featured this week. . .
| | |
| --- | --- |
| Fenton artist Michelle Kibbe enjoys the Winter season, and this one-of-a-kind hand painted cased glass vase (9.75" tall) showcases many of her favorite things: the outdoors, birch trees, pine trees and Cardinal birds! The stately birch trees are perfectly depicted, and the bright red male Cardinal is a wonderful focal point in Michelle's breathtaking design. The delicate airbrushed background adds depth to the scene, as does the pine tree in the foreground and the barren trees in the far background. This remarkable hand painted scenic design completely encircles the vase. This cased glass vase has rich emerald green glass on its interior, and the exterior is Milk Glass. | |
Get started on Halloween fun with this great one-of-a-kind hand painted basket (7.5" tall) in black glass from Fenton artist Kim Barley. You'll love the interesting, eye-catching hand painted details: a trio of smiling pumpkins, a black cat, a witch's distinctive hat, stars, a bat, etc. (don't miss the two pieces of candy corn inside ... you can add more!!). The airbrushed blue background on the exterior is the perfect contrast for all of Kim's interesting design elements. Kim hand lettered the word "HALLOWEEN" in gold paint above the pumpkin trio. Note the square twisted handle, too! These Fenton's eBay auctions will end at 2 p.m. ET on Wednesday, September 18.
---