NOTE: If you can not see the images in this newsletter after it arrives in your email "in box", please use the "Trouble viewing this email? Click here" link at the top of the page. The newsletter link will open as a new page in your web browser, complete with images. Our website is currently undergoing maintenance. We apologize for this inconvenience.
NEW Limited Editions from Fenton Gift Shop. . .
We are pleased to offer these new Limited Edition selections for pre-orders, including a NEW shape, the Fox Figurine! Each Limited Edition features a hand painted design and will be signed, numbered and dated by one of our talented designers. The Cobalt Blue Paperweight was made by Mosser Glass. The other Limited Editions were made by Mosser, using the Fenton moulds, for the Fenton Gift Shop. RETURN POLICY: Returns are accepted on "undamaged" items. Returns are to be shipped within 30 days of receipt, at customer expense, to the Fenton Gift Shop, 2242 Williams Hwy., Suite 108, Williamstown, WV 26187. A 5% restocking fee will be applied for this return. For damaged items, please contact Fenton Gift Shop at 800-319-7793, ext. 342.

The elegant shape of this 10" Opal Satin Vase suits Michelle Kibbe's hand painted design featuring honey bees and stylized flowers.

Michelle painted delicate brown bands that encircle the vase.

She added a golden honeycomb pattern that complements the cluster of flowers in hues of white, gold and lavender. Leaves in various shades of green frame the flowers. Five honeybees hover around the flower blossoms. Each Honeybees Floral Vase is $185.

Below: Our 8" Opal Satin Chessie Cat Covered Box features a lovely hand painted "Dragonflies & Roses" design by Michelle Kibbe. The popular "Chessie" cat character was used as a symbol of the Chesapeake and Ohio Railway. They used this artwork with their advertising slogan that when traveling on their railway you would "sleep like a kitten". Fenton created this item especially for the Chesapeake & Ohio railway company. In addition to the artist's signature, the base of this box is embossed with the words "Chessie by Fenton".

Michelle's design has petite rosebuds and delicate gossamer winged dragonflies. The sleepy white Chessie Cat has beautiful green eyes. It is snuggled in a darker rose-colored blanket.

The Chessie Box and lid have been airbrushed in a soft darker pink color. Michelle adorned the lid with rose blossoms entwined in white ribbon and dotted accents. She painted two lavender dragonflies on the lid with another dragonfly hovering just beside the sleepy cat.

Each Dragonflies & Roses Chessie Cat Covered Box is $140.
The rich Cobalt Blue color of this 5.5" round glass Paperweight is the perfect canvas for Kim Barley's latest Halloween-themed design!
A large white spiderweb is in the background surrounded by several stars. A smiling skeleton poses in the foreground. A purple spider covered in while polka dots dangles from the web. A large pumpkin appears to be laughing with glee!

Kim hand lettered "31 OCTOBER" on another pumpkin. A black cat peeks over the top.
Each Spiderweb Skeleton Paperweight is $110.
Pre-orders for the Honeybees Floral Vase, Dragonflies & Roses Chessie Cat Covered Box and the Spiderweb Skeleton Paperweight will be accepted until midnight (ET) on Monday, September 9, 2019. Please call Fenton Gift Shop to order: 1-800-319-7793, ext. 342 or email: purchasing@fentongiftshop.com and include the names of the items you want to purchase in the subject line. Include your full name and daytime phone so we may follow-up on your request. We may have customers with the same first name, so we also need a last name.

Above: Fenton Gift Shop is pleased to bring back a popular figurine to our product line, the Fox Figurine. This figurine was first introduced to the Fenton Art Glass line in the mid-1980s. Handcrafted in Opal Satin, this 4.5" tall figurine sports a Fly Agaric mushroom design by Robin Spindler. She painted two of these colorful mushrooms. Robin hand painted this figurine in natural Red Fox details, including the dark ears and white-tipped furry tail. Each Fly Agaric Mushroom Fox Figurine is $80.

Did you know. . . A poisonous mushroom often found in pastures and fields during summer, the "fly agaric" is a hallucinogenic and was once used as a fly poison. These mushrooms have also been associated with interesting European and Asian folktales, including one about a side effect of rosy, red cheeks and a feeling of flying in a spiritual sleigh pulled by reindeer or horses. Hmmm... that's very interesting!

Left: Robin Spindler continues her Red Fox and Fly Agaric Mushroom design theme on this 8.75" Opal Satin Vase. She created a heartwarming and beautiful seasonal scene of a pair of foxes surrounded by falling leaves.

A Vixen (female fox) snuggles against her mate, the Tod (male fox). A few Fly Agaric mushrooms are nearby and appear ready to be harvested. The hand painted details are meticulously executed and a tribute to Robin's talent. She added a decorative pattern accent around the top in gold. The background is of the forest with leaves in seasonal hues of orange and gold and sunlight streaming through the branches. Different views of this vase are shown below, including close-ups of the fox pair and mushrooms and the details on the top rim of the vase. Each Red Fox Pair Vase is $175.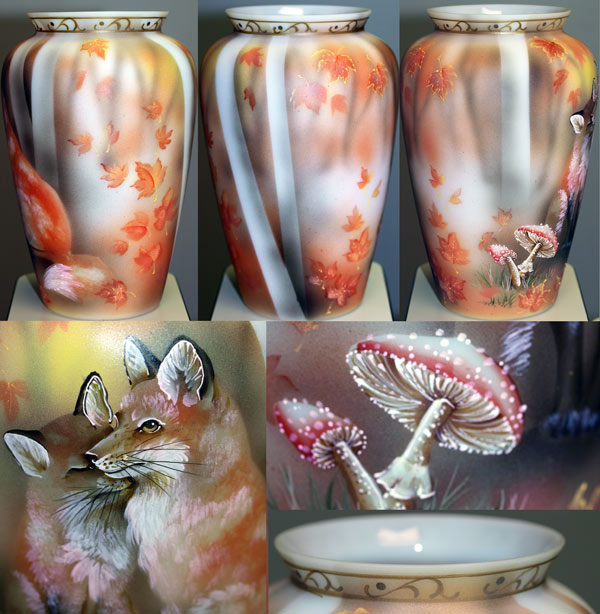 Kim Barley's whimsical side is truly out in full force with her latest Halloween design! Our 6.5" Opal Satn Witch Figurine has a big grin on her face. . . her cat trick or treat bag is ready to be filled with lots of treats! Designed by Kim Barley, this colorful figurine will make a great addition to your Halloween decor!

A variety of stars in a rainbow of colors adorn the hat, with vibrant rings of color at the end of the hat. Kim gave this witch a green nose, rosy cheeks, bright purple eyes edged in black, and the ever present "wart" on the chin! This witch is wearing a necklace with a beautiful gemstone (applied accent stone) . . . which resembles a moonstone, so we named her "Moonstone".

The witch's dress is hand painted in bright golden orange and purple with shades of black. A green owl is perched on a branch in front of a stylized moon and stars. The skirt has black polka dots and a spider dangling from the tied apron. This witch is selling rides on her broomstick for 25 cents each! Cute pumpklnis and black bats complete this look for a sure to be Halloween favorite!

Each Moonstone Witch Figurine is $115.

This 4" long Opal SatinTurtle Figurine is hand painted in soft green and aqua tones. Michelle Kibbe designed a unique and appealing pattern for the shell, which includes attractive aqua swirls with white polka dot accents. Note the expression on the turtle's face. Each Aqua Swirls Turtle Figurine is $75.
Pre-orders for the Red Fox Pair Vase, Fly Agaric Mushroom Fox, Moonstone Witch and the Aqua Swirls Turtle Figurines will be accepted until midnight (ET) on Wednesday, September 11, 2019. To place your pre-order, please call Fenton Gift Shop: 1-800-319-7793, ext. 342 or send us an email: purchasing@fentongiftshop.com and include the names of the items you want to purchase in the subject line.

Please include your full name and daytime phone number so we may follow-up on your request. We may have people with the same first name, so we also need a last name for confirmation of the order. If you know of someone who may be interested in receiving our weekly eNewsletters, please have them contact purchasing@fentongiftshop.com to have their email address added to our mailing list. Our emails go out weekly with the current Limited Edition offerings.
---
Visit Fenton Gift Shop. . .
Unique Gifts for All Occasions!
Traveling near us? Stop at an Interstate 77 roadside rest for the "I-77 Summer Travel Guide" or visit the WV Welcome Center (Exit 185 off of I-77) for your Visitor's Guide to our area (coupon inside!).

Fenton Gift Shop is located at 2242 Williams Highway, Suite 108 in Williamstown, WV 26187. The shop is located in a small strip mall on State Route 14 in Boaz, just five minutes from the original factory site.
---
Glass Identification Requests. . .
We no longer have staff to research inquiries about glass: value, history, identification, etc. Reference books on Fenton Art Glass do not include current price guides. We suggest you contact your local antiques dealer, the local library, or one of the collector clubs: http://www.fentonartglass.com/collectors.
The Williamstown Antique Mall (local) may also assist you: 304-375-6315 or email: antiquemall@suddenlinkmail.com. A piece like yours may be listed on eBay, which can provide current pricing information. Otherwise, please email glass "production" questions to: askfenton@fentonartglass.com. For info on selling or placing a value on your Fenton Art Glass, click here.
---
Fenton Art Glass eBay Auctions. . .
Here's your opportunity to own a beautiful "one-of-a-kind" Fenton Art Glass creation or items from Fenton's history through our weekly Fenton Art Glass eBay auctions. These Fenton's eBay auctions will end at 2 p.m. ET on Wednesday, September 11. Items featured this week. . .
| | |
| --- | --- |
| Reminiscent of the classic "Blue Ridge" line created by Fenton Art Glass in the late 1930s, this one-of-a-kind hand painted perfume bottle by Fenton artist Michelle Kibbe is simply stunning! The satin-finished French Opalescent glass with swirl optic stripes is the perfect background for Michelle's stylized floral motif, hand painted in vivid blue ... a great complement to the applied blue glass topmost edge. Note the attractive green foliage and the crosshatch decoration, too! The stopper was carefully airbrushed to match the bottle, and this piece stands 5.5" tall overall. This one-of-a-kind hand perfume bottle is dated and signed on the underside: "hand painted by M. Kibbe 2019 OOAK". | |
Award-winning Fenton designer Robin Spindler created this one-of-a-kind sandcarved Star paperweight (5" diameter) using special masking to depict the iconic "Clarence" glassworker figure that was first associated with Fenton in the 1950s. She also sandcarved the Fenton "script F" logo and added a sprinkling of stars (Fenton fans all realize that Clarence is quite a star himself!). Added gold paint really makes Clarence shine amongst those stars! This paperweight comes in an attractive presentation box lined with soft blue cloth.This one-of-a-kind sandcarved/goldfilled Star paperweight is dated and signed: "J. K. Spindler OOAK 2019 ". These Fenton's eBay auctions will end at 2 p.m. ET on Wednesday, September 11.
---