NOTE: If you can not see the images in this newsletter after it arrives in your email "in box", please use the "Trouble viewing this email? Click here" link at the top of the page. The newsletter link will open as a new page in your web browser, complete with images. Our website is currently undergoing maintenance. We apologize for this inconvenience.
NEW Limited Editions from Fenton Gift Shop. . .
We are pleased these new Limited Edition selections for pre-orders. Each Limited Edition features a hand painted design and will be signed, numbered and dated by one of our talented designers. The Crystal Iceberg Paperweight was made by Mosser Glass. The other Limited Editions were made by Mosser, using the Fenton moulds, for the Fenton Gift Shop. RETURN POLICY: Returns are accepted on "undamaged" items. Returns are to be shipped within 30 days of receipt, at customer expense, to the Fenton Gift Shop, 2242 Williams Hwy., Suite 108, Williamstown, WV 26187. A 5% restocking fee will be applied for this return. For damaged items, please contact Fenton Gift Shop at 800-319-7793, ext. 342.
| | |
| --- | --- |
| The shape of our 11" Opal Satin Vase provides an excellent glass canvas for Michelle Kibbe's rendition of a pair of Rose-breasted Grosbeaks. The true-to-life details include the distinctive and vibrant rose-red mark on the chest of the male bird. Michelle created a soft background with brown tones for her scene of the Rose-breasted Grobeak pair perched on flowering branches. The colorful flowers complement her hand painted birds. Michelle also added delicate banding around the top of the vase. Each Rose-breasted Grosbeaks Vase is $180. | |
This adorable 3.25" Eggplant Sitting Bear Figurine is the perfect gift for the young or the young-at-heart!


Michelle Kibbe hand painted this figurine as a happy little boy bear posing with two of his favorite toys − a fire truck and a dump truck! This figurine is dressed in green coveralls with bright red buttons and a matching yellow, white and green cap. The expression is adorable. . . with large brown eyes and long eyelashes! A must have for figurine collectors! Each Toy Trucks Bear Figurine is $80.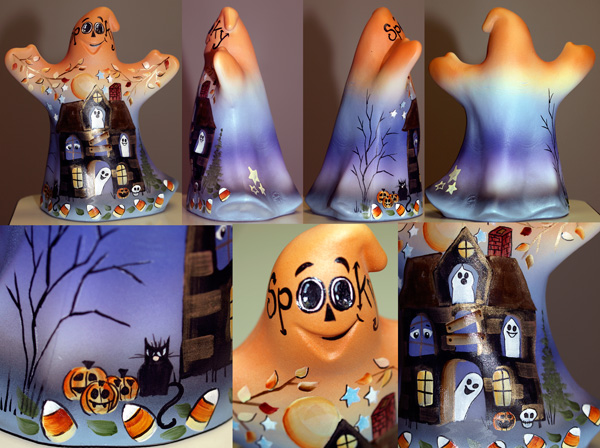 It's never too late to start planning your Halloween decorating! Kim Barley applied her wonderful whimsical touch to our 5.75" Opal Satin Ghost Figurine with a delightful design of a ghost-filled haunted house , grinning pumpkins, gnarly tree, and black cat. She added a candy corn border as well as stars, full moon and golden orange-brown leaves. Note the unique way that Kim created the word "Spooky" using the two eyes! Each Spooky Ghost Figurine is $115.
Pre-orders for the Rose-breasted Grosbeaks Vase, Toy Trucks Bear and Spooky Ghost Figurines will be accepted until midnight (ET) on Monday, September 2, 2019. To pre-order, please call Fenton Gift Shop: 1-800-319-7793, ext. 342 or email: purchasing@fentongiftshop.com and include the names of the items you want to purchase in the subject line. Include your full name and daytime phone so we may follow-up on your request. We may have people with the same first name, so we also need a last name.
The impressive size of this 11.5" Opal Satin Vase is perfect for Robin Spindler's marvelous scene featuring a White Tiger mother with her two cubs.

The hand painted details are meticulously executed and true-to-life. The White Tiger mother closely observes one of her cubs from amidst dense and colorful foliage. Another cub climbs over a fallen tree branch. Note the bold colors of the black, gray, and white stripes of the tigers.

Robin has captured the sapphire blue of the cubs' eyes. Combined with their striped coat, those eyes make these White Tiger cubs very attractive!


Did you know. . . White Tigers can run quite fast – around 60 miles per hour and they can live as long as 20 years! Each White Tigers Vase is $220.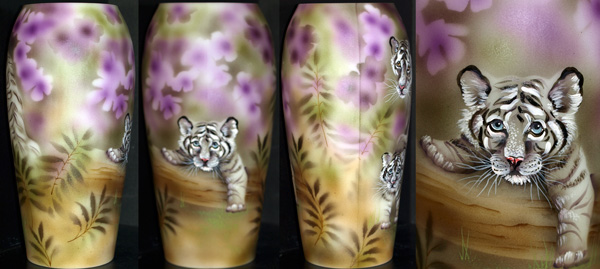 This smiling, petite 2.75" Eggplant Mouse Figurine is ablaze in color. . . from the brilliant blue morning glory flowers and petite pink flower clusters to the ruby-throated hummingbird hovering on one ear.

Kim Barley added a pink heart-shaped nose, white whiskers and large blue eyes to complete her lovely design on this figurine. Each Morning Glory Mouse Figurine is $80.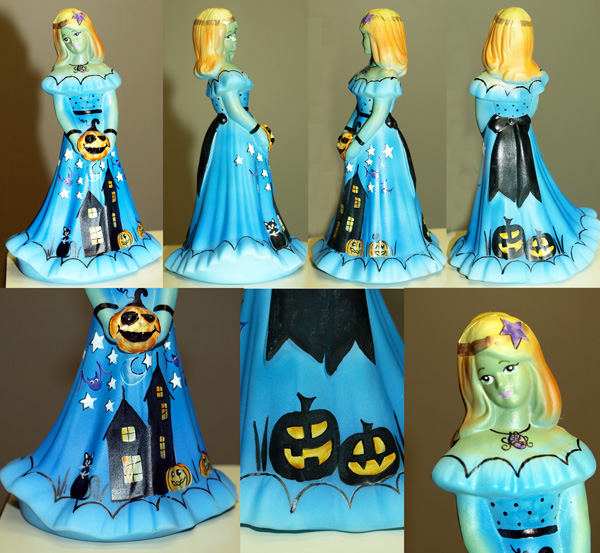 Kim Barley continues her whimsical Halloween-themed designs with her "Jackie-O-Lantern" Bridesmaid Doll. Handcrafted in Robin's Egg Blue, this 7" figurine has green-hued skin and she is adorned in a lovely blue dress, complete with ruffles edged in black. This Bridesmaid Doll figurine has a golden headband with purple star and a necklace. Several pumpkins adorn this figurine, each with a toothy grin. The figurine is also holding a large, smiling carved pumpkin. Kim painted a seasonal Halloween scene of a scraggly black cat, flying purple bat, moon and stars, and a haunted house on the skirt. Each Jackie-O-Lantern Bridesmaid Doll Figurine is $90 and limited to 11.

Handcrafted in crystal glass by Mosser, this 7" Iceberg Paperweight has a unique, three-dimensional look with Robin Spindler's reverse painting technique. A male ruby-throated hummingbird hovers near a brightly colored flower. Several other flowers and leaves provide a frame around the scene. Robin painted some of the colorful flowers on the back of the paperweight, then covered that part of her design with white paint. She then added the hummingbird and other flowers to the front of the iceberg for beautiful results! The iridescent colors in hummingbirds are often sparkly, like gemstones. So we decided to call Robin's design "Little Gem." Each Little Gem Iceberg Paperweight is $110.
Pre-orders for the White Tigers Vase, Morning Glory Mouse Figurine, Jackie-O-Lantern Bridesmaid Doll Figurine, and Little Gem Iceberg Paperweight will be accepted until midnight (ET) on Wednesday, September 4, 2019. To place your pre-order, please call Fenton Gift Shop: 1-800-319-7793, ext. 342 or send us an email: purchasing@fentongiftshop.com and include the names of the items you want to purchase in the subject line. Please include your full name and daytime phone number so we may follow-up on your request. We may have people with the same first name, so we also need a last name for confirmation of the order. If you know of someone who may be interested in receiving our weekly eNewsletters, please have them contact purchasing@fentongiftshop.com to have their email address added to our mailing list. Our emails go out weekly with the current Limited Edition offerings.
---
Visit Fenton Gift Shop. . .
Unique Gifts for All Occasions!
Traveling near us? Stop at an Interstate 77 roadside rest for the "I-77 Summer Travel Guide" or visit the WV Welcome Center (Exit 185 off of I-77) for your Visitor's Guide to our area (coupon inside!).

Fenton Gift Shop is located at 2242 Williams Highway, Suite 108 in Williamstown, WV 26187. The shop is located in a small strip mall on State Route 14 in Boaz, just five minutes from the original factory site.
---
Glass Identification Requests. . .
We no longer have staff to research inquiries about glass: value, history, identification, etc. Reference books on Fenton Art Glass do not include current price guides. We suggest you contact your local antiques dealer, the local library, or one of the collector clubs: http://www.fentonartglass.com/collectors.
The Williamstown Antique Mall (local) may also assist you: 304-375-6315 or email: antiquemall@suddenlinkmail.com. A piece like yours may be listed on eBay, which can provide current pricing information. Otherwise, please email glass "production" questions to: askfenton@fentonartglass.com. For info on selling or placing a value on your Fenton Art Glass, click here.
---
Fenton Art Glass eBay Auctions. . .
Here's your opportunity to own a beautiful "one-of-a-kind" Fenton Art Glass creation or items from Fenton's history through our weekly Fenton Art Glass eBay auctions. These Fenton's eBay auctions will end at 2 p.m. ET on Wednesday, September 7. Items featured this week. . .
| | |
| --- | --- |
| | With Lotus Mist Burmese glass as her canvas, Fenton artist Michelle Kibbe designed and hand painted this splendid one-of-a-kind pitcher (8.25" tall) in Lotus Mist Burmese glass. The graceful pink/white floral motif and lush green leaves and foliage completely encircle the pitcher, and Michelle's depiction of the gray Tufted Titmouse bird is remarkably true to life. We can almost hear its distinctive high-pitched, whistling call ..."peter, peter, peter!" Lotus Mist Burmese is a "classic" Fenton Art Glass color, and only a few glass factories worldwide have ever created a similar hue. |
Note the distinctive crimp style, a real tribute to the skills of glassworkers at Fenton art Glass. This one-of-a-kind hand painted Lotus Mist Burmese pitcher is identified, signed and dated on the underside: "hand painted by M. Kibbe 2019 OOAK".
Fenton artist Kim Barley has designed and hand painted many different Fenton Art Glass cat figurines over the years, but we think this one-of-a-kind hand painted cat figurine is one of her most interesting. This cat (3.25" tall) is the finest satin-finished Fenton Milk Glass, and the varied colors of the hand painted floral motif and the green leaves stand in wonderful contrast to the glass itself. Don't miss those honeybees searching for nectar! This one-of-a-kind hand painted Milk Glass cat figurine is identified, signed and dated on the underside: "Kim Barley 2019 OOAK". These Fenton's eBay auctions will end at 2 p.m. ET on Wednesday, September 7.
---