NOTE: If you can not see the images in this newsletter after it arrives in your email "in box", please use the "Trouble viewing this email? Click here" link at the top of the page. The newsletter link will open as a new page in your web browser, complete with images. Our website is currently undergoing maintenance. We apologize for this inconvenience.
NEW Limited Editions from Fenton Gift Shop. . .
We are pleased to offer a NEW shape, the "Pumpkinhead" to the Fenton Gift Shop Limited Edition selections for pre-orders. Each Limited Edition features a hand painted design and will be signed, numbered and dated by one of our talented designers. These Limited Editions were made by Mosser, using the Fenton moulds, for the Fenton Gift Shop.
RETURN POLICY: Returns are accepted on "undamaged" items. Returns are to be shipped within 30 days of receipt, atcustomer expense, to the Fenton Gift Shop, 2242 Williams Hwy., Suite 108, Williamstown, WV 26187. A 5% restocking fee will be applied for this return. For damaged items, please contact Fenton Gift Shop at 800-319-7793, ext. 342.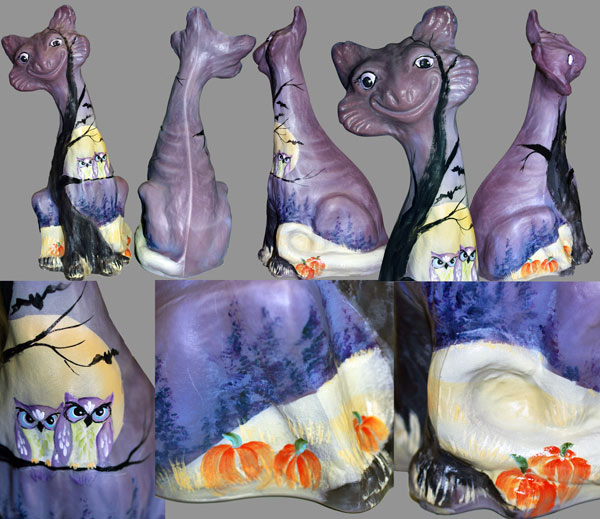 Among the most collectible items in Fenton history, the whimsical Alley Cat figurine has also been one of Fenton's most popular items since it was first made in 1970. The mould for this piece originated at the U.S. Glass Co. in Tiffin, Ohio during the 1920s and was purchased by Fenton Art Glass in the mid-1960s. Since that time, this Alley Cat has been made in a rainbow of colors and decorative treatments. We continue the tradition by offering this figurine in the new Eggplant color, featuring a design by Michelle Kibbe. A large, gnarly tree dominates the front of the figurine, with its branches extending up into the Alley Cat's face. Michelle created wide open eyes above the Alley Cat's characteristic grin. A full All Hallow's Eve moon rises behind one of the branches. Two purple, green and white owls with watchful blue eyes perch on a branch. Bright orange pumpkins lay upon the ground which encircles the base of the figurine. Dark trees in hues of purple and blue provide the background. Each Whooo's There? Alley Cat Figurine is $190.
Collectors have enjoyed the charm of Fenton fairy lights for more than half a century. The flickering flame from a small candle or tea light inside a Fenton Fairy Light always seems to warm an entire room.

Michelle Kibbe's cheerful hand painted design on our 5" Opal Fairy Light encircles the shade and includes several golden-yellow sunflowers, white daisies and two black-capped chickadees.

The shade is Opal Satin, while the base is glossy Opal. See the photos below that illustrate two views of this Fairy Light when the tea light is in place.

Each Sunflowers & Chickadees Fairy Light, tea light included, is $95.

| | |
| --- | --- |
| | |
We're pleased to bring back a seasonal favorite to our Limited Edition product line. . . the Pumpkinhead Figurine. The mould for this figurine was designed by sculptor Suzi Whitaker. "Pumpkinhead" joined Fenton's cast of colorful Halloween characters in 2007. Kim Barley adds her whimsical touch to this 6" Opal Satin figurine with a fun "Trick or Treat" Halloween design. The orange "pumpkin head" has large eyes (plus eyebrows and eyelashes!), a green top and a wide grin with a single tooth. This character has its "trick or treat" bag at the ready to receive lots of Halloween goodies! Kim added a colorful outfit in purple, black and green with a golden star necklace. The hand painted details are marvelous. . . from the grinning pumpkins on the ground, flying bats, moon and stars. . . to the black cat with its mouse companion. Did you see that pumpkin with purple bat wings and vampire teeth? Each Trick or Treat Pumpkinhead Figurine is $115.
Pre-orders for the Whooos There? Alley Cat Figurine, Sunflowers & Chickadees Fairy Light and Trick or Treat Pumpkinhead Figurine will be accepted until midnight (ET) on Monday, August 26, 2019. To pre-order, please call Fenton Gift Shop: 1-800-319-7793, ext. 342 or email: purchasing@fentongiftshop.com and include the names of the items you want to purchase in the subject line. Include your full name and daytime phone so we may follow-up on your request. We may have people with the same first name, so we also need a last name.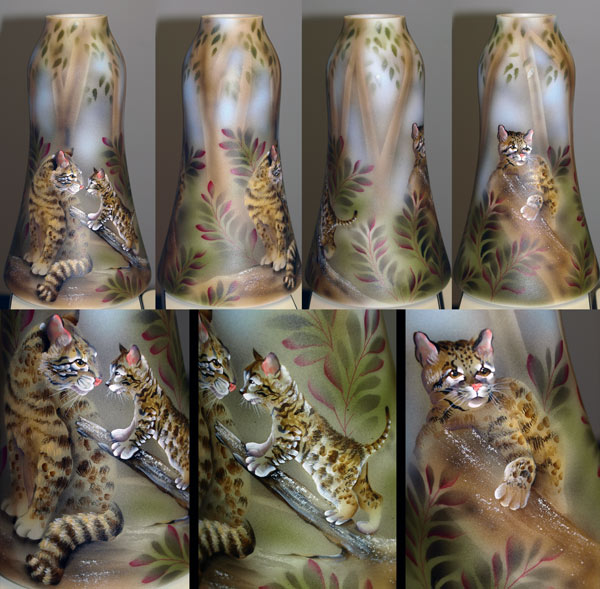 Robin Spindler created a heartwarming scene of a mother Tiger Cat with her kittens on this 11.5" Opal Satin Vase. The hand painted details are so true-to-life that you'll want to reach out and pet those kittens! Note the pink noses and highlights on the ears! The background of this vase has trees with lush green and red foliage that complement the blended tawny brown and black coloring of the Tiger Cat family. One side of the vase has a mother Tiger Cat looking at her kitten, who has climbed up on a branch and poses nose-to-nose with its mama. Another kitten has a tight grip on a log. Each Tiger Cats Vase is $220.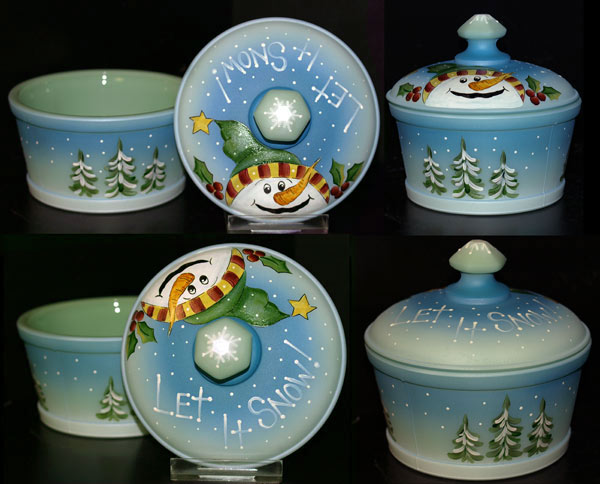 We are pleased to offer a new design for our latest shape, the "butter tub" made by Mosser Glass. This version is handcrafted in Jade glass, satin finished on the outside with a glossy interior. Kim Barley thought the subtle green tones provided the perfect glass canvas for her popular "Let It Snow!" design. For the lid, she hand painted the lettering and added a large white snowflake and the face of a happy, smiling snowman. A gold star tops his green cap with gold and red stripes. Kim added holly and berry accents on either side of the snowman. The box has been airbrushed in shades of blue and Kim lets the green glass show on the bottom section. Snow covered pine trees encircle the base. The 4.5" x 4.5" size is perfect to use as a treasure box to store precious keepsakes or as a candy box. . . or think "outside the box" and come up with your own use for this beautiful Limited Edition set! Each Let It Snow Covered Box is $95.
Robin Spindler continues to channel another era in her latest "tie dye" look for our 3.25" long Opal Satin Toad (or Frog, if you prefer) Figurine. Robin painted the figurine and then airbrushed it overall, resulting in an amazing blend of multi-colored brushstrokes producing the "tie-dye" pattern. You'll see shades of blue, red, yellow, orange, and green in this Toad! We named this Limited Edition "Tie-Dye Toad" and we're sure this figurine will appeal to the young as well as the young-at-heart! Note the Toad's friendly grin. If you recently ordered Robin's "Tie-Dye Dino" figurine, then you'll also want to add this companion piece for your collection. Each Tie-Dye Toad Figurine is $80.

Robin Spindler calls her design "Full House"... can you "see" why? Different sizes and colors of eyes peer out from within the heavy green branches of this 6.5" Opal Satin Tree Figurine. Robin added a gold bow accent near the top branch. The first Fenton Tree (5535) was offered in the 1992 Christmas catalog supplement. The 6.5" tree was created by designer Cathy See and was first offered in ruby, green with iced branches or iridized crystal, each accented with a tiny gold bird on one of the branches. Two smaller trees were added a year later. Each Full House Tree Figurine is $70.
Pre-orders for the Tiger Cat Vase, Let It Snow Covered Box, Tie-Dye Toad Figurine, and the Full House Tree Figurine will be accepted until midnight (ET) on Wednesday, August 28, 2019. To place your pre-order, please call Fenton Gift Shop: 1-800-319-7793, ext. 342 or send us an email: purchasing@fentongiftshop.com and include the names of the items you want to purchase in the subject line. Please include your full name and daytime phone number so we may follow-up on your request. We may have people with the same first name, so we also need a last name for confirmation of the order. If you know of someone who may be interested in receiving our weekly eNewsletters, please have them contact purchasing@fentongiftshop.com to have their email address added to our mailing list. Our emails go out weekly with the current Limited Edition offerings.
---
Visit Fenton Gift Shop. . . Unique Gifts for Every Occasion!
Traveling near us? Stop at an Interstate 77 roadside rest for the "I-77 Summer Travel Guide" or visit the WV Welcome Center (Exit 185 off of I-77) for your Visitor's Guide to our area (coupon inside!). Fenton Gift Shop is located at 2242 Williams Highway, Suite 108 in Williamstown, WV 26187. The shop is located in a small strip mall on State Route 14 in Boaz, five minutes from the original factory site.

Interested in any of the items shown above? Please call Fenton Gift Shop for details: 800-319-7793.
---
Glass Identification Requests. . .
We no longer have staff to research inquiries about glass: value, history, identification, etc. Reference books on Fenton Art Glass do not include current price guides. We suggest you contact your local antiques dealer, the local library, or one of the collector clubs: http://www.fentonartglass.com/collectors.
The Williamstown Antique Mall (local) may also assist you: 304-375-6315 or email: antiquemall@suddenlinkmail.com. A piece like yours may be listed on eBay, which can provide current pricing information. Otherwise, please email glass "production" questions to: askfenton@fentonartglass.com. For info on selling or placing a value on your Fenton Art Glass, click here.
---
Fenton Art Glass eBay Auctions. . .
Here's your opportunity to own a beautiful "one-of-a-kind" Fenton Art Glass creation or items from Fenton's history through our weekly Fenton Art Glass eBay auctions. These Fenton's eBay auctions will end at 2 p.m. ET on Wednesday, August 28. Items featured this week. . .
The amphora shape dates back to Classical times, and Fenton artist Kim Barley has graced this Opal Satin Fenton Art Glass amphora vase with a one-of-a-kind hand painted decoration that will become a "classic" in its own time! Kim's striking decoration features an airbrushed background in subtle blue tones and a hand painted floral motif of delicate blue flowers and brilliant Daisies as well as green leaves and foliage. Don't miss seeing those yellow and black bees as they search for nectar amidst the flowers! The Opal Satin glass amphora is 12.5" tall, and it stands 14.75" tall overall when in the burnished brass stand.

With Fall fast approaching, Fenton artist Michelle Kibbe was thinking even further ahead as she designed and hand painted this gorgeous one-of-a-kind Christmas ornament with a hand painted spiral of red/white candy to divide the ornament. The colorful hand painted Santa holds a trumpet that creates a shower of stars, and a detailed holly sprig and berries with a red bow are also featured on the top half of the ornament. The bottom half of the ornament contains several hand painted green holly sprigs with red berries as well as the artist's signature. This ornament was fashioned by West Virginia glassmaker Ron Hinkle while a visiting artist at Fenton Art Glass, and the opalescent glass was a staple of Fenton production. The ornament itself is about 4" tall, and when mounted on the brass plated stand, this piece stands 7" tall overall. These Fenton's eBay auctions will end at 2 p.m. ET on Wednesday, August 28.
---