NOTE: If you can not see the images in this newsletter after it arrives in your email "in box", please use the "Trouble viewing this email? Click here" link at the top of the page. The newsletter link will open as a new page in your web browser, complete with images. Our website is currently undergoing maintenance. We apologize for this inconvenience.
NEW Limited Editions from Fenton Gift Shop. . .
We are pleased to offer these Fenton Gift Shop Limited Edition selections for pre-orders. Each piece features a hand painted design and will be signed, numbered and dated by one of our talented designers. The Hunter Green (5.5"diameter) Round Paperweight was made by Mosser Glass. The other Limited Editions were made by Mosser, using the Fenton moulds, for the Fenton Gift Shop.

RETURN POLICY: Returns are accepted on "undamaged" items. Returns are to be shipped within 30 days of receipt, at customer expense, to the Fenton Gift Shop, 2242 Williams Hwy., Suite 108, Williamstown, WV 26187. A 5% restocking fee will be applied for this return. For damaged items, please contact Fenton Gift Shop at 800-319-7793, ext. 342.
We're pleased to continue offering the "Butter Box" in a new color for us, Black Raspberry. Michelle Kibbe's hand painted catfish design encircles the lid and box. Her true-to-life depiction of this fish includes remarkable details, including their characteristic whiskers! Did you know. . . Catfish are named after our furry felines because they share a distinguishing feature: whiskers! The long, whiskery projections on a catfish are technically called "barbels". These sensory organs allow catfish to smell and taste, enabling them to hunt in dark and murky waters.

The 4.5" x 4.5" size is perfect to use as a treasure box to store precious keepsakes or as a candy box. . . or think "outside the box" and come up with your own use for this beautiful Limited Edition set! Also a great keepsake gift for the fisherman or woman in your life! This Black Raspberry Covered Box is satin finished on the outside and has a glossy interior. Each Catfish Delight Covered Box is $95.
Now is the perfect time to pre-order this Limited Edition Santa with list for your seasonal decorating! The Santa figurines designed by sculptor Jon Saffell in the 1990s quickly became very popular Fenton collectibles as well as holiday gifts. This 8" Opal Satin figurine features a fun "Snowflakes and Snowmen" design by Michelle Kibbe. She created a trio of snowmen on Santa's fur-trimmed coat. They are trying to capture the glistening snowflakes that are falling from a wintry night sky. Each snowman has bright red buttons (note the heart-shaped ones!), a colorful scarf and mittens. A black top hat with a red and white striped band adorns the head of one snowman. Santa holds his "naughty or nice" list, which has a blue and white checkered pattern. He also has a firm grip on a brilliant red bag that is stuffed full of goodies. Each Snowflakes & Snowmen Santa w/List Figurine is $125.

Since their debut in the year 2000, the Fenton snow people figurines have delighted collectors and continued to add seasonal cheer to many homes. Designed by Fenton sculptor Jon Saffell, our 4.25" Snowman and 4" Snowlady figurines have been in a grouping called "Frosty Friends" for several years.

Kim Barley adds her whimsical touch and fondness for the Halloween season with her "Burt & Bea Boo" design on this Opal Satin Snowcouple. A large orange pumpkin with a toothy grin and a star-shaped eye adorns the bottom half of each figurine. Kim added a colorful triangular banner with handlettered "BOO" at the waist.

Each figurine has been hand painted in a green jacket with purple trim, as well as a coordinating hat with star accents, black scarf with yellow polka dots and black mittens. Those happy expressions are sure to bring a smile! The Burt & Bea Boo Snowcouple Figurine Pair is $140.
Pre-orders for the Catfish Delight Covered Box, Snowflakes & Snowmen Santa w/List Figurine and the Burt & Bea Boo Snowcouple Figurine Pair will be accepted until midnight (ET) on Monday, August 19, 2019. Please call Fenton Gift Shop: 1-800-319-7793, ext. 342 or email: purchasing@fentongiftshop.com and include the names of the items you want to purchase in the subject line. Include your full name and daytime phone so we may follow-up on your request. We may have people with the same first name, so we also need a last name.
The rich green color of this 5.5" diameter Hunter Green Paperweight provides an excellent glass canvas for Robin Spindler's beautiful scene of a Ruby-throated Hummingbird seeking nectar from vibrant orange-red blossoms. The hand painted details are meticulously executed. A beautiful piece to display all year long. Each Ruby-throated Hummingbird Paperweight is $110.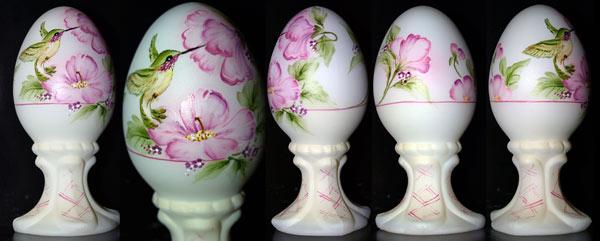 A collector favorite, the Fenton Art Glass "5140 Egg on Stand" was produced in many colors and patterns during the 1970s and 80s. Fenton began their "Collectible Eggs" series in 1991. This Egg on Stand features the base that was redesigned by Fenton sculptor Jon Saffell. This 3.75" Opal Satin Egg on Stand features a lovely hand painted Ruby-throated Hummingbird and sylized hibiscus flowers in lush pink with petite purple flower accents designed by Michelle Kibbe. She added a soft cream background with pink crosshatch pattern on the base as well as a delicate pink band around the design. Each Hibiscus Hummingbird Egg on Stand Figurine is $75.
Kim Barley continues her inspirational message design on this 3.5" Sitting Bear Figurine. The Believe, Faith and Hope versions were offered in previous newsletters. Kim transformed this Opal Satin figurine into a small gray bear. A bumble bee buzzes on top of its head. Kim added details on the paws as well as green leaves. A brown log on one leg is hand lettered with the word "LOVE". Note the highlights around the eyes and that adorable expression! Each Love Message Bear Figurine is $75.



Robin Spindler channeled another era to create this unique "tie dye" look for our 4.25" long Opal Satin Dinosaur Figurine. Robin painted the figurine and then airbrushed it overall. The result is an amazing blend of multi-colored brushstrokes producing a variegated pattern for a "tie-dye" design. You'll see shades of blue, red, yellow, orange, and green in this Dinosaur! We named this Limited Edition "Tie-Dye Dino" and we're sure this figurine will appeal to the young as well as the young-at-heart! Note the Dinosaur's friendly grin. Each Tie-Dye Dino Figurine is $80.

Pre-orders for the Ruby-throated Hummingbird Paperweight, Hibiscus Hummingbird Egg on Stand, Love Message Bear and Tie-Dye Dino Figurines will be accepted until midnight (ET) on Wednesday, August 21, 2019. Please call Fenton Gift Shop: 1-800-319-7793, ext. 342 or email: purchasing@fentongiftshop.com and include the names of the items you want to purchase in the subject line. Please include your full name and daytime phone number so we may follow-up on your request. We may have people with the same first name, so we also need a last name for confirmation of the order.
If you know of someone who may be interested in receiving our weekly eNewsletters, please have them contact purchasing@fentongiftshop.com to have their email address added to our mailing list. Our emails go out weekly with the current Limited Edition offerings.
---
Visit Fenton Gift Shop. . .

Unique Gifts for Any Occasion!

Traveling near us this summer?

Stop at an Interstate 77 roadside rest for the "I-77 Summer Travel Guide" or visit the WV Welcome Center (Exit 185 off of I-77) for your Visitor's Guide to our area (coupon inside!). Fenton Gift Shop is located at 2242 Williams Highway, Suite 108 in Williamstown, WV 26187. The shop is located in a small strip mall on State Route 14 in Boaz, five minutes from the original factory site.

---

Glass Identification Requests. . .

We no longer have staff to research inquiries about glass: value, history, identification, etc. Reference books on Fenton Art Glass do not include current price guides. We suggest you contact your local antiques dealer, the local library, or one of the collector clubs: http://www.fentonartglass.com/collectors.

The Williamstown Antique Mall (local) may also assist you: 304-375-6315 or email: antiquemall@suddenlinkmail.com. A piece like yours may be listed on eBay, which can provide current pricing information. Otherwise, please email glass "production" questions to: askfenton@fentonartglass.com. For info on selling or placing a value on your Fenton Art Glass, click here.


Interested in any of the items shown at right?
Please call Fenton Gift Shop for details: 800-319-7793.
---
Fenton Art Glass eBay Auctions. . .
Here's your opportunity to own a beautiful "one-of-a-kind" Fenton Art Glass creation or items from Fenton's history through our weekly Fenton Art Glass eBay auctions. These Fenton's eBay auctions will end at 2 p.m. ET on Wednesday, August 21. Items featured this week. . .
| | |
| --- | --- |
| Animal figurines on the fount as pressed are very popular with Fenton collectors, and Fenton artist Kim Barley has really sounded "toot toot toot!" with this one-of-a-kind hand painted Sitting Bear figurine on fount (6.5" tall overall) in Opal Satin glass. This happy fellow is dressed in traditional blue railroad garb as the Engineer Bear, and Kim has added lots of interesting hand painted details: railroad signs, tracks around the fount, etc. Don't miss those wonderfully expressive eyes! This figurine is signed and dated on the fount. | |
The sight of a male Scarlet Tanager bird is something one never forgets, and award winning Fenton designer Robin Spindler has used her artistic talents and hand painting skills to create this splendid one-of-a-kind pair of figurines. These are Opal Satin glass, and each measures 3.75" long and stands 3" tall. The hand painted colors are remarkably true to life, as Robin's meticulous hand painting captures the vivid red and bits of yellow of the male Scarlet Tanager as well as the subdued green tones of the female Scarlet Tanager. These one-of-a-kind Scarlet Tanager figurines are identified, signed and dated on the undersides. These Fenton's eBay auctions will end on Wednesday, August 21.
---