NOTE: If you can not see the images in this newsletter after it arrives in your email "in box", please use the "Trouble viewing this email? Click here" link at the top of the page. The newsletter link will open as a new page in your web browser, complete with images. Our website is currently undergoing maintenance. We apologize for this inconvenience.
NEW Limited Editions from Fenton Gift Shop. . .
We are pleased to offer these new Limited Edition selections for pre-orders. Each piece features a hand painted design and will be signed, numbered and dated by one of our talented designers. The Crystal (5" long) Iceberg Paperweight and 5.5" diameter Round Paperweight were made by Mosser Glass. The other Limited Editions were made by Mosser, using the Fenton moulds, for the Fenton Gift Shop. RETURN POLICY: Returns are accepted on "undamaged" items. Returns are to be shipped within 30 days of receipt, at customer expense, to the Fenton Gift Shop, 2242 Williams Hwy., Suite 108, Williamstown, WV 26187. A 5% restocking fee will be applied for this return. For damaged items, please contact Fenton Gift Shop at 800-319-7793, ext. 342.
Michelle Kibbe hand painted a marvelous mushroom scene on this 3.75" Black Satin Sitting Cat Figurine. There are three mushrooms on the front side ranging in size from small to large. Michelle added another mushroom on the back side of this figurine. The colors of the mushrooms and the foliage blend well with the black satin glass of the figurine. Note those splendid blue eyes on the cat that complement the blue flowers and shading on the mushrooms as well as the white markings on the brow. Each Shroomie Sitting Cat Figurine is $80 and limited to 12.

This 5" long Crystal Iceberg Paperweight features a beautiful scene with a beautiful message. . . designed and hand painted by Kim Barley. There is a wooden barn and a large windmill in the background. The blades on the windmill also create the letter "O" in the word HOME, which Kim hand lettered in a wood-style pattern across the front of the paperweight. A meadow filled with colorful flowers and tall grass is in the foreground. Kim used a metallic gold paint as color accents on her design. Note the golden drop shadow effect behind the lettering as well as inside the windows and doors on the barn. You can also see the gold highlights on the flowers and grasses in the foreground. Each Home Paperweight is $100.
Our 6.75" Ruby Satin Ghost Figurine welcomes the coming Autumn season with open arms!

Designed by Michelle Kibbe, this colorful hand painted scene includes green acorns and falling leaves in vibrant hues of red, green, orange, and golden yellow.

A black cat, posed against a white backdrop, reaches up a paw to catch one of the falling leaves. Michelle added petite dot trios as accents on one of the Ghost's outstretched arms. A trio of pumpkins is behind the cat.

The bottom section has a checkered border with white edging. Michelle added a coordinating cap on top of the figurine. As always, this not-so-spooky ghost has a happy expression with a large smile! Each Autumn Kitty Ghost Figurine is $115.
Pre-orders for the Shroomie Sitting Cat Figurine, Home Paperweight and Autumn Kitty Ghost Figurine will be accepted until midnight (ET) on Monday, August 5, 2019. To pre-order, please call Fenton Gift Shop: 1-800-319-7793, ext. 342 or email: purchasing@fentongiftshop.com and include the names of the items you want to purchase in the subject line. Include your full name and daytime phone number so we may follow-up on your request. We may have people with the same first name, so we also need a last name.
Robin Spindler's depiction of a pair of Painted Buntings is beautiful to behold on this 5.5" diameter crystal Paperweight.

The brilliant colors of the male are challenging to capture with the camera, but you'll hear many "oohs and aahs" when this paperweight is on display in your home.

Robin's hand painted details on the birds are meticulously executed. She created this scene using a reverse painting technique, a tribute to her talent. On the back of this crystal paperweight is a lime-green colored female Painted Bunting perched on a branch. The more colorful male is perched on a tree branch with green leaves in the foreground. A pink background color frames the scene. Each Painted Bunting Paperweight is $110.


Did you know. . . The secretive Painted Bunting is common in the Southeast, inhabiting brushy areas and woodland edges. This species is quite the find among birdwatchers!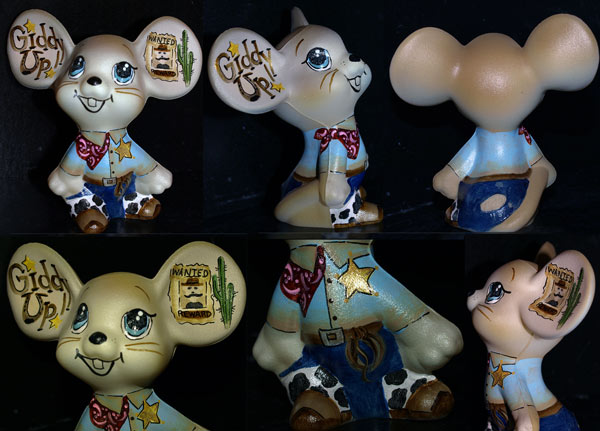 Kim Barley created this whimsical and fun scene on our 2.75" Opal Satin Mouse figurine. This Mouse is dressed and ready to get on its horse and capture one of the most "wanted" villains in the Old West. Kim's hand painted details are delightful . . . from the scraggly cactus, "WANTED" poster and "Giddy Up" lettering (note the horseshoe design of the U) on the ears to the golden Sheriff's star, red and white bandana, black and white cowhide chaps, boots, and a lariat tied at the waist! Definitely a must have for the figurine collector! Each Giddy Up Mouse Figurine is $80.

Fenton artist Michelle Kibbe hand painted this 7" Opal Satin Bridesmaid Doll Figurine in a lovely Victorian style. The gown is pale green and adorned with beautiful pink roses, including the hand held bouquet. A delicate necklace that resembles pearls completes the outfit. Note the lovely eyes and expression on this figurine. Each Rosalie Bridesmaid Doll Figurine is $90.
This 11" Georgia Blue Alley Cat Figurine features a spectacular hand painted "Seascape" design by Robin Spindler. Her design includes scenes of undersea life, from Bottlenose Dolphins, a Zebra Moray Eel, a Sea Turtle, a small school of fish, beautiful Coral and various colorful floral and fauna of the sea. Note the unique way that Robin used the cat's tail to create the striped black and yellow pattern for that eel! Robin added golden accents to the Alley Cat's face. Each Seascape Alley Cat is $190.

Pre-orders for the Painted Bunting Paperweight, Giddy Up Mouse Figurine, Rosalie Bridesmaid Doll Figurine and Seascape Alley Cat Figurine will be accepted until midnight (ET) on Wednesday, August 7th, 2019.

To pre-order, please call Fenton Gift Shop: 1-800-319-7793, ext. 342 or send us an email: purchasing@fentongiftshop.com and include the names of the items you want to purchase in the subject line as well as your full name and daytime phone number. You may also request we add your email address to our mailing list for future Limited Edition specials!

Fenton Gift Shop. . .
Special Gifts for Any Occasion!


WHERE: Fenton Gift Shop is located at 2242 Williams Hwy., Suite 108 in Williamstown, WV 26187. The shop is located in a small strip mall on State Route 14 in Boaz, just five minutes from the original factory site.

PHONE: 304-375-7772 or 800-319-7793, ext. 342.

HOURS: Open 10 a.m.-4 p.m. (ET) Tuesday-Saturday

Traveling near us this summer? Stop at an Interstate 77 roadside rest for the "I-77 Summer Travel Guide" or visit the WV Welcome Center (Exit 185 off of I-77) for your Visitor's Guide to our area (coupon inside!)

Glass Identification Requests. . .

We no longer have staff to research inquiries about glass: value, history, identification, etc. Reference books on Fenton Art Glass do not include current price guides. We suggest you contact your local antiques dealer, the local library, or one of the collector clubs: http://www.fentonartglass.com/collectors. The Williamstown Antique Mall (local) may also assist you: 304-375-6315 or email: antiquemall@suddenlinkmail.com. A piece like yours may be listed on eBay, which can provide current pricing information. Otherwise, please email inquiries about glass "production" to: askfenton@fentonartglass.com. For info on selling or placing a value on your Fenton Art Glass, click here.



---
Fenton Art Glass eBay Auctions. . .
Here's your opportunity to own a beautiful "one-of-a-kind" Fenton Art Glass creation or items from Fenton's history through our weekly Fenton Art Glass eBay auctions. These Fenton's eBay auctions will end on Wednesday, August 7th. Items featured this week. . .
Fenton artist Michelle Kibbe designed and hand painted this splendid one-of-a-kind vase (10.25" tall) in Opal Satin glass. Everything about this vase says "Summer is here!" ... from the lush hand painted flowers and foliage to the delicate hand painted butterflies. Collectors call this the Fenton Art Glass "feather vase" because of the three tall "feathers" in relief that are created by the mould when the skilled glassblower is at work. Michelle's design features three different hand painted scenes, as you can see in the photos.

Perfect for Halloween ... a Ghost figurine with a hand painted "Cat with a hat"! Fenton artist Michelle Kibbe first airbrushed the Opal Satin glass Ghost figurine with rich blue and subtle green tones and then added these wonderful hand painted elements: a full moon, scraggly trees, flying bats, some pumpkins, and a blue-eyed cat with a bright orange hat! The mould for the Ghost figurine was designed by Fenton sculptor Jon Saffell (now retired). These Fenton's eBay auctions will end on Wednesday, August 7th.
---