NOTE: If you can not see the images in this newsletter after it arrives in your email "in box", please use the "Trouble viewing this email? Click here" link at the top of the page. The newsletter link will open as a new page in your web browser, complete with images.
Fenton Art Glass Celebrates with July Je
welry Close-outs!
We're celebrating July 4th with amazing prices on our Jewelry! Enjoy close-out prices on our remaining inventory of Fenton Art Glass jewelry and jewelry accessories. The beads were handcrafted at the Fenton factory and are going, going, GONE!
Choose from the selections shown below and don't delay, as there may be just one of each available!
HOW TO PLACE YOUR FENTON GLASS JEWELRY ORDER
Orders are no longer processed online. Please specify the name and/or item# for each item and email your order to chill@fentonartglass.com and you'll receive a confirmation email. Please include your full name and address, daytime phone number, the price and quantity of the item(s) you wish to order. Orders are filled on a first come, first served basis as there may be just one available. Jewelry orders $100 and above receive free shipping via USPS. A $3.75 shipping fee is added to all orders under $100. Jewelry orders are no longer processed online and must be submitted via email as detailed above. These shipping charges apply to jewelry orders only, not to the Limited Edition items from Fenton Gift Shop.
---
While Supplies Last Beads. . . Going, Going, and soon to be GONE!
Each standard size bead has a sterling silver core (approx. 3/16" dia.) embossed Fenton USA. All Fenton USA Jewelry is handcrafted with quality and tested for durability and will fit most jewelry accessories. Because of the handmade process, the bead size may vary from 1/2'' to 5/8'' in diameter.
Shown below, l-r: Cirque du la Point, Desert Moons, Hog Heaven, Last Rose of Summer, and Sparkling Dewdrops. Bottom photo: Three views
of the custom designed Rochester, NY Bead.

Originally $35-$49.50, each bead is now $7.00 each + shipping. See ordering details above.


Shown at left:
Three views of the Gettysburg Bead, originally a custom design, so production was very limited on this style! Now $7.00.

Shown below, l-r are Fenton Handcrafted
Impression and Cornerstone Beads:
Jitterbuggin' Dragonfly, Pink Beauty, Tranquil Pond Impression Beads and Midnight Illusions Cornerstone Bead.
These larger-sized beads were orginally $55-$85. . . Now just $18 each!
While Supplies Last Pendants. . .
These beautiful handcrafted Art Glass Pendants carry a meaningful message. Each message is either hand pressed into the glass or the pendant features a hand applied decoration. The two versatile Clasp and Go pieces are approximately 2-3/8'' long, and will make a statement however you choose to wear them! The Pendants shown on the right are for necklaces and include gem accents.

Clasp 'n Go Pendants shown below, l-r: Hope and Grace. Originally $45-$85, these Pendants are now $35 each + shipping.



Shown above, l-r:
Faith, Hope & Love w/cross charm
and Fishers of Men Pendants.
While Supplies Last Collegiate Jewelry. . .



Collegiate Cornerstone Beads, originally $45, are now $15 each.
Standard size Collegiate Beads, originally $35, are now $10 each + shipping.

Show your team spirit at upcoming festivities with officially licensed Fenton handcrafted collegiate art glass jewelry! Shown here
are remaining selections from our line of officially licensed Collegiate Jewelry.

Collegiate Cornerstone
Beads, l-r: University of Cincinnati Bearcats, Florida State Seminoles, Kansas JayHawks, Mississippi State Bulldogs, Missouri Tigers, and Wisconsin Badgers.


Collegiate Beads, bottom row, l-r, (multiple views of each bead): University of Delaware, Florida State University, University of Missouri, and North Carolina State. Please specify the name of the college or university when placing your order. Remember, there may be just one of each design available!


Shown above, l-r: University of Wisconsin Badgers Bracelet and the standard size cored bead (two views); University of Cincinnati Bracelet and Mississippi State Bracelet. The bracelets were originally $45 each and are now $15 each and the bead is $10 each + shipping.

While Supplies Last Jewelry Accessories. . .
Shown here are the remaining jewelry accessories offered by the Fenton Art Glass Company. These items are going, going, GONE, so don't delay

. . . place your order today!

11118 Brass chain, approx. 26-3/4" in length, Originally $30, Now $15

30017 Bangle, size 7.5" with Fenton embossed clasp. Originally $75,
Now $30

11120 Brass Three Strand Bracelet w/extender chain (fits 6-1/2"-8-3/4"). Originally $45, Now $22.50
---
NEW Limited Editions from Fenton Gift Shop. . .
We are pleased to offer these new Limited Edition selections for pre-orders. Each piece features a hand painted design and will be signed, numbered and dated by one of our talented designers. The large (5.5" dia.) crystal paperweight was made by Mosser Glass and the smaller crystal paperweight (3.5" dia.) was made by Fenton Art Glass. The other Limited Edition pieces were also handcrafted by Mosser, using the Fenton moulds, exclusively for the Fenton Gift Shop.
RETURN POLICY: Returns are accepted on "undamaged" items. Returns are to be shipped within 30 days of receipt, at customer expense, to the Fenton Gift Shop, 2242 Williams Hwy., Suite 108, Williamstown, WV 26187. A 5% restocking fee will be applied for this return. For damaged items, please contact Fenton Gift Shop at 800-319-7793, ext. 342.
This 2.75" Ruby Satin Mouse Figurine has been transformed into a smiling clown with a hand painted design by Michelle Kibbe. One ear has large and small white polka dots, while the other ear sports a large white swirl. Michelle's design also includes a colorful headband, blue bowtie, striped pants and a multi-colored vest with bright blue buttons. The face is painted with a wide grin, green eyes and long eye lashes with blue accents and a red nose . . . all outlined with clown style white face paint. A marvelous addition to any figurine collection! Each Cutie Clown Mouse Figurine is $80.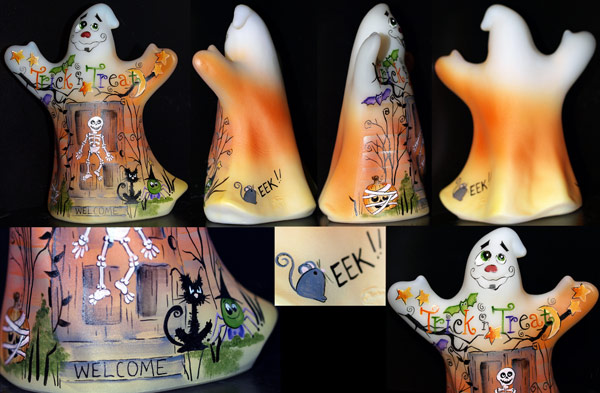 Throughtout years, Fenton Art Glass has developed interesting products especially for the festive Halloween season. Our first offerings in 2002 included a Witch, Ghost and Scaredy Cat Figurines. Designed by sculptor Jon Saffell (now retired from Fenton), these pieces are now part of the Halloween holiday tradition for many Fenton fans.

No one celebrates the spirit of Halloween like Kim Barley! Through the years, her whimsical and fun designs have become favorites for many collectors. This 5.25" Opal Satin Ghost Figurine is no exception! The entire figurine is hand painted in a candy corn color scheme. Kim added an old wooden door framed with creepy vines and branches. She hand lettered "Trick or Treat" amidst the outstretched arms and "welcome" is painted on the doorstep. There are many marvelous details. . . can you spot the green spider, purple and green bats, "EEK!" mouse, scraggly black cat, dangling skeleton and mummy wrapped pumpkin? Note that marvelous grinning expression! We're sure this latest Kim Barley creation will also become part of a Halloween tradition! Each Welcome Ghost Figurine is $115.

This 3.5" Eggplant Bear Figurine is even more adorable with Michelle Kibbe's delightful hand painted stylized floral design. Large purple and white petals with blue berry clusters adorn the head. Michelle continues the design on the front, back and leg areas of this figurine. Note those huge purple-hued eyes! Each Flora Bear Figurine is $80.
Pre-orders for the Cutie Clown Mouse, Welcome Ghost and Flora Bear Figurines will be accepted until midnight (ET) on Monday, July 8, 2019. To pre-order, please call Fenton Gift Shop: 1-800-319-7793, ext. 342 or email: purchasing@fentongiftshop.com and include the names of the items you want to purchase in the subject line. Include your full name and daytime phone number so we may follow-up on your request. We may have people with the same first name, so we also need a last name. Thank you!
Robin Spindler's talent for capturing wildlife and nature shines with her most recent Limited Edition design! The impressive 11.25" size of our Opal Satin Vase provides the perfect canvas for Robin's heartwarming scene of a fawn greeting a squirrel with "What's your name?"

Memories of a classic children's story come to mind... do you recall another fawn that was making new friends in the forest... a friend named "Flower"?!

The hand painted details on this vase are meticulously executed. Different views are shown below. Robin's scene encircles the vase with a background of lush fuschia colored blossoms, pine cones and foliage. A fawn gazes up at a squirrel standing on a large branch. You can almost hear "What's your name?" coming from the fawn.

Robin added a beautiful butterfly on the back of the vase with the delicate wings painted in a complementary blend of fuschia, gray, black, and white colors. Gemstone accents enhance the beauty of the artwork.

Robin will number and sign each vase and include the title "What's your name?" (see photo below). Each What's Your Name Vase is $215.
Below: In 1782, our Founding Fathers chose the Bald Eagle as our national emblem. Found only in North America, Bald Eagles represent strength and dignity. Robin Spindler shows her patriotic pride with her depiction of our national emblem on this 5.5" diameter crystal paperweight. The majestic Eagle's head is prominent in the foreground of this piece with the "stars & stripes" flag gently waving in the background. Robin's painting technique creates a three-dimensional look. The back of the paperweight is shown in the second photo. Robin created a white border with cut-out star accents around the edge of the paperweight. This American Eagle Paperweight is definitely a patriotic statement piece to display in your home! Each American Eagle Paperweight is $110.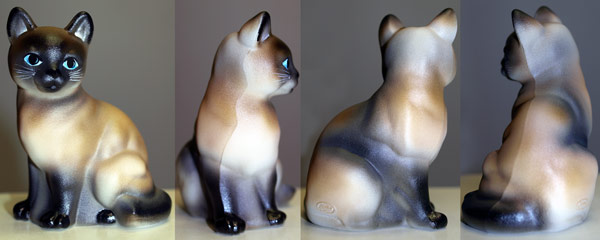 We've had several requests for a realistic "Siamese" cat and Kim Barley has delivered with her hand painted design on our 3.75" tall Opal Satin Sitting Cat Figurine. Most of us would recognize a Siamese cat if we saw it. This figurine is painted in natural colors with a cream-colored coat and points (the nose, ears, paws, and tail) in darker colors. Note those distinctive brilliant blue eyes! Did you know. . . A Siamese cat's eyes are blue because the gene responsible for the coat pattern restricts the amount of pigment (which produces green or brown eyes) in the eyes. Each Siamese Sitting Cat Figurine is $80.
This original Fenton Art Glass 3.5" diameter crystal paperweight features a lovely hand painted design by Michelle Kibbe. A chickadee is perched on a branch of stylized pink flowers. The photo above shows different views. The crystal glass creates a unique look to this piece. Michelle's signature appears on the back of the paperweight. Each Chickadee Round Paperweight is $80.
Pre-orders for the What's Your Name Vase, American Eagle Round Paperweight (large), Siamese Sitting Cat Figurine, and the Chickadee Round Paperweight (small) will be accepted until midnight (ET) on Wednesday, July 3rd, 2019. To pre-order, please call Fenton Gift Shop: 1-800-319-7793, ext. 342 or email: purchasing@fentongiftshop.com and include the names of the items you want to purchase in the subject line as well as your full name and daytime phone number. You may also request we add your email address to our mailing list for future Limited Edition specials!
---
Fenton Gift Shop. . . Handcrafted Gifts for All Occasions!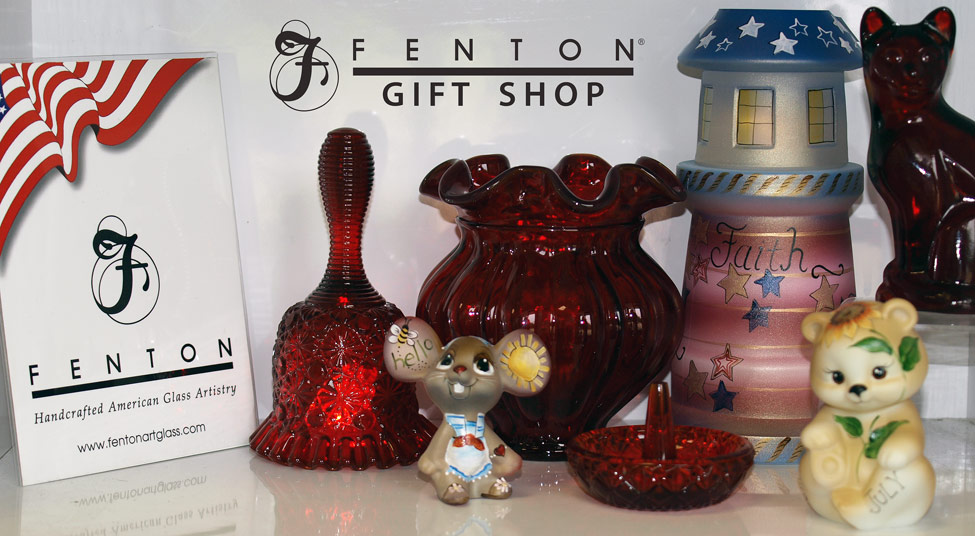 Visit Fenton Gift Shop and choose from our varied selection of vintage and NEW Limited Edition Fenton Art Glass and handcrafted jewelry (new jewelry discounts!) as well as other unique gift items. Shown above are a few of the beautiful vintage and current selections that are currently available at the shop. Be sure to check out the "new-to-you" vintage Fenton Art Glass now in stock!

Traveling near us this summer? Stop along the way at one of the Interstate 77 roadside rests for the "I-77 Summer Travel Guide" or visit the WV Welcome Center (Exit 185 off of I-77) and pick up your copy of the Visitor's Guide for our area (coupon inside!).
Fenton Gift Shop, 2242 Williams Highway, Suite 108 in Williamstown, WV 26187
The Shop is located in a small strip mall on State Route 14 in Boaz, five minutes from the original factory site.
304-375-7772 or 800-319-7793, ext. 342 Open 10 a.m. - 4 p.m. (ET) Tuesday-Saturday
---
Glass Identification Requests. . .
We no longer have staff to research inquiries about glass: value, history, identification, etc. Reference books on Fenton Art Glass do not include current price guides. We suggest you contact your local antiques dealer, the local library, or one of the collector clubs: http://www.fentonartglass.com/collectors. The Williamstown Antique Mall (local) may also assist you: 304-375-6315 or email: antiquemall@suddenlinkmail.com. A piece like yours may be listed on eBay, which can provide current pricing information. Otherwise, please email inquiries about glass "production" to: askfenton@fentonartglass.com. For info on selling or placing a value on your Fenton Art Glass, click here.
---
Fenton
Art Glass

eBay Auctions. . .

Here's your opportunity to own a beautiful "one-of-a-kind" Fenton Art Glass creation through our weekly Fenton Art Glass eBay auctions. These Fenton's eBay auctions will end at 2 p.m. (ET) on Wednesday, July 3rd.
If you like the color lavender, you'll fall in love with this wonderful one-of-a-kind hand painted vase (12" tall) by Fenton artist Michelle Kibbe. The iridized glass is Opaque Lavender, and Michelle's intricate and accurate hand painting is simply splendid to behold. The flowers and foliage look real enough to touch, and the hovering Hummingbirds are true to life. The colored bands and white dots are perfect complements to the scene that completely encircles this stately vase. This one-of-a-kind hand painted Lavender vase is identified, dated and signed on the underside: "hand painted by M. Kibbe 2019 OOAK".

Those who enjoy the various animal figurines from Fenton Art Glass will want to get "hopping" before this one-of-a-kind Frog (3.25" long) figurine from award winning Fenton designer Robin Spindler is out of sight! Careful airbrushing and perfect blending of colors on the Opal Satin glass created the splendid shiny look, and Robin's hand painting talents and skills did the rest: wonderful details, applied gemstones and remarkably expressive eyes. This one-of-a-kind hand painted Frog figurine is identified, dated and signed on the underside: "Fenton 2019 J. K. Spindler OOAK". These Fenton's eBay auctions will end at 2 p.m. (ET) on Wednesday, July 10.
---