NOTICE TO FENTON ART GLASS eNEWSLETTER SUBSCRIBERS:
Due to recent technical issues with the Fenton At Glass website and our weekly Fenton eNewsletter, all email addresses received for the past year have been lost. The major issues with the website and newsletter have been resolved. Newsletters since May 17 have been sent to the email addresses that are still on file.

IF you are viewing this message on our Fenton Art Glass/Fenton Gift Shop Facebook page and you have not received any of these newsletters via your email account, we ask that you "re-subscribe" via this link: http://www.fentonartglass.com/fenton_mailinglist.asp by entering your email address. You may request that a "test" email be sent to make sure it works. If you know of someone who subscribed via email, you may want to let them know about this situation as well. Click here to view the available past issues of the newsletter.

You may also email purchasing@fentongiftshop.com or call 800-319-7793, ext. 342 and request that we sign you up for the Fenton Gift Shop email list (a separate list for the newsletter) for the Fenton Art Glass eNewsletter. Thank you and we apologize for the inconvenience.
NOTE: If you receive your newsletter but you can not see the images, please use the "Trouble viewing this email? Click here" link at the top of the page. The newsletter link will open as a new page in your web browser, complete with images.
---
NEW Limited Editions from Fenton Gift Shop. . .
We are pleased to offer new Limited Edition selections for pre-orders. Each piece features a hand painted design and will be signed, numbered and dated by one of our talented designers. The paperweight was made by Mosser Glass. The other Limited Edition pieces were also handcrafted by Mosser, using the Fenton moulds, exclusively for the Fenton Gift Shop. RETURN POLICY: Returns are accepted on "undamaged" items. Returns are to be shipped within 30 days of receipt, at customer expense, to the Fenton Gift Shop, 2242 Williams Highway, Suite 108, Williamstown, WV 26187. A 5% restocking fee will be applied for this return. For damaged items, please contact Fenton Gift Shop at 800-319-7793, ext. 342.

Michelle Kibbe has created a marvelous rendition of a Snow Leopard on this 4" Opal Iceberg Paperweight. The hand painted details are true-to-life. Note those amazing sky blue eyes! Imagine what a statement this Limited Edition Iceberg Paperweight will make when on display in your home! Each Snow Leopard Iceberg Paperweight is $90.
This Opal Satin Witch Figurine is adorned in a dress covered in spiderwebs! There's one on the back, two on the sides and another one draped across the front of the dress. Climbing spiders may also be spotted on the webs!

Designed by Michelle Kibbe, the hand painted design on this 6.25" Witch figurine includes a black cat with white ears and nose standing up in a large carved pumpkin with a toothy grin. Michelle added bright orange hair, large blue eyes and long eyelashes on the face and polka dot and star accents on the hat. The large black bag also sports a moon, golden stars and white dot accents. Each Spiderwebs Witch Figurine is $110.
Since their debut in the year 2000, Fenton's Snowcouple figurines (3.75" Snowlady and 4" Snowman) have delighted collectors and continued to bring seasonal cheer to many, many homes.

Handcrafted in Opal Satin glass, this smiling figurine pair has a lovely "Winter Cabin" hand painted design by Kim Barley.

Kim added a bird and berries in vibrant red to each hat as well. A winter landscape scene with a pine tree in the snow adorns the back of each figurine.
Each Winter Cabin Snowcouple Pair is $140.
Pre-orders for the Snow Leopard Iceberg Paperweight, Spiderwebs Witch Figurine and Winter Cabin Snowcouple Figurine Pair will be accepted until midnight (ET) on Monday, July 1, 2019. To pre-order, please call Fenton Gift Shop: 1-800-319-7793, ext. 342 or email: purchasing@fentongiftshop.com and include the names of the items you want to purchase in the subject line. Include your full name and daytime phone number so we may follow-up on your request. We may have people with the same first name, so we also need a last name. Thank you!
The impressive 11.75" size of this Opal Satin Vase provides an excellent glass canvas for Robin Spindler's hand painted "Margay Kittens" design.

Large raspberry-pink flowers and lush greenery in the background of this vase frame Robin's fabulous hand painted scene of the Margay Kittens observing a butterfly.

The colorful details are meticulous. . . from the faces of the kittens to the raspberry and white wings of the butterfly. Note the gemstone accents on the butterfly's wings.

Did you know. . . Margays resemble the Ocelot, with tawny fur, though the Margay is smaller in size with longer legs and tail. Each Margay Kittens Vase is $220.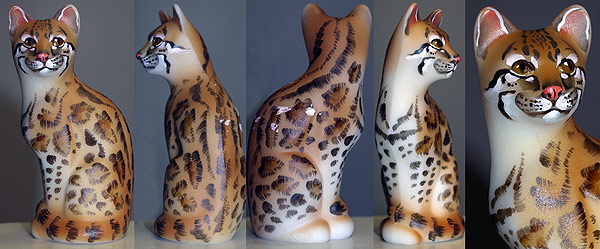 Robin Spindler continues her Margay Kittens design on our 5" Opal Satin Stylized Cat. The distinctive pattern of this small feline includes dark and light brown markings. The Margay is sometimes called the Tree Ocelot because of its agility in trees and the ability to climb head-first down trees. Each Margay Stylized Cat Figurine is $100.
The Owl Figurine was introduced in the Fenton line in 2004 as part of the Halloween grouping. Since then, our talented designers have created interesting designs that are perfect to display all year long!

Our 5.5" Eggplant Satin Owl Figurine has beautiful large, round eyes hand painted in shades of green and blue. Kim Barley added a purple beak and talons for a unique look on this figurine. The backside has shiny gold details on the wings and tiny flower bloom accents. Kim added purple and black accent lines on the top of the head.

The main feature on this attractive figurine is the large cluster of lovely lilacs on the front. A beautiful butterfly hovers nearby. A leafy branch curves along the base in the front. Each Butterfly 'n Lilacs Owl Figurine is $95.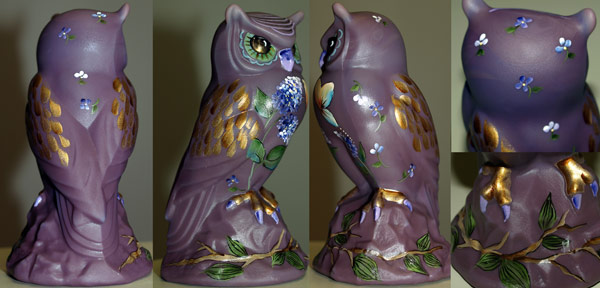 Below: This 3.25" long Opal Satin Frog Figurine features a smiling "Tomato Frog" design by Michelle Kibbe. Michelle enjoys discovering unique animals and amphibians to use for her design subjects. We think she found an interesting one! Aptly named for their striking coloration, the male Tomato Frog is a yellow-orange color, while the female is bright red-orange. Some may have a pattern of black spots on the back and sides. As you can see, Michelle chose to paint the female. This stylized Tomato Frog" Figurine will certainly start a conversation when on display in your home or make a unique gift for a figurine collector. Did you know. . . These frogs release a toxic secretion through their skin and will "puff up" to deter predators. Each Stylized Tomato Frog Figurine is $75.

Pre-orders for the Margay Kittens Vase, Margay Stylized Cat Figurine, Butterfly 'n Lilacs Owl Figurine, and the Stylized Tomato Frog Figurine will be accepted until midnight (ET) on Wednesday, July 3rd, 2019. To pre-order, please call Fenton Gift Shop: 1-800-319-7793, ext. 342 or email: purchasing@fentongiftshop.com and include the names of the items you want to purchase in the subject line as well as your full name and daytime phone number. You may also request we add your email address to our mailing list for future Limited Edition specials!
---
Fenton Gift Shop. . . Gifts for Any Occasion!
Visit Fenton Gift Shop and choose from our varied selection of vintage and NEW Limited Edition Fenton Art Glass and handcrafted jewelry (new jewelry discounts!) as well as other unique gift items. Shown at right are a few of the beautiful vintage and current selections in hues of blue that are available at the shop.

Traveling near us this summer? Stop along the way at one of the Interstate 77 roadside rests for the "I-77 Summer Travel Guide" or visit the WV Welcome Center (Exit 185 off of I-77) and pick up your copy of the Visitor's Guide for our area (Gift Shop coupon inside!).

Visit Fenton Gift Shop at 2242 Williams Highway, Suite 108 in Williamstown, WV
(on State Route 14 in Boaz, five minutes from the original factory site).
OPEN THURSDAY, JULY 4 from 10-4!

Fenton Gift Shop Phone: 304-375-7772 or 800-319-7793, ext. 342

Hours: 10 a.m.-4 p.m. (ET) Tuesday-Saturday
---
Glass Identification Requests. . .
We no longer have staff to research inquiries about glass: value, history, identification, etc. Reference books on Fenton Art Glass do not include current price guides. We suggest you contact your local antiques dealer, the local library, or one of the collector clubs: http://www.fentonartglass.com/collectors. The Williamstown Antique Mall (local) may also assist you: 304-375-6315 or email: antiquemall@suddenlinkmail.com. A piece like yours may be listed on eBay, which can provide current pricing information. Otherwise, please email inquiries about glass "production" to: askfenton@fentonartglass.com. For info on selling or placing a value on your Fenton Art Glass, click here.
---
Fenton Art Glass

eBay Auctions. . .

Here's your opportunity to own a beautiful "one-of-a-kind" Fenton Art Glass creation through our weekly Fenton Art Glass eBay auctions. These Fenton's eBay auctions will end at 2 p.m. (ET) on Wednesday, July 3rd. Items featured this week. . .

The amphora vase is a classic shape in glass that dates back more than 2000 years in the history of glassmaking. Fenton designer Robin Spindler added splendid hand painting to this one-of-a-kind example from Fenton Art Glass to take her place in glass decorating lore! This stately amphora vase is 13" tall (14.75" overall when in the brass stand). The vase is cased glass, with green glass inside and satin finished milk glass on the exterior. Robin's creation features a pair of Cardinals perched closely together within leafy beaches and tiny red berries. The satin finished glass and Robin's delicate airbrushing combined create a wonderfully misty quality to the overall look. This amphora vase has a hole drilled in its underside, so Robin used a gold Sacagawea coin to cover this area. This one-of-a-kind hand painted amphora vase is identified, signed and dated amidst the leaves on the exterior: "J. K. Spindler Fenton 2019 OOAK".
This charming one-of-a-kind hand painted kitten (3.25" long) figurine in satin finished black glass will delight everyone who loves Halloween. Fenton artist Kim Barley has created her usual whimsical touches, from those "vampire" teeth and that grinning pumpkin to the colorful stripes on the tail of the kitten! Those white toes and the facial expression add to the appeal of this item. This one-of-a-kind hand painted kitten figurine is identified, signed and dated on the underside: "Kim Barley 2019 OOAK". These Fenton's eBay auctions will end at 2 p.m. (ET) on Wednesday, July 3rd.
---