NOTICE TO FENTON ART GLASS eNEWSLETTER SUBSCRIBERS:
Due to recent technical issues with the Fenton At Glass website and our weekly Fenton eNewsletter, all email addresses received for the past year have been lost. The major issues with the website and newsletter have been resolved. Three newsletters (dated May 17, May 24, May 31, and June 7) were recently sent to the email addresses still on file.

IF you are viewing this message on our Fenton Art Glass/Fenton Gift Shop Facebook page and you have not received these newsletters via your email account, we ask that you "re-subscribe" via this link: http://www.fentonartglass.com/fenton_mailinglist.asp by entering your email address. You may request that a "test" email be sent to make sure it works. If you know of someone who subscribed via email, you may want to let them know about this situation as well. Click here to view the available past issues of the newsletter.

You may also email purchasing@fentongiftshop.com or call 800-319-7793, ext. 342 and request that we sign you up for the Fenton Gift Shop email list (a separate list for the newsletter) for the Fenton Art Glass eNewsletter. Thank you and we apologize for the inconvenience.
---
Happy Flag Day!

Flag Day is an annual holiday in the United States that celebrates the history and symbolism of the American flag. The "Grand Union," was first displayed by George Washington on January 1, 1776.

This flag became the unofficial national flag, preceding the 13-star, 13-stripe version. The Stars and Stripes was adopted on June 14, 1777 by the Continental Congress as the Flag of the United States.

The colors of the flag signify white for purity and innocence, red for valor and hardiness and blue for vigilance, perseverance, and justice.
---
NEW Limited Editions from Fenton Gift Shop. . .
We are pleased to offer new Limited Edition selections for pre-orders. Each piece features a hand painted design and will be signed, numbered and dated by one of our talented designers. The Cobalt Iceberg Paperweight was made by Mosser and the other Limited Edition pieces were handcrafted by Mosser Glass, using the Fenton moulds, exclusively for the Fenton Gift Shop. RETURN POLICY: Returns are accepted on "undamaged" items. Returns are to be shipped within 30 days of receipt, at customer expense, to the Fenton Gift Shop, 2242 Williams Hwy., Suite 108, Williamstown, WV 26187. A 5% restocking fee will be applied for this return. For damaged items, please contact Fenton Gift Shop at 800-319-7793, ext. 342.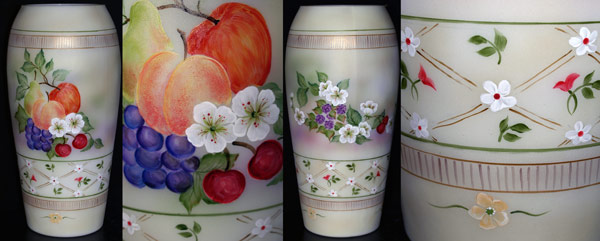 The impressive 11.75" size of this Opal Satin Vase provides a marvelous glass canvas for Michelle Kibbe's design of ripened fruit and cherry blossoms with petite white and red florals and greenery accents. A grouping of lush purple grapes, an orange-blush peach, a red apple, a green-golden brown pear and ruby red cherries adorn the front of this vase. Michelle added another scene on the back side that includes berries, cherries and more blossoms. The pinstripes and delicate design accents which encircle the vase complete this piece. A beautiful piece to display in your home! Each Fruitful Harvest Vase is $195.

Our new Eggplant glass color is perfectly suited for the lovely floral and butterfly hand painted design created by Kim Barley on our 3.5" Sitting Bear Figurine. A butterfly with delicate wings of blue and gold hovers near a large cluster of blooming lilac. Kim added more lilacs on the front, including on the arm and leg areas. Large green leaves adorn the back. Note those eyes and large eyelashes!

Additional views of this figurine are shown above. This adorable figurine is a perfect gift for the young and the young-at-heart or for a figurine collector! Each Lilac Time Bear Figurine is $80.

Below: Michelle Kibbe's scene on our 5.75" Opal Satin Owl Figurine is sure to be a favorite with bird watchers! Her serene scene on the front of this figurine includes a country mill near the banks of a stream. In the foreground, a goldfinch rests on a large pink coneflower with additional coneflowers on the base of the figurine. Michelle hand painted the owl's body in light brown tones with large brown-black watchful eyes.

Did you know. . . Coneflowers are used to boost the immune system and to alleviate flu and common cold symptoms. Native Americans extracted the juice from the coneflower root and used it to treat toothache, sore throat, fever, snake bites, and open wounds. Each Goldfinch on Coneflower Owl Figurine is $95.
Pre-orders for the Limited Edition Fruitful Harvest Vase, Lilac Time Bear and Goldfinch on Coneflower Figurines will be accepted until midnight (ET) on Monday, June 17, 2019.

To pre-order any of these Limited Editions, please call Fenton Gift Shop: 1-800-319-7793, ext. 342 or send an email to: purchasing@fentongiftshop.com and include the names of the items you want to purchase in the subject line as well as your full name and daytime phone number.
A brilliant red Cardinal is framed by a smoky white background and stylized flowers on this 7" tall Cobalt Iceberg Paperweight. Designed by Robin Spindler, you can see the fine detail on the red feathers of the bird. Robin's hand painted flowers are beautiful to behold! This Iceberg Paperweight would make an eye-catching piece to display on a desk or bookcase. Each Cardinal in the Mist Iceberg Paperweight is $110.
Our Opal Satin Sitting Cat Figurine features large golden eyes and a light gold collar.

Designed by Kim Barley, this 3.75" figurine resembles a black and white kitty with a pink-beige nose and ears that are outlined with gold.

Note the green water dish between the paws. Kim hand lettered the word "MEOW" on the front of the dish. An adorable figurine gift for the cat enthusiast!

Each MEOW Sitting Cat Figurine is $75.
With its distinctive crest and black face mask, the Northern Cardinal is a favorite subject for Fenton Gift Shop designers to use on our Limited Editions. Robin Spindler chose to depict a Cardinal family for this 11.5" Opal Satin Vase.

The birds are nestled on branches amongst clusters of bright white flowers and red-orange berries. A male and female, along with a fledgling, adorn the front. Another fledgling is shown on the back of the vase, with its mouth wide-open, perhaps waiting to be fed.

Robin's technique of using shadows in the background creates a unique effect for this family scene.

The hand painted details on the birds and on the flowers are meticulously executed and a tribute to Robin's talent.

Each Cardinal Family Gathering Vase is $220.
American glass manufacturers have produced eggs since the early 1900s, some years after covered hen boxes became popular. The Fenton Art Glass "5140" Egg on Stand was produced in many colors and patterns during the 1970s and 80s. Fenton began their Collectible Eggs series in 1991.

We are pleased to offer this 3.75" tall Opal Satin Egg on Stand with a beautiful hand painted design by Michelle Kibbe. A Ruby-throated Hummingbird prepares to "dip and sip" as it inserts its needlelike beak into a beautiful white and pink flower. Michelle added a thin green band that encircles the egg and white polka dot accents on the base. Each Hummingbird Blossoms Egg on Stand Figurine is $75.
Pre-orders for the Cardinal in the Mist Iceberg Paperweight, MEOW Sitting Cat Figurine, Cardinal Family Gathering Vase, and Hummingbird Blossoms Egg on Stand Figurine will be accepted until midnight (ET) on Wednesday, June 19, 2019. To place your pre-order, please call Fenton Gift Shop: 1-800-319-7793, ext. 342 or email: purchasing@fentongiftshop.com and include the names of the items you want to purchase in the subject line as well as your full name and daytime phone number. You may also request we add your email address to our mailing list for future Limited Edition specials!
---
Fenton Gift Shops . . .

All Occasion Gifts!

Visit Fenton Gift Shop and choose from our varied selection of vintage and NEW Limited Edition Fenton Art Glass and handcrafted jewelry as well as other unique gift items. Shown at right are a few of the beautiful selections currently available.

Traveling near us this summer? Stop along the way at one of the Interstate 77 roadside rests for the "I-77 Summer Travel Guide" or visit the WV Welcome Center (Exit 185 off of I-77) and pick up your copy of the Visitor's Guide for our area (coupon inside!).


Visit Fenton Gift Shop at 2242 Williams Highway, Suite 108 in Williamstown, WV (on State Route 14 in Boaz, just five minutes down the road from the original factory site).

Fenton Gift Shop Phone: 304-375-7772 or 800-319-7793, ext. 342

Hours: 10 a.m.-4 p.m. (ET) Tuesday-Saturday
---
Glass Identification Requests. . .
We no longer have staff to research inquiries about glass: value, history, identification, etc. Reference books on Fenton Art Glass do not include current price guides. We suggest you contact your local antiques dealer, the local library, or one of the collector clubs: http://www.fentonartglass.com/collectors. The Williamstown Antique Mall (local) may also assist you: 304-375-6315 or email: antiquemall@suddenlinkmail.com. A piece like yours may be listed on eBay, which can provide current pricing information. Otherwise, please email inquiries about glass "production" to: askfenton@fentonartglass.com. For info on selling or placing a value on your Fenton Art Glass, click here.
---
Fenton Art Glass eBay Auctions. . .

Here's your opportunity to own a beautiful "one-of-a-kind" Fenton Art Glass creation through our weekly Fenton Art Glass eBay auctions.

These Fenton's eBay auctions will end at 2 p.m. (ET) on Wednesday, June 19.
With marvelous Fenton Mulberry glass for her canvas, Fenton artist Kim Barley designed and hand painted this splendid one-of-a-kind vase (9" tall). Kim's floral motif is nicely detailed and well executed. There's even a gemstone accent on the hand painted dragonfly! You'll enjoy the various colors within and among the hand painted Hydrangea blossoms and the delicate foliage. Mulberry is a cased glass, consisting of gold ruby glass cased with Azure Blue glass. The shading will vary from piece to piece, and this vase displays the Azure Blue in the crimped top as well as in the lower areas of the vase. The topmost areas of the vase are shiny, and the body of the vase is satin finished. This one-of-a-kind hand painted Mulberry vase is identified, dated and signed on the underside: "Kim Barley 2019 OOAK".
Is this one-of-a-kind hand painted Chocolate glass figurine (3.5" long) from Fenton artist Michelle Kibbe a Frog or a Toad? We'll let you decide! As always, Michelle's work is wonderfully detailed, from the delicate blue dragonfly and green foliage on the back of the figurine to the look of texture on the legs (is it ready to hop?). The satin fished glass is a warm Chocolate color, and this glass is a classic Fenton color, first made by Jacob Rosenthal about 1900, a few years before he became the first manager at Fenton Art Glass. This Chocolate glass figurine was made at Fenton Art Glass about 2005, when Fenton's Chocolate was revived and enjoyed great popularity among collectors. This one-of-a-kind hand painted Frog/Toad figurine is identified, dated and signed on the underside: "M. Kibbe 2019 OOAK". These Fenton's eBay auctions will end at 2 p.m. (ET) on Wednesday, June 19.
---