NEW Limited Editions from Fenton Gift Shop. . .
We are pleased to offer new Limited Edition selections for pre-orders. Each piece features a hand painted design and will be signed, numbered and dated by one of our talented designers. The Cobalt Iceberg Paperweight was handcrafted at Mosser Glass and the other Limited Edition pieces were also made by Mosser Glass, using the Fenton moulds, exclusively for the Fenton Gift Shop. RETURN POLICY: Returns are accepted on "undamaged" items. Returns are to be shipped within 30 days of receipt, at customer expense, to the Fenton Gift Shop, 2242 Williams Hwy., Suite 108, Williamstown, WV 26187. A 5% restocking fee will be applied for this return. For damaged items, please contact Fenton Gift Shop at 800-319-7793, ext. 342.

The Cobalt Blue of this 7" long by 5" tall Iceberg Paperweight creates the background of the deep, blue ocean for this Orca design by Michelle Kibbe. Orcas, also known as killer whales, are one of the world's most powerful predators and recognizable by their distinctive black-and-white coloring. Michelle depicts this Orca in the midst of diving into the water, creating large, frothy waves. Each Orca Iceberg Paperweight is $95.

This 3.5" Opal Satin Sitting Cat Figurine is hand painted with the dark and light gray stripes and markings resembling that of a gray tabby cat. Designed by Michelle Kibbe, the cat's face features brilliant blue eyes with a pale pink nose and mouth. A great piece for the figurine collector or cat enthusiast! Each Blue Eyes Sitting Cat Figurine is $75.
The Fenton Art Glass "Snowpeople" have delighted collectors since they made their debut in 2000. These petite figurines with cheery expressions have been very popular as part of the "Frosty Friends" grouping. You'll want to smile just looking at this pair when they are displayed in your home!

Kim Barley adds a patriotic touch with her design of red, white and blue garments and accessories on this Opal Satin Snowcouple. "Ruby Red" (3.75") is dressed in a large red cloak over a blue shirt with red gloves. Kim added a cap with blue trim and a heart-shaped accent. Note the blue purse with a bold flag design!

"Billy Blue" (4") is painted in patriotic colors with a festive red scarf with a flag design and matching hat and ear muffs. Both figurines have red, white and blue star buttons and red mittens that completes their look. Additional views are shown below. Each Ruby Red & Billy Blue Snowcouple Figurine Pair is $140.
Pre-orders for the Orca Iceberg Paperweight, Blue Eyes Sitting Cat Figurine and Ruby Red & Billy Blue Snowcouple Figurines will be accepted until midnight (ET) on Monday, June 3, 2019. To place your pre-order, please call Fenton Gift Shop: 1-800-319-7793, ext. 342 or email: purchasing@fentongiftshop.com and include the names of the items you want to purchase in the subject line as well as your full name and daytime phone number. You may also request we add your email address to our mailing list for future Limited Edition specials!

This Ruby Satin Mouse Figurine also sports a patriotic hand painted design by Kim Barley. This 2.75" figurine with a big smile is adorned in a white and blue outfit with red trim, white polka dots and white star buttons. Kim included a blue star accent on one of the big blue eyes and a heart-shaped red nose. Each ear has a hand painted word− "God" on the left ear and "Bless" on the right one. Heart and star accents complete Kim's fun patriotic design. Each God Bless Mouse Figurine is $80.
A mermaid and her dolphin companion explore their underwater world in Robin Spindler's marvelous handpainted design on this 8" Lighthouse Fairy Light. Additional views show all of the colorful shells that encircle the base of the Lighthouse. Note the crusty anchor resting on the ocean floor. We added two tea lights and turned off the lights so you can see the beautiful, warm glow.

This Lighthouse Fairy Light was handcrafted in Opal Satin glass (5" base) and crystal (3" top), using the Fenton Art Glass moulds that were not used for production before Fenton halted glassmaking in 2011. You'll receive two battery-operated tea lights with each Lighthouse−one fits in a recessed area on the top of the base (approximately 1-1/5" dia.) and the other goes underneath the bottom part of the Fairy Light. Each Mermaid Lighthouse Fairy Light is $130.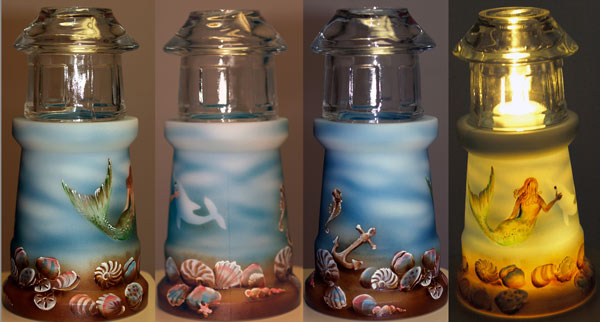 Above: This 4" Opal Satin Turtle Figurine features a flashy multi-colored design by Michelle Kibbe that lives up to its name ─ Fireworks! Michelle said she wanted to paint a colorful turtle and, when researching turtles, she found a photo of the fabulous Fireworks Turtle.

We say "great choice, Michelle!" The lovely hues of blue-green and gold blend beautifully on the Opal Satin glass. The darker gray-black patterns used on the shell, legs, head, and tail provide an interesting frame effect. Each Fireworks Turtle is $80 and is limited to 12.

Right and below: Our soft satin-finished Eggplant glass is enhanced by Robin Spindler's hand painted details on this wonderful 5.5" Owl Figurine. Robin transformed this figurine into a "Long-eared Owl" with a brownish-gray body and white vertical patches on the front. She added the white patches just below the black bill. Note those golden owls ringed in black. Each Long-eared Owl Figurine is $95.

Did you know. . . Long-eared owls are medium-sized with long, rounded wings and a long tail. Their wings are long enough that they cross each other in the back when the bird is perched.

Pre-orders for the God Bless Mouse Figurine, Mermaid Lighthouse Fairy Light, Fireworks Turtle, and Long-eared Owl Figurines will be accepted until midnight (ET) on Wednesday, June 5, 2019.

To pre-order any of these Limited Editions, please call Fenton Gift Shop: 1-800-319-7793, ext. 342 or send us an email to: purchasing@fentongiftshop.com and include the names of the items you want to purchase in the subject line. Please include your full name and phone number.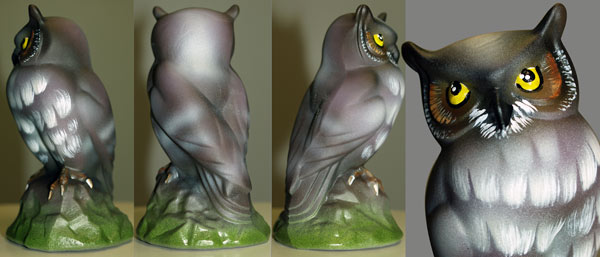 ---
Fenton Gift Shops . . . All Occasion Gifts!

Visit Fenton Gift Shop and choose from a varied selection of handcrafted vintage and NEW Limited Edition Fenton Art Glass as well as other unique gift items and hand crafted Fenton Art Glass jewelry.

Traveling near us this summer? Be sure to stop along the way at roadside rests for the I-77 Summer Travel Guide or at the WV Welcome Center (Exit 185 off of I-77) and pick up your Visitor's Guide to our area (coupon inside!). Fenton Gift Shop is located at 2242 Williams Highway, Suite 108 in Williamstown, WV (located just five minutes from the original factory site on State Route 14 in Boaz).

Phone: or 304-375-7772 or 800-319-7793

Hours: 10 a.m.-4 p.m. ET Tuesday-Saturday

Glass Identification Requests. . .

We no longer have staff to research inquiries about glass: value, history, identification, etc. Reference books on Fenton Art Glass do not include current price guides. We suggest you contact your local antiques dealer, the local library, or one of the collector clubs: http://www.fentonartglass.com/collectors. The Williamstown Antique Mall (local) may also assist you: 304-375-6315 or email: antiquemall@suddenlinkmail.com. A piece like yours may be listed on eBay, which can provide current pricing information. Otherwise, please send email inquiries about glass "production" to: askfenton@fentonartglass.com. For info on selling or placing a value on your Fenton Art Glass, click here.
---
Fenton Art Glass eBay Auctions. . .
Here's your opportunity to own a beautiful "one-of-a-kind" art glass creation or items from Fenton's past through our weekly eBay auctions. Fenton's eBay auctions will end at 2 p.m. (ET) on Wednesday, June 5. Items featured this week. . .

Fenton artist Michelle Kibbe captures all the majesty of a Leopard on this one-of-a-kind hand painted Opal Satin glass iceberg paperweight (4" t x 4.5" w.). The airbrushed background in black contrasts perfectly with the wonderfully detailed hand painted Leopard. Michelle's work is characterized by meticulous hand painting, and this one-of-a-kind iceberg paperweight is a perfect example of her talents and skills. Everyone who sees this piece will focus on those vivid blue eyes! This one-of-a-kind hand painted iceberg paperweight is identified, signed and dated: "M. Kibbe 2019 OOAK".

Fenton art Glass figurines on the fount as pressed are popular collectibles, and this marvelous one-of-a-kind hand painted Mouse figurine on Fount from Fenton artist Kim Barley is sure to please. Kim's theme for this hand painted gem in Opal Satin glass is "Garden Thyme," and you'll fall in love with the colorful clothing, the expressive eyes, and the splendid details, ranging from the delightful flowers and foliage to the array of garden tools ... can you find them all??" And don't overlook those ladybugs! This one-of-a-kind hand painted Mouse figurine on Fount is signed, identified and dated: "Kim Barley 2019 OOAK". These Fenton's eBay auctions will end at 2 p.m. (ET) on Wednesday, June 5.
---