Fenton USA Jewelry Presents. . .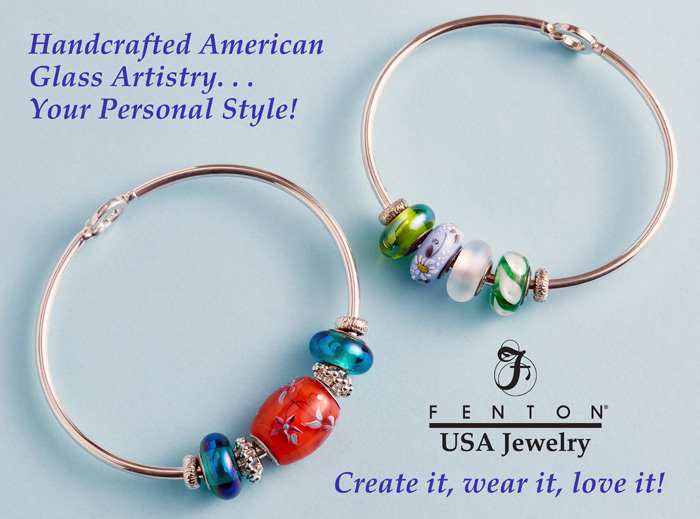 Fenton Art Glass makes the finest glass colors in the world for your expressive jewelry creations. During our 109 years of glassmaking experience, Fenton has developed amazing glass colors and treatments that are now transformed into sparkling, artistic jewelry! Shown above are a few selections featuring vibrant hues and wonderful glass treatments as well as meticulously hand applied decorations. Click on any image for details. These beads will fit most major necklace and bracelet brands, including our own accessory line. Shown in the photo with the beads are sterling silver Bangles, available in three sizes.
Celebrate a special moment, person, or emotion. . . captured forever in our Heartstrings Collection. Each handcrafted art glass bead comes with a "story" card which tells of the inspiration behind the bead's design. Each bead has a sterling silver core embossed Fenton USA and is initialed by the Fenton artist who completed it.

Click on each bead for details or click here to view more of our handcrafted jewelry.
---
Find a Fenton Dealer. . .
Many authorized Fenton dealers around the country still have beautiful Fenton Art Glass selections AND many now carry the Fenton jewelry line! Click here to find a dealer near you!
---
NEW Limited Editions from Fenton Gift Shop. . .
Fenton Gift Shop is pleased to offer these new four Limited Edition selections. Each piece features a design by our award-winning Fenton artists, and will be hand painted, signed, numbered, and dated. Included in this grouping are a 2.75" Crown Tuscan Mouse figurine, an 8" Opal Satin Chessie Cat Covered Box and an 11" Ruby Alley Cat figurine, all handcrafted by Mosser Glass, as well as a 9" Opal Satin vase handcrafted by Davis-Lynch. Each of these Limited Edition pieces was made exclusively for the Fenton Gift Shop, using a Fenton mould.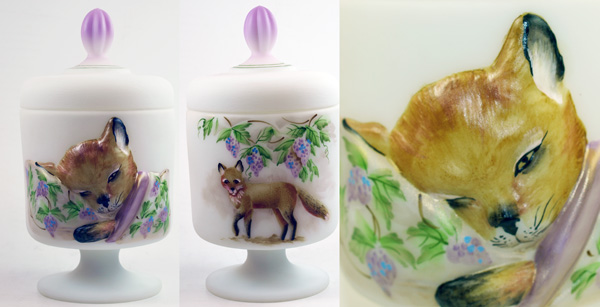 Robin Spindler has transformed our traditional Chessie Cat into a sleepy Fox cub for this Opal Satin Chessie Cat Covered Box. Robin used purple and green hues for a grapevine design on the bedding. She carried this theme to the back side with branches laden with ripe grapes hanging above another fox. . . the cub's mother, perhaps?! The hand painted details on the cub's face are sure to bring smiles! Each Fox Cub Chessie Cat Covered Box is $215.
We've recently had some nice, snow-free days in Williamstown and Kim Barley had "Spring Cleaning" on her mind! She designed this wonderful and whimsical design for our ruby satin mouse figurine. Check out those ears! The left one has a blooming daisy with colorful letters "S p r" and the right ear has a buzzing bumblebee and pink butterfly surrounding the letters "i n g" ... What's that spell? Spring!

Kim added a polka-dotted bow and a white apron to the outfit. This mouse is ready to clean. . . note the whisk broom nestled against one paw! Each Spring Cleaning Ruby glass Mouse figurine is $85.

Pre-orders for the Fox Cub Chessie Cat Covered Box and the Spring Cleaning Mouse figurine will be accepted until midnight (ET) on Monday, February 8th.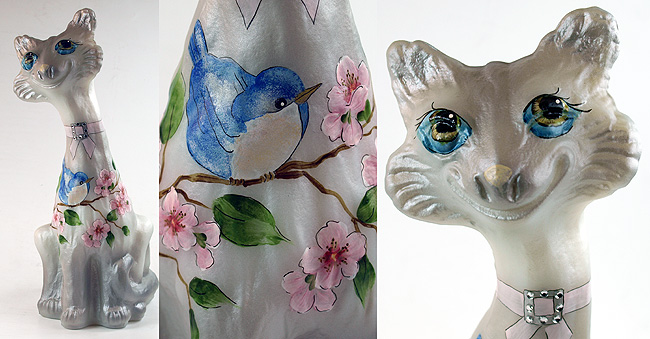 As mentioned above, the warmer temps in our area recently inspired Spring-themed designs from our talented artists at Fenton. Kim Barley created this wonderful scene of a stylized bluebird perched on a Cherry blossom branch for our Opal Satin Alley Cat. Kim added impressive blue eyes and a pink cat collar with a touch of bling to complete this piece.
Each Bluebird and Cherry Blossom Alley Cat is $230.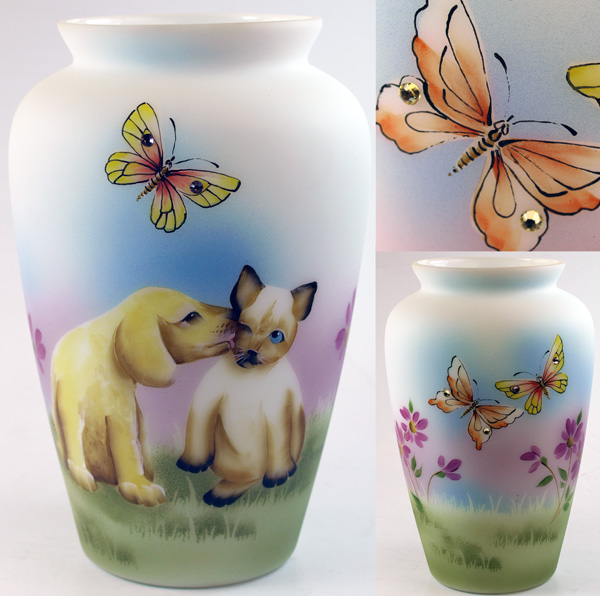 Robin Spindler named this Opal Satin vase "Butterfly Kisses". . . and you can see why! Her hand painted scene depicts a puppy giving his little feline friend a peck on the cheek as a beautiful butterfly hovers above them. Note the delicate brushstrokes on the wings of the butterflies. Two more colorful butterflies are on the back of this vase, along with vibrant florals with an airbrushed background. Robin also added gem accents on the wings of each butterfly for extra sparkle! Each Butterfly Kisses Opal Satin Vase is $195.
Pre-orders for the Bluebird and Cherry Blossom Alley Cat and the Butterfly Kisses Vase will be accepted until midnight (ET) on Wednesday, February 10th.
To pre-order any of these Limited Editions, call the Fenton Gift Shop:
1-800-319-7793, ext. 342 or send an email, listing items you want to: purchasing@fentongiftshop.com.
You may also request that we add your email address to Fenton Gift Shop's mailing list so you may receive future limited edition notifications.
---

Fenton Gift Shop Hours:
OPEN: 10 a.m. - 3 p.m. (ET)
Wednesday, Thursday,
Friday, and Saturday

CLOSED:

Sunday, Monday & Tuesday


Fenton Gift Shop
420 Caroline Avenue
Williamstown, WV 26187

Stop in to see a nice selection of glass, jewelry, reference books, glassmaking tools, and miscellaneous items!
If you have a question about a piece of glass. . .
We no longer have the staff to respond to questions regarding glass identification, values of antique glass, or related matters that come to us through "Ask Fenton" or by telephone. There are two collector clubs devoted to Fenton glass, the Fenton Art Glass Collectors of America (FAGCA) and the National Fenton Glass Society (NFGS), that may be of assistance to you. Reference books on Fenton Art Glass are also available on our web site: http://www.fentonartglass.com/shop/product.asp?c=0&l=books and magazines, however, they do not include current price guides. We suggest you contact your local antiques dealer(s), the local library, or one of the collector clubs: http://www.fentonartglass.com/collectors. You may also find your piece listed on eBay, which may provide current pricing information. The Williamstown Antique Mall may also provide assistance: 304-375-6315. Otherwise, please send email inquiries about glass production to: purchasing@fentonartglass.com
---
Fenton's Weekly eBay Auctions. . .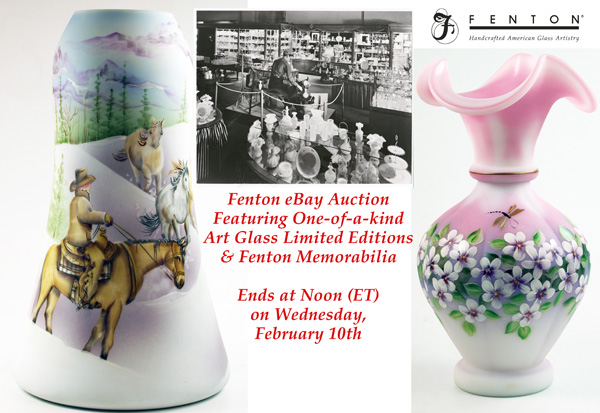 Here's your opportunity to own a beautiful, unique, rare, or one-of-a-kind item through our weekly eBay Auctions! Each one-of-a-kind art glass creation is dated, identified and signed by the award-winning Fenton artist who designed it. Shown here are our latest offerings. Items featured this week. . .
This spectacular, one-of-a-kind vase reflects all of the skills and talents of award-winning Fenton designer J. K. "Robin" Spindler. She calls this vase "Bring them home" and you can see it is perfect for this piece! From the majestic snowy mountains and the evergreen trees to the remarkable depictions of cowboys and horses … this 10.5" tall hand painted vase is absolutely stunning with a scenic decoration completely encircling the vase. This vase is made of three layers of glass: ruby, black and Milk Glass. It has a satin finish on the exterior. This one-of-a-kind vase is identified, dated and signed on the underside.

This 7" x 8.75" borderless black-and-white photo was taken in the glassware area at the Marshall Field and Company department store in Chicago, Illinois, in the early 1950s. A display of Fenton Art Glass is in the foreground, and Silver Crest, Coin Dot and Hobnail items can be seen. The mannequin in the center of the photo was modeled after Frank O. Meyers, who was a skilled glassworker at Fenton Art Glass in Williamstown, West Virginia, for many years.
What could be nicer than hand painted lush flowers and dragonflies by Frances Burton on Fenton Rosalene glass? This one-of-a-kind Rosalene 8.25" tall blown vase features subtle shades of color on the satin-finished melon body and a tri-crimp finish. Highly-detailed flowers encircle the vase and the dragonflies created by Frances are a splendid touch. Rosalene glass is a collector favorite. By adding pure gold to an opaque glass batch and reheating the formed piece, the soft white glass became a wonderful soft pink. Frank M. Fenton named the new heat-sensitive glass Rosalene and the first Rosalene grouping debuted in 1976. This one-of-a-kind vase is identified, dated and signed on the underside.

Take a look at these offerings and other "Buy It Now" items available on our Fenton eBay Auctions.
---
For questions or comments, please do not reply to this email. Instead, email: askfenton@fentonartglass.com.

This email has been sent to you because you have agreed to receive offers and information from the Fenton Art Glass Company. We respect your privacy and do not sell your personal information. For details, please review our privacy policy.

How to unsubscribe: If you prefer not to receive offers or information from Fenton Art Glass, please use this page to unsubscribe.

If you use a Challenge-Response system for email, please make certain that you can receive our email by adding askfentononline@fentonartglass.com to your Allow List.

For specific instructions for major ISPs, click here.

The sender of this email is the Fenton Art Glass Co., 700 Elizabeth St., Williamstown, WV, 26187