Fenton USA Jewelry Presents. . . Pretty Pastels That Sparkle!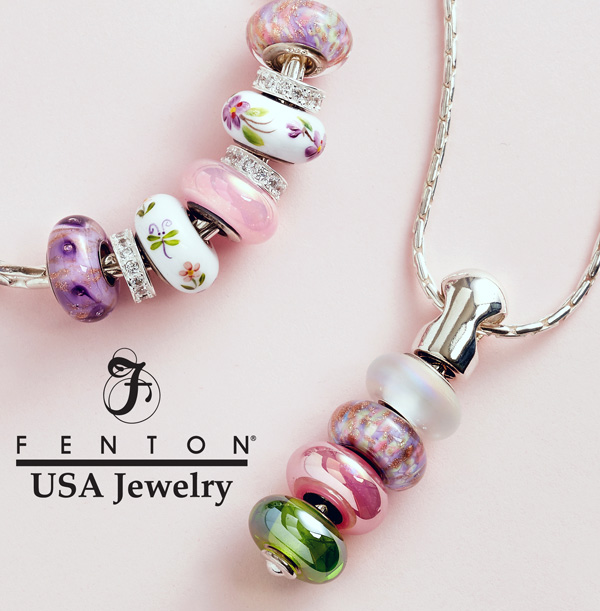 Make your personal fashion statement with made in the USA jewelry! Choose from handcrafted art glass beads and jewelry accessories from Fenton USA Jewelry. Shown above are a few selections featuring vibrant glass hues and treatments as well as meticulously hand applied decorations. Click on any image for details. These beads will fit most major necklace and bracelet brands, including our own accessory line. The sterling silver Hammered Cable necklace and bracelet, CZs spacers and pendant vertical beadholder are shown in the photo.

Complete Your Look with Handcrafted Art Glass Dangles and Drops. . .
Add a touch of bling to your fashions with handcrafted art glass dangles and drops! These unique jewelry fashion accessories require special skills from our team of talented bead makers. . . from creating the beautiful iridescence and sparkling goldstone to the wonderful dimensional glass combinations. Dangles are 1-1/16" long and are $19.50 each, and the Drops measure 1/2" long and are $10.50 each. Our assorted colors and styles of Dangles and Drops are easy to use. . . just clip on and go! Create a fun and different look for everyday casual or really sparkle for a special occasion. Click on each image to order, or view more of our handcrafted jewelry selections.

Find a Fenton Dealer. . .
Many authorized Fenton dealers around the country still have beautiful Fenton Art Glass selections AND many now carry the Fenton jewelry line! Click here to find a dealer near you!
---
NEW Limited Editions from Fenton Gift Shop. . .
Fenton Gift Shop is pleased to offer these new four Limited Edition selections. Each piece features a design by our award-winning Fenton artists, and will be hand painted, signed, numbered, and dated. Included in this grouping are a a 12" Opal Satin Amphora, handcrafted by Davis-Lynch as well as a 7.25" Opal Satin Snowman Fairy Light, a 2.75" Crown Tuscan Mouse figurine, and an 11" Ruby Alley Cat figurine, all handcrafted by Mosser Glass. Each of these Limited Edition pieces was made exclusively for the Fenton Gift Shop, using a Fenton mould.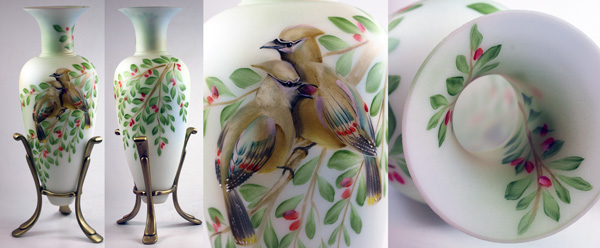 Nature is a favored design choice of award-winning Fenton design Robin Spindler, and her talent shines brilliantly with her wonderful rendition of Cedar Waxwings on this Opal Satin Amphora. Robin airbrushed the vase in soft, pastel hues and accented the entire vase with hand painted branches filled with lush red berries. . . they are even inside the top rim (see far right photo). Bird watchers and nature lovers alike will want to display this elegant vase in a special place! Each Cedar Waxwings Amphora with stand is $230 and limited to 12.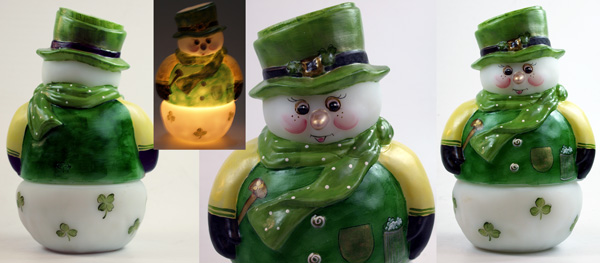 Perhaps you'll really have the "Luck of the Irish" when you display this wonderful Opal Satin Snowman Fairy Light, featuring a design by the talented Kim Barley. She included many wonderful hand painted details. . . from the rosy cheeks, golden nose, shamrocks and clovers to the colorful green and gold attire, the pipe and the mug of frothy brew. This two-piece Fairy Light will cast a soft glow with a tea candle (see inset photo). Each Luck of the Irish Snowman Fairy Light is $120. Pre-orders for the Cedar Waxwings Amphora with stand and the Luck of the Irish Snowman Fairy Light will be accepted until midnight (ET) on Monday, February 1st.

If you liked the "Engineer" Mouse figurine featured in our newsletter a few weeks ago, then you'll want to add this "Conductor" Mouse to your collection! Designed by Robin Spindler, this perky little Crown Tuscan figurine sports a hand painted hat, vest, bowtie and the ever-present conductor's watch held firmly in one paw. The expression on the face seems as if this mouse is getting ready to announce the "Alllllll Aboard" signal. Each Conductor Mouse figurine is $85 and is limited to 14 pieces.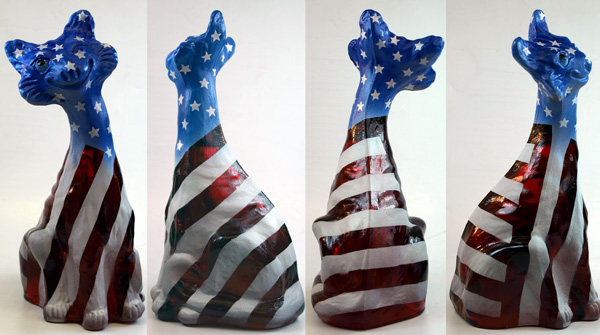 Someone recently suggested to Robin Spindler that she design something with a patriotic theme and, as you can see from these photos, did she ever deliver! Our magnificent Alley Cat is handcrafted in rich, ruby glass, which provides the background for Robin's red, white and blue stars and stripes design, which she calls "God Bless America". You're sure to feel patriotic when you display this 11" Alley Cat figurine in your home! Each God Bless America Ruby Alley Cat figurine is $250. Pre-orders for the Conductor Mouse and the God Bless America Ruby Alley Cat figurines will be accepted until midnight (ET) on Wednesday, February 3rd.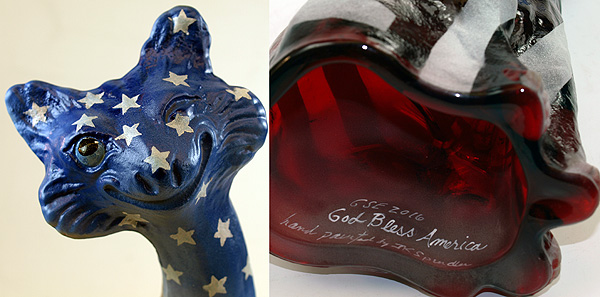 To pre-order any of these Limited Editions, call the Fenton Gift Shop: 1-800-319-7793, ext. 342 or send an email, listing items you want to purchase: purchasing@fentongiftshop.com. You may also request that we add your email address to Fenton Gift Shop's mailing list so you may receive future limited edition notifications.

Fenton Gift Shop Hours:
OPEN: 10 a.m. - 3 p.m. (ET) Wednesday, Thursday,
Friday & Saturday

CLOSED:

Sunday, Monday & Tuesday


Fenton Gift Shop
420 Caroline Avenue
Williamstown, WV 26187

Stop in to see our selections
of glass, jewelry, reference books, glassmaking tools, plus miscellaneous items!
If you have a question about a piece of glass. . .
We no longer have the staff to respond to questions regarding glass identification, values of antique glass, or related matters that come to us through "Ask Fenton" or by telephone. There are two collector clubs devoted to Fenton glass, the Fenton Art Glass Collectors of America (FAGCA) and the National Fenton Glass Society (NFGS), that may be of assistance to you. Reference books on Fenton Art Glass are also available on our web site: http://www.fentonartglass.com/shop/product.asp?c=0&l=books and magazines, however, they do not include current price guides. We suggest you contact your local antiques dealer(s), the local library, or one of the collector clubs: http://www.fentonartglass.com/collectors. You may also find your piece listed on eBay, which may provide current pricing information. The Williamstown Antique Mall may also provide assistance: 304-375-6315. Otherwise, please send email inquiries about glass production to: purchasing@fentonartglass.com
---
Fenton's Weekly eBay Auctions. . .
Here's your opportunity to own a beautiful, unique, rare, or one-of-a-kind item through our weekly eBay Auctions! Each one-of-a-kind art glass creation is dated, identified and signed by the award-winning Fenton artist who designed it. Shown here are our latest offerings. Items featured this week. . .

Here's the perfect treat for Valentine's Day and to look forward to the promise of Spring. This one-of-a-kind Rosalene glass heart-shaped candy dish features a splendid hand painted decoration meticulously done by the talented Kim Barley. The vivid, hand painted design depicts colorful flowers and foliage along with stylized birds and a wonderful message: "Spring is when life's alive in everything!" Note the delicate ribbon crimp and the applied handle, both done while the glass was very hot by a skilled glassworker at Fenton Art Glass in Williamstown, West Virginia. This one-of-a-kind Rosalene candy dish (8" long, including handle) is identified, signed and dated by Kim.

The soft, subtle color tones of Lotus Mist Burmese, a classic Fenton color containing pure gold, are the perfect background for this one-of-a-kind hand painted motif created and painted by Fenton artist Frances Burton. This pitcher stands about 6.25" tall and has a saddle crimp finish and an applied ribbed handle. The hand painted butterflies are wonderful examples of Frances Burton's innovative approach to glass decorating, so do be sure to note the way the "daisy" in the wings of the butterflies is reminiscent of the daisies themselves! This one-of-a-kind pitcher is identified, dated and signed by Frances.
This professional 8" x 10" black-and-white photo dates from about 1953 or 1954, when the now iconic "Clarence" mannequin made his debut as the symbol of Fenton Art Glass. The idea for this mannequin came from the John Faulkner Arndt advertising agency that was working with Fenton in the 1950s. Clarence is seated at a finisher's bench, and he is putting the final touches on a Milk Glass Hobnail pitcher. The Clarence mannequins were made of papier-mache´ and were used in Fenton glass displays by many stores and gift shops during the 1950s and into the 1960s.

Take a look at these offerings and other "Buy It Now" items available on our Fenton eBay Auctions.
---
For questions or comments, please do not reply to this email. Instead, email: askfenton@fentonartglass.com.

This email has been sent to you because you have agreed to receive offers and information from the Fenton Art Glass Company. We respect your privacy and do not sell your personal information. For details, please review our privacy policy.

How to unsubscribe: If you prefer not to receive offers or information from Fenton Art Glass, please use this page to unsubscribe.

If you use a Challenge-Response system for email, please make certain that you can receive our email by adding askfentononline@fentonartglass.com to your Allow List.

For specific instructions for major ISPs, click here.

The sender of this email is the Fenton Art Glass Co., 700 Elizabeth St., Williamstown, WV, 26187