Fenton USA Jewelry Presents. . . Ravishing Reds and Blushing Pinks!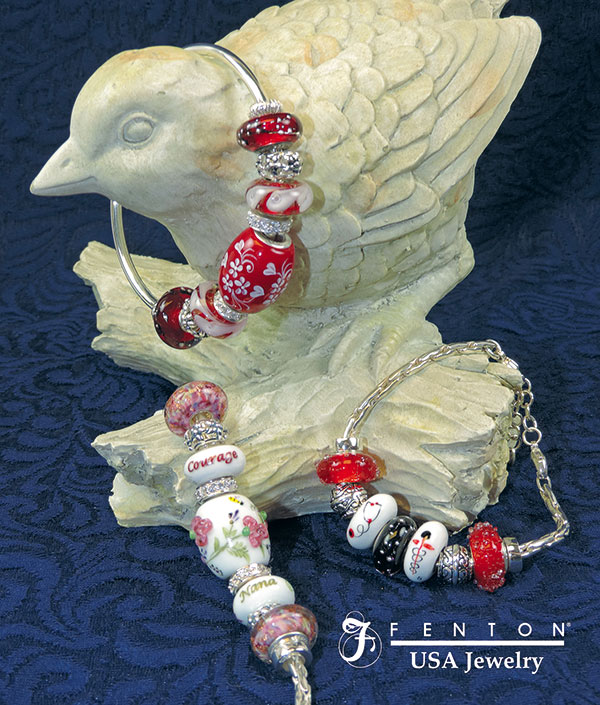 Step out in style with vibrant red and pastel pink hues from Fenton USA Jewelry! Our beautiful glass beads are handcrafted in a variety of colors perfect for any fashion style or occasion!
The American Heart Association has sponsored National Wear Red Day® to increase awareness in the fight against heart disease in women for more than ten years. This year, celebrate National Wear Red Day® with Go Red For Women on Friday, February 5th by wearing your Fenton USA Jewelry! Click here for a link to more information on planned events for this day.
Shown at right is a selection of our ravishing reds and blushing pinks, including beads from our popular Heartstrings Collection that convey a special message.
Fenton USA Jewelry is unique. . .
more than 110 years of glassmaking experience helps our talented craftspeople create beads using many of Fenton's classic colors and glass treatments. Each hand painted bead is initialed by the artist . . . and each bead comes with a ''story'' card which tells of the inspiration for that particular bead design. Click on any bead image shown here for details. Click here to view our Jewelry Collection!
These beads are compatible with and will fit most major necklace and bracelet brands, including our own accessory line. shown in the photo above are the Hammered Cable necklace and bracelet and the bangle with stoppers and various styles of spacers.

A "Sneak Peek" at What's Coming . . .
What better way to celebrate National Wear Red Day® or add a fabulous new design to your jewelry collection than handcrafted art glass beads from Fenton Jewelry! You'll love our new bead designs for 2016. . . perfect accessories for your Valentine's Day ensemble! Shown here (left to right) is a "Sneak Peek" at a few of the beautiful new designs from our talented design team: How Do I Love Thee? (Milk Glass), Dearest Love (Maraschino), Love Comes Softly (Milk Glass), and Love Birds (Maraschino). Be sure to let your favorite Fenton jewelry dealer know you want these beads as soon as they become available!
Find a Fenton Dealer. . .
Many authorized Fenton dealers around the country still have beautiful Fenton Art Glass selections AND many now carry the Fenton jewelry line! Click here to find a dealer near you!
---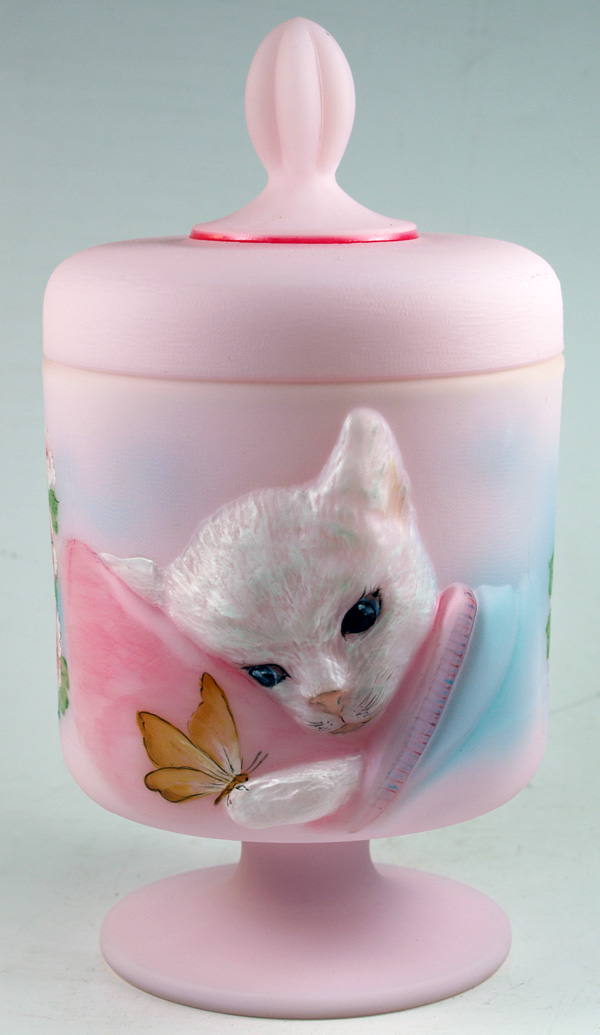 NEW Limited Editions from Fenton Gift Shop. . .
Fenton Gift Shop is pleased to offer these new four Limited Edition selections. Each piece features a design by our award-winning Fenton artists, and will be hand painted, signed, numbered, and dated.

Included in this grouping are a 7.25" Crown Tuscan Chessie Cat Covered Box, a 5.75" Opal Satin Ghost figurine and a 2.75" Ruby Mouse figurine, all handcrafted by Mosser Glass. We also have a lovely a 9" Opal Satin Vase, handcrafted by Davis-Lynch. Each of these Limited Edition pieces was made exclusively for the Fenton Gift Shop, using a Fenton mould.
Our popular Chessie Cat Covered Box in Crown Tuscan provides the perfect canvas for this lovely "Butterfly Dreams" design by Frances Burton. The delicate details on the butterflies are just beautiful. The butterflies look so real you want to reach out and touch one ... just like the sleepy Chessie Cat is doing!
Shown below are close-up views of this Chessie Cat Covered Box. . . the meticulous hand painted petals on the lush pink and white flowers, a pink accent band on the lid and those beautiful butterflies!

Each Butterfly Dreams Chessie Cat Covered Box is $200.

Shown below: Our "Hop into Spring" Ghost figurine is sure to brighten up any room and make you feel like Spring is on its way! Designed by Kim Barley, this 5.75" ghost figurine is hand painted to resemble a smiling bunny, complete with a puffy white tail! This "bunny" ghost is holding a carrot garland with a whimsical hand painted "Hop into Spring" message. Note the colorful flowers and buzzing bumblebee! Each Hop Into Spring Ghost figurine is $100.
Pre-orders for the Butterfly Dreams Chessie Cat Covered Box and the Hop Into Spring Ghost figurine will be accepted until midnight (ET) on Monday, January 25th.


This perky little Mouse looks ready for a Valentine's Day party! Featuring a design by Frances Burton, this Ruby glass figurine is adorned in a party dress covered in hearts. Note the wonderful Amberina effect on the ears.

You'll also like the extra details: pink ribbons on the ears and an adorable expression! Each Valentina Mouse figurine is $75.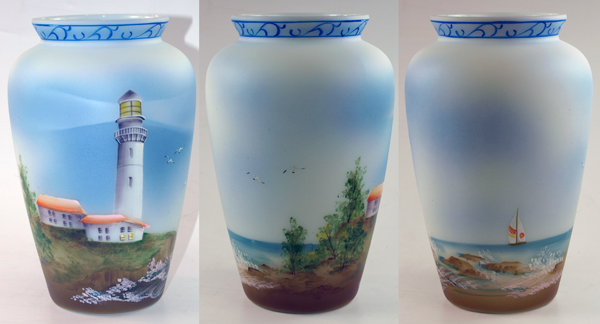 This 9" Opal Satin Vase features a wonderful Lighthouse design by Robin Spindler. The hand painted details add a feeling a serenity to this piece: from the pale blue airbrushed background to the sailboat and the gulls flying in the distance. Note the details of the waves along the shoreline and the blue scroll accents around the top rim of the vase. Each Lighthouse Vase is $215.

Pre-orders for the Lighthouse Vase and the Valentina Mouse figurine will be accepted until midnight (ET) on Wednesday, January 27th. To pre-order any of these Limited Editions, call the Fenton Gift Shop: 1-800-319-7793, ext. 342 or send an email, listing items you want to purchase: purchasing@fentongiftshop.com. You may also request that we add your email address to Fenton Gift Shop's mailing list so you may receive future limited edition notifications.

Fenton Gift Shop Hours:
OPEN: 10 a.m. - 3 p.m. (ET) Wednesday, Thursday,
Friday & Saturday

CLOSED:

Sunday, Monday & Tuesday

Great Valentine's Day
Gift Ideas:
Fenton Gift Shop
420 Caroline Avenue
Williamstown, WV 26187

Sale on glass, jewelry, and miscellaneous items!