Fenton USA Jewelry Presents. . . Three Dimensional Bead Styles!
Shown below are a few selections of our popular three-dimensional art glass beads. These distinctive raised glass designs encircle each bead. According to Fenton jewelry designer, Jena Lane Blair, "Creating a three-dimensional bead is like painting with molten glass." Add the hand applied decoration and the initials of the artist and you have a truly unique art glass jewelry creation, like no other! Each bead comes with its own "story card" about the inspiration behind the design.

In an age of mass production, Fenton Art Glass remains committed to honoring the tradition of expressive, handmade creations. Each Fenton USA bead bears the signature of handcraftsmanship with those slight variations that convey
distinction, character and charm. The handcrafted Fenton USA glass bead collection includes many of Fenton's unique
glass colors and historic treatments. Fenton is the only bead maker creating hand painted beads using high-fired
ceramic glazes, giving Fenton's hand painted beads unmatched design flexibility and strong durability. Fenton USA beads are designed by lampwork artist Jena Lane Blair. The distinctive hand painted decorations are created by Fenton decorator Truda Mendenhall. These beads are compatible with and will fit most major necklace and bracelet brands, including our own accessory line.
The popularity of the three-dimensional designs led to the creation of colorful and fun coordinating earrings (shown above). These glass earrings were handmade at our factory, and include hand applied decorations and gem accents. The earwires are sterling silver. Shown above (left-right) are earrings with hand applied decorations that appear on each side of the glass bead: Beach Buddies with a starfish and a crab; Delightful Dragonfly with a lovely floral design and a dragonfly; and Lucky Ladybug with a darling ladybug and colorful flower blossom. To order any of these items, please click on the bead or earring image. Click here to view Fenton USA handcrafted jewelry and click here to view our handcrafted Fenton Art Glass earrings.
---
NEW Limited Edition Glass Creations from Fenton Gift Shop. . .
Fenton Gift Shop is pleased to offer these new Limited Edition selections. Each piece features a design by our award-winning Fenton artists, and will be hand painted, signed and dated. Included in this grouping are an 11" Alley Cat in Ruby glass, a 3" Crown Tuscan Bear figurine, a 7.25" Opal Satin Snowman Fairy Light, and a 7.25" Opal Satin Square Vase, all handcrafted by our friends at Mosser Glass. Each of these Limited Edition pieces was made exclusively for the Fenton Gift Shop, using a Fenton mould.

Our popular "Let It Snow" design by Kim Barley returns for 2016, this time on an Opal Satin Snowman Fairy Light! Kim's whimsical details really set off this Fairy Light. . . from a tiny blue bird gazing up at the snowman (sporting a pink scarf and cap) to the snow covered trees and the garland of bells and stars encircling the entire figurine. Note the colorful hat band and the "Joy" patch on the back of the jacket. We've even shown you the soft glow of the tea light included with each Fairy Light. Each Let It Snow Snowman Fairy Light is $120.

Left: Handcrafted in Opal Satin with airbrushed blue highlights, this wonderful 7.25" Square Vase features a hand painted design by Robin Spindler that she calls "Oceans Blue." When you look at all four sides of this vase, you can see why that name is very appropriate!

This vase not only has a sailing ship on one side, but wonderful underwater scenes hand painted on each panel! You'll love Robin's meticulous details on the sea creatures, including a splendid seahorse, a magnificent octopus, as well as a lobster, crab and sea turtle (see photos below).

Robin also incorporated seaweed, seashells, coral and more underwater life to complete this design. Each Oceans Blue Square Vase is $225.


Pre-orders for the Let It Snow Snowman Fairy Light and the Oceans Blue Square Vase will be accepted until midnight (ET) on Monday, January 18th.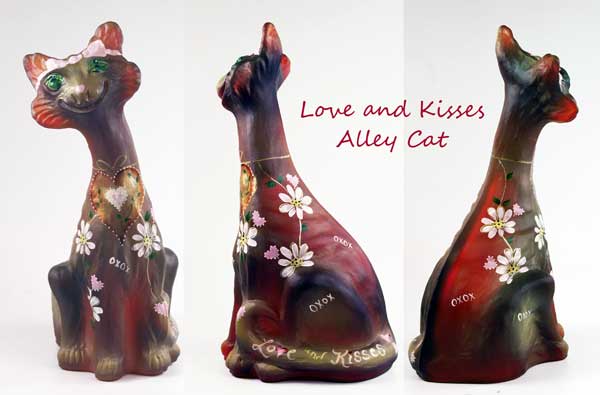 Shown above is another great Valentine's Day gift idea! The "Love and Kisses" Alley Cat, handcrafted in rich, satin finished Ruby glass, features a hand painted design by Kim Barley. You'll simply "love" the details on this 11" figurine, from the pink hearts and delicate flowers mixed with the 0X0X to the pink bow and heart-shaped necklace. Note the words "Love and Kisses" hand painted on the tail! And, of course, there is the adorable expression on the cat's face! Each Love and Kisses Alley Cat figurine is $225.
This Crown Tuscan Bear figurine is a perfect gift for someone special on Valentine's Day! Designed by Frances Burton, hand painted entwined hearts and flowers are on the front and back of this 3.75" figurine. Frances added a personal message on the paw "My heart belongs to you." Imagine the look on the face of your loved one (wife, partner, sister, mother, daughter, etc.) when you present this gift on Valentine's Day! Each My Heart Belongs to You Bear figurine is $75.

Pre-orders for the Love and Kisses Alley Cat figurine and the My Heart Belongs to You Bear figurine will be accepted until midnight (ET) on Wednesday, January 20th. To pre-order any of these Limited Editions, call the Fenton Gift Shop: 1-800-319-7793, ext. 342 or send an email, listing items you want to purchase: purchasing@fentongiftshop.com. You may also request that we add your email address to Fenton Gift Shop's mailing list so you may receive future limited edition notifications.

Fenton Gift Shop Hours:
OPEN: 10 a.m. - 3 p.m. (ET) Wednesday, Thursday,
Friday & Saturday

CLOSED:

Sunday, Monday & Tuesday

Great Valentine's Day
Gift Ideas:
Fenton Gift Shop
420 Caroline Avenue
Williamstown, WV 26187

Sale on glass, jewelry, and miscellaneous items!
If you have a question about a piece of glass. . .
We no longer have the staff to respond to questions regarding glass identification, values of antique glass, or related matters that come to us through "Ask Fenton" or by telephone. There are two collector clubs devoted to Fenton glass, the Fenton Art Glass Collectors of America (FAGCA) and the National Fenton Glass Society (NFGS), that may be of assistance to you. Reference books on Fenton Art Glass are also available on our web site: http://www.fentonartglass.com/shop/product.asp?c=0&l=books and magazines, however, they do not include current price guides. We suggest you contact your local antiques dealer(s), the local library, or one of the collector clubs: http://www.fentonartglass.com/collectors. You may also find your piece listed on eBay, which may provide current pricing information. The Williamstown Antique Mall may also provide assistance: 304-375-6315. Otherwise, please send email inquiries about glass production to: purchasing@fentonartglass.com
---
Fenton's Weekly eBay Auctions. . .
Here's your opportunity to own a beautiful, unique, rare, or one-of-a-kind item through our weekly eBay Auctions! Each one-of-a-kind art glass creation is identified, dated and signed by the award-winning Fenton artist who designed it. Shown here are our latest offerings. Items featured this week. . .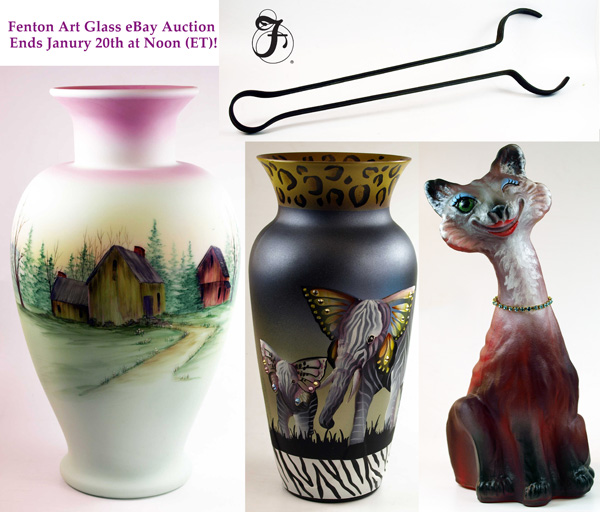 Lotus Mist Burmese, a classic color that contains pure gold created by Fenton Art Glass about 15 years ago, provides the perfect canvas on this 13.25" tall vase for a splendid one-of-a-kind hand painted scene designed by Frances Burton. The rustic cabins and barn nestled amongst the pines and other trees remind us of some of our favorite "hideaway" places here in West Virginia.

With lustrous, satin-finished black glass for her canvas, Robin Spindler created and hand painted this remarkable one-of-a-kind vase (10.75" tall). This is surely one of the most artistic and unusual vases ever created by Robin, and, as you can see from the picture, it really makes a statement! More views are available on our eBay listing. This vase will definitely start a conversation when on display in your home or office! The theme incorporates various animals … from the spots of the leopard and the coat of the zebra to the majestic elephant and the delicate butterfly! Note the gemstone accents, too!

Robin chose to depict both meanings of the word "Vixen" on this magnificent Ruby glass Alley Cat! She's not only transformed this 11" Alley Cat into a female fox, or Vixen. . . she then added hand painted details, along with a gemstone studded collar, to show the "flirty, mischievous" meaning of this word! Note those ruby red lips on that all-knowing smile and the colorful blue accents above the eyes! This Vixen Alley Cat will definitely get your attention!

Here's a rare opportunity to acquire a tool actually used in making handmade glassware at the Fenton Art Glass Co.,
and this example goes back several years. This tool is 15.25" in length, and it was used to "turn out" hot glass items after the glass had set up and the cast iron mould was opened. In the first few years of glass production at Fenton, it was not unusual to have young fellows 12-13 years old working as "turning-out boys" or performing other tasks in the glass factory manufacturing area. The tool operates like a set of pincers to fit around the glass item and then can be
squeezed to hold it securely and take it away from the mould. What a great piece of Fenton history! Take a look at these offerings and other "Buy It Now" items available on our Fenton eBay Auctions.
---
For questions or comments, please do not reply to this email. Instead, email: askfenton@fentonartglass.com.

This email has been sent to you because you have agreed to receive offers and information from the Fenton Art Glass Company. We respect your privacy and do not sell your personal information. For details, please review our privacy policy.

How to unsubscribe: If you prefer not to receive offers or information from Fenton Art Glass, please use this page to unsubscribe.

If you use a Challenge-Response system for email, please make certain that you can receive our email by adding askfentononline@fentonartglass.com to your Allow List.

For specific instructions for major ISPs, click here.

The sender of this email is the Fenton Art Glass Co., 700 Elizabeth St., Williamstown, WV, 26187