Fenton USA Jewelry Presents. . . "Simply Spiritual" Bracelets
Five Bible verses that give us strength and direction inspired the lovely bracelets in the Simply Spiritual collection. Fenton jewelry designer Jena Lane Blair developed the concept and subjects and collaborated with decoration designer
Truda "TJ" Mendenhall on the final artwork to capture the essence of each bible reference.

Each inspirational glass bead features a hand applied decoration initialed by the artist on one side with a Biblical reference impressed in the glass on the reverse side. The handcrafted bead measures approximately 1.25" long. The bracelets feature coordinating leather bands with extender chains to accommodate most wrist sizes. Fenton USA Jewelry is handcrafted with quality and tested for durability.

Shown above are selections from the Simply Spiritual collection (l-r): I am the Vine (11300, also available in Celadon, 11301), The Lord is My Shepherd (Lavender, 11299), God's Love (11293), Fishers of Men (11295) and The Lord is My Shepherd (Ivory, 11298).

Click here to view the complete Creative Spirit Collection. In an age of mass production, Fenton remains committed to honoring the tradition of expressive, handmade creations. Each Fenton USA earring bears the signature of handcrafts-manship; those slight variations that convey distinction, character and charm.
Online orders placed after December 14th are not guaranteed for Christmas delivery.
Expedited Shipping is available for an additional cost.
Find a Fenton Dealer. . .
Though we continue to wind down the factory inventory, many authorized Fenton dealers around the country still have a nice selection of Fenton Art Glass AND many carry the Fenton jewelry line! Click here to find a dealer near you!
---
NEW Limited Editions from Fenton Gift Shop. . .
Fenton Gift Shop is pleased to offer new designs as Fenton Gift Shop Limited Editions. To allow for our holiday break, we are extending the deadlines for these pieces, with shipment to begin after the first of the year. Each piece features a design by our award-winning Fenton artists, and will be hand painted, signed and dated. Included in this grouping is a 12" Amphora (14" w/stand) made by Davis-Lynch. Also included are a 7.25" Opal Satin two-part Snowman Fairy Light, an 11" Ruby Alley Cat, and a pair of 3" tall Crown Tuscan Mouse figurines, all handcrafted by Mosser Glass. Each of these pieces was made exclusively for the Fenton Gift Shop, using a Fenton mould.


Robin Spindler's creativity shines beautifully on this Opal Satin Amphora. She chose a Cardinal pair (male and female), as her subject and added a background of pine cones and branches that encircle the Amphora. . . the perfect setting for these birds. Her hand painted details are beautiful to behold. Each Cardinal Pair Amphora with stand is $250.

Pre-orders for the Cardinal Pair Amphora w/stand
and the Winter Wishes Snowman Fairy Light will be accepted until midnight (ET) on Monday, December 21st.


This Snowman Fairy Light is warmly dressed in a coordinating coat, scarf and top hat for a trip to mailbox to post a "Winter Wishes" letter. The mailbox has colorful red birds keeping watch! The smaller inset photo shows the soft glow this Fairy Light will cast with a tea light (included).

You'll love designer Kim Barley's whimsical details, from the twinkling eyes to the cheery smile! Each Winter Wishes Snowman Two-part Fairy Light is $120.

Not a creature was stirring. . . not even a Mouse. . . because the mice were all attending Christmas Eve Church services!
These delightful Crown Tuscan Mouse figurines, designed by Robin Spindler, will delight one and all! A great gift for figurine collectors, someone special or treat yourself!
The boy mouse has a colorful tie, complete with a gem accent, while the girl sports a pretty lavender outfit with a gem accent on the flower. Both mice have a design of a church on the back side. And, of course, you'll love those adorable expressions! The Church Mice Figurine Pair is $140 or sold separately for $75 each.

Robin Spindler chose to depict both meanings of the word "Vixen" on this magnificent Ruby glass Alley Cat! She's not only transformed this Alley Cat into a female fox, or Vixen. . . she then added hand painted details, along with a gemstone studded collar and gold embellishments on the legs, to show the "flirty, mischievous" meaning of this word! Note those ruby red lips on that all-knowing smile and the colorful blue accents above the eyes! This Vixen Alley Cat will definitely get your attention! Each Vixen Alley Cat is $225.

Pre-orders for the Church Mice Figurines and the Vixen Alley Cat will be accepted until midnight (ET) on Wednesday, December 23rd. To pre-order any of these Limited Edition pieces, please contact Fenton Gift Shop: 1-800-319-7793, ext. 342 or send an email, listing the item(s) you wish to purchase to: purchasing@fentongiftshop.com. You may also request that we add your email address to Fenton Gift Shop's mailing list so you may receive future limited edition notifications.
Holiday Gift Ideas from the Fenton Gift Shop. . .
Two beloved symbols of the holidays. . . Angels and the American Christmas Tree. These beautiful handcrafted art glass creations are sure to be included in your holiday decor for years to come! The three Fenton Art Glass Angel figurines shown above are each designated as a "one-of-a-kind" or OOAK. Each Angel has a different design on the face. These hand painted Angel figurines are each signed by the artist who completed it and also have "OOAK" on the bottom. The Angel figurines are $54.50 each. Just these three are available, so don't delay ordering yours today!

The American Christmas Tree. . . the focal point of holiday decorating! These jewel-toned pines add festive notes to your home decor this holiday season. In addition to the Blue tree shown above, Fenton Gift Shop now has a limited quantity of handcrafted 6.5" Christmas Trees in brilliant Ruby glass. These trees were handcrafted at Mosser Glass, using the Fenton Art Glass mould, as exclusives for Fenton Gift Shop, and are $34.50 each. Prices for these pieces do not include shipping. Please contact Fenton Gift Shop to order: 304-375-7772 or 800-319-7793, ext. 342 or send an email: purchasing@fentongiftshop.com. Visit Fenton Gift Shop and complete your holiday shopping today with keepsake gifts for someone special! Fenton Gift Shop is located at 420 Caroline Ave., Williamstown, WV 26187. Please note the holiday hours listed below!
Fenton Gift Shop Holiday Hours: OPEN 12/23 & 12/30/15; CLOSED December 24-29, 31st and January 1-5, 2016. Fenton Gift Shop will re-open at 10 .am. on Wednesday, January 6, 2016.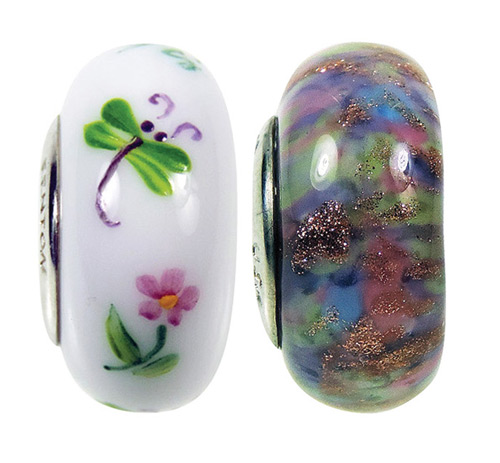 ---
Frequent Buyer Program. . . Earn YOUR Free Limited Edition Bead!
Here's your opportunity to receive a beautiful limited edition bead absolutely FREE!
Simply purchase ten beads from any authorized Fenton jewelry dealer or from our website: www.fentonartglass.com and you'll qualify for a bonus bead! Click here for details!
Current offerings are the Gracie (decorated) and Mikayla (Vasa Murrhina) beads shown at right.
Click here to view our handcrafted art glass beads. NOTE: If you have purchased ten beads,
let us know if we haven't notified you. . . please email: askfenton@fentonartglass.com and put "Frequent Buyer Qualifier" in the subject line.
---
Fenton Custom Designs for Beads. . .
We've received many requests for specially designed beads. Most of these designs are exclusive to one retailer or organization, so we can not sell them on our website. If your group or store is interested in a custom designed bead, please call for details at 304-375-6122, option 1 or ext. 316. Click here to view custom designed beads with contact info for the retailers or organization from whom you may purchase them. Be sure to check back as we will be updating this list regularly! Please contact the retailer or organization listed beside each Custom Design bead and be
sure to say you saw it mentioned in the Fenton Newsletter!
---
Fenton's Weekly eBay Auctions. . .
Here's your opportunity to own a beautiful, unique, rare, or one-of-a-kind item through our weekly eBay Auctions! Shown here are our latest offerings. Items featured this week. . .
Award winning designer Robin Spindler used all her talents and skills to create this hand painted plate (7.25" diameter) that depicts the iconic "Clarence" glassworker, a symbol used on small sticker and in publications by Fenton Art Glass since the 1950s but never as a hand painted scene until now! Robin created just two of these plates, and this is number 2! The skilled Clarence is seated at his finisher's bench, completing his work on a piece of cranberry glass, while the open mouth of a pot furnace is represented in the background. This very special plate, made of Lotus Mist Burmese glass, is identified, dated and signed by Robin: "J. K. Spindler 2015 2/2".

Made as a limited edition for the 1995 Fenton line, this Fenton Art Glass 7" Bridesmaid Doll figurine features a hand painted motif called "Kristen's Floral", designed by Martha Reynolds. The soft Ivory Satin glass was brought to life with raised pink and lavender enameled flowers and 22k gold accents. Each piece was hand painted and fired, then hand painted with gold accents and fired again. This doll figurine is signed by the artist on the bottom, numbered (#2241/2500) and has a Fenton logo sticker.
<![if !supportLineBreakNewLine]><![endif]>
Handcrafted by Fenton Art Glass as a special order for sale on QVC, this Burmese pitcher with hand painted rose decoration is absolutely "classic" Fenton, from the wonderful pink blush from pure gold in the formula and the exquisite hand painted details to the signatures of the talented decorator and of Bill Fenton, who was a frequent guest on QVC. This pitcher stands 5" tall with an applied reeded handle that is also Burmese glass. The pitcher is signed by the decorator ("hand painted by C. Griffiths"), dated ("1990"), and inscribed with the signature of Fenton Art Glass Chairman of the Board Bill Fenton ("W. C. Fenton"). A paperback copy of Fenton: Especially for QVC, signed by author, Dr. James Measell, is also included with this pitcher.

Take a look at these offerings and other "Buy It Now" items available on our Fenton eBay Auctions. This Fenton eBay auction ends at noon (ET) on Wednesday, December 23rd.
---
For questions or comments, please do not reply to this email. Instead, email: askfenton@fentonartglass.com.

This email has been sent to you because you have agreed to receive offers and information from the Fenton Art Glass Company. We respect your privacy and do not sell your personal information. For details, please review our privacy policy.

How to unsubscribe: If you prefer not to receive offers or information from Fenton Art Glass, please use this page to unsubscribe.

If you use a Challenge-Response system for email, please make certain that you can receive our email by adding askfentononline@fentonartglass.com to your Allow List.

For specific instructions for major ISPs, click here.

The sender of this email is the Fenton Art Glass Co., 700 Elizabeth St., Williamstown, WV, 26187