Fenton USA Jewelry Presents. . . Creative Jewelry Gifts!
This holiday season, give a special gift of handcrafted American Artistry from Fenton USA Jewelry. . . or treat yourself!
Our pre-assembled jewelry is available at affordable prices with outstanding designs in glass art. Fenton's talented jewelry design team created a variety of bracelet styles suitable for your personal fashion expression.

Jena Lane Blair designed the jewelry and glass treatments, using the finest in colored art glass. Truda "TJ" Mendenhall designed the hand applied decorations and each decorated piece of jewelry is initialed by the artist who completed it. Shown above are the Tranquil Pond leather bracelet and the Trails of Turquoise and Coral Woods suede bracelets from the Creative Spirit Collection.
The beautiful Vasa Murrhina Tranquil Pond Impression bead features still pools of blues and greens with golden accents. Each unique Fenton bead captures a glittering layer of Goldstone. Fenton bead makers use extreme care to maintain its sparkle in the hot flame. Tiny bits of colored glass add a variety of hues in each different design, and no two are identical! This difficult process is one of the secrets of Fenton quality and the brilliance of our beads. Tranquil Pond (approx. 1.25" long) is paired with a handmade, rich black leather bracelet and antique pewter accents and will adjust from 6"-8" in length.
You'll love the soft feel of the suede bands in our Trails of Turquoise and Coral Woods bracelets. The Trails of Turquoise bead features hand applied threads of turquoise glass which create a one-of-a-kind pattern against the reactive ivory glass. . . unique and beautiful "wearable" art! The Coral Woods bead has a pulled feather pattern using reactive glass in earth tones.
Our Creative Spirit bracelets come in a variety of styles and treatments, including Clasp & Go Leather Cord bracelets. Each Clasp & Go bracelet has a Fenton handcrafted bead paired with a leather band in a coordinating color and includes an extender chain to accommodate most wrist sizes.
Bracelets shown above, left-right (click on each image or name for details): Desert Song, Hope, Rx of Care, Abyss, Kalico Kitty, Tranquil Pond, Iridescent Petals, Meraki, Sundance, Walk on the Beach, and Coral Woods. Many of the bead designs are also available as pendants so you may add your own fashion accessory. Choose from Fenton USA Jewelry accessories ─ including sterling silver bracelets, necklaces and pendants. You'll also receive Free Shipping via the U.S. Postal Service (requests for Expedited Shipping will be charged accordingly). Click here to view the complete Creative Spirit Collection. In an age of mass production, Fenton remains committed to honoring the tradition of expressive, handmade creations. Each Fenton USA earring bears the signature of handcraftsmanship; those slight variations that convey distinction, character and charm.
HOLIDAY ORDER DEADLINE
Online orders must be received by Noon (ET), December 14
to guarantee delivery by December 25.*
*Expedited Shipping is available for an additional cost.
Find a Fenton Dealer. . .
Though we continue to wind down the factory inventory, many authorized Fenton dealers around the country still have a nice selection of Fenton Art Glass AND many carry the Fenton jewelry line! Click here to find a dealer near you!
---
Holiday Amphora Special and NEW Limited Editions from Fenton Gift Shop. . .
Fenton Gift Shop is offering a limited time special holiday price and ordering deadline
on the beautiful Opal Satin Amphora with stand featuring Robin Spindler's hand painted design of an Egret in its habitat.
This 12" Amphora (14" including stand) was made by Davis-Lynch, using a Fenton mould.

Robin's love of wildlife and nature is evident as you view this Opal Satin Amphora. She airbrushed the background to a pale blue and added the hand painted design of a majestic Egret, standing amongst reeds and lily pads. Robin's paint layering technique makes this design really stand out, especially on the meticulous details of the feathers and flowering blooms. Each Egret Amphora with stand is $225 and pre-orders will be accepted until midnight on Monday, December 14th.

Fenton Gift Shop is pleased to offer new designs as Fenton Gift Shop Limited Editions. Each piece features a design by our award-winning Fenton artists, and will be hand painted, signed and dated. Included in this grouping are an Opal Satin 11" Alley Cat and a 5.75" Crown Tuscan Owl figurine, handcrafted by Mosser Glass. Also included is an Opal Satin 9" Vase, made by Davis-Lynch. Each of these pieces was made exclusively for the Fenton Gift Shop, using a Fenton mould.

Robin Spindler's creative imagination continues to amaze and delight us all, including many Fenton collectors!

We recently received a suggestion from a customer that Robin create a design on the Alley Cat that would resemble a fox! We loved the idea and the end result of Robin's efforts even more. . . and we believe you will too!

Robin chose to depict a natural red fox and, as you can see, the colors blend perfectly. Just look at the amazing hand painted details on the face and those expressive eyes!

We immediately thought of the perfect name for this impressive figurine: "Fenton, the Foxy Feline".

Each Fenton, the Foxy Feline
Alley Cat is $240.

Pre-orders for the Fenton, the Foxy Feline Alley Cat and the Egret Amphora will be accepted until midnight on Monday, December 14th.

Inspired by a story about covered bridges in a local tourism publication, Robin Spindler choose to depict the "Hills Bridge" on this 9" Opal Satin Vase. More than 50 covered bridges were once scattered throughout Washington County, Ohio. Today, just nine remain as reminders of the ingenuity of the past. This Bridge is located in Marietta, Ohio on County Road 333. It is also known as the "Hildreth Covered Bridge" and dates back to 1881. A photo of the actual bridge is shown on the far right. You can see how Robin has creatively brought it to life on this beautiful vase!

Robin's design takes you back in time when getting about in the snow included horse- drawn transportation! An alert white-tailed deer is hand painted on the back side of the vase, shown pausing in the snow as if listening to the sounds coming from the other side of the bridge. Each Hills Bridge Vase is $215.

Robin chose a red barn in a winter setting for her design on this Owl figurine and we all agreed that this figurine should be named "Barney, the Owl".

Robin airbrushed the Crown Tuscan figurine to provide a natural color and her meticulous use of detail adds to its beauty. Each Barney, the Owl Figurine is $95 and it is limited to just ten figurines!

Pre-orders for the Hills Bridge Vase and Barney, the Owl Figurine will be accepted until midnight on Wednesday, December 16th.
To pre-order any of these Limited Edition pieces, please contact the Fenton Gift Shop: 1-800-319-7793, ext. 342 or send an email, listing the item(s) you wish to purchase to: purchasing@fentongiftshop.com.

You may also request that we add your email address to Fenton Gift Shop's mailing list so you may receive future limited edition notifications.
Holiday Gift Ideas from the Fenton Gift Shop. . .
Handcrafted in USA Drapery Votives from Fenton Art Glass are a beautiful, yet functional gift idea! The two-way Drapery Votice is versatile as well as functional. Place a tea light or small candle in the widest part
or flip the votive over and use it with a taper.

The inset photo shows the Ruby votive with a lighted tea light. You can see it creates a wonderful glow to set the mood for any occasion! You can also use these votives as candy dishes, tabletop decorations, or use on your desk for paper clips
. . . or, think outside the box and come up with your own unique use for this art glass creation! A rainbow of colors are available, including Aquamarine, Willow Green, Rosemilk, Opal Mist, Ruby, Violet, and a few Opalescent colors). Drapery Votives are $27.50 each, except for the Ruby Iridized, which is $34.50, and each one includes a tea light. Prices do not include shipping.


Fenton Gift Shop has two pieces available (while supplies last) with the same hand painted design that is featured on a "Family Signature Series" Vase included in this week's Fenton eBay Auction (see listing/photo below). Each piece has a nicely detailed Cottage scene with subtle color tones and lots of detail. The Candle Bowl and Egg on Stand are in mint condition and are $45 each (prices do not include shipping). Please contact Fenton Gift Shop to order: 304-375-7772 or 800-319-7793,
ext. 342 or send an email: purchasing@fentongiftshop.com.

Visit Fenton Gift Shop and complete your holiday shopping today with keepsake gifts for someone special! Fenton Gift Shop is located at 420 Caroline Ave., Williamstown, WV 26187.
Fenton Gift Shop's "regular" hours: 10 a.m.-3 p.m. (ET) on Wednesday, Thursday, Friday, and Saturday.

Fenton Gift Shop HOLIDAY Hours: OPEN 12/23 and 12/30/15 and CLOSED December 24-29, 31st and January 1-5, 2016. Fenton Gift Shop will re-open at 10 .am. on Wednesday, January 6, 2016.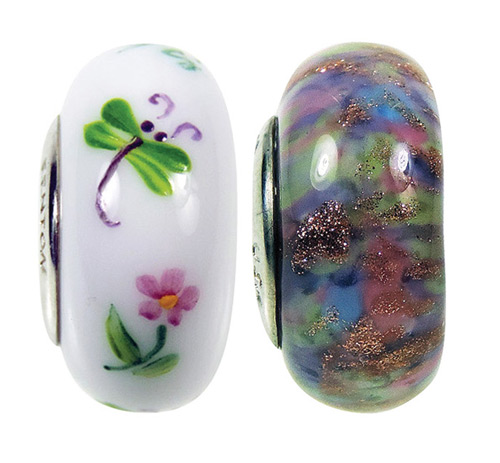 ---
Frequent Buyer Program. . . Earn YOUR Free Limited Edition Bead!
Here's your opportunity to receive a beautiful limited edition bead absolutely FREE!
Simply purchase ten beads from any authorized Fenton jewelry dealer or from our website: www.fentonartglass.com and you'll qualify for a bonus bead! Click here for details!
Current offerings are the Gracie (decorated) and Mikayla (Vasa Murrhina) beads shown at right.
Click here to view our handcrafted art glass beads. NOTE: If you have purchased ten beads,
let us know if we haven't notified you. . . please email: askfenton@fentonartglass.com and put "Frequent Buyer Qualifier" in the subject line.
---
Fenton Custom Designs for Beads. . .
We've received many requests for specially designed beads. Most of these designs are exclusive to one retailer or organization, so we can not sell them on our website. If your group or store is interested in a custom designed bead, please call for details at 304-375-6122, option 1 or ext. 316. Click here to view custom designed beads with contact info for the retailers or organization from whom you may purchase them. Be sure to check back as we will be updating this list regularly! Please contact the retailer or organization listed beside each Custom Design bead and be
sure to say you saw it mentioned in the Fenton Newsletter!
---
Fenton's Weekly eBay Auctions. . .
Here's your opportunity to own a beautiful, unique, rare, or one-of-a-kind item through our weekly eBay Auctions! Shown here are our latest offerings. Items featured this week. . .
Fenton Art Glass "Family Signature Series" pieces are among the most popular and collectible Fenton items. This Opal Satin vase (9" tall) was among the earliest Family Signature items, having been made available to collectors in 1993. Inscribed with the signature of Shelley Fenton, this vase features a nicely detailed Cottage scene with subtle color tones and lots of details all around the vase. The Fenton logo and copyright symbol are hand painted on the underside, as is the signature of the decorator, and the individual number of the vase ("825").

Made by Fenton Art Glass as a special order for QVC in 1992, this Cranberry Opalescent Ginger Jar with black base and cap stands approx. 8.25" tall overall. The opalescent Coin Dot motif is "classic" Fenton, having originated in the late 1940s, and the mould for the ginger jar goes back to the 1930s! This example has two special features: a remarkably delicate, hand painted floral motif and the inscribed signature of longtime QVC guest Bill Fenton. Bill's signature reads "W. C. Fenton" [for Wilmer C. Fenton], and not many Fenton pieces were inscribed this way. The signature of the decorator also appears: "hand painted by D. Anderson".

Made as a limited edition for the 1995 regular line, this Fenton Art Glass 5" Perfume Bottle with heart-shaped stopper features a design called "Kristen's Floral", designed by Martha Reynolds. The soft Ivory Satin glass was brought to life with a raised pink and lavender enameled flowers with 22k gold embellishment. Each piece was painted, fired, then painted with gold and fired again. The bottle is signed on the bottom: handpainted by M. Nichols #1075/2500 and has a Fenton logo sticker. The heart-shaped stopped is initialed "V.G." on the base of the heart on the right side.

This lovely 9" tall vase, called "SunFlower," features a bright design by cameo artists Kelsey Murphy and Robert Bomkamp. Handcrafted in Aubergine glass and cased with Milk Glass, the vase has an Aubergine layer that has a wonderful satin finish. Cameo carving is a painstaking process. After the glass has been annealed, a special mask is taped to the surface of the glass. Using an advanced "vignetting" technique, each piece is carefully sandcarved, by hand, using aluminum oxide crystals under pressure to take away some of the surface. Great individual skill and experience are needed to control this operation, as many distinct stages of successive cameo carving are required to create the remarkable depth and the intricate details. Made in 2011, this vase was limited to just 40 pieces. This example is number 3 (identified on the underside with "3/40"), complete with the inscribed signatures of Kelsey Murphy and Robert Bomkamp and the Fenton script "F" USA logo.

Take a look at these offerings and other "Buy It Now" items available on our Fenton eBay Auctions. This Fenton eBay auction ends at noon (ET) on Wednesday, December 16th.
---
For questions or comments, please do not reply to this email. Instead, email: askfenton@fentonartglass.com.

This email has been sent to you because you have agreed to receive offers and information from the Fenton Art Glass Company. We respect your privacy and do not sell your personal information. For details, please review our privacy policy.

How to unsubscribe: If you prefer not to receive offers or information from Fenton Art Glass, please use this page to unsubscribe.

If you use a Challenge-Response system for email, please make certain that you can receive our email by adding askfentononline@fentonartglass.com to your Allow List.

For specific instructions for major ISPs, click here.

The sender of this email is the Fenton Art Glass Co., 700 Elizabeth St., Williamstown, WV, 26187