Fenton USA Jewelry Presents. . . New Collegiate Earrings!
Show your team spirit with handcrafted in USA Earrings in your favorite college team's colors! These sterling silver "dangle" earrings feature glass accents and officially licensed artwork on a Milk Glass bead. Fenton USA Jewelry's handcrafted Collegiate Earrings add a touch of "bling" for holiday fashions and make unique stocking stuffers! Choose from more than 30 different schools! We recently received several new approvals and are pleased to offer these latest styles, just in time for holiday gift giving!
In an age of mass production, Fenton remains committed to honoring the tradition of expressive, handmade creations. Each Fenton USA earring bears the signature of handcraftsmanship; those slight variations that convey distinction, character and charm.

To order any of the earrings shown above, please click on each image or, to view the complete earring collection,
click here. Mix and Match with Fenton USA Jewelry handcrafted beads with officially licensed artwork for more than 45 schools! Click here to view Collegiate Jewelry collection. Complete your look with Fenton USA Jewelry accessories ─ including sterling silver bracelets, necklaces and pendants. You'll also receive Free Shipping via the U.S. Postal Service (requests for Expedited Shipping will be charged accordingly).

HOLIDAY ORDER DEADLINE
Online orders must be received by Noon (ET), December 14
to guarantee delivery by December 25.*
*Expedited Shipping is available for an additional cost.
---

Fenton USA Jewelry "Artist" Event
Scheduled for December 6 in Ohio. . .

Fenton USA Jewelry's Decorating Designer,
Truda "TJ" Mendenhall, will be demonstrating her craft at a Holiday Open House on Sunday, December 6th at Colonial Cottage, located at
120 Arch Hill Road, Zanesville, Ohio 43701.
In addition to the regular jewelry line, Truda will have a nice selection of "whimsey" and "designer sample" beads available for purchase.


Colonial Cottage is participating in The National Road Holiday Open House Event. For more information, click here.
---
Find a Fenton Dealer. . .
Though we continue to wind down the factory inventory, many authorized Fenton dealers around the country still have a nice selection of Fenton Art Glass AND many carry the Fenton jewelry line! Click here to find a dealer near you!
---
NEW Limited Editions from Fenton Gift Shop. . .
Fenton Gift Shop is pleased to offer new Limited Edition selections. Each piece features a design by our award-winning Fenton artists, and will be hand painted, signed and dated. Included in this grouping are an 11" Alley Cat, a 7.25" two-part Snowman Fairy Light, a 3" Mouse Figurine, and a 3.5" Snowflake Ornament, each piece handcrafted in Opal Satin by Mosser Glass. Also included in this offering is an Opal Satin Amphora with stand (14" including stand), made by Davis-Lynch. Each of these pieces was made exclusively for the Fenton Gift Shop, using a Fenton mould.
Our 11" Opal Satin Alley Cat provides the perfect canvas for Robin Spindler's hand painted "Fun on the Slopes" design!
Her design depicts the enjoyment of seasonal winter sports: skiing and snowboarding. Look close and you'll see that there's even someone who is not quite ready to take the plunge and head down that slope! A great piece to display all season! And don't forget about those expressive eyes! Each Fun on the Slopes Alley Cat is $265.

Robin Spindler's creative imagination continues to amaze and delight us all! You'll love her hand painted design on this two-part Snowman Fairy Light of two rabbits trying to reach the "carrot" nose on the snowman's face!

We placed a tea light in the base and you can see the soft, warm glow it casts. This two-part Snowman Fairy Light is sure to become a
favorite holiday
tabletop decoration!

Each Carrot Thieves Snowman Two-part
Fairy Light is $120.




Pre-orders for the Fun on the Slopes Alley Cat, Carrot Thieves Snowman Fairy Light and 2015 Cardinal Ornament will be accepted until midnight on Monday, Dec. 7th.

Our hand painted Snowflake Ornament is a wonderful keepsake gift for someone special or treat yourself!

Hang this ornament on your tree or use as a decoration on a window. It is sure to start a lively conversation as you recall fond memories of the Christmas of 2015!

Kim Barley has added her whimsical touch to this ornament with her "stylized" Cardinal posing on a holly tree branch. She added the word CHRISTMAS and the date 2015 along with glitter accents to make this a keepsake ornament.

A snowflake design is embossed in the glass on the reverse side of this ornament, and a "ribbon" is provided with each ornament so it will be ready for hanging.

Each 2015 Cardinal Ornament is $39.50.


Not a creature was stirring, not even a mouse... except for this Mouse figurine! Imagine waking up to find this little fella
in your stocking!

This figurine is sure to brighten your holiday season! Frances Burton adorned this figurine with festive hand painted holiday clothes, including a button down shirt, colorful red and green suspenders and a matching stocking cap! Note the adorable expression on the face. Great gift for figurine collectors! Each Stocking Cap Mouse Figurine is $75 and pre-orders will be accepted until midnight on Wednesday, Dec. 9th.
Robin Spindler's love of wildlife and nature is evident as you view this Opal Satin Amphora. She airbrushed the background to a pale blue and added a hand painted design of a majestic Egret, standing amongst reeds and lily pads. Robin's paint layering technique makes this design really stand out, especially on the meticulous details of the feathers and flowering blooms. Each Egret Amphora with stand is $250 and pre-orders will be accepted until midnight on Wednesday, December 9th.

To pre-order any of these Limited Edition items, contact the Fenton Gift Shop: 1-800-319-7793, ext. 342 or email, listing the item(s) you wish to purchase to: purchasing@fentongiftshop.com. You may also request that we add your email address to Fenton Gift Shop's mailing list so you may receive future limited edition notifications.





Shown above are lovely ideas for your holiday tabletop display. These candleholders are 6.5" tall. The globes were made at the Fenton factory. Each candleholder set includes a globe, insert, candle, and either a candle plate or brass stand. The version with the brass holder stands 10" tall. These make great gifts at just $20 each (+ shipping on mail orders)!



Candle colors available are light green, light blue, and red. The decorative inserts are black, white, and one with a holly berry design on clear glass.

Please contact Fenton Gift Shop to place your order: call 304-375-7772
or 800-319-7793, ext. 342 or email: purchasing@fentongiftshop.com. Prices do not include shipping. Visit Fenton Gift Shop and complete
your holiday shopping with keepsake gifts for someone special!
Fenton Gift Shop is located at 420 Caroline Ave., Williamstown, WV 26187.



This beautiful handcrafted Winter Aura on French Opalescent (7" shade) Student Lamp is available for $370.

Fenton Gift Shop Hours: 10 a.m.-3 p.m. (ET) on Wednesday, Thursday, Friday, and Saturday.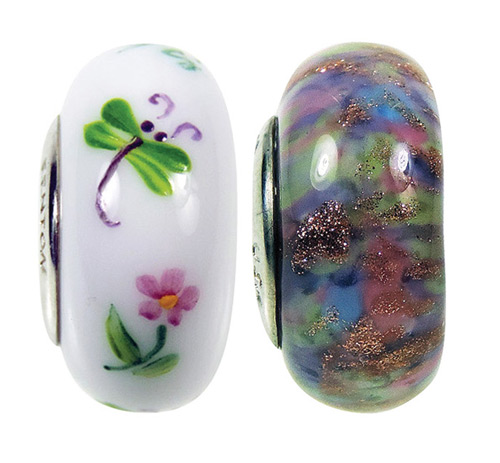 ---
Frequent Buyer Program. . . Earn YOUR Free Limited Edition Bead!
Here's your opportunity to receive a beautiful limited edition bead absolutely FREE!
Simply purchase ten beads from any authorized Fenton jewelry dealer or from our website: www.fentonartglass.com and you'll qualify for a bonus bead! Click here for details!
Current offerings are the Gracie (decorated) and Mikayla (Vasa Murrhina) beads shown at right.
Click here to view our handcrafted art glass beads. NOTE: If you have purchased ten beads,
let us know if we haven't notified you. . . please email: askfenton@fentonartglass.com and put "Frequent Buyer Qualifier" in the subject line.
---
Fenton Custom Designs for Beads. . .
We've received many requests for specially designed beads. Most of these designs are exclusive to one retailer or organization, so we can not sell them on our website. If your group or store is interested in a custom designed bead, please call for details at 304-375-6122, option 1 or ext. 316. Click here to view custom designed beads with contact info for the retailers or organization from whom you may purchase them. Be sure to check back as we will be updating this list regularly! Please contact the retailer or organization listed beside each Custom Design bead and be
sure to say you saw it mentioned in the Fenton Newsletter!
---
Fenton's Weekly eBay Auctions. . .
Here's your opportunity to own a beautiful, unique, rare, or one-of-a-kind item through our weekly eBay Auctions! Shown here are our latest offerings. Items featured this week. . .
Robin Spindler designed and hand painted one of the most spectacular scenic vases ever! Titled "Greener Pasture," this 10.75" tall one-of-a-kind vase was made by Fenton skilled glassworkers who
cased rich ruby glass with a Milk Glass interior. Delicate airbrushing techniques create the shadowy horses and
riders in the background. The subtle color tones in her hand painted foliage and figures of men on horseback create a wonderful effect of remarkable depth and detail. This vase really makes a statement! You'll want to see all of the views!

Award winning designer Robin Spindler marshaled all her talents and skills to create this hand painted plate (7.25" diameter) that depicts the iconic "Clarence" glassworker, a symbol used on our small sticker and in publications by Fenton Art Glass since the 1950s but never as a hand painted scene until now! Robin created just two of these plates, and this is number 1! The skilled Clarence is seated at his finisher's bench, completing his work on a piece of cranberry glass, while the open mouth of a pot furnace is represented in the background. This very special plate, made of Lotus Mist Burmese glass, is identified, dated and signed on the underside.

The "Chessie Box" is one of the most popular collectible items among those who love glass! This wonderful one-of-a-kind example was handcrafted, using the Fenton mould, by our friends at Mosser Glass, in the Crown Tuscan glass color. It has been satin finished and features a splendid decoration, "Reindeer Dreams," created and hand painted by award winning Fenton designer Kim Barley. This 8" Chessie Box is identified, dated and signed by Kim and also embossed on the underside "Chessie by Fenton".

Take a look at these offerings and other "Buy It Now" items available on our Fenton eBay Auctions. This Fenton eBay auction ends at noon (ET) on Wednesday, December 9th.
---
For questions or comments, please do not reply to this email. Instead, email: askfenton@fentonartglass.com.

This email has been sent to you because you have agreed to receive offers and information from the Fenton Art Glass Company. We respect your privacy and do not sell your personal information. For details, please review our privacy policy.

How to unsubscribe: If you prefer not to receive offers or information from Fenton Art Glass, please use this page to unsubscribe.

If you use a Challenge-Response system for email, please make certain that you can receive our email by adding askfentononline@fentonartglass.com to your Allow List.

For specific instructions for major ISPs, click here.

The sender of this email is the Fenton Art Glass Co., 700 Elizabeth St., Williamstown, WV, 26187