Fenton USA Jewelry Presents. . . Impressive Style with Cornerstone Beads
Modular jewelry allows you to create stylish fashion statements with minimal jewelry. Start with a sterling silver bangle, add stopper beads and a Fenton handcrafted art glass Cornerstone bead and you'll have a beautiful, sleek look suitable for any occasion! Cornerstone beads are larger-sized and sure to become the "cornerstone" of your jewelry collection. Because of the handmade process, Cornerstone beads may vary in size, but most will be approximately .76'' in length. Our sterling silver Bangle is available in three sizes: 7.5", 8" and 8.5". Bangles shown above (clockwise, l-r), include the following Cornerstone beads: My Country Girl, Blue Danube and Sweetpea. Designed by Jena Lane Blair, these Cornerstone beads are paired with sterling silver bangles and stoppers. Click on each image for details.
Our latest Cornerstone beads are: Catch'n a Wave, Autumn Fires, Papillon, and Frosted Windowpanes. These selections represent handcraftsmanship at its finest. Catch'n a Wave is a three-dimensional and decorated bead designed by Jena Lane Blair and Truda "TJ" Mendenhall. This bead's design reminds us of memories of fun in the sun; Autumn Fires is handcrafted using vibrant glass hues that recall dancing, flickering flames on a chilly night; the captivating Papillon Cornerstone is three-dimensional with butterflies captured in glass. . . nature's most beautiful gift; and beautiful Frosted Windowpanes reminds us of the frozen tapestry of winter.

Click on each image to order or click here to view our latest Fenton USA Jewelry collection, available from the Fenton web site or from an authorized Fenton dealers. Click here to locate an authorized Fenton dealer near you.
---
Own a Piece of Fenton History. . . Original Wood "Chills" Available
Fenton Gift Shop has a wonderful selection of wooden "chills" available. These chills were made at Fenton Art Glass factory, in the Pattern Shop, adjacent to the Mould Room. A "chill" is the first step in the lengthy process of mouldmaking. The chill is taken to the foundry and establishes the basic shape of the interior or exterior of a cast iron mould. These chills are made of wood and are stained, while others are wood that has been painted red or red and black. Most of the chills have identification information and may be dated.

Prices range from $5 to $25 each and up, plus shipping. For more information, please contact the Fenton Gift Shop: 1-800-319-7793, ext. 342 or via email: purchasing@fentongiftshop.com. Fenton Gift Shop's hours are Wednesday-Saturday from 10 a.m.-3 p.m. (ET) and closed Sunday, Monday and Tuesday.
---
NEW Limited Editions from Fenton Gift Shop. . .
Fenton Gift Shop is pleased to offer these four new Limited Edition selections. Each piece, featuring designs by our award-winning Fenton artists, will be hand painted, signed and dated. Included in this grouping are a marvelous Alley Cat handcrafted in Ocean glass, a lovely Crown Tuscan Chessie Box, a beautiful Opal Satin Vase, and an adorable Bear figurine. Mosser Glass used Fenton Art Glass moulds to handcraft the Alley Cat, Chessie Box and Bear figurine. Davis-Lynch Glass made the Opal Satin Vase.
You'll want to add this wonderful 11" Alley Cat figurine to your collection
. . . it's the purrfect tabletop display for your Halloween festivities! Designed by Kim Barley, this whimsical Alley Cat and Pumpkins design will have you smiling! Can you tell that Kim likes Halloween? She's airbrushed sections in black and added wonderful, whimsical details that encircle the entire Alley Cat figurine... from colorful pumpkins with fun designs to the brightly shining hues of the moon and stars! And don't forget the spooky ghost and the flying bats!
This Alley Cat and Pumpkins is $270 and limited to just six figurines! Pre-orders will be accepted until midnight on Monday, September 28th.
Shown above is an
Opal Satin Vase with an elegant Dragonflies on Bamboo design by Frances Burton. The elegantly applied brushstrokes on the dragonfly wings are beautiful. This 9" vase, handcrafted by Davis-Lynch Glass, will make an elegant display in your home!

Each Dragonflies on Bamboo Vase is $210.
Pre-orders will be accepted until midnight on Monday, September 28th.
Robin Spindler named her design for this Crown Tuscan Chessie Box Child of a King. You'll love the handpainted details, from the adorable napping "Princess" kitten (complete with a bejeweled crown), to the wonderful castle scene on the back of this piece! Robin added elegant scroll details on the lid to complete this piece. Each Child of a King Chessie Box is $220. Pre-orders accepted until midnight on Wednesday, September 30th.

This 3" Bear figurine looks ready to go out and play in the snow! Designed by Kim Barley, this figurine sports a cute snow hat, colorful jacket and scarf and bright red snow boots. You'll love the expression on the bear figurine's face!

This Crown Tuscan Snow Bear figurine is $75. Pre-orders accepted until midnight on Wednesday, September 30th.
To pre-order any of these Limited Edition selections, please contact the Fenton Gift Shop: 1-800-319-7793, ext. 342 or via email: purchasing@fentongiftshop.com. You may also request we add your email address to the Fenton Gift Shop's mailing list so you may receive future "limited edition" notifications. Fenton Gift Shop's hours are Wednesday, Thursday, Friday, and Saturday from 10 a.m.- 3 p.m. ET and closed Sunday, Monday and Tuesday.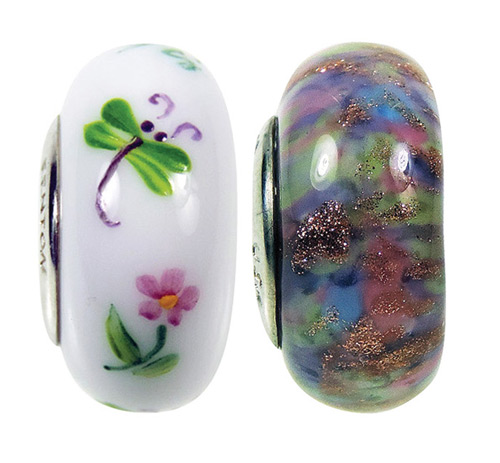 ---
Frequent Buyer Program. . . Earn YOUR Free Limited Edition Bead!
Here's your opportunity to receive a beautiful limited edition bead absolutely FREE!
Simply purchase ten beads from any authorized Fenton jewelry dealer or from our website: www.fentonartglass.com and you'll qualify for a bonus bead! Click here for details! Current offerings are the Gracie (decorated) and Mikayla (Vasa Murrhina) beads shown at right.
Click here to view our handcrafted art glass beads. NOTE: If you have purchased ten beads,
let us know if we haven't notified you. . . please email: askfenton@fentonartglass.com and
put "Frequent Buyer Qualifier" in the subject line.
---
Fenton Custom Designs for Beads. . .
We've received many requests for specially designed beads. Most of these designs are exclusive to one retailer or organization, so we can not sell them on our website. If your group or store is interested in a custom designed bead, please call for details at 800-933-6766, ext. 209. Click here to view custom designed beads with contact info for the retailers or organization from whom you may purchase them. Be sure to check back as we will be updating this list regularly! Please contact the retailer or organization listed beside each Custom Design bead and be
sure to say you saw it mentioned in the Fenton Newsletter!
---
Fenton's Weekly eBay Auctions. . .
Here's your opportunity to own a unique, rare, or one-of-a-kind item, through our weekly eBay Auctions! Shown here are our latest offerings: a beautiful Ruby Stretch Vase with a handpainted design of a "Robin's Nest" by award-winning Fenton designer Robin Spindler, a black and white photo, circa 1925, of Fenton Art Glass top company management (including Frank L. Fenton), and an original glassmaking tool used in our factory. Items featured this week. . .
Standing 11" tall, this one-of-a-kind vase by award winning Fenton designer Robin Spindler is a sight to behold! The vivid colors of the wonderfully detailed, hand painted Bluebird really stand out on this interesting shape made by Fenton Art Glass several years ago. The background is equally interesting, as Robin used airbrushing and delicate sand carving skills to create the foliage and those two exotic dragonflies! The handpainted elements have great texture and details. This vase has a special cursive "F" Fenton logo and is identified, signed and dated on the underside: "designed by J. K. Spindler, hand painted by J. K. Spindler 2015 … OOAK".

Taken in April 1925, the 5" x 7" black-and-white photo shows the top management and the office employees at Fenton Art Glass, left to right: Vesta Needs; sales manager Robert C. Fenton, Sr.; president Frank L. Fenton; Grace Sayre; Ruth Hart; Jessie Garber; and Gladys Boles. This group is standing outside the original office building that was located near what is now the corner of Caroline and Elizabeth streets in Williamstown, West Virginia.
<![if !supportLineBreakNewLine]>
<![endif]> The original glassmaking tool is about 15" in length, and it was used to "turn out" hot glass items after the glass had set up and the cast iron mould was opened. In the first few years of glass production at Fenton, it was not unusual to have young fellows 12-13 years old working as "turning-out boys" or performing other tasks in the glass factory manufacturing area. We have a picture of a c. 1910 press shop at Fenton, and a young fellow holding this kind of tool can be seen quite clearly. The tool operates like a set of pincers to fit around the glass item and then can be squeezed to hold it securely and take it away from the mould. What a great piece of Fenton history!

Be sure to take a look at these offerings and other "Buy It Now" items available on our Fenton eBay Auctions.
This Fenton eBay auction ends at noon (ET) on Wednesday, September 30th.
---
For questions or comments, please do not reply to this email. Instead, email: askfenton@fentonartglass.com.

This email has been sent to you because you have agreed to receive offers and information from the Fenton Art Glass Company. We respect your privacy and do not sell your personal information. For details, please review our privacy policy.

How to unsubscribe: If you prefer not to receive offers or information from Fenton Art Glass, please use this page to unsubscribe.

If you use a Challenge-Response system for email, please make certain that you can receive our email by adding askfentononline@fentonartglass.com to your Allow List.

For specific instructions for major ISPs, click here.

The sender of this email is the Fenton Art Glass Co., 700 Elizabeth St., Williamstown, WV, 26187