Fenton USA Jewelry Presents. . . Creative Spirit Bracelets
Included in our Creative Spirit Collection, you'll love the soft feel of the suede bands in these made in USA bracelets. Designed by Jena Lane Blair, these lovely bracelets feature an art glass bead with a coordinating soft suede band and hammered accent spacers. Each bracelet has an extender chain and will accommodate wrist sizes from 5-1/4" to 8".
Fenton USA Jewelry. . . Create it, Wear it, LOVE it!
Mix and match our bracelets to create your "picture perfect" look. Shown above, top right, is our Walk on the Beach Clasp & Go Bracelet, which looks great paired with the Trails of Turquoise Suede Bracelet.

Shown above, top to bottom, are our Suede Bracelets: Iridescent Petals, featuring multi-colored and delicate glass petals highlighted by an iridescent spray on a blue background; Desert Song, a Vasa Murrhina bead with vibrant desert hues dusted with gold; Trails of Turquoise featuring hand applied threads of turquoise glass which create a one-of-a-kind pattern against the reactive ivory glass; and Coral Woods with a pulled feather pattern using rich, earthy tones
of reactive glass.

Click on each image to order or click here to view the Creative Spirit Collection from Fenton USA Jewelry. These selections are available from the Fenton web site or from one of our many Fenton dealers. Click here to locate an authorized Fenton dealer near you or click on each image to order from the Fenton Art Glass web site!
---
NEW Limited Editions from Fenton Gift Shop. . .
At press time for this newsletter, our designers were busy working on their new ideas for the next group of Fenton Gift Shop Limited Edition selections. So we're showing you one of the completed designs below and ask that you contact the Fenton Gift Shop for details on the other pieces. Each piece will be hand painted, signed and dated.
Shown above is an Opal Satin Vase designed by Fenton's award-winning designer J. K. "Robin" Spindler. Handcrafted with a Fenton mould by our friends at Davis-Lynch Glass. Robin chose to create a Carolina Wren design on this Opal Satin Vase. Her true-to-life depiction and hand painted details are wonderful! Carolina Wrens may be found in open woods and backyards in the eastern part of the United States. Its rich cinnamon-brown plumage, white eyebrow stripe, upright tail, and cheery song make it a favorite sighting for bird watchers. The Carolina Wren's call is considered loud for such a small bird, and you may hear its "tea-kettle, tea-kettle, tea-kettle tea" song all day long in each season. This Opal Satin Carolina Wren Vase is $225. Pre-orders accepted until midnight on Monday, September 21st.
To pre-order any of the Limited Edition selections, please contact the Fenton Gift Shop: 1-800-319-7793,
ext. 342 or via email: purchasing@fentongiftshop.com. You may also request we add your email address to the Fenton Gift Shop's mailing list so you may receive future "limited edition" notifications. Fenton Gift Shop's hours are Wednesday, Thursday, Friday, and Saturday from 10 a.m.- 3 p.m. ET and closed Sunday, Monday and Tuesday.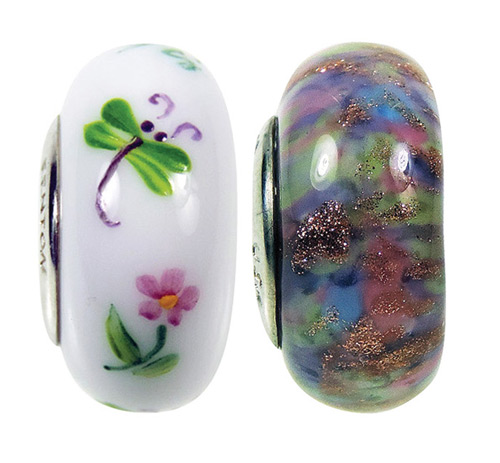 ---
Frequent Buyer Program. . . Earn YOUR Free Limited Edition Bead!
Here's your opportunity to receive a beautiful limited edition bead absolutely FREE!
Simply purchase ten beads from any authorized Fenton jewelry dealer or from our website: www.fentonartglass.com and you'll qualify for a bonus bead! Click here for details! Current offerings are the Gracie (decorated) and Mikayla (Vasa Murrhina) beads shown at right.
Click here to view our handcrafted art glass beads. NOTE: If you have purchased ten beads,
let us know if we haven't notified you. . . please email: askfenton@fentonartglass.com and
put "Frequent Buyer Qualifier" in the subject line.
---
Fenton Custom Designs for Beads. . .
We've received many requests for specially designed beads. Most of these designs are exclusive to one retailer or organization, so we can not sell them on our website. If your group or store is interested in a custom designed bead, please call for details at 800-933-6766, ext. 209. Click here to view custom designed beads with contact info for the retailers or organization from whom you may purchase them. Be sure to check back as we will be updating this list regularly! Please contact the retailer or organization listed beside each Custom Design bead and be
sure to say you saw it mentioned in the Fenton Newsletter!
---
Fenton's Weekly eBay Auctions. . .
Here's your opportunity to own a unique, rare, or one-of-a-kind item, through our weekly eBay Auctions! Shown here are our latest offerings: an original basket handler's mark used in our factory, a one-of-a-kind Opal Satin hand painted Vase and a one-of-a-kind "Cherub" Lamp with an Opal Satin hand painted Shade. Items featured this week. . .
The genuine handler's mark from the Fenton Art Glass Co. was used by Donald Badgley, a skilled glassworker at Fenton. Beginning in the 1960s and 1970s, each Fenton basket handler had a distinctive metal mark he used to impress in the molten glass at the base of each handle as he worked. Handler's marks are cast iron, and they vary somewhat in size (Badgley's mark is about 1.25" in diameter). The distinctive geometric pattern of each mark was created by a Fenton designer or mouldmaker and was made in the Fenton mould shop. Each handler's mark has a threaded interior so that it can be affixed to a tool used by the handler. We've mounted the handler's mark on an attractive wood base.

This spectacular one-of-a-kind Opal Satin vase (made with a Fenton mould by our friends at Davis-Lynch) stands 12.5" tall. Robin Spindler's depiction of "Crappie" fish is both remarkable for its colors and laudable for its meticulous details! These highly regarded game fish are considered to be among the best-tasting freshwater fish. Every element of the underwater scene on this vase is wonderful to behold, and the fish are incredibly realistic. This one-of-a-kind vase is the very best of Robin's work, and is identified, dated and signed on the underside: "Fenton 2015 OOAK hand painted by J. K. Spindler".

We showed this "Cherub lamp" to several others here at Fenton. Their responses were like ours: "It's wonderful!" "It's stunning!" "It's great!" to which we add this: "It's one-of-a-kind!" The six-panel shade is Opal Satin glass (9.5" diameter), and Robin Spindler's hand painted decoration features a lush floral motif with lots of butterflies! The flowers and butterflies have vibrant color, splendid texture, and absolutely exquisite detail. Gemstone accents add to the look of this remarkable example of the art of the designer/decorator. The hardware, which features a classic "cherub" on its stem, has an matte gray finish that is a perfect complement to this lamp. This one-of-a-kind lamp stands about 12.5" tall overall, and it is identified, dated, and signed inside the shade.

Be sure to take a look at these offerings and other "Buy It Now" items available on our Fenton eBay Auctions.
This Fenton eBay auction ends at noon (ET) on Wednesday, September 23rd.
---
For questions or comments, please do not reply to this email. Instead, email: askfenton@fentonartglass.com.

This email has been sent to you because you have agreed to receive offers and information from the Fenton Art Glass Company. We respect your privacy and do not sell your personal information. For details, please review our privacy policy.

How to unsubscribe: If you prefer not to receive offers or information from Fenton Art Glass, please use this page to unsubscribe.

If you use a Challenge-Response system for email, please make certain that you can receive our email by adding askfentononline@fentonartglass.com to your Allow List.

For specific instructions for major ISPs, click here.

The sender of this email is the Fenton Art Glass Co., 700 Elizabeth St., Williamstown, WV, 26187