Fenton USA Jewelry Presents. . .

Handcrafted art glass pendants from Fenton USA Jewelry make perfect gifts for someone special or treat yourself!
Each pendant goes beautifully on Fenton's sterling silver 18'' hammered cable necklace or 18'' Omega chain. Create your own fashion statement. . . from casual to elegant! Pendants with hand applied decorations include the initials of the talented Fenton artist who completed each piece. The size of these pendants range from 1-3/4'' to 2'' in length, including the sterling silver bail.
Shown above are pendants included in the Fenton USA Jewelry Creative Spirit Collection. Click on each image for details about the inspiration for each design. These selections are available from the Fenton web site or from one of our many Fenton dealers. Click here to locate an authorized Fenton dealer near you or click on each image to order from the Fenton Art Glass web site!
---
The Magic and Mystery of Abyss. . .
Designed by Jena Lane Blair, the versatile Abyss pendant is filled with mystery! The depth and magic of rich, black glass is accented with pure silver foil, then covered with tiny "threads" of colored glass. This beautiful pendant adds an elegant touch to our 8" silver plated hammered accent bracelet (11587). Abyss is also available in a 24" (11599) and a 33" (11586) necklace, as well as a pendant with a sterling silver bail (11605 shown above). All chains and necklaces have a hypoallergenic and tarnish resistant coating.

---
NEW Limited Editions from Fenton Gift Shop. . .
If you are fishin' for something unique to display in your home, the Fenton Gift Shop has some nice selections from which to choose! These new Limited Edition selections were designed by Fenton's award-winning designer J. K. "Robin" Spindler. Each piece will be handpainted, signed and dated.

Included in this offering are a satin finished Crown Tuscan Cat Fishin' 11" Alley Cat and a bejeweled Mama's Kitten Sitting Cat 3.5" figurine handcrafted by Mosser Glass, using Fenton moulds. Also included is a majestic Opal Satin Amphora handcrafted by Davis-Lynch Glass (using a Fenton mould). This Amphora comes with an antique brass satin finished stand, and the complete set definitely has a "WOW" factor for collectors!

Shown above is the Crown Tuscan Cat Fishin' Alley Cat. The subtle pink hue of this glass color provides the perfect canvas for this wonderful panoramic scene designed by Robin Spindler. A man and a woman are portrayed casting their lines to "hook the big one". . . and it looks like that is about to happen! Check out the creative way Robin shows a big fish swimming near a log! That "log" is actually the Alley Cat's tail! The handpainted details are remarkable... from the brushstrokes on the trees and on the landscape to the swimming fish. This satin finished Crown Tuscan Cat Fishin' Alley Cat is $265 and limited to just 20 pieces.

From the handpainted expression on this cat figurine's face, it seems to be saying "I know. . . I'm simply adorable". . . and we agree! This Mama's Kitten Sitting Cat figurine is $75.
Pre-orders for the Cat Fishin' Alley Cat and the Mama's Kitten Sitting Cat figurine will be accepted until midnight (ET) on Monday, September 14, 2015.
Shown below is an Opal Satin Amphora (14.5" tall in stand) with a remarkably detailed panoramic scene of a man fishing for Bass . . . perhaps hoping to "catch the big one." Robin's design has meticulous details that are simply amazing. . . from an underwater scene with a large Bass to the man standing in his boat casting his fishing line. This Catchin' the Big Bass Amphora with stand is $295. Pre-orders for this Amphora with stand will be accepted until midnight (ET) on Wednesday, September 16, 2015.



To pre-order these Limited Edition selections, please contact the Fenton Gift Shop: 1-800-319-7793, ext. 342 or via email: purchasing@fentongiftshop.com. You may also request we add your email address to the Fenton Gift Shop's mailing list so you may receive future "limited edition" notifications. Fenton Gift Shop's hours are Wednesday, Thursday, Friday, and Saturday from 10 a.m.- 3 p.m. ET and closed Sunday, Monday and Tuesday.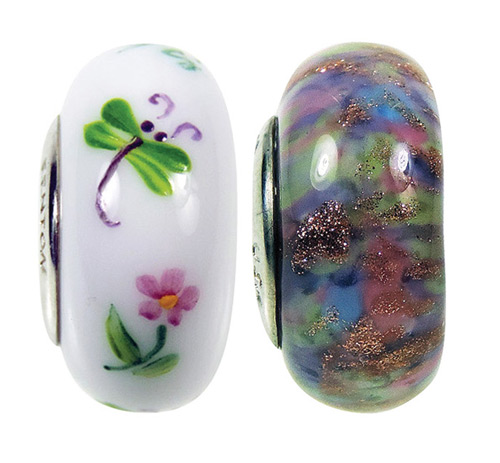 ---
Frequent Buyer Program. . . Earn YOUR Free Limited Edition Bead!
Here's your opportunity to receive a beautiful limited edition bead absolutely FREE!
Simply purchase ten beads from any authorized Fenton jewelry dealer or from our website: www.fentonartglass.com and you'll qualify for a bonus bead! Click here for details! Current offerings are the Gracie (decorated) and Mikayla (Vasa Murrhina) beads shown at right.
Click here to view our handcrafted art glass beads. NOTE: If you have purchased ten beads,
let us know if we haven't notified you. . . please email: askfenton@fentonartglass.com and
put "Frequent Buyer Qualifier" in the subject line.
---
Fenton Custom Designs for Beads. . .
We've received many requests for specially designed beads. Most of these designs are exclusive to one retailer or organization, so we can not sell them on our website. If your group or store is interested in a custom designed bead, please call for details at 800-933-6766, ext. 209. Click here to view custom designed beads with contact info for the retailers or organization from whom you may purchase them. Be sure to check back as we will be updating this list regularly! Please contact the retailer or organization listed beside each Custom Design bead and be
sure to say you saw it mentioned in the Fenton Newsletter!
---
Fenton's
Weekly eBay Auctions. . .
Here's your opportunity to own a unique, rare, or one-of-a-kind item, through our weekly eBay Auctions! Shown here are our latest offerings: a one-of-a-kind Amphora with stand, a photo of Fenton glassworkers circa 1911, and an adorable one-of-a-kind cat figurine. Items featured this week. . .
We can almost hear the beat of the wings of this pair of Ringed-Neck Pheasants
as they take flight on this marvelous,
one-of-a-kind hand painted Opal Satin glass Amphora vase. The creative talent of award-winning Fenton designer Robin Spindler shines with her use of beautiful Fall hues. The meticulous details are done in Robin's own inimitable style. Note the weathered barn in the background, and subtle brown tones where she used airbrushing techniques. The array of golden leaves on the back of this Amphora was a special design by Robin. This vase is identified, dated and signed on the underside.

The 10" x 6-3/8" black-and-white photo, made from an original negative, was taken at Fenton Art Glass about 1911. The photo shows seven employees working in our packing department. The glassware has been wrapped in paper, and the workers are packing the glass in barrels that are then filled with straw for protection during shipment. Based upon research, the late Frank M. Fenton was able to identify five of the employees shown in this photo. A great example of Fenton history!

The one-of-a-kind Sitting Cat Figurine (3.5" tall) in Opal Satin glass features a realistic "gray tabby" cat design, created and handpainted by talented Fenton artist Michelle Kibbe. All of the features are incredibly detailed (note the soft pink nose and expressive green eyes) and are perfectly executed. This one-of-a-kind Sitting Cat figurine is identified, dated and signed on the underside.

Be sure to take a look at these offerings and other "Buy It Now" items available on our Fenton eBay Auctions. This Fenton eBay auction ends at noon (ET) on Wednesday, September 16th.
---
For questions or comments, please do not reply to this email. Instead, email: askfenton@fentonartglass.com.

This email has been sent to you because you have agreed to receive offers and information from the Fenton Art Glass Company. We respect your privacy and do not sell your personal information. For details, please review our privacy policy.

How to unsubscribe: If you prefer not to receive offers or information from Fenton Art Glass, please use this page to unsubscribe.

If you use a Challenge-Response system for email, please make certain that you can receive our email by adding askfentononline@fentonartglass.com to your Allow List.

For specific instructions for major ISPs, click here.

The sender of this email is the Fenton Art Glass Co., 700 Elizabeth St., Williamstown, WV, 26187