"Thank You" for your support
of handcrafted American
glass artistry. . . from all of us
at Fenton Art Glass and
Fenton Gift Shop.


Each morning sees some task begin,
Each evening sees it close;
Something attempted, something done,
Has earned a night's repose.
~ Henry Wadsworth Longfellow

Far and away the best prize that life offers
is the chance to work hard
at work worth doing.
~ Thomas Jefferson

The reward of a thing well done,

is to have done it. ~ Ralph Waldo Emerson


Choose a job you love,
and you will never have to work
a day in your life. ~ Confucius


Fenton Art Glass Factory, circa 1907


Our glass artists love trying new designs and colors to give you a special creation. . . from their hands to your heart. They take great pride in the high quality and durability of each art glass bead. Fenton makes the finest glass colors in the world for your expressive creations. During our 110 years of glassmaking experience, we have developed amazing glass colors and treatments that are now translated into sparkling, artistic jewelry. . . handcrafted in America!

Young Frank L. Fenton started the company in 1905 and developed glass techniques that were beautiful and unexpected. His vision led us from hand painted designs and iridescent Carnival glass, Mosaic, and Vasa Murrhina glass infused with golden flecks to hundreds of lustrous glass colors! We continue his vision today with Fenton USA Jewelry. You'll see our rainbow of color, from rich reds and pinks that step beyond color normally found in glass to our exciting combinations of blues, greens, purples and more! ~ George W. Fenton
---
Fenton USA Jewelry Seasonal Jewelry. . .
The Fenton USA Jewelry collection includes handcrafted styles for every occasion and every season. . . Summer, Fall, Winter and Spring! We featured our seasonal "Halloween" themed jewelry in the August 28th newsletter. This week we showcase our most popular and our newest styles for the winter season (which is approaching faster than we'd like in some areas of the country!). Create colorful and festive looks for all your holiday fashions with expressive, handmade creations from Fenton USA Jewelry. . . perfect jewelry accessories for every occasion. . . from casual to elegant.
Shown above are beads included in Fenton USA Jewelry 2015 Collection III. From the creative imaginations of our jewelry designers Jena Lane Blair and Truda "TJ" Mendenhall, choose from new fun and whimsical designs on "Frosty" Nights, Believe, Rudy, and Waddles to the beautiful hand applied decorations on Lacy Snowflakes, Littlest Angel, Peace, and Christmas Joy styles. Each decorated bead has a sterling silver core embossed "Fenton USA" and includes the initials of the artist who completed it.
Fenton USA Jewelry is handcrafted with quality and tested for durability and is available from the Fenton web site or from one of our many Fenton dealers. Click here to locate an authorized Fenton dealer near you or click on each image to order from the Fenton Art Glass web site!
Mix and match these latest seasonal designs with Fenton USA Jewelry favorites and make your ''fashion statement" bracelet or necklace in a rainbow of vibrant art glass colors. Click here to view our jewelry accessories, including sterling silver bracelets, pendant beadholders and necklaces.
---
Earring Styles for Every Occasion. . .
Don't forget to add bling to your ears! In an age of mass production, Fenton remains committed to honoring the tradition of expressive, handmade creations. You'll love the sparkle and elegance of our handcrafted earrings. The styles shown below were designed by Jena Lane Blair. Click here to check out the complete selection. . . including decorated styles!
Handcrafted in Milk Glass with Swarovski gem accents, the three-dimensional Holly Garland earrings (shown at left) will add a colorful and festive touch to your holiday attire!

Our Northern Lights and Arctic Frost Teardrop Earrings and Amsterdam Dangle Earrings also have coordinating art glass beads of the same name!

Each Fenton "Made in America" earring pair bears the signature of handcraftsmanship; those slight variations that convey distinction, character and charm. Teardrop Earrings range from 3/4'' to 1'' in length and are made with hypoallergenic earwires.
---
Four NEW Limited Editions from Fenton Gift Shop. . .
Fenton Gift Shop is pleased to present four new Limited Edition selections. Designed by Fenton's award-winning designers, each piece will be handpainted, signed and dated. Included in this offering are an Opal Satin "Bugling Elk" Square Vase, a "Yellow Primrose" Sitting Cat figurine, and a Crown Tuscan "Kitten and Daisies" Chessie Box, all handcrafted by Mosser Glass. Also included is a "Giraffes at Dusk" Opal Satin Vase, made by Davis-Lynch. These items were made, using Fenton moulds, as exclusives for the Fenton Gift Shop.
Robin Spindler's creative talents shine on this Opal Satin Square Vase shown above. Her design features a wonderful handpainted scene of a male Elk (known as a Bull) in his natural habitat "bugling". One of the most unforgettable sounds in the wild is to hear the "bugle" of an Elk. Bull Elks "bugle" to attract cows and to advertise their dominance to other bulls. This Bugling Elk Square Vase is $225.00.


This Opal Satin Sitting Cat figurine has a lovely handpainted yellow floral design by Frances Burton. She airbrushed this figurine in a bright teal-blue color and added pink accents on the nose, mouth and ears. Note the expressive eyes
and colorful neck collar. A great addition to any figurine collection. This Yellow Floral Sitting Cat figurine is $75 and limited to just 10 figurines!

Pre-orders for the Bugling Elk Square Vase and Yellow Floral Sitting Cat figurine will be accepted until midnight (ET) on Monday, September 7, 2015.
Shown at left is our popular Chessie Box, handcrafted in Crown Tuscan. The subtle pink hue of this glass provides the perfect canvas for a design by Frances Burton of a kitten snuggled in a soft pink blankie. Kittens can sleep between 15 to 18 hours a day, and this cute gray tabby looks ready to settle in for a nice, long "cat nap" amongst the daisies!

The handpainted details are remarkable... from the brushstokes on the petals of the daisies to the expression on the kitten's face. This Crown Tuscan Kitten and Daisies Chessie Box is $210.

Unlike kittens, giraffes only sleep about 30 minutes during a 24-hour period. So it's appropriate that, for this beautiful Opal Satin Vase, Kim Barley designed a scene of "Giraffes at Dusk". Her scene of a "tower" or "herd" of giraffes in silhouette against the late hues of an afternoon sky is remarkable.

Imagine, if you will, that these giraffes are foraging for food on the great Savannah plains of Kenya. Kim's design encircles the vase, so no matter how it is displayed, you'll enjoy a magnificent view! This Giraffes at Dusk Vase is $225.

Pre-orders for the Kitten and Daisies Chessie Box and the Giraffes at Dusk Vase will be accepted until midnight (ET) on Wednesday, September 9, 2015.

To pre-order any of these four Limited Edition selections, please contact the Fenton Gift Shop:
1-800-319-7793, ext. 342 or via email: purchasing@fentongiftshop.com.

You may also request that we add your email address to the Fenton Gift Shop's mailing list so you may receive future "limited edition" notifications.

Fenton Gift Shop's hours are Wednesday, Thursday, Friday, and Saturday from 10 a.m. until 3 p.m. ET and closed on Sunday, Monday and Tuesday.
---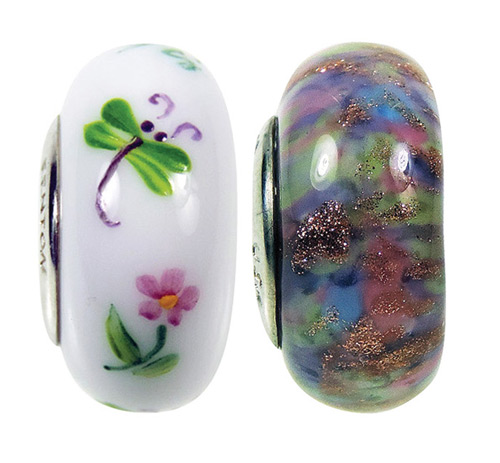 Frequent Buyer Program. . . Earn YOUR Free Limited Edition Bead!
Here's your opportunity to receive a beautiful limited edition bead absolutely FREE!
Simply purchase ten beads from any authorized Fenton jewelry dealer or from our website: www.fentonartglass.com and you'll qualify for a bonus bead! Click here for details! Current offerings are the Gracie (decorated) and Mikayla (Vasa Murrhina) beads shown at right.
Click here to view our handcrafted art glass beads. NOTE: If you have purchased ten beads,
let us know if we haven't notified you. . . please email: askfenton@fentonartglass.com and
put "Frequent Buyer Qualifier" in the subject line.
---
Fenton Custom Designs for Beads. . .
We've received many requests for specially designed beads. Most of these designs are exclusive to one retailer or organization, so we can not sell them on our website. If your group or store is interested in a custom designed bead, please call for details at 800-933-6766, ext. 209. Click here to view custom designed beads with contact info for the retailers or organization from whom you may purchase them. Be sure to check back as we will be updating this list regularly! Please contact the retailer or organization listed beside each Custom Design bead and be
sure to say you saw it mentioned in the Fenton Newsletter!
---
Fenton Weekly eBay Auctions. . .
Here's your opportunity to own a unique, rare, or one-of-a-kind item, through our weekly eBay Auctions! Shown below are our latest offerings: a one-of-a-kind figurine from award-wining Fenton designer Robin Spindler, a photo of Fenton glassworkers circa 1910, and a finisher's paddle with the name of a skilled glassworker. Items featured this week. . .
Taken about 1910, this 8" x 10" black-and-white photo depicts a group of glassworkers at Fenton Art Glass in Williamstown, West Virginia. This group is Elmer Goosman's press shop. Elmer, a skilled presser, is the fellow in dark clothing (second from right). We have not been able to identify the other glassworkers for certain, but the fellow in the center of the photo is holding a punty, so he would be the glass gatherer. The fellow in the back who has the tool with three prongs is a carry-in boy, as that tool is used to convey glass items to the lehr for annealing.

This finisher's paddle (14" long) with carbon blade and wooden handle was made for skilled glassworker Rob Camden in the Fenton Art Glass pattern shop. You'll see the "ROB CAMDEN" lettering on one side. Rob Camden was a skilled finisher at Fenton for several years.
It's the start of the Fall season, so all the fun of Halloween cannot be far away! We all know that Halloween celebrations and costumes often feature ghosts and goblins, so what could be better than a one-of-a-kind Ghost figurine (5.5" tall). This Ghost figurine is handcrafted in Opal glass as a Fenton Gift Shop Exclusive by our friends at Mosser Glass, using a Fenton mould. This figurine was decorated by award-winning Fenton designer Robin Spindler. As you can see in the photos, she created a marvelous design of cobwebs (note the spider and gemstone!), pumpkins and leaves. This Ghost figurine is identified and signed inside: "OOAK hand painted by JK Spindler".

Be sure to take a look at these offerings and other "Buy It Now" items available on our Fenton eBay Auctions.
This Fenton eBay auction ends at noon (ET) on Wednesday, September 9th.
For questions or comments, please do not reply to this email. Instead, email: askfenton@fentonartglass.com.

This email has been sent to you because you have agreed to receive offers and information from the Fenton Art Glass Company. We respect your privacy and do not sell your personal information. For details, please review our privacy policy.

How to unsubscribe: If you prefer not to receive offers or information from Fenton Art Glass, please use this page to unsubscribe.

If you use a Challenge-Response system for email, please make certain that you can receive our email by adding askfentononline@fentonartglass.com to your Allow List.

For specific instructions for major ISPs, click here.

The sender of this email is the Fenton Art Glass Co., 700 Elizabeth St., Williamstown, WV, 26187