Fenton Art Glass Online Special. . . Limited Edition Paperweight
We are pleased to offer this limited edition paperweight as an online special. Just six paperweights are available. . . while supplies last!

Handcrafted in crystal glass and sprayed to a burnished orange color, this paperweight has a flat bottom surface so that it may stand up or lie flat. This 3.5" round paperweight features a handpainted design by award-winning Fenton designer Frances Burton. Her "pumpkin patch" scene has whimsical details, including a pumpkin with a toothy grin, a delicate spiderweb and a crawling spider!
Each paperweight is signed "Fenton - 2015 hand painted by Frances Burton" and numbered 1/6, 2/6, 3/6, etc. This paperweight is a perfect addition for any Fenton collection!
20108 "Pumpkin Patch" Paperweight, $69.50 + $6 USPS Priority Mail Shipping, Buy Now!
---
NEW Limited Editions from Fenton Gift Shop. . .
Fenton Gift Shop's new Limited Edition selections were designed by Fenton's award-winning designers. Each piece will be handpainted, signed and dated. Included in this offering are an Opal Satin Amphora with stand and an Opal Satin Vase made at Davis-Lynch, as well as a Bear figurine and an Alley Cat figurine, each handcrafted in Crown Tuscan by Mosser Glass. Each piece was made with a Fenton mould. Shown at left is the 12.5" Amphora with stand featuring a wonderful seasonal scene of two ring-necked pheasants taking flight. Designed by Robin Spindler, we call this Amphora the "Flight of the Pheasants."

The details include lovely Fall colors, finely detailed feathers on the birds and a weathered barn in the distance. Robin added a sky blue background and details on the top rim on this Amphora to complete the look. This Flight of the Pheasants Amphora with stand is $250.
You'll fall in love with this Bear figurine, handcrafted in the soft pink hues of Crown Tuscan glass. A "Rosy Pink" floral design by Frances Burton encircles the entire figurine (front and back views shown in photo). Note the adorable expression on the face! This Rosy Pink Bear 3.5" figurine is $75.
Pre-orders for the Flight of the Pheasants Amphora with stand and the Rosy Pink Bear figurine will be accepted until midnight (ET) on Monday, August 31, 2015.

You'll find kittens galore on this Crown Tuscan 11" Alley Cat figurine! Robin Spindler's design features Siamese kittens frolicking around their mother on all sides of this figurine. We tried to show the different views in the photos. There is even a small mouse hiding in the tail! Robin added a touch
of "bling", a gemstone collar, to complete this piece. This Mama Siamese Alley Cat is $265.
Opal Satin glass is perfect for Frances Burton's birds and blooms design, which encircles the 9" vase. She airbrushed the vase in pale hues and then added scenes of birds, one in flight and two perched on branches. Delicate brushstrokes on the birds add to the beauty of this vase. This Birds 'n Blooms Vase is $195.



Pre-orders for the Crown Tuscan Mama Siamese Alley Cat figurine and Birds 'n Blooms Vase will be accepted until midnight (ET) on Wednesday, Sept. 2, 2015.

To pre-order these four Limited Edition selections, please contact the Fenton Gift Shop:
1-800-319-7793, ext. 342
or via email: purchasing@fentongiftshop.com.
To receive future "limited edition" notifications, please request your email address be added to the Fenton Gift Shop's mailing list.
Fenton Gift Shop's hours are Wednesday, Thursday, Friday, and Saturday from 10 a.m.-3 p.m. ET and closed Sunday, Monday and Tuesday.
---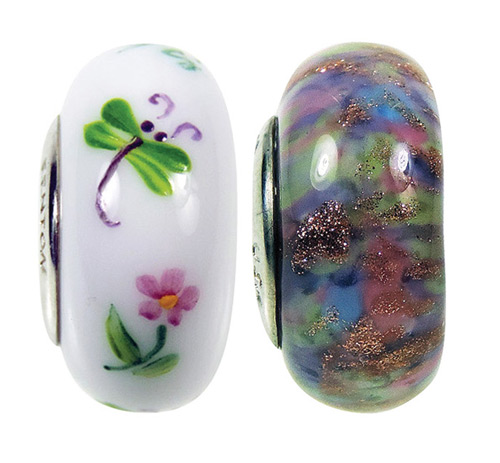 Frequent Buyer Program. . . Earn YOUR Free Limited Edition Bead!
Here's your opportunity to receive a beautiful limited edition bead absolutely FREE!
Simply purchase ten beads from any authorized Fenton jewelry dealer or from our website: www.fentonartglass.com and you'll qualify for a bonus bead! Click here for details! Current offerings are the Gracie (decorated) and Mikayla (Vasa Murrhina) beads shown at right.
Click here to view our handcrafted art glass beads. NOTE: If you have purchased ten beads,
let us know if we haven't notified you. . . please email: askfenton@fentonartglass.com and
put "Frequent Buyer Qualifier" in the subject line.
---
Fenton Custom Designs for Beads. . .
We've received many requests for specially designed beads. Most of these designs are exclusive to one retailer or organization, so we can not sell them on our website. If your group or store is interested in a custom designed bead, please call for details at 800-933-6766, ext. 209. Click here to view custom designed beads with contact info for the retailers or organization from whom you may purchase them. Be sure to check back as we will be updating this list regularly! Please contact the retailer or organization listed beside each Custom Design bead and be sure to say you saw it mentioned in the Fenton Newsletter!
---
Fenton Weekly eBay Auctions. . .
Here's your opportunity to own a unique, rare, one-of-a-kind creation, through our weekly eBay Auctions! Shown below are our latest offerings: a one-of-a-kind freeform bowl by glass artisan Frank Workman, two photos of Fenton's iconic "Clarence" glassworker display and a one-of-a-kind Owl figurine by Robin Spindler. Items featured this week. . .
Fenton glass artisan Frank Workman made a small number of one-of-a-kind offhand glass bowls/vases while visiting the Mosser glass factory. This fantastic freeform bowl is 10.5" across at its widest points and stands 5.25" tall at its uppermost points. Frank used cobalt blue glass, then rolled the glass gather in red powder. Applied glass threading was worked into the surface in a zig-zag pattern, and threading was also applied to the body and the edge. When the glass was expanded, this bowl was the dramatic result! This piece is personally signed and dated on the underside: "Frank Workman 3-28-15".

The now-iconic "Clarence" glassworker display was developed by the John Falkner Arndt advertising agency in Philadelphia especially for the Fenton Art Glass Co. in the 1950s. The "Clarence" figure was made of papier mache' and an 8" x 10" publicity photo was used to introduce Clarence to Fenton customers in department stores across the county. Just prior to the introduction of Clarence, Fenton had a different glassworker display in papier mache' that was modeled on a real Fenton glassworker named Frank Meyers. An 8" x 10" photo shows this display at the Marshall Field department store in Chicago, Illinois, circa early 1950s.

Everything about this one-of-a-kind Owl figurine (6" tall) by award-winning Fenton artist Robin Spindler says "Whoo will have me in your home?" The delicate airbrushed color of the Opal Satin glass body contrasts with the details of the face, wingtips and feet. The craggy purple rocks create a perfect perch! The face and eyes are remarkably expressive. This one-of-a-kind Owl figurine is signed on the underside: "Fenton 2015 hand painted by J. K. Spindler OOAK".

Be sure to take a look at these offerings and other "Buy It Now" items available on our Fenton eBay Auctions. This Fenton eBay auction ends at noon (ET) on Wednesday, September 2nd.