Fenton USA Jewelry. . . Retired Beads Online Special!
As we continue to grow our jewelry line, we must "retire" a certain number of beads each year to make room for new designs. We are pleased to offer this special selection of "Retired - While Supplies Last" beads at a 20% discount until Noon (ET) on Monday, August 24th. NOTE: You must choose from the selection of beads shown below. The discounted price will show when you place your order. Don't miss your opportunity to add one of these special beads to your collection and remember, quantities may be limited and these "Retired" beads are available While Supplies Last!
ONLINE SPECIAL! 20% Discount on "Retired" Beads shown above. . .
Offer ends at Noon (ET) on Monday, August 24th!
---
Four NEW Limited Editions from Fenton Gift Shop. . .
The Fenton Gift Shop is pleased to present four new Limited Edition selections. Designed by Fenton's award-winning designers, each piece will be handpainted, signed and dated. Included in this offering are an Opal Satin Chessie Box, a Buttercream Satin Rose Bowl with stand, and Crown Tuscan Owl and Mouse figurines handcrafted by Mosser Glass, using Fenton moulds.

Pre-orders for the "Bobcat Dreams" Chessie Box and "Apple Blossoms" Rose Bowl Set will be accepted
until midnight (ET) on
Monday, August 24, 2015.
Shown above is an Opal Satin Chessie Box with a "Bobcat Dreams" design by Robin Spindler depicting a young Bobcat snuggled in a bunny blankie and dreaming of frolicking bunnies (shown on the back side of the box). Robin airbrushed the lid with pale blue to complete the look on this set. This "Bobcat Dreams" Chessie Box is $220.00.
Our Buttercream Satin Rose Bowl features an "Apple Blossom" design by Frances Burton. Her design encircles the entire Rose Bowl, so no matter how you display it, you'll have a vision of "Apple Blossom" beauty! A brass satin-finished stand is included with this Rose Bowl. Quantities are limited on this set, so don't delay placing your order! This "Apple Blossom" Buttercream Satin Rose Bowl w/stand is $165 and is limited to ten sets.

The soft pink hues of Crown Tuscan glass provide a perfect canvas for our 6" Owl figurine shown below. Frances Burton carries through the soft pastel pink with her stylized criss-cross and dotted swiss design on the chest and floral accents on the wings. This Crown Tuscan Owl figurine is $95.

A perfect addition for any Fenton figurine collection is this "Monkey" Mouse figurine! Handcrafted in Crown Tuscan and airbrushed to a soft brown color, Kim Barley's added her whimsical touch with a delightful "monkey" design, complete with a tail, vines and a banana! This "Monkey" Mouse figurine is $80.00.

Pre-orders for the Crown Tuscan Owl and "Monkey"
Mouse figurines will be accepted until midnight (ET)
on Wednesday, August 26, 2015.

To pre-order these four Limited Edition selections, please contact the Fenton Gift Shop: 1-800-319-7793, ext. 342 or via email: purchasing@fentongiftshop.com.

You may also request we add your email address to the Fenton Gift Shop's mailing list so you may receive future "limited edition" notifications.

Fenton Gift Shop's hours are Wednesday, Thursday, Friday, and Saturday from 10 a.m.-3 p.m. ET and closed Sunday, Monday and Tuesday.
---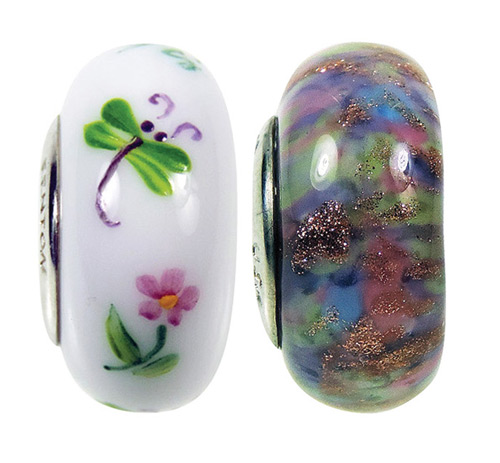 Frequent Buyer Program. . . Earn YOUR Free Limited Edition Bead!
Here's your opportunity to receive a beautiful limited edition bead absolutely FREE!
Simply purchase ten beads from any authorized Fenton jewelry dealer or from our website: www.fentonartglass.com and you'll qualify for a bonus bead! Click here for details! Current offerings are the Gracie (decorated) and Mikayla (Vasa Murrhina) beads shown at right.
Click here to view our handcrafted art glass beads. NOTE: If you have purchased ten beads,
let us know if we haven't notified you. . . please email: askfenton@fentonartglass.com and
put "Frequent Buyer Qualifier" in the subject line.
---
Fenton Custom Designs for Beads. . .
We've received many requests for specially designed beads. Most of these designs are exclusive to one retailer or organization, so we can not sell them on our website. If your group or store is interested in a custom designed bead, please call for details at 800-933-6766, ext. 209. Click here to view custom designed beads with contact info for the retailers or organization from whom you may purchase them. Be sure to check back as we will be updating this list regularly! Please contact the retailer or organization listed beside each Custom Design bead and be sure to say you saw it mentioned in the Fenton Newsletter!
---
Fenton Weekly eBay Auctions. . .
Here's your opportunity to own a unique, rare, one-of-a-kind creation, through our weekly eBay Auctions! Shown below are our latest offerings: three one-of-a-kind pieces from our award-wining Fenton designers: Robin Spindler, Frances Burton and Kim Barley. Items featured this week. . .

Robin Spindler worked her creative magic on this one-of-a-kind Opal Satin Alley Cat (11" tall) to turn him into a Raccoon! Her careful airbrushing on the body is perfect, and the face and tail
say "Raccoon, Raccoon!" As always, the eyes are remarkably expressive.
Satin-finished Persimmon glass is the perfect canvas for this one-of-a-kind depiction of Birch trees by Fenton artist Frances Burton. Each of the four panels of this 7" tall vase features handpainted Birch trees amidst green foliage in the background. The glass color and the hand painted details are simply amazing. Is it sunrise or sunset? You decide!
This one-of-a-kind satin-finished Rosalene glass Swan (4" tall, 4" long) features a lush floral motif that was created and handpainted by the talented Kim Barley. The roses and other flowers are incredibly detailed and perfectly executed on the soft pink hue
of the glass itself.

Be sure to take a look at these offerings and other "Buy It Now" items available on our Fenton eBay Auctions. This Fenton eBay auction ends at noon (ET) on Wednesday, August 19th.