Fenton USA Jewelry. . . Create it, Wear it, LOVE it!

Make your "Greek Sisterhood" fashion statement with handcrafted Fenton
Art Glass jewelry.
Each handcrafted art glass bead features a sterling silver core embossed Fenton USA and is initialed by the artist who completed it.
Greek letters and artwork symbolizing each Sorority chapter's icons are hand applied to the bead. Several may also have three dimensional artwork (note the 3D "panda" above). Mix and match with regular line beads and sterling silver jewelry accessories to create your own look! Shown above is a hammered cable bracelet with plain stoppers, crown spacers and color coordinating beads (Broadway, Miss Scarlet, Perfect Harmony, and Queen of Hearts) from the regular line that complement the Alpha Omicron Pi bead.
Click on each image above for details or click here to view our current line of handcrafted Sorority Art Glass beads. Click here to view the complete line of jewelry accessories. Fenton USA Jewelry is also available through our network of authorized Fenton dealers. Click here to locate a Fenton dealer near you or click on each image to order from the Fenton Art Glass web site!
---
NEW Limited Editions from Fenton Gift Shop. . .
The Fenton Gift Shop is pleased to present four new Limited Edition selections. Each piece will be handpainted, signed and dated. Shown below are an Opal Satin 9" Vase (made by Davis Lynch Glass), a Crown Tuscan 5.75" Ghost figurine, a 6.375" Cobalt "Curious Cat" Flip Vase and an Opal Satin 3.75" tall "Pretty Petals" Sitting Cat figurine (all made by Mosser Glass). Each piece was handcrafted, using a Fenton mould, as Limited Editions for the Fenton Gift Shop.
You'll want to reach out and pet the adorable Yorkie puppy on this vase, even though it is a handpainted design! Robin Spindler's scene depicts a Yorkie puppy with its eyes on a nearby fluttering butterfly! On the back side are colorful flowers and a beautiful blue butterfly. This "Yorkie Pup 'n Butterflies" Vase is $240.00.
Our "Black Cat in the Pumpkin Patch" Ghost figurine is sure to delight one and all! Frances Burton created a wonderful design that is perfect for this Crown Tuscan Ghost figurine! Note the elegant stance of the black cat posing in the "smiling" pumpkin patch, as well as the bats silhouetted against an October moon. This "Black Cat in the Pumpkin Patch" Ghost figurine is $90.

Pre-orders for the "Yorkie Pup and Butterflies" Vase and the "Black Cat in
the Pumpkin Patch" Ghost figurine will be accepted until midnight (ET) on Monday, August 17, 2015.
You'll love Robin Spindler's design of a white cat that appears to be curious, as well as mesmerized, by a fluttering butterfly on this Cobalt Flip Vase. Note the delicate brushstrokes on the cat's face and on the butterfly's wings. Robin continues the landscape scene
on the other side of this vase with a hazy moon casting
a soft glow upon the land. This "Curious Cat" Flip Vase
is $200.00.

A perfect addition for any Fenton figurine collection is
this Sitting Cat figurine! Handcrafted in Opal Satin and airbrushed to a soft golden color, Frances Burton's design
is pretty in pink with delicate handpainted pink blossoms that cover the entire body of this figurine, plus the colorful ribbon collar and adorable expression on the cat's face! This "Pretty Petals" Sitting Cat figurine is $75.00.

Pre-orders for the "Curious Cat" Cobalt Flip Vase and the "Pretty in Pink" Cat Figurine will be accepted until midnight (ET) on Wednesday, August 19, 2015.

To pre-order these pieces, please contact the Fenton Gift Shop: 1-800-319-7793, ext. 342 or via email: purchasing@fentongiftshop.com. You may also request to have your email added to a mailing list in order to receive future notifications of limited editions as they become available. Fenton Gift Shop's regular hours are Wednesday, Thursday, Friday, and Saturday from 10 a.m.-3 p.m. ET. and closed Sunday, Monday and Tuesday.
---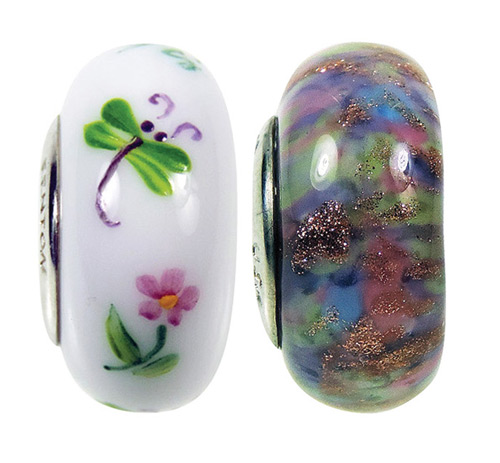 Frequent Buyer Program. . . Earn YOUR Free Limited Edition Bead!
Here's your opportunity to receive a beautiful limited edition bead absolutely FREE!
Simply purchase ten beads from any authorized Fenton jewelry dealer or from our website: www.fentonartglass.com and you'll qualify for a bonus bead! Click here for details! Current offerings are the Gracie (decorated) and Mikayla (Vasa Murrhina) beads shown at right.
Click here to view our handcrafted art glass beads. NOTE: If you have purchased ten beads, let us know if we haven't notified you. . . please email: askfenton@fentonartglass.com and
put "Frequent Buyer Qualifier" in the subject line.
---
Fenton Custom Designs for Beads. . .
We've received many requests for specially designed beads. Most of these designs are exclusive to one retailer or organization, so we can not sell them on our website. If your group or store is interested in a custom designed bead, please call for details at 800-933-6766, ext. 209. Click here to view custom designed beads with contact info for the retailers or organization from whom you may purchase them. Be sure to check back as we will be updating this list regularly! Please contact the retailer or organization listed beside each Custom Design bead and be sure to say you saw it mentioned in the Fenton Newsletter!
---
Fenton Weekly eBay Auctions. . .
Here's your opportunity to own a unique, rare, one-of-a-kind creation, through our weekly eBay Auctions! Shown below are our latest offerings: two one-of-a-kind vases from award-wining Fenton designers and an original glassmaking tool from the factory. Items featured this week. . .
Robin Spindler's creativity shines as brightly as the iridescence on this magnificent one-of-a-kind vase featuring a deer in the woods scene. Robin's design encircles the entire vase and you'll be amazed at the details! There's even a Fenton logo hidden somewhere!
Also included in this week's Fenton eBay auction is a beautiful Milk Glass vase with a one-of-a-kind design handpainted by Frances Burton. Her delicate brushstrokes on the dragonflies on this vase add to its beauty!
Last, but not least is an original finisher's paddle, made for skilled glassworker Jim Sullivan in the Fenton Art Glass pattern shop. What makes this tool even more unique is that the initials and date of the person who made it for Jim Sullivan are on one side and Jim's name is on the other side of this paddle!

Be sure to take a look at these offerings and other "Buy It Now" items available on our Fenton eBay Auctions. This Fenton eBay auction ends at noon (ET) on Wednesday, August 19th.