---
Fenton Gift Shop Presents. . . NEW Limited Edition Handcrafted Glass!
Fenton Gift Shop is pleased to offer new Limited Edition pieces, designed by our award-winning Fenton Art Glass designers. Each piece will be handpainted, signed and dated. Shown above are an Alley Cat and a Chessie Box, handcrafted, using a Fenton mould, as exclusives for the Fenton Gift Shop by our friends at Mosser Glass. Fenton Gift Shop is also pleased to introduce Crown Tuscan as a new pink color, a softer hue that works well with these wonderful handpainted designs.
Robin Spindler created the lovely design on this 11" tall Crown Tuscan Alley Cat that reminds one of the Victorian era. Note the handpainted rosebuds and lace details, as well as the two pearlized gem accents and gold ribbon accent on one of the cat's ears. As always, you'll instantly fall in love with the impish grin on the Alley Cat's face! This "Purr-T in Pink" Alley Cat figurine by Robin Spindler is $250.00.
Kim Barley's "Summertime Snuggle Cat" design is perfect for this Crown Tuscan 8" tall Chessie Box! A soft floral blanket surround the sleepy "Chessie Cat" and Kim added touches of blue airbrushing, lush green trees and vibrant flowers (on the back) to complete the look on this Chessie Box. This "Summertime Snuggle Cat" Chessie Box by Kim Barley is $220.
Pre-orders for the Alley Cat figurine and Chessie Box will be accepted until midnight (ET) on Monday, August 10, 2015.
The 9" tall "Butterflies and Daisies" Vase was handcrafted in Opal Satin, using a Fenton mould, as a Fenton Gift Shop exclusive by Davis-Lynch Glass Company. The Opal Satin 3.75" tall "Pumpkin Cat" Cat figurine was handcrafted by Mosser Glass.
Pre-orders for the "Butterflies and Daisies" Vase and the "Pumpkin Cat" Figurine will be accepted until midnight (ET) on Wednesday, August 12, 2015.
You'll love the delicate, handpainted design of a trio of butterflies hovering amongst bright pink daisies on this 9" Vase, designed by Frances Burton. Her design encircles the vase, and no matter how you display it, you'll have a beautiful view of a butterfly and daisies. This "Butterflies and Daisies" Vase is $220.00.
You'll be ready for Halloween decorating with this wonderful handpainted "Pumpkin Cat" figurine designed by Kim Barley. Kim's whimsical design encircles this figurine with a moon and stars, pumpkins with wonderful details (see the candle inside one of the pumpkins?) and those large expressive eyes! This "Pumpkin Cat" Figurine is $85.00.
To pre-order, please contact the Fenton Gift Shop: 1-800-319-7793, ext. 342 or via email: purchasing@fentongiftshop.com. You may also request to have your email added to a mailing list in order to receive future notifications of limited editions as they become available. Fenton Gift Shop's regular hours are Wednesday, Thursday, Friday, and Saturday from 10 a.m.-3 p.m. ET. and closed Sunday, Monday and Tuesday.
---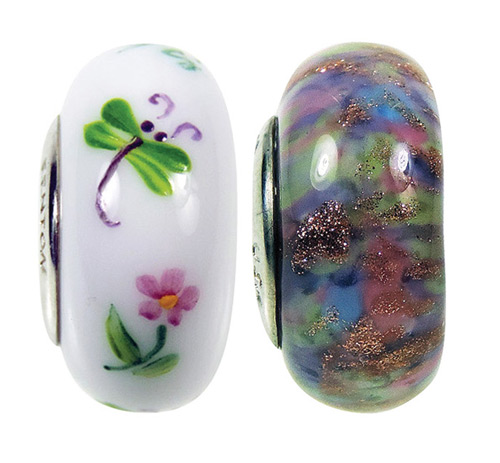 Frequent Buyer Program. . . Earn YOUR Free Limited Edition Bead!
Here's your opportunity to receive a beautiful limited edition bead absolutely FREE!
Simply purchase ten beads from any authorized Fenton jewelry dealer or from our website: www.fentonartglass.com and you'll qualify for a bonus bead! Click here for details! Current offerings are the Gracie (decorated) and Mikayla (Vasa Murrhina) beads shown at right.
Click here to view our handcrafted art glass beads. NOTE: If you have purchased ten beads, let us know if we haven't notified you. . . please email: askfenton@fentonartglass.com and
put "Frequent Buyer Qualifier" in the subject line.
---
Fenton Custom Designs for Beads. . .
We've received many requests for specially designed beads. Most of these designs are exclusive to one retailer or organization, so we can not sell them on our website. If your group or store is interested in a custom designed bead, please call for details at 800-933-6766, ext. 209. Click here to view custom designed beads with contact info for the retailers or organization from whom you may purchase them. Be sure to check back as we will be updating this list regularly! Please contact the retailer or organization listed beside each Custom Design bead and be sure to say you saw it mentioned in the Fenton Newsletter!
---
Fenton Weekly eBay Auctions. . .
Here's your opportunity to own a unique, rare, one-of-a-kind creation, through our weekly eBay Auctions! Items featured this week. . .

Shown here are our latest offerings from award-wining Fenton designers: A one-of-a-kind elegant Amphora Vase with stand featuring a lovely handpainted "Single Dahlia" design by Frances Burton, which encircles the vase.
This one-of-a-kind Elephant Treasure Box has been airbrushed to a more natural gray color by Kim Barley. She's added details of colorful "parade" attire to complete this piece. Perfect place to store your "treasures" or a wonderful addition to any Fenton figurine collection.
Last, but not least is a black and white photo, made from an old negative, showing Fenton glassworkers gathered at their campsite (located on a nearby riverbank). The original photo was taken circa 1910, during the annual "Summer Stop" when the factory would shut down for repairs. You'll love looking at the period style clothing ... You'll also notice that most of the men hold a "refreshing drink"! Fenton's factory manager Jacob Rosenthal can be seen in the back row. This Fenton eBay auction ends at noon (ET) on Wednesday, August 12th.