---
FINAL "CHRISTMAS IN JULY" ONLINE SPECIAL:
Buy Three "Retired" Beads and Receive Your Choice of another FREE "Retired" Bead!
Purchase any three beads from our "Retired Beads-While Supplies Last" category and you'll receive another retired bead FREE from the six selections shown below.
Your online order must be placed via our website: www.fentonartglass.com between noon on Thursday, July 30 to noon (ET) on Monday, August 3rd! NOTE: This offer does not apply to previous orders and the FREE bead must be chosen from the six selections shown below. Please list at least two choices in the comment section when you place your online order in case your first choice has sold out. Remember quantities are limited on these "retired" beads! Click here to start shopping. . .
---
Fenton Gift Shop Presents. . . Limited Edition Handcrafted Glass
We were having "technical issues" with email last week, so we've decided to extend the deadline for pre-orders on the Opal Satin Vase and Amphora shown at left. These two pieces were handcrafted, using a Fenton mould, as exclusives for the Fenton Gift Shop by our friends at Davis-Lynch Glass Company.
Pre-order deadline for
the "Haunted House" Vase and "Birch Trees" Amphora is extended
and will be accepted until midnight (ET) on Monday, August 3, 2015.
Fenton designer Kim Barley enjoys designing whimsical and fun scenes for Halloween and this one is no exception. . . you'll love Kim's creepy haunted house, black cat, witch, tombstones, scarecrow, and the gnarly tree with the large cobweb. Perfect for your Halloween tabletop display with or without a Halloween bouquet! This "Haunted House" Vase is $240.00.

You can almost feel the serenity of a calm winter's day when you gaze upon this marvelous "Birch Trees" Amphora designed by Frances Burton. Her design encircles the amphora, and no matter how you display it, it is simply breathtaking. This "Birch Trees" Amphora with stand is $225.00.
| | |
| --- | --- |
| | |
Fenton Gift Shop is pleased to offer four new Limited Edition pieces designed by our award-winning Fenton Art Glass designers. Each piece will be handpainted, signed and dated. The Opal Satin Amphora was handcrafted by Davis-Lynch Glass. The Mouse, Happiness Bird and Cat figurines were handcrafted in Ocean glass, using a Fenton mould, as exclusives for the Fenton Gift Shop by our friends at Mosser Glass. Pre-orders for the Opal Satin Amphora and each of the three Ocean glass figurines will be accepted until midnight (ET) on Wednesday, August 5, 2015.
Michelle Kibbe created the beautiful large sunflower and floral design with dotted accents on the Opal Satin Amphora! She added a soft pastel yellow as part to the background as a complement to her design. The inset photo shows a closeup of the sunflower highlighting the delicate brushstrokes. This Opal Satin Amphora is $195.00.
Frances Burton created this lovely trio of Ocean glass figurines - a cat, a Happiness Bird and a mouse! Perfect additions to any figurine collection! Front and back views are shown in the photo. Her white floral design with handpainted accents adorn each piece. Each figurine is $75.00. The Mouse is limited to 6 pieces, the Happiness Bird is limited to 14 pieces and the Cat is limited to 9 pieces.
To "pre-order" any of the selections shown above, please contact the Fenton Gift Shop at 1-800-319-7793, ext. 342 or via email: purchasing@fentongiftshop.com. As mentioned above, we have experienced technical issues with the Gift Shop's email and suggest you leave a phone message if you do not receive a timely reply to your email inquiry. You may also request to have your email added to a mailing list in order to receive future notifications of limited editions as they become available. Fenton Gift Shop's regular hours are Wednesday, Thursday, Friday, and Saturday from 10 a.m.-3 p.m. ET. and closed Sunday, Monday and Tuesday.
---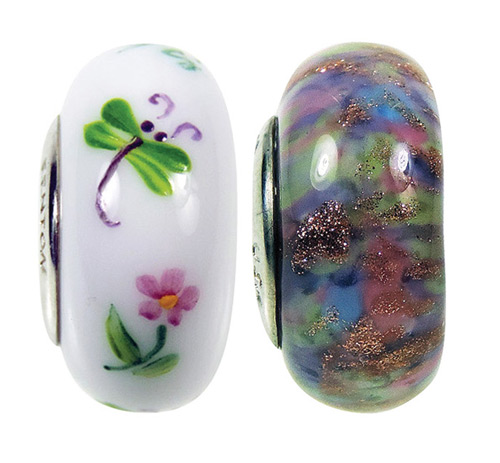 Frequent Buyer Program. . . Earn YOUR Free Limited Edition Bead!
Here's your opportunity to receive a beautiful limited edition bead absolutely FREE!
Simply purchase ten beads from any authorized Fenton jewelry dealer or from our website: www.fentonartglass.com and you'll qualify for a bonus bead! Click here for details! Our current offerings are the Gracie (decorated) and Mikayla (Vasa Murrhina) beads shown at right.
Click here to view our handcrafted art glass beads. NOTE: If you have purchased ten beads, please send an email askfenton@fentonartglass.com if we haven't notified you, and put Frequent Buyer Qualifier in the subject line.
---
Fenton Reference Materials. . .
Need some summer reading material or want to brush up on your Fenton knowledge? You'll want to check out the great offers on our Fenton Art Glass reference books! Here's your opportunity to acquire the Best Deal Ever on reference books about Fenton Glass! We have complete sets of paperback books that cover the history of the Fenton Art Glass Company from 1905 to 1999/2002 and illustrate our products in great color photos.
The six book set shown at right includes Fenton 1st, 2nd, 3rd 25 Years, 80s/90s Decade and the QVC Book. Your Price: Just $79 (U.S.) for the six-book set, shipped to you postpaid via U. S. Postal Service Priority Mail!
Also available is a seven-book set for just $109.00.
This se
t includes the Coffee Table book (shown here), originally offered on QVC with NINE Fenton family member signatures. It will ship separately from the six book set as it is pre-packaged. This book alone is $50 (including shipping) on our company website!

These books are also sold individually, as well as individual copies of the Glass Messenger, a quarterly newsmagazine for collectors. Click here to view the complete Books/Magazines category.
---
Fenton Custom Designs for Beads. . .
We've received many requests for specially designed beads. Most of these designs are exclusive to one retailer or organization, so we can not sell them on our website. If your group or store is interested in a custom designed bead, please call for details at 800-933-6766, ext. 209. Click here to view custom designed beads with contact info for the retailers or organization from whom you may purchase them. Be sure to check back as we will be updating this list regularly! Please contact the retailer or organization listed beside each Custom Design bead and be sure to say you saw it mentioned in the Fenton Newsletter!
---
Fenton Weekly eBay Auctions. . .
Here's your opportunity to own a unique, rare, one-of-a-kind creation, through our weekly eBay Auctions! Items featured this week. . .

Shown here are our latest offerings: a unique one-of-a-kind Alley Cat figurine (11" tall) handpainted to resemble a "leopard" by award-winning designer Robin Spindler, as well as a striking one-of-a-kind freeform vase created by Fenton craftsman Frank Workman. Both pieces are signed and dated by the artist.
Last, but not least is an original Illustrated Color Sheet,
circa 1909-1910, from the Fenton Art Glass Company.
This sheet was used to show the No. 100 Iridescent Novelty Assortment. Check out the details on each piece and place your bid! This Fenton eBay auction ends at noon (ET) on Wednesday, August 5th.