George W. Fenton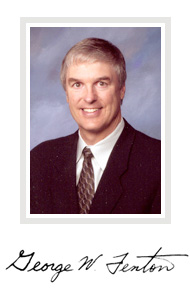 As president of Fenton Glass and grandson of company founder Frank L. Fenton, George worked closely with other Fenton family members involved in all aspects of the company. He now heads the Fenton jewelry division.
With the organization since 1972, George served as foreman of the Decorating Department and manager of manufacturing before becoming president in 1986. He states, "I am most satisfied when I can contribute to solving a difficult production problem."
George graduated with honors from Wesleyan College in 1971 with a B.A. degree in physics and astronomy, and completed the Owner/President Management Program at Harvard Business School in 1989.