Maps/Directions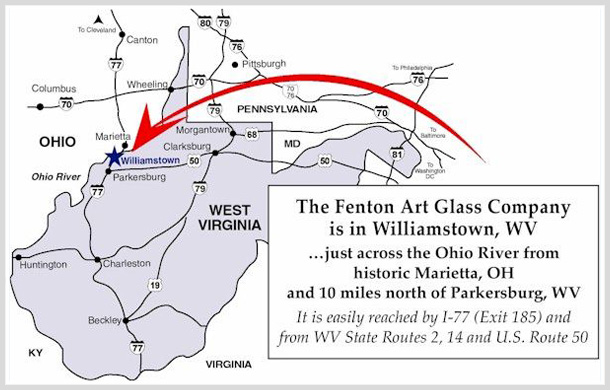 You can get here from wherever you are! Fenton Art Glass is in Williamstown, West Virginia, just off I-77 near historic Marietta, Ohio, and Parkersburg, West Virginia. There's lots to see and do nearby ... all in a relaxed, down home atmosphere.
Nearby Hotels
You can book reservations online, check out rates and availability, find check-out times, view photos, check out property details, get information (directions, etc.) distance to airports, attractions & more. There are more than 80 hotels within 65 miles of Fenton Art Glass, to make reservation today, click here.
Nearby Airports
Mid-Ohio Valley Regional Airport
Parkersburg, WV
(13 minutes from Fenton)

Yeager Airport
Charleston, WV
(2 hours from Fenton)

Port Columbus International Airport
Columbus, OH
(2 hours, 13 minutes from Fenton)

Akron-Canton Airport
Canton, OH
(2 hours, 24 minutes from Fenton)

Pittsburgh International Airport
Pittsburgh, PA
(2 hours, 52 minutes from Fenton)
Nearby Bus Service
Greyhound

Marietta, OH (Four minutes from Fenton)
__________________________________________________________
Fenton Gift Shop Hours:
May & June Mon. - Sat. 9am - 5pm; Sunday Noon - 4pm
July & August Mon. - Sat. 9am - 5pm; Sunday Noon - 5pm
The Fenton Gift Shop is located at 420 Caroline Ave., Williamstown WV 26187
304-375-7772
PLEASE NOTE: A limited tour of Fenton beadmaking and decorating is available on weekdays (Monday - Friday) from 9:15 - 2:30.