Fenton Art Glass Presents Jewelry Close-out Specials. . .
Enjoy close-out prices on our remaining inventory of Fenton Art Glass handcrafted jewelry. These items were made at the Fenton factory and are going, going, GONE! Now is the time to give a forever gift of jewelry, made in America! Choose from the selections shown below and don't delay, as there may be just one of each available!
HOW TO PLACE YOUR FENTON JEWELRY ORDER
Orders are no longer processed online.

Please specify the name and/or item# for each item and email your order to chill@fentonartglass.com
You'll receive a confirmation email. Please include your full name and address, daytime phone number, the price and quantity of the item(s) you wish to order. Orders are filled on a first come, first served basis as there may be just one available. Jewelry orders $100 and above receive free shipping via USPS. A $3.75 shipping fee is added to all orders under $100. Orders are no longer processed online and must be submitted via email as detailed above. These shipping charges apply to jewelry orders only, not to the Limited Edition items shown below.
IMPRESSION BEADS: These larger sized beads will make an elegant fashion statement! The selections shown at right include "design samples" and are available while supplies last. Originally $79.50-$95, these remaining Impression Beads are now $25 each.

Shown above, l-r: White Alpaca, Winter Deer and Deer in the Mountains (lighter blue).
Shown above, l-r: Albuquerque, Jitterbuggin' Dragonfly, Pink Beauty, Sonata on Sapphire, and Tranquil Pond.
Sterling Silver Jewelry Accessory
Bangle:

Available in 7.5", 8" and 8.5" sizes.

Quantities very limited!

Originally $75, Now $30 each
While Supplies Last!


PENDANTS: Available in a variety of styles
with glass treatments or hand applied decorations. Several pendants have gem and other decorative accents.

These pendants were originally $45-$85 and are now available for just

$25 each!

Row 1, l-r:

Broadway, Bubble Swirls, Desert Browns, El Dorado, Faith Blooms, and Glacier Gold.

Row 2, l-r:

Faith, Hope & Love with cross accent, Fishers of Men, Pirouette Silhouette with gold accent, and Pirouette Silver with pink and black gem accents.

Row 3, l-r:

Joyful, Nighttime Ocean, Sand 'n Sea, Serenity, Tranquil Pond, and Turquoise Trails.


Sterling Silver Hammered Cable Bracelet with extender and logo tag: This 3.5mm Hammered Cable Bracelet will accommodate most wrist sizes, up to 8".
Originally $49.50, now $30




---
NEW Limited Editions from Fenton Gift Shop. . .
We are pleased to offer new Limited Edition selections for pre-orders. Each piece features a hand painted design and will be signed, numbered and dated by one of our talented designers. The Iceberg Paperweight was handcrafted at Mosser Glass and the other Limited Edition pieces were also made by Mosser Glass, using the Fenton moulds, exclusively for the Fenton Gift Shop. RETURN POLICY: Returns are accepted on "undamaged" items. Returns are to be shipped within 30 days of receipt, at customer expense, to the Fenton Gift Shop, 2242 Williams Hwy., Suite 108, Williamstown, WV 26187. A 5% restocking fee will be applied for this return. For damaged items, please contact Fenton Gift Shop at 800-319-7793, ext. 342.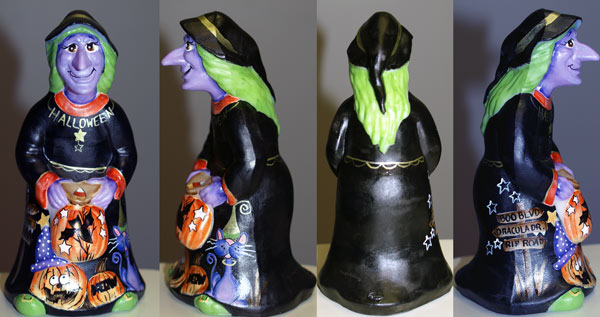 Fenton Art Glass first offered the Witch figurine (designed by sculptor Jon Saffell), in 2002, and it has since become a favorite Halloween holiday decorating piece for many Fenton fans.

Kim Barley continues her whimsical design style on this 6.25" Opal Satin Witch Figurine. You'll love all the fabulous hand painted Halloween details. . .

from the stars and bats and the witch's purple face and bright green hair to the scraggly purple cat and laughing pumpkins.

Note the signpost with hand lettered directions: Boo Blvd., Dracula Dr. and RIP Road and the word MEOW on a pumpkin. Each Halloween Road Signs Witch Figurine is $110.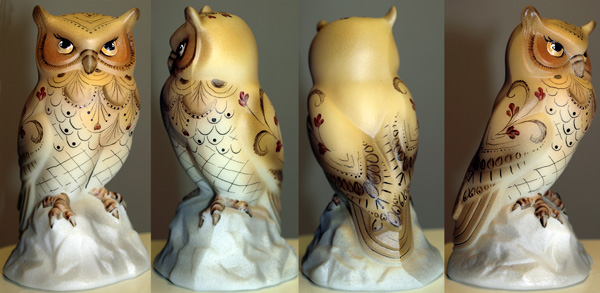 Michelle Kibbe's intricate hand painted design on this 5.75" Opal Satin Owl Figurine reminds one of filigree, a delicate type of metalwork in jewelry. The fine brushstrokes adorn all sides with crosshatch, polka dots, curls and petite flowers. Note the wonderful detail on the owl's eyes and talons. Michelle used soft brown shades for the body. Each Filigree Owl Figurine is $95.
Handcrafted in our NEW Eggplant color, this 2.75" Mouse Figurine sports a "Spring Days" message hand painted on its ears! Kim Barley adorned this figurine in a white and green outfit with purple trim and matching shoes. The cute expression on the face includes a heart-shaped purple nose and purple-blue eyes. A sprig of flowers sits atop the head. Each ear has the hand painted words with bumblebee and flower accents. One of the mouse's ears even sports a jar of purple Jam! Each Spring Days Mouse Figurine is $80.

Pre-orders for the Halloween Road Signs Witch, the Filigree Owl and Spring Days Mouse Figurines will be accepted until midnight (ET) on Monday, May 20, 2019.

To place your pre-order, please call Fenton Gift Shop: 1-800-319-7793, ext. 342 or email: purchasing@fentongiftshop.com and include the names of the items you want to purchase in the subject line as well as your full name and daytime phone number. You may also request we add your email address to our mailing list for future Limited Edition specials!

This 7" Crystal Iceberg Paperweight is the perfect glass canvas for Robin Spindler's "Fenton Gift Shop Goldfish Bowl" design. Robin created a three-dimensional effect by using a reverse painting technique ─ painting on the back and front of this piece. The results are remarkable. . . you feel as if you are looking into an actual fish bowl! A large goldfish is in the background with another goldfish in the front. Robin added underwater plants that appear to be gently waving in the water. The camera caught the different tones of blue used to resemble the water. Note the hand lettered Fenton Gift Shop sign! This Iceberg Paperweight is truly a conversation starter! Each FGS Goldfish Bowl Iceberg Paperweight is $110.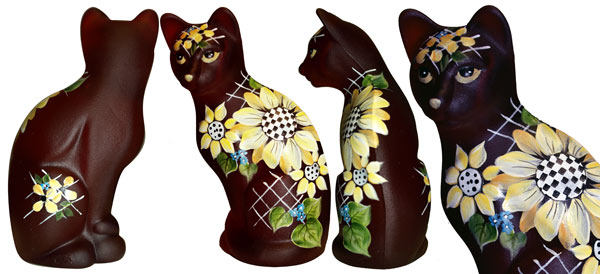 Our Ruby Satin Stylized Cat Figurine has a fun design by Michelle Kibbe featuring large Sunflowers and smaller blue flowers with different patterns. Petals adorn the head and also the side of the figurine. Crosshatch details provide a frame effect for the colorful flowers with checkerboard and polka dot centers. Michelle added golden eyes and nose to complete the look. Sculptor Jon Saffell designed the (5065) Cat figurine, known as the Stylized Cat, in 1999, much to the delight of our cat fanciers! A great gift for the Fenton figurine collector or the cat enthusiast! Each Sunflower Fun Stylized Cat Figurine is $95.

The elegant shape of our 11.5" Opal Satin Vase provides the perfect glass canvas for Robin Spindler's beautiful and colorful scene of a family of Ruby-throated Hummingbirds.

A male and female (shown on the nest) are on the front with two young hummingbirds in a nest on the back. The entire scene is framed by beautiful pink and white blossoms and greenery. Robin added delicate patterns that encircle the top and the base of this vase.

Robin's hand painted details on the flowers and hummingbirds are meticulously executed and a tribute to her artistic talent. This Limited Edition Vase is even more beautiful than the photos capture and we believe it is sure to become a family heirloom! Each Hummingbird Family Vase is $220.

Did you know. . . The male ruby-throated hummingbird does indeed have a striking red throat, though the female of the species does not.

These speedy tiny birds beat their wings 53 times a second and can fly in an acrobatic style matched by few other birds. They hover often and fly upside down and backwards. With their extremely short legs, Ruby-throated hummingbirds cannot walk or hop with any efficiency. They can fly straight at a speed of up to 25 miles per hour, and 40 miles per hour during courtship dives.

Pre-orders for the FGS Goldfish Bowl Iceberg Paperweight, the Sunflower Fun Stylized Cat Figurine, and the Hummingbird Family Vase will be accepted until midnight (ET) on Wednesday, May 22, 2019.

To pre-order, please call Fenton Gift Shop: 1-800-319-7793, ext. 342 or send us an email to: purchasing@fentongiftshop.com and include the names of the items you want to purchase in the subject line. Please include your full name and phone number.

You may also request we add your email address to our mailing list for future Limited Edition specials!



---

Fenton Gift Shop: 800-319-7793

Fenton Gift Shops . . . All Occasion Gifts!

Visit Fenton Gift Shop and choose a forever gift for someone special! Fenton Gift Shop has a nice selection of handcrafted vintage and NEW Limited Edition Fenton Art Glass as well as other unique gift items and hand crafted Fenton Art Glass jewelry.

Traveling near us this summer? Be sure to stop along the way at roadside rests for the I-77 Summer Travel Guide or at the WV Welcome Center (Exit 185 off of I-77) and pick up your Visitor's Guide to our area (coupon inside!). Fenton Gift Shop is located at 2242 Williams Highway, Suite 108 in Williamstown, WV (located just five minutes from the original factory site on State Route 14 in Boaz). Phone: or 304-375-7772

Hours: 10 a.m.-4 p.m. ET Tuesday-Saturday

Glass Identification Requests. . .

We no longer have staff to research inquiries about glass: value, history, identification, etc. Reference books on Fenton Art Glass do not include current price guides. We suggest you contact your local antiques dealer, the local library, or one of the collector clubs: http://www.fentonartglass.com/collectors. The Williamstown Antique Mall (local) may also assist you: 304-375-6315 or email: antiquemall@suddenlinkmail.com. A piece like yours may be listed on eBay, which can provide current pricing information. Otherwise, please send email inquiries about glass "production" to: askfenton@fentonartglass.com
---
Fenton Art Glass eBay Auctions. . .
Here's your opportunity to own a beautiful "one-of-a-kind" art glass creation or items from Fenton's past through our weekly eBay auctions. Fenton's eBay auctions will end at 2 p.m. (ET) on Wednesday, May 22. Items featured this week. . .

Here's a wonderful one-of-a-kind tribute to America and to the majesty of the graceful
Bald Eagle from Fenton artist Michelle Kibbe. Made of Opal Satin glass, this vase stands 8.75" tall. Delicate airbrushing created the vivid blue sky, and Michelle's depiction of the Bald Eagle is simply breathtaking ... not a feather out of place and splendid details that will make you salute our national bird! A long Eagle poses on a tree branch on the front and another eagle is soaring high above a landscape on the other side.

The Stylized Cat designed by Fenton sculptor Jon Saffell is among the most popular items in Fenton history, and this one-of-a-kind example by Kim Barley is sure to find a happy home! The glass is Opal satin, and Kim's airbrushing has created a wonderful metallic gold iridescent effect, as you can see in the photos. We call this feline the Necktie Cat, and the photos really do it proud. These Fenton's eBay auctions will end at 2 p.m. (ET) on Wednesday, May 22. Items featured this week. . .
---