Fenton Art Glass and Fenton Gift Shop Offerings. . .
Our March online specials continue with the remaining inventory of jewelry and accessories from Fenton Art Glass Company. Please note that these items are available while supplies last. In many cases there may be just one of an item. Visit our web site: www.fentonartglass.com or click on the categories shown below to browse the current offerings.
SPECIAL NOTE: We are having issues with our online shopping cart. Please email any requests and orders to chill@fentonartglass.com and include a daytime telephone number. You'll receive a confirmation email. If you sent an email or placed an order within the last month and you haven't received any reply, please send another email so we may follow-up on your order. Include the item# and name, the advertised price (shown in red) and the quantity you wish to order. Orders above $50 will receive free shipping via USPS. A $3.50 shipping charge will be added to all orders $50 and under.
---
NEW Limited Editions from Fenton Gift Shop. . .
We are pleased to offer new Limited Edition selections for pre-orders. Each piece features a hand painted design and will be signed, numbered and dated by one of our talented designers. The Iceberg Paperweights were handcrafted by Mosser Glass. The Lighthouse Fairy Light was made by Fenton Collectibles. The remaining Limited Edition pieces were also made by Mosser, using the Fenton moulds, exclusively for the Fenton Gift Shop.
Our 10" Opal Satin Vase is the perfect canvas for Michelle Kibbe's design of a Red Fox family. Her hand painted design includes an earthen "burrow" with a vixen watching over her two young kits. Michelle's details are meticulous and true to life. Note those mesmerizing eyes! Michelle added pinstripe accents and a natural wooded landscape for the background. Each Fox Burrow Vase is $195.

Did you know. . . This animal is nocturnal, sleeping 9-10 hours during the day and hunting for food at night. Often mentioned in folklore with a reputation for being sly and cunning.
Michelle Kibbe celebrates the Red Fox with her hand painted lone fox on this 5" tall x 6.25" wide Crystal Iceberg Paperweight (which was made by Mosser). She includes the distinctive Red Fox traits of a thick bushy tail with white tip and white fur on the chest and underside. Michelle also created a landscape scene on the back side of this paperweight. Did you know. . . The Red Fox has been known to jump as high as 6.5 feet! Each Red Fox Iceberg Paperweight is $90.
This 3" tall Opal Satin Duckling with an absolutely adorable face is a "must have" for collectors! Robin Spindler hand painted this figurine in "natural" colors: a bright yellow body with an orange bill and feet.

Those eyes and chubby cheeks really make this design! Robin will also add a small straw "bonnet" or "hat" to each figurine, so be sure specify which style you would like on your figurine!
NOTE: Robin has five different hat or bonnet styles for this figurine, available first come, first served. When you place your pre-order, please specify which hat you want (see images above) with a first choice and a second choice. Shown top right is the Red Cap and above, left to right, is the Blue Sailor hat, Yellow Bonnet, Pink Bonnet, and Blue Straw Bonnet. Each Bonnet Duckling Figurine is $75 and limited to ten figurines.
Pre-orders for the Fox Burrow Vase, Red Fox Iceberg Paperweight and Bonnet Duckling Figurine will be accepted until midnight (ET) on Monday, March 26, 2018. To place your pre-order, please call Fenton Gift Shop: 1-800-319-7793, ext. 342 or email: purchasing@fentongiftshop.com and include the names of the items you want to purchase in the subject line as well as your full name and daytime phone number. You may also request we add your email address to our mailing list for future Limited Edition specials!
The 11" height of our Opal Satin Vase creates the perfect background for Robin Spindler's scene of a lone fisherman with a "big one" on the hook! Note that splash in the water as a big fish is apparently fighting for the bait!

The hand painted background, which encircles the vase, is well executed, from the darker greens, purples and burnished orange of the wooded area to the barren trees and craggy rocks framing the water. You can even see the depth of the water. The close-up photos show Robin's talent for capturing the minute details. Note the fisherman's woven creel with white stitching. Each Fisherman Vase is $175.

Below: Kim Barley celebrates Halloween with this fun and whimsical "Spooky Lighthouse" design on our 8" Fairy Light. This Lighthouse was handcrafted in Opal Satin glass (base) and crystal (top) at Fenton Collectibles using the Fenton Art Glass moulds that were not used for production before glassmaking halted at Fenton in 2011. The many hand painted details encircling this Lighthouse are simply marvelous. Note the dancing skeleton, ghosts, bats, pumpkins, spider webs and spiders, spooky eyeballs, and more! How about those eerie scraggly hands reaching up out of the ground! Kim created the perfect "Spooky Lighthouse" for your Halloween display! Each Spooky Lighthouse Fairy Light is $130 and includes a battery-operated tea light.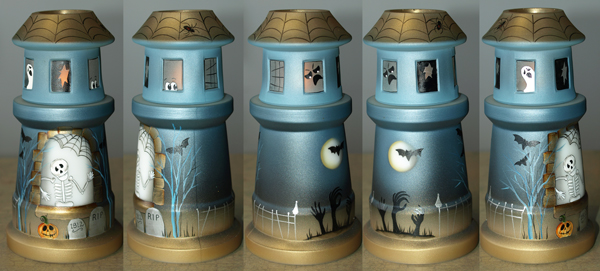 Below: The blue eyes of this majestic Grey Wolf are hypnotic! Kim Barley's striking rendition is marvelous. . . from the wintry night scene with pine trees and snow covered landscape to the Grey Wolf's head in the foreground. The front and back views of this 7" tall x 5.5" wide Crystal Iceberg Paperweight (made by Mosser) are shown in the photo below. Did you know. . . At birth, wolf pups tend to have darker fur and blue eyes. Their eyes will change to a yellow-gold or orange color at about 8–16 weeks old. Though rare, it is possible for an adult wolf to retain its blue-colored eyes. Each Grey Wolf Crystal Iceberg Paperweight is $95.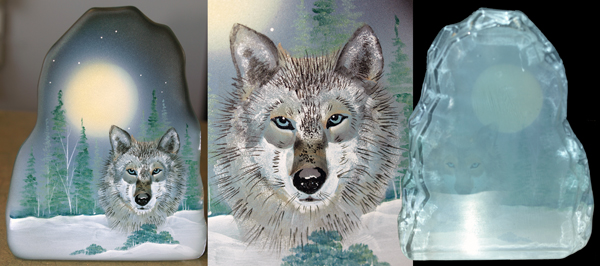 Pre-orders for the Fisherman Vase, Spooky Lighthouse Fairy Light and Grey Wolf Crystal Iceberg Paperweight will be accepted until midnight (ET) on Wednesday, March 28, 2018. To pre-order, please call Fenton Gift Shop: 1-800-319-7793, ext. 342 or send us an email: purchasing@fentongiftshop.com and include the names of the items you want to purchase in the subject line. Please include your full name and phone number.
---
Fenton Gift Shop has a limited quantity of glass pendants handcrafted by Dave Fetty for $75 each with free shipping via the postal service. These glass pendants are available while supplies last and were handcrafted by Dave at Mosser Glass. His personal stamp and handwritten signature are on the back of each pendant (clean with care). Sizes and colors vary, but most are about 1-1/2" in diameter. A 24" chain is provided with each pendant except number 1, which has an 18" silver plated chain. To order your Dave Fetty Pendant, please contact Fenton Gift Shop and mention the number (shown in the photo) of the pendant you wish to purchase. Please call: 800-319-7793, ext. 342 or 304-375-7772 or send us an email: purchasing@fentongiftshop.com.
---
Fenton Gift Shops . . . Unique Gifts for All Occasions!
Visit Fenton Gift Shop and browse our beautiful selection of handcrafted Fenton Art Glass available in a rainbow of colors and glass treatments.

Choose from limited edition and vintage Fenton Art Glass, handcrafted Fenton jewelry and unique gift ideas for any occasion. Shown at left are lovely selections in shades of green and violet.

Fenton Gift Shop is located at 2242 Williams Highway, Suite 108 in Williamstown, WV (State Route 14 in Boaz).

Hours: 10 a.m.-4 p.m. ET

Tuesday-Saturday

800-319-7793 or 304-375-7772
---
Glass Identification Requests. . .
We no longer have staff to research inquiries about glass: value, history, identification, etc. Reference books on Fenton Art Glass do not include current price guides. We suggest you contact your local antiques dealer, the local library, or one of the collector clubs: http://www.fentonartglass.com/collectors. The Williamstown Antique Mall (local) may also provide assistance: 304-375-6315 or email: antiquemall@suddenlinkmail.com. A piece like yours may be listed on eBay, which can provide current pricing information. Otherwise, please send email inquiries about glass "production" to: askfenton@fentonartglass.com
---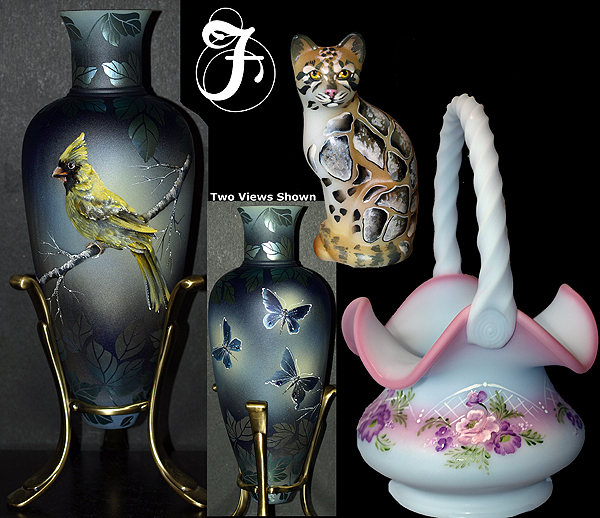 Fenton Art Glass
eBay Auctions. . .
Here's your opportunity to own a beautiful "one-of-a-kind" art glass creation or items from Fenton's past through our weekly eBay auctions.
NOTE: We begin our eBay auctions a few hours later now so our followers on the West Coast may have more time to place a final bid. Fenton's eBay auctions will end at 2 p.m. (ET) on Wednesday, March 28. Items featured this week. . .
What a combination on this one-of-a-kind Amphora vase... fabulous Fenton Favrene glass and a hand painted one-in-million yellow Cardinal! Inspired by recent news of a rare yellow Cardinal spotted in Alabama, award-winning Fenton artist Robin Spindler combined delicate sandcarving and airbrushing with meticulous hand painting to create this wonderful one-of-a-kind piece. This Amphora vase stands 14" tall in its antique brass stand. Vivid hand painted butterflies with applied gem accents adorn part of the 12" vase, but Robin's hand painted depiction of the rare yellow Cardinal perched on the front is the real focal point of this remarkable combination of talent and skills. Favrene glass containing pure silver is a classic Fenton product, and special techniques were needed to create the distinctive iridescence. This one-of-a-kind Favrene Amphora vase is signed ("JKSpindler 2018") on the body of the vase; the Fenton cursive "F" logo is on the underside as well as the inscribed "OOAK".

Fenton artist Michelle Kibbe is getting ready for Spring, and this wonderful, one-of-a-kind hand painted Blue Burmese basket (8" tall) is a sure sign that Spring is already here! Blue Burmese is a classic Fenton color that contains pure gold, and special reheating techniques by our glassworkers were needed to create the delicate pink blush. Michelle's hand painted design combines delicate latticework with rich green foliage and lush flowers in various colors, as you can see in the photos. Note the dramatic crimp style, the twisted handle, and the distinctive handler's mark of skilled glassworker Butch Wright.

Award-winning Fenton designer Robin Spindler loves to depict unusual, seldom seen members of the animal kingdom, and this splendid one-of-a-kind figurine (5" tall) captures all the majesty of the famed exotic Clouded Leopard. Robin's artistic talents and hand painting skills are well displayed in the unique patterns of coloration and the meticulous attention to details. Just look at those wonderful amber eyes! This hand painted figurine is Opal Satin glass, and it is identified, dated and signed on the underside: "Fenton 2017 Clouded Leopard J. K. Spindler OOAK". These auctions will end on Wednesday, March 28, 2018.
---