Fenton Art Glass and Fenton Gift Shop Offerings. . .
Our March online specials continue with the remaining inventory of jewelry and accessories from Fenton Art Glass Company. Please note that these items are available while supplies last. In many cases there may be just one of an item. Visit our web site: www.fentonartglass.com or click on the categories shown below to browse the current offerings. SPECIAL NOTE: We are having issues with our online shopping cart. While we work to resolve them, please email any requests and orders to chill@fentonartglass.com and include a daytime telephone number for a confirmation email. Include the item# and name, the advertised price (shown in red) and the quantity you wish to order. Orders above $50 will receive free shipping via USPS. A $3.50 shipping charge will be added to all orders $50 and under.
---
NEW Limited Editions from Fenton Gift Shop. . .
We are pleased to offer new Limited Edition selections for pre-orders. Each piece features a hand painted design and will be signed, numbered and dated by one of our talented designers. These Limited Edition pieces were handcrafted by Mosser Glass, using the Fenton moulds, exclusively for the Fenton Gift Shop.

Our 10.75" Opal Satin Vase provides a wonderful canvas for Michelle Kibbe's hand painted design of a Cedar Waxwing perched on a branch of apple blossoms. Her scene encircles the vase with a soft blue and light green background. Michelle added blue bands around the bottom. Did you know. . . Pale brown on the head and a chest fading to soft gray on the wings, the Cedar Waxwing has a tail with a bright yellow tip. The face has a narrow black mask neatly outlined in white. The red waxy tips to the wing feathers are not always easy to see. Cedar Waxwings may be found in woodlands, at farms, orchards, and suburban gardens where there are fruiting trees or shrubs. Each Cedar Waxwing Vase is $165.

"Butterfly Bliss" best describes the lovely hand painted butterflies design by Michelle Kibbe on our 6.5" Opal Satin Angel figurine. Note the delicate butterfly wings, which Michelle emphasized with a golden drop shadow effect.

Michelle finished the entire figurine in pale hues of lavender and yellow. She added polka dot swirl accents and glitter highlight, for extra sparkle, to the wings. The face on this Angel has a serene expression. Each Butterfly Bliss Angel Figurine is $90.
Robin Spindler continues her "tiger" theme on our 5" Opal Satin Mallard figurine. Robin created this design for our Fox and Owl in 2017. These figurines were very popular with collectors.

This limited edition piece will make a great addition to any figurine or Fenton collection!

The hand painted design covers the figurine and the inset photo shows the distinctive tiger stripes on top of the head and on the back. Each Tiger Mallard Figurine is $80.
Pre-orders for the Cedar Waxwing Vase, Butterfly Bliss Angel and the Tiger Mallard Figurines will be accepted until midnight (ET) on Monday, March 19, 2018. To place your pre-order, please call Fenton Gift Shop: 1-800-319-7793, ext. 342 or email: purchasing@fentongiftshop.com and include the names of the items you want to purchase in the subject line as well as your full name and daytime phone number. You may also request we add your email address to our mailing list for future Limited Edition specials!
Michelle Kibbe created a beautiful "Forget Me Not" floral design on our 4.5" Penguin figurine. Michelle's hand painted floral design is shown in the photo above. Note those wonderful eyes with long black eyelashes! This figurine has a sky blue background. Michelle added a flower sprig on each side. Did you know. . . Each variety in the "Forget Me Not" family produces slightly different flowers, but the main type used for bouquets and flower beds has small blue flowers with five petals. The message of the Forget Me Not flower is to "take time to remember those you love." The wild native Alpine Forget Me Not is the state flower of Alaska. Each Forget Me Not Penguin Figurine is $75.
Our popular playful Puppy figurine features a colorful Spring design by Michelle Kibbe of a stylized bluebird flying near pansies. This puppy sports brilliant blue eyes and is sure to make you smile! Note the hand painted details on the bird and flowers. Michelle added a petite bunch of blooms on the back of this figurine. Each Pansies 'n Bluebird Puppy Figurine is $75.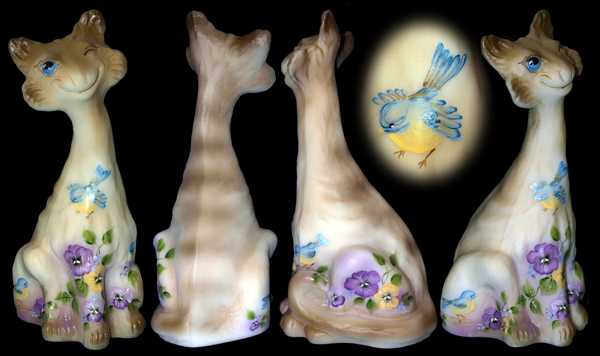 Michelle continues her "Pansies and Bluebird" design theme on our 11" Opal Satin Alley Cat. With a larger glass canvas, Michelle added two stylized bluebirds. The pansies encircle the figurine. Broad light brown stripes accent the back of this Alley Cat. As always, the Alley Cat's mischievous expression is wonderful. Each Pansies 'n Bluebirds Alley Cat is $215.

Pre-orders for the Forget Me Not Penguin, Pansies 'n Bluebird Puppy and Pansies 'n Bluebirds Alley Cat Figurines will be accepted until midnight (ET) on Wednesday, March 21, 2018. To pre-order, please call Fenton Gift Shop: 1-800-319-7793, ext. 342 or send us an email: purchasing@fentongiftshop.com and include the names of the items you want to purchase in the subject line. Please include your full name and phone number.
---
Fenton Gift Shop has a limited quantity of glass pendants handcrafted by Dave Fetty for $75 each with free shipping via the postal service. These glass pendants are available while supplies last and were handcrafted by Dave at Mosser Glass. His personal stamp and handwritten signature are on the back of each pendant (clean with care). Sizes and colors vary, but most are about 1-1/2" in diameter. A 24" chain is provided with each pendant except number 1, which has an 18" silver plated chain. To order your Dave Fetty Pendant, please contact Fenton Gift Shop and mention the number (shown in the photo) of the pendant you wish to purchase. Please call: 800-319-7793, ext. 342 or 304-375-7772 or send us an email: purchasing@fentongiftshop.com.
---
Fenton Gift Shops . . . Create a Unique Easter Basket!
Hours: 10 a.m.-4 p.m. ET Tuesday-Saturday * 800-319-7793 or 304-375-7772

Visit Fenton Gift Shop and browse our beautiful selection of handcrafted Fenton Art Glass baskets available in a rainbow of colors and glass treatments.

Choose from limited edition and vintage Fenton Art Glass, handcrafted Fenton jewelry and unique gift ideas for any occasion.

Fenton Gift Shop is located at 2242 Williams Highway, Suite 108 in Williamstown, WV (State Route 14 in Boaz).
---
Glass Identification Requests. . .
We no longer have staff to research inquiries about glass: value, history, identification, etc. Reference books on Fenton Art Glass do not include current price guides. We suggest you contact your local antiques dealer, the local library, or one of the collector clubs: http://www.fentonartglass.com/collectors. The Williamstown Antique Mall (local) may also provide assistance: 304-375-6315 or email: antiquemall@suddenlinkmail.com. A piece like yours may be listed on eBay, which can provide current pricing information. Otherwise, please send email inquiries about glass "production" to: askfenton@fentonartglass.com
---
Fenton Art Glass eBay Auctions. . .
Here's your opportunity to own a beautiful "one-of-a-kind" art glass creation or items from Fenton's past through our weekly eBay auctions. NOTE: We will be starting our eBay auctions a few hours later so our followers on the West Coast may have more time to place a final bid. These auctions will end at 2 p.m. (ET) on Wednesday, March 21. Items featured this week. . .
Here's a great opportunity to own a piece of Fenton history! In the mid-1960s, the Fenton Art Glass Co. office area and the Fenton Gift Shop underwent remodeling. Attractive brick facing was constructed on exterior areas, and the iconic "Clarence" figure was
mounted above the gift shop entrance.
Colored glass panels, made by skilled glassworkers at Fenton, were placed around the entrance door to the Fenton Gift Shop and around the entrance door to the reception area of the Fenton Art Glass Company. The Fenton factory is currently undergoing demolition, but the colored glass panels have been saved. This colored glass panel measures 11.75" tall by 8.75" wide. We call this color "amberina," because the pressed glass panel was made with Ruby glass and only the thicker central area has the red hues characteristic of ruby. There are a few minor chips near the edges on the back side of this panel. This colored glass panel is signed by Fenton Art Glass Company president George Fenton and by Fenton Gift Shop president Randy Fenton, and a certificate of authenticity is also included. Included in the photo above is Jim Wingrove. Jim was the "gatherer" as part of the glass shop (Sonny Burdette was the presser) that made these glass panels. Jim is shown pointing to one of the panels in the door frame of the Fenton Gift Shop.

If you like the "country" style, you will fall head over heels in love with this wonderful one-of-a-kind, hand painted vase (7.25" tall) by Fenton artist Michelle Kibbe. It's really something to crow about! This Opal Satin square vase, made by our friends at Mosser Glass especially for the Fenton Gift Shop, features (count them ... 1, 2, 3, 4!) different hand painted Roosters ... each in all its colorful finery with not a feather out of place! Each hand painted Rooster is perfectly detailed. The airbrushed vertical ribs, the hand painted floral accents, and the "checkerboard" motif add greatly to the appeal of this vase.

Perfect for your Easter display or to display all year long! Here's a delightful, one-of-a-kind whimsical Mouse figurine, hand painted by Fenton artist Kim Barley. This Opal Satin Mouse (2.75" tall) was handcrafted at Mosser Glass, using the Fenton mould, exclusively for the Fenton Gift shop. The figurine was delicately airbrushed in pastel hues. Kim hand painted those expressive eyes and the toothy grin that will make everyone smile. Note the bunny portrait on the Mouse's belly and the carrot on the Mouse's "behind!" These auctions will end on Wednesday, March 21, 2018.
---