Fenton Art Glass Welcomes March. . .
We welcome the month of March with these sayings:

February makes a bridge, March breaks it.

When March is like April, April will be like March.

Winds in March and rain in April promise great blessings in May.

March, if it comes in like a lamb, will go out like a lion. If it comes in like a lion, it will go out like a lamb.

If the March wind blows across the bed, you will sleep well all the year afterward.

If at crescent moon in March the weather is very foggy, it is believed a sign of heavy thundershowers and hailstorms in the near future.
Items shown below are the remaining inventory from the Fenton Art Glass Company and are available while supplies last. In many cases there may be just one or two of an item. Orders must be ordered via our web site: www.fentonartglass.com in order to receive the current online discount. SPECIAL NOTE: Orders above $50 will receive free shipping via USPS. A $3.50 shipping charge will be added to all orders $50 and under.

April Garden 3D Focal Bead
$95, NOW $57 + FREE Shipping
Buy Now!


Hallelujah
$45, NOW $27.00 + $3.50 Shipping
Buy Now!
---
NEW Limited Editions from Fenton Gift Shop. . .
We are pleased to offer new Limited Edition selections for pre-orders. Each piece features a hand painted design and will be signed, numbered and dated by one of our talented designers. These Limited Edition pieces were handcrafted by Mosser Glass (using the Fenton moulds) for the Fenton Gift Shop, with the exception of the Iceberg Paperweight.
Our impressive 11" Opal Satin Vase provides the perfect canvas for this magnificent hand painted underwater design featuring sea turtles by Michelle Kibbe. The body of the vase has been transformed into the lovely blue hues of the ocean.

Three sea turtles glide through the water followed by smaller fish. The base is hand painted to look like the bottom of the ocean floor, complete with underwater plants and organisms.

Michelle created a unique "above ground" landscape scene for the top of this vase. She added a darker blue ring to separate the landscape from the water scene (see close-up photo below).
Did you know. . . Out of the seven known species of sea turtles, six are critically endangered. Unlike land turtles, sea turtles can't hide their heads and legs inside the shell. That makes them more vulnerable when they come in contact with predators. They have lived on the Earth more than 220 million years. Each Sea Turtles Vase is $190 and limited to eight vases.
Below: Now is a great time to add to your Halloween decorations! Kim Barley's talent for the whimsical shines with this fabulous "Hall-Boo-Ween" design on our 5.75" Opal Satin Ghost Figurine. The entire figurine has been airbrushed in subtle blue, gray and yellow-orange tones. The front design features a haunted mansion complete with a ghost and a dark silhouette lurking behind one of the yellow-orange windows. Kim hand lettered "HALL BOO WEEN" and added stars and flying bat as accents. Tombstones with "RIP" and "1871" and a black cat with a grinning pumpkin and a spider web are on the back side of this figurine. As always, Kim created a wonderful smiling expression. Each Hall-Boo-Ween Ghost Figurine is $120.
Meet "Bud and Betty Beach Buddy"! Kim Barley's delightful design on our Opal Satin Snowman (4") and Snowlady (3.75") figurines will have you yearning for a trip to the beach! Kim's hand painted details on these figurines are marvelous.

Kim's design on "Bud Beach Buddy" includes a scarf with blue and green stripes, a starfish, a sand castle, a pineapple drink, and a hat with a Starfish design. He is wearing a white flowered shirt, as well as colorful blue shades. Check out those headphones!


"Betty Beach Buddy" sports pink sunglasses, a starfish on her hat, a bottle of suntan lotion, a red crab with googly eyes, and a yummy drink. She is adorned in a striped cape and yellow dress with colorful flowers. Each Beach Buddy figurine has a smiling expression and a sign on the back with the word "BEACH" hand lettered on it. The Bud & Betty Beach Buddy Figurines are $140/pair and limited to 17 pairs.
Pre-orders for the Sea Turtle Vase, Hall-Boo-Ween Ghost and Bud & Betty Beach Buddy Figurines will be accepted until midnight (ET) on Monday, March 5, 2018. To place your pre-order, please call Fenton Gift Shop: 1-800-319-7793, ext. 342 or email: purchasing@fentongiftshop.com and include the names of the items you want to purchase in the subject line as well as your full name and daytime phone number. You may also request we add your email address to our mailing list for future Limited Edition specials!
Our 11" Cobalt Alley Cat provides a rich canvas for Michelle Kibbe's lovely hand painted design featuring pink and white coneflowers and a Goldfinch. Bright pink coneflowers encircle the figurine (see photos below). Imagine this figurine on display in front of a window with coneflowers growing outside!

Did you know. . . Colorful perennials with daisy-like with raised centers, the seeds of a coneflower are located in the dried flower heads which attract birds
as well as butterflies. Coneflowers tend to bloom midsummer, are relatively drought-tolerant, and can take the heat! Coneflowers also make great cut flowers!

Each Goldfinch Among the Coneflowers Alley Cat is $230.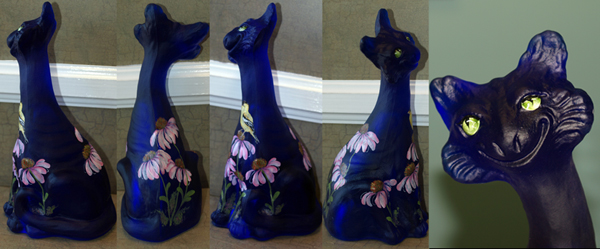 Below: "Canaan Valley" has been one of the most popular Fenton designs. The magnificent snow-covered Canaan Valley of West Virginia is once again celebrated by Robin Spindler. Her "Canaan Valley Visitor" design features birch trees in snowy landscape and a bright red Cardinal, the West Virginia state bird. You'll find the bird sitting on a branch, perhaps welcoming the watchful Buck deer standing nearby. This 5.5" wide x 7" tall Cobalt Iceberg Paperweight was made by Mosser Glass. Each Canaan Valley Visitor Cobalt Iceberg Paperweight is $120.
Fenton Gift Shop Calendar Bear Collection!
Our adorable 3.5" Opal Satin Sitting Bear figurine makes
the perfect gift to celebrate a birthday, birth of a child, an anniversary or other special occasion. . . or treat yourself! Kim Barley hand painted each Opal Satin Bear in natural brown tones with colorful flowers designating each month. Note the wonderful brown eyes and the smiling expression on the face! The "July" Bear features a Sunflower and the "August" Bear features a Magnolia. Kim also hand lettered the name of each month.

Each Calendar Bear Figurine is $55 and will be signed, dated and numbered (without an "end" number). Please specify the month and quantity for each figurine when you place your pre-order. Watch this newsletter for new additions to our Calendar Bear Collection. The following months are also available for orders: January, February, March,
April, May and June.

Pre-orders for the Goldfinch Among the Coneflowers Alley Cat, Canaan Valley Visitor Paperweight and the July and August Calendar Bear Figurines will be accepted until midnight (ET) on Wednesday, March 7, 2018.

To place your pre-order, please call Fenton Gift Shop: 1-800-319-7793, ext. 342 or send an email: purchasing@fentongiftshop.com and include the names of the items you want to purchase in the subject line as well as your full name and daytime phone number.
---
Fenton Gift Shop has received a limited quantity of glass pendants handcrafted by Dave Fetty for $75 each with free shipping via the postal service. These glass pendants are available while supplies last and were handcrafted by Dave at Mosser Glass. His personal stamp and handwritten signature are on the back of each pendant (clean with care). Sizes and colors vary, but most are about 1-1/2" in diameter. A 24" chain is provided with each pendant except number 1, which has an 18" silver plated chain. To order your Dave Fetty Pendant, please contact Fenton Gift Shop and mention the number (shown in the photo) of the pendant you wish to purchase. Please call: 800-319-7793, ext. 342 or 304-375-7772 or send us an email: purchasing@fentongiftshop.com.
---
Fenton Handcrafted Baskets. . .
The Perfect Keepsake Gift!

Fenton Baskets are unique and no one made them like the talented glassworkers at Fenton! The skilled basket handler has about 25 seconds within which he must accomplish the following: attach a glowing ribbon of molten glass to one side of the basket; deftly twist the rapidly cooling glass; stick it to the other side,; impress the base of each side of the handle with his handler's mark, and finally, fashion the handle into a graceful arch.

The handler's mark is distinctive and identifies the artisan who created the basket. Collectors enjoy adding their favorite basket handler's creations to their collection. Visit Fenton Gift Shop and browse our beautiful selection of handcrafted Fenton Art Glass baskets available in a rainbow of colors, including Blue, Chameleon Green, Emerald Green, Rosemilk, Ruby, and Violet. We also have a nice selection of limited edition and vintage Fenton Art Glass, jewelry and unique gifts.

Fenton Gift Shop
2242 Williams Hwy., Suite 108
Williamstown (St. Rt. 14 in Boaz)
Hours: 10 a.m.-4 p.m. ET Tuesday-Saturday
800-319-7793 or 304-375-7772.
---
Glass Identification Requests. . .
We no longer have staff to research inquiries about glass: value, history, identification, etc. Reference books on Fenton Art Glass do not include current price guides. We suggest you contact your local antiques dealer, the local library, or one of the collector clubs: http://www.fentonartglass.com/collectors. The Williamstown Antique Mall (local) may also provide assistance: 304-375-6315 or email: antiquemall@suddenlinkmail.com. A piece like yours may be listed on eBay, which can provide current pricing information. Otherwise, please send email inquiries about glass "production" to: askfenton@fentonartglass.com
---
Fenton Art Glass eBay Auctions. . .
Here's your opportunity to own a beautiful "one-of-a-kind" art glass creation or items from Fenton's past through our weekly eBay auctions. These auctions end at noon (ET) on Wednesday, March 7. Items featured this week. . .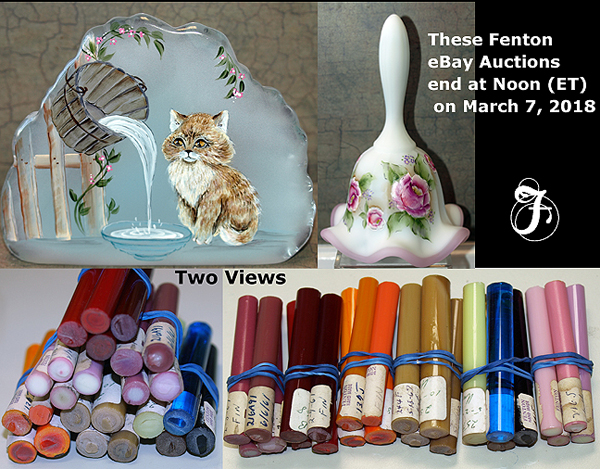 What's that old saying, something about "spilled milk?" Fenton artist Michelle Kibbe makes us giggle with her splendid depiction of a furry kitty that is about to be the fortunate beneficiary of some milk from a wooden pail that got upset! The colorful hand painting really stands out on this one-of-a-kind crystal iceberg paperweight (5-1/8" tall and 6" wide). Hand painted pink flowers, green foliage and a picket fence frame the scene as this kitty can't quite believe its good fortune. Michelle's hand painting, as always, is meticulous in its attention to detail.

This one-of-a-kind hand painted bell (7" tall) by Fenton artist Kim Barley is simply stunning! Note the delicate pink edge. We can almost smell the roses! Satin finished Opal Satin glass is the perfect background for Kim's lush hand painted roses, delicate green foliage and floral accents. Skilled Fenton glassworkers were responsible for the pink glass crest and the graceful crimp style when this bell was manufactured several years ago.

Here's a unique opportunity to acquire some Fenton history! These glass rods are color samples of Fenton glass from the 1960s. The rods were made under the direction of glass chemist Charles "Charlie" Goe, who was employed at Fenton from September 1, 1960 until his death at age 40 in October 1969. Charlie was a research chemist. In the 1960s, company president Frank M. Fenton was interested in having Fenton recreate historic glass colors such as Burmese from the 1880s, Bastow's opaque pink from about 1900, and Jacob Rosenthal's Chocolate from the earliest years of the twentieth century. Goe worked on developing these glass colors during his time at Fenton, and his greatest achievements were creating formulas for Fenton's Burmese glass and Rosalene glass. This assortment of 24 glass rod color samples includes the following: various hues of Burmese (4), various hues of Chocolate (4), various hues of Rosalene (4), various hues of opaque red (4), various hues of opaque orange (4), amber (1), blue (1), opaque yellow (1), and ruby (1). These glass rods were made by gathering a small quantity of glass from a "test pot" on a punty and rolling it on a steel plate called a marver. Because of the process used to make them, the rods will vary somewhat in length and in diameter; typically, each rod is slightly more than 2-1/2" long and about 1/4" to 3/8" in diameter. Each rod has a paper label that records a coded reference for the glass batch, the specific date (month, day and year), and whether the glass is unfinished ("unfin") or finished ("fin"). Unfinished means that the molten glass was taken from the pot, and the rod was created immediately. Finished means that the glass was taken from the pot, allowed to chill briefly, and subsequently reheated before creating the rod. These auctions will end at noon (ET) on Wednesday, March 7, 2018.
---