Fenton Art Glass Presents February Jewelry Special . . .
We celebrate the month of love with a 40% discount on our remaining inventory of handcrafted Fenton Art Glass pendants. Each pendant was handcrafted at our factory in Williamstown, WV and features a hand-applied decoration designed by Truda ''TJ'' Mendenhall. These versatile Clasp and Go pieces are approximately 2-3/8'' long, and will make a statement however you choose to wear them! Each pendant is initialed by the artist who completed it and includes an embossed (or hand lettered) term of endearment. The pendants come with either gold or silver clasps for an easy "clasp 'n go" jewelry accessory. Shown below are l-r: Imagine, Joy, Grace, and Hope. Click on each image to order.


These items are available while supplies last. SPECIAL NOTE: All orders placed will ship on February 18th. Orders above $50 will receive free shipping via USPS. We will be sure to calculate any shipping charges correctly. A $3.50 shipping charge will be added to all orders $50 and under. Items shown below are the remaining inventory from the Fenton Art Glass Company and are available while supplies last. In many cases there may be just one or two of an item. Orders must be ordered via our web site: www.fentonartglass.com in order to receive the current online discount.
---
NEW Limited Editions from Fenton Gift Shop. . .
We are pleased to offer new Limited Edition selections for pre-orders. Each piece features a hand painted design and will be signed, numbered and dated by one of our talented designers. These Limited Edition pieces were handcrafted by Mosser Glass, using the Fenton moulds, exclusively for the Fenton Gift Shop.

Michelle Kibbe celebrates the beauty of nature with her hand painted design of a brilliant ruby throated hummingbird on a branch of large and lush pink and white magnolia flowers. Her hand painted details are beautiful to behold. This 10" Opal Satin vase has a new look with a pink to green blush of color. Michelle added additional branches of the flowers to encircle the vase, along with thin pin striping. Did you know. . . Magnolias can be grown from seed, but may take more than 10 years to begin flowering. Fossils have revealed that magnolia plants existed at least 20 million years ago. Each Magnolia Hummingbird Vase is $155.
Kim Barley shows her patriotic style with her hand painted design "Pledge of Allegiance" on this 6.75" Opal Satin Bridesmaid Doll Figurine. Bold red and white stripes accent the skirt and top ruffles on the dress. The sash and bow are bright red and Kim added white stars to accent the skirt. Kim hand lettered the Pledge of Allegiance on the skirt. A beautiful figurine to display all year long. Each Pledge of Allegiance Doll Figurine is $120.

This adorable 4" Opal Satin Puppy figurine has been transformed into a "true blue" puppy with a lovely hummingbird design by Michelle Kibbe. Michelle created the blue tone for the entire figurine and added the beautiful lush purple-blue flower blooms.

Note the flower sprig on the puppy's head! Front and back views as well as an inset close-up of the hummingbird and bluish-purple flowers are shown in the photo at left. Each Hummingbird Puppy Figurine is $75.
Pre-orders for the Ruby Throated Hummingbird Vase, Pledge of Allegiance Doll and the Hummingbird Puppy Figurines will be accepted until midnight (ET) on Monday, February 19, 2018. To place your pre-order, please call Fenton Gift Shop: 1-800-319-7793, ext. 342 or email: purchasing@fentongiftshop.com and include the names of the items you want to purchase in the subject line as well as your full name and daytime phone number. You may also request that we add your email address to our mailing list for future Limited Edition specials!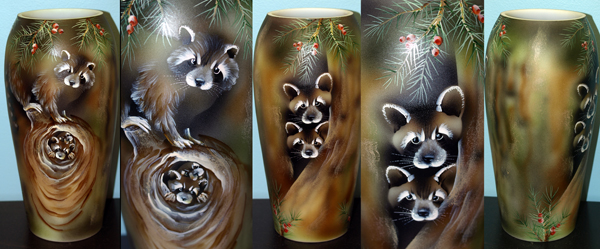 Our 11.5" Opal Satin Vase is the perfect canvas for Robin Spindler's "Raccoon Family" design! One view depicts a mother raccoon with two of her "kits" (baby raccoons) while the other view has two faces peeking out from a hole in a tree. Robin added pine and berry accents to complete the look of this piece. Did you know. . . Highly intelligent and curious creatures, Raccoons can also be a nuisance by destroying gardens, tipping over garbage cans, and doing other damage in search of food. A raccoon will rinse its food in water prior to eating it. If there is no water, a raccoon will rub its food to remove debris. A group of raccoons is called a nursery. Each Raccoon Family Vase is $230.
Our 6" Opal Satin Angel Boy figurine by Kim Barley features a nice seashore scene with a rustic lighthouse and shorebird design. Kim added golden accent colors to the wings and hair to complete this peice. This figurine will make a nice companion for our recent Fairy Light Lighthouses! Each Lighthouse Angel Boy Figurine is $95.
Kim Barley's hand painted "Think Spring" design is sure to make you smile! This 2.75" mouse figurine is ready for Spring with the hand lettered words "think" and "Spring" inside the ears of the mouse. Kim created color flowers, a butterfly and a buzzing bumblebee as accents. This figurine is adorned in pink shoes with a flower pattern, blue shorts and a cute white t-shirt sporting a ladybug design on the front. Each Think Spring Mouse Figurine is $75.
Pre-orders for the Raccoon Family Vase, Lighthouse Angel Boy and the Think Spring Mouse Figurines will be accepted until midnight (ET) on Wednesday, February 21, 2018. To pre-order, please call Fenton Gift Shop: 1-800-319-7793, ext. 342 or email: purchasing@fentongiftshop.com and include the names of the items you want to purchase in the subject line. Please include your full name and daytime phone number.
---
Unique Gifts and More
from Fenton Gift Shop. . .
Need a great gift idea for someone special? Looking for something in particular from the Fenton line?
Visit Fenton Gift Shop for unique gift selections, including our remaining inventory of handcrafted Fenton jewelry.

A variety of Fenton Art Glass, including vintage Fenton as well as NEW Limited Editions, are available. Shown at right are a few of our handcrafted glass pieces in beautiful shades of blue. . . including Limited Edition Doll and Mouse figurines and vintage Vase, Butterfly on stand and Basket items.

Fenton Gift Shop is open on Tuesday through Saturday from 10 a.m.-
4 p.m. (ET). Call 800-317-7793 or 304-375-7772 for details on the items shown in the photo.

Glass Identification Requests. . .
We no longer have staff to research inquiries about glass: value, history, identification, etc. Reference books on Fenton Art Glass do not include current price guides. We suggest you contact your local antiques dealer, the local library, or one of the collector clubs: http://www.fentonartglass.com/collectors. The Williamstown Antique Mall (local) may also provide assistance: 304-375-6315 or email: antiquemall@suddenlinkmail.com. A piece like yours may be listed on eBay, which can provide current pricing information. Otherwise, please send email inquiries about glass "production" to: askfenton@fentonartglass.com
---
Fenton Art Glass eBay Auctions. . .

Here's your opportunity to own a beautiful "one-of-a-kind" art glass creation or an item from Fenton's past through our weekly eBay auctions.

These auctions will end at noon (ET) on Wednesday, February 21.
Items featured this week. . .

Fenton artist Michelle Kibbe was surely thinking of Spring when she marshaled her talents and skills to design and hand paint this one-of-a-kind 10.75" tall vase that features vivid daffodils and wonderful bunnies! Her scene completely encircles the vase, and the colors and details are simply outstanding! The soft blush of background on the Opal Satin glass is the perfect hue to contrast with the bright yellow daffodils and the delicate purple flowers. The three bunnies are crouched within the foliage, and we can almost see their noses twitch!
Here's a real one-of-a-kind stunner from award-winning Fenton designer Robin Spindler. This hand painted Ruby vase
(6.5" tall) depicts a pair of Cardinals in a holly tree. Robin combined an airbrushed background with a special masking
technique and meticulous hand painting to create depth, detail and contrast in the foliage, leaves and berries. The
inside of the vase has a unique effect as a result of the handcrafting process. The Cardinal birds are remarkably
lifelike, as Robin's talents and hand painting skills create a wonderful look.

Here's a great opportunity to acquire some Fenton history! These four 8" x 10" black-and-white photos show various perspectives of the Fenton Gift Shop and the Fenton Art Glass Company factory in Williamstown, West Virginia. Note those cars in the parking areas! These photos were taken in May 1967 by Bob Ley of Leyphoto Studios in nearby Marietta, Ohio. The exterior of the Fenton Gift Shop had been reconstructed recently to include the "Fenton Art Glass" lettering and the now-iconic depiction of the skilled glassworker that came to be known as "Clarence." These auctions will end at noon (ET) on Wednesday, February 21.
---