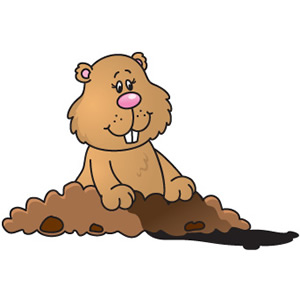 Fenton Art Glass Celebrates "Groundhog Day". . .
This week's newsletter celebrates Groundhog Day with online specials on the remaining inventory of Fenton's handcrafted jewelry. These items are available while supplies last for this week's Groundhog Day Online Jewelry Special!

SPECIAL NOTE: All orders placed by 9 p.m. (ET) on February 2nd will ship on February 5th. All other orders will ship on February 18th. Orders above $50 will receive free shipping via USPS. We will be sure to calculate any shipping charges correctly. A $3.50 shipping charge will be added to all orders $50 and under.

60% Discount on While Supplies Last Beads. . .
You'll receive a 60% discount on the remaining inventory of Fenton Art Glass handcrafted While Supplies Last Beads in a variety of styles and glass treatments.

Choose from the beads shown here or shop Fenton Beads While Supplies Last.
Show Your Team Pride With Handcrafted Collegiate Fenton Beads. . .
We have a limited quantity of handcrafted Fenton beads available, while supplies last. Each bead has a sterling silver core embossed Fenton USA. NOW AVAILABLE at a 50% DISCOUNT. Shop Collegiate.

Check out these other Online Specials from Fenton Art Glass . . .
---
NEW Limited Editions from Fenton Gift Shop. . .
We are pleased to offer new Limited Edition selections for pre-orders. Each piece features a hand painted design and will be signed, numbered and dated by one of our talented designers. These Limited Edition pieces, with the exception of the Fairy Light Lighthouse and the Crystal Iceberg Paperweight, were handcrafted by Mosser Glass, using the Fenton moulds, exclusively for the Fenton Gift Shop.

This 9.75" Opal Satin Vase has an elegant shape that is the perfect canvas for Michelle Kibbe's "Pond Pals" design. The photo at left shows both hand painted views of the vase with the matching Mallard figurine.

On one side of the vase are two cute and curious ducklings. One duckling observes a pink butterfly hovering nearby and the other one checks out a frog peeking out of the water. The other side of this vase has a large green frog on a lily pad and wonderful shoreline foliage. Michelle added decorative bands and polka dots as accents to complete the look of this piece. Each Pond Pals Vase is $145.

Did you know. . . There are 70 known species of water lilies found all over the world. Water lilies grow in shallow and still freshwater. Open notches on the side of the lily pad are used to drain excess water that collects on the top. Lily Pads provide safe havens for frogs and snails. A variety of insects use the lily pads as hosts for their eggs.

Michelle created a matching "Pond Pals" design for our 5" long Opal Satin Mallard Figurine. Lily Pads and lush pink flowers float in the calm blue water. Michelle added a large green frog resting on one of the lily pads that resembles the one on the vase. The head of this figurine is hand painted the distinctive green with a yellow bill and white neck ring of the traditional mallard. Each Pond Pals Mallard Figurine is $75.
Meet the Clovers ── Gracie and Grover! This smiling Opal Satin 3.75" Snowlady and 4" Snowman pair make perfect accent figurines for a St. Patrick's Day display! Kim Barley's whimsical design includes bright green clover buttons with coordinating attire in green and white. Kim added a larger four-leaf clover and golden horseshoe on the bottom right side of each figurine.

Note those rosy cheeks and smiling expressions! Each hat has golden accent bands as well. Polka dotted gloves and stripes on the bow, scarf and bottom complete each figurine. The photo below shows other views of this delightful figurine pair. Each Gracie and Grover Clover Snowpeople Figurine Pair is $140.

Pre-orders for the Pond Pals Vase and Mallard Figurine, and Gracie and Grover Clover Snowpeople Figurines will be accepted until midnight (ET) on Monday, February 5, 2018. To place your pre-order, please call Fenton Gift Shop: 1-800-319-7793, ext. 342 or email: purchasing@fentongiftshop.com and include the names of the items you want to purchase in the subject line as well as your full name and daytime phone number. You may also request that we add your email address to our mailing list for future Limited Edition specials!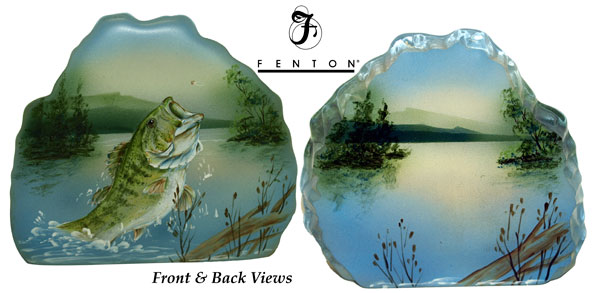 Perfect gift for the fishing enthusiast! Michelle Kibbe created a marvelous outdoor scene featuring a Large Mouth Bass jumping out of the water on our 4.5" tall Fenton Art Glass Crystal Iceberg Paperweight. She added lush green trees and distant hills for the background which create a three-dimensional look surrounding the water scene. On the back of the paperweight is another view of this serene landscape. Each Bass Iceberg Paperweight is $80 and limited to 12 paperweights.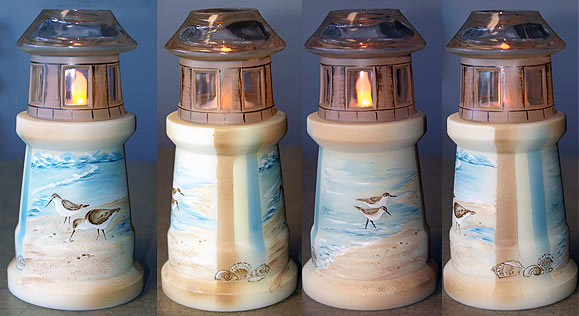 Cast a soft, warm light in any room with our 8" Fairy Light Lighthouse. This Lighthouse was handcrafted in Opal Satin glass (base) and crystal (top) at Fenton Collectibles using the Fenton Art Glass moulds that were not used for production before glassmaking halted at Fenton in 2011.
Designer Michelle Kibbe created this marvelous hand painted beachfront scene featuring sandpipers, shells and frothy blue and white waves. You can almost feel your toes starting to sink into the warm sand!

The top part of the Fairy Light is painted to resemble the windows of a lighthouse. A battery-operated tea light is included with each Lighthouse. Each Sandpipers Fairy Light Lighthouse is $125.

Fenton figurine collectors will want to add this adorable Duckling to their collection! Kim Barley designed and hand painted this 3-3/8" figurine in natural tones with white-tipped wings, a golden bill and webbed feet. Note the fine details on the eyes. Did you know. . . All ducks have highly waterproof feathers that have an interlocking nature and waxy coating. A mother duck spreads her own oil on her ducklings so that they can safely swim safely right away. Each Natural Duckling Figurine is $75.
Pre-orders for the Bass Iceberg Paperweight, Sandpipers Fairy Light Lighthouse and Natural Duckling Figurine will be accepted until midnight (ET) on Wednesday, February 7, 2018. To pre-order, please call Fenton Gift Shop: 1-800-319-7793, ext. 342 or email: purchasing@fentongiftshop.com and include the names of the items you want to purchase in the subject line. Please include your full name and daytime phone number.
---
Unique Gifts at Fenton Gift Shop. . .
Need a great gift idea for someone special this Valentine's Day? Visit Fenton Gift Shop for unique gift selections, including handcrafted art glass earrings, necklaces and beads.

A variety of handcrafted glass, including vintage Fenton as well as NEW Limited Editions, are available. Shown at right are some of our handcrafted glass pieces in shades of pink.

Glass Identification Requests. . .

PLEASE NOTE: We no longer have staff to research inquiries about glass: value, history, identification, etc. There are reference books on Fenton Art Glass, however, they do not include current price guides.

We suggest you contact your local antiques dealer, the local library, or one of the collector clubs: http://www.fentonartglass.com/collectors. The Williamstown Antique Mall (local) may also provide assistance: 304-375-6315 or send them an email: antiquemall@suddenlinkmail.com. A piece like yours may be listed on eBay, which can provide current pricing information. Otherwise, please send any email inquiries about glass "production" to: askfenton@fentonartglass.com

Fenton Gift Shop is open 10 a.m. -4 p.m. on Tuesday-Saturday. Located at 2242 Williams Hwy., Suite 108, Williamstown, WV 26187 (St. Rte. 14 in Boaz, five minutes from the Fenton factory). Phone: 304-375-7772 or 800-319-7793.
---
Fenton Art Glass eBay Auctions. . .
Here's an opportunity to own a beautiful "one-of-a-kind" art glass creation or unique art glass item through our weekly eBay auctions. These auctions will end at noon (ET) on Wednesday, February 7. Items featured this week. . .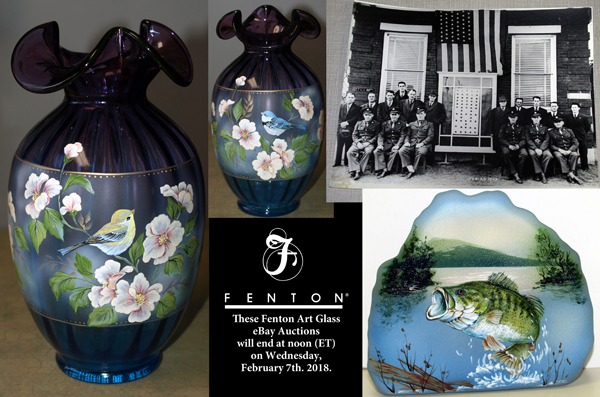 Fenton Mulberry is a marvelous glass color, and the talents and hand painting skills of Fenton artist Michelle Kibbe combine to make this stately (10" tall) one-of-a-kind vase a "must have!" The color is achieved by covering a bud of gold ruby glass with dazzling Azure Blue. Great care must be exercised by the glassblower to create the desirable fade effect. Michelle's hand painted motif feature a vivid Goldfinch and a stylized young Blue Jay. Each bird is perched amidst lush flowers and foliage. The hand painted colors and details are meticulous and a delight to see.

Here's a unique opportunity to acquire a piece of Fenton history! This 8" x 10" borderless black-and-white print was made from an original negative in the Fenton Art Glass Company archives. The photo was taken on February 28, 1943, when six Fenton employees then serving in the armed forces during World War II happened to be on furlough and were at home in Williamstown. The servicemen are in uniform in the front row, and committee members of the American Flint Glass Workers Local Union No. 22 are in the back row along with Fenton Art Glass Co. management officials. Complete captions will be supplied to the winning bidder for this photo.

Fenton artist Michelle Kibbe designed and hand painted this splendid one-of-a-kind paperweight (4.5" tall). Her
interesting hand painted design features a tranquil lake on one side and a real "lunker" of a largemouth bass on the
other side! All the hand painted details are meticulously executed on this crystal glass iceberg paperweight. The hand
painted bass is so remarkably realistic that we're waiting breathlessly to hear the splash! These auctions will end at noon (ET) on Wednesday, February 7.
---