Fenton Art Glass Presents. . . "Flash Sale" Online Jewelry Special!
Going, going, gone. . . This week's newsletter includes more remaining inventory of Fenton's handcrafted jewelry. These items are available while supplies last for this week's January Flash Sale Online Jewelry Special!
Earrings. . .
January "Flash Sale". . .
Each pair priced under $25! You'll receive a 50% discount
(+ $3 shipping on each order) on the remaining inventory of our handcrafted earrings. Just one or two of each is available!
This offer expires at 11:59 p.m. on January 31st.

Click here to view this offering.
Show Your Fan Spirit With Handcrafted & Color Coordinated Fenton Beads. . .
We have four color coordinated sets of handcrafted Fenton beads available, while supplies last. Each set includes beads with hand applied decorations and various glass treatments. Shown below, left-right: Scarlet 'n Gray theme beads in gray with scarlet hearts and buckeye decoration; Go Herd theme beads in green and white; Blue 'n Gold theme beads; and I Love Paws (Cats) in green and white. Click on each image to order.
Valentine's Day Gift Idea. . . Just one available!

Two Hearts Are One Bangle Bracelet. . .
January "Flash Sale" on our 8" sterling silver Bangle featuring a red "Two Hearts Are One" Cornerstone Bead. Just one available! Going, going, GONE!

The Two Hearts Are One Cornerstone Bead was designed
by Truda ''TJ'' Mendenhall. She describes this bead as . . .
"Always. . . my sweetheart." The hand applied decoration includes white scroll design with blossoms and hearts. This bead has a sterling silver core and measures approximately .76'' in length. The bangle includes two silver stopper accent beads.


Regular Price: $140, Flash Sale $80, Buy Now!
Check out these other Online Specials from Fenton Art Glass . . .
---
NEW Limited Editions from Fenton Gift Shop. . .
We are pleased to offer new Limited Edition selections for pre-orders. Each piece features a hand painted design and will be signed, numbered and dated by one of our talented designers. These Limited Edition pieces were handcrafted by Mosser Glass, using the Fenton moulds, exclusively for the Fenton Gift Shop.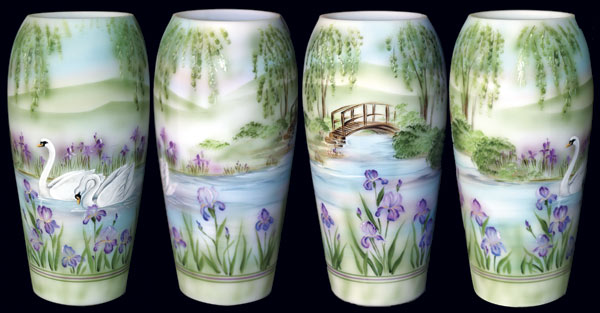 Our 11.75" Opal Satin Vase provides the perfect canvas for Michelle Kibbe's hand painted scene of graceful swans gliding on lovely blue waters. Michelle added beautiful and meticulously executed purple iris flowers and a wooden bridge. Michelle's design encircles the vase. This impressive Limited Edition vase will make an elegant statement in your home! Each Swans Vase is $240.


Did you know . . . You may recall the story about the "ugly duckling". Baby swans (called cygnets) have gray or brown feathers, but they mature to become the most beautiful of all water fowl. An adult swan has pure white feathers and a long, graceful neck. Swans mate for life and each mate is protective of the other. They touch beaks to kiss and their necks form a heart. It is said that the Greek philosopher Socrates thought swans sang beautiful songs right before they died. This is why a last performance is sometimes referred to as one's "swan song."
Introducing our new Calendar Bear Collection! Our adorable 3.5" Opal Satin Sitting Bear Figurine makes the perfect gift to celebrate a birthday, special occasion or treat yourself! Kim Barley finished each Opal Satin Bear in natural brown tones with lovely hand painted flowers designating each month. The January Bear is adorned with a pink carnation and the February Bear features violets. Kim also hand lettered the name of each month. Note the wonderful wide-eyed expression on the face! Watch this newsletter for new additions to our Calendar Bear Collection. . . Each month will feature a different hand painted flower.


CALENDAR BEAR SPECIAL PRICE. . . $55 each!

Please specify January or February and quantity for each figurine when you place your pre-order.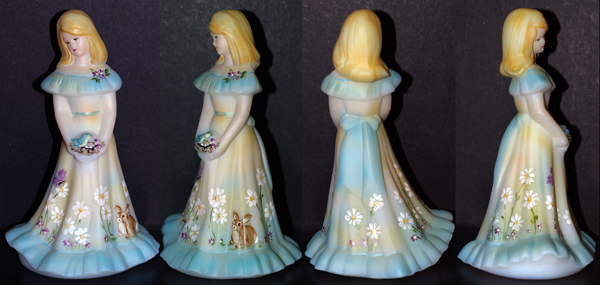 Michelle Kibbe's design on our popular 6.75" Bridesmaid Doll Figurine captures all of the beauty of Spring. The soft blue and yellow ruffled dress is adorned with white daisies and small purple flowers. Michelle created a bird's nest complete with eggs and a small blue bird sitting on it that appears to be held in the doll's hands. Note the cute bunny and purple butterfly on the skirt. Each Springtime Pals Bridesmaid Doll Figurine is $115.

Pre-orders for the Swans Vase, Calendar Bear Figurines and Springtime Pals Bridesmaid Doll Figurine will be accepted until midnight (ET) on Monday, January 29, 2018.

To place your pre-order, please call Fenton Gift Shop: 1-800-319-7793, ext. 342 or email: purchasing@fentongiftshop.com and include the names of the items you want to purchase in the subject line as well as your full name and daytime phone number. You may also request that we add your email address to our mailing list for future Limited Edition specials!

Robin Spindler showcases the Common Squirrel Monkey as her design subject for our 10.25" Opal Satin Vase. Her scene depicts a mother Common Squirrel Monkey with her young clinging to her back. They are framed by lush pink flowers and greenery. She added jungle print designs on the top and bottom of the vase. Each Limited Edition piece will have the date and Robin's signature as well as the name of the vase and Limited Edition number. Did you know. . . The male Common Squirrel Monkey is not involved in raising the young, so the mothers raise the little ones by themselves. This South American animal lives in many different places, from French Guiana and Venezuela to Brazil and Ecuador. Nimble tree dwellers, Common Squirrel Monkeys are awake and alert during the daytime. Each Squirrel Monkey Vase is $200.


Michelle Kibbe has transformed our Chessie Cat into a Siamese Kitten on this 8" Opal Satin Covered Box. The hand painted background scene features vibrant colors with delicate yellow and purple butterflies and beautiful pink, orange and rose tinted flowers. Michelle added a plaid border for the lid and top of the Covered Box. The hand painted details on this set are a tribute to Michelle's talent. Each Siamese & Butterflies Chessie Cat Covered Box is $150.
A must have for collectors of Fenton cat figurines, this 5" Stylized Cat, designed by Michelle Kibbe, features large golden eyes, a soft pink nose and black and white fur. Note the fine fur details. Each Golden Eyes Stylized Cat is $90.

Pre-orders for the Squirrel Monkey Vase, Siamese & Butterflies Chessie Cat Covered Box and the Golden Eyes Stylized Cat Figurine will be accepted until midnight (ET) on Wednesday, January 31, 2018. To pre-order, please call Fenton Gift Shop: 1-800-319-7793, ext. 342 or send us an email: purchasing@fentongiftshop.com and include the names of the items you want to purchase in the subject line. Please include your full name and daytime phone number.
---
Unique Gifts & More
at Fenton Gift Shop. . .
Limited quantities are still available
for our three latest Ringholder styles. A great gift idea for Valentine's Day or any occasion. . . or treat yourself!

Each Opal Satin Daisy & Button pattern Ringholder (3" diameter) was handcrafted exclusively for Fenton Gift Shop, using the Fenton mould, at Mosser Glass. The Fenton logo is on the underside. The outside is shiny Opal and the inside is satin finished. The photo shows the THREE new designs plus a side view so you may see the Daisy & Button pattern. Michelle Kibbe's hand painted design features delicate rosebuds in a lovely red or yellow color and Violets in the Snow.
Michelle also initialed each Ringholder.

Each Ringholder is $37 postage paid with shipping via USPS with check payable to Fenton Gift Shop, 2242 Williams Hwy., #108, Williamstown, WV 26187 or stop by the Fenton Gift Shop in Boaz and pay $30 (+ tax) for in-store pickup! Fenton Gift Shop Hours: Tuesday-Saturday from 10 a.m.
to 4 p.m. Phone: 304-375-7772 or 800-319-7793.
---
Glass Identification Requests. . .
PLEASE NOTE: We no longer have staff to research inquiries about glass: value, history, identification, etc. There are reference books on Fenton Art Glass, however, they do not include current price guides. We suggest you contact your local antiques dealer, the local library, or one of the collector clubs: http://www.fentonartglass.com/collectors. The Williamstown Antique Mall (local) may also provide assistance: 304-375-6315 or email: antiquemall@suddenlinkmail.com. A piece like yours may be listed on eBay, which can provide current pricing information. Otherwise, please send any email inquiries about glass "production" to: askfenton@fentonartglass.com
---
Fenton Art Glass eBay Auctions. . .
Here's an opportunity to own a beautiful "one-of-a-kind" art glass creation or unique art glass item through our weekly eBay auctions. These auctions will end at noon (ET) on Wednesday, January 31. Items featured this week. . .
Created in 2011 at Glass Axis Studio in Columbus, Ohio by internationally-recognized glass artist, Doug Frates, this impressive 11.5" tall art piece was one of several commissioned by Tom Fenton for his Artful Remembrance project. Doug calls this style of coloring "Sedona," and it is one of the silvered finishes for which he has become famous. Doug
Frates is a United States Marine who served in Iraq in 2003. This piece also has a black ring around the top and is
signed by Doug Frates. His signature is large, but it blends in, so you need to look closely near the bottom of the
piece. The finished bottom of the vase reveals the characteristic pontil mark typical of offhand glass artistry. The
bottom surface also displays an inscribed alphanumeric Artful Remembrance identification code.

This stately one-of-a-kind hand painted vase by award-winning designer Robin Spindler stands 10.75" tall. This is a
cased glass piece (with Wild Rose exterior and milk glass interior), and it has been satin finished. The rich rose color
is the perfect background for Robin's depiction of a white Dove amidst lush flowers and foliage. As always, Robin's
meticulous hand painting creates wonderful details and remarkably lifelike texture. This is our Feather vase, and the
mould was designed by Cathy See in the early 1990s. Typically, to create overlay glass, a core of Milk Glass is
gathered and shaped by a skilled glassworker called a Blocker. Then, a layer of colored glass is gathered over the Milk
Glass. Fenton's glass technologists assured that the two layers of glass matched perfectly, expanding and contracting
at the same rate. Note the graceful six-point crimp style.

Here's a unique opportunity to acquire a piece of Fenton history! This 8" x 10" black-and-white print was made from an
original negative in the Fenton Art Glass Company archives. We think that this photo dates from the late 1920s or
early 1930s. All of the men pictured are members of Local Union No. 22 of the American Flint Glass Workers Union.
There are 29 Fenton employees pictured in the photo, and we have identified 28 of them. Complete captions will be
supplied to the winning bidder for this photo. These auctions will end at noon (ET) on Wednesday, January 31.
---