Fenton Art Glass Presents. . .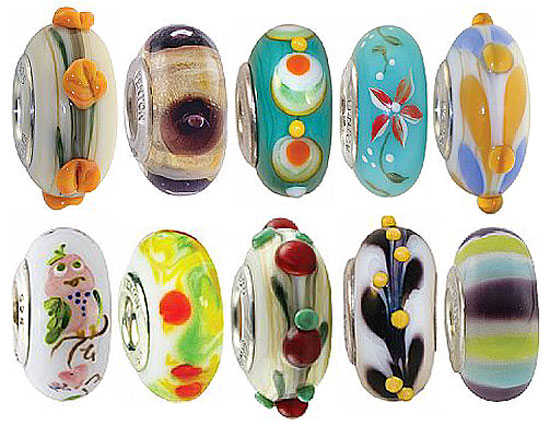 Retired Beads "Flash Sale" Online Special!

Going, going, gone. . .
Perhaps you missed ordering one of these beautiful handcrafted beads when originally offered or you want another one to complete your fashionable look.
The remaining inventory of Fenton's "Retired Beads" includes hand applied decorations, glass treatments and three-dimensional beads. These beads are available while supplies last for this week's January Flash Sale Online Special!
Choose from the selections shown at right (click on each image) or click here to view all available "Retired Beads". You'll receive a 70% Discount (+ $3 shipping/handling for each order) until 11:59 p.m. (ET) on January 24th, 2018!
Check out these other Online Specials from Fenton Art Glass . . .
---
NEW Limited Editions from Fenton Gift Shop. . .
We are pleased to offer new Limited Edition selections for pre-orders. Each piece features a hand painted design and will be signed, numbered and dated by one of our talented designers. These Limited Edition pieces were handcrafted by Mosser Glass, using the Fenton moulds, exclusively for the Fenton Gift Shop.
Our 10" Opal Satin Vase creates a lovely canvas for Michelle Kibbe's hand painted design of Ruby-throated Hummingbirds seeking nectar from lush red flower blossoms. The hand painted details on the leaves, flowers and the birds are meticulously executed! Michelle added green rings and dot accents to complete the look of this vase. Did you know . . .
A Ruby Throated Hummingbird can beat its wings more than 50 times per second. Each Ruby Throated Hummingbirds Vase is $170.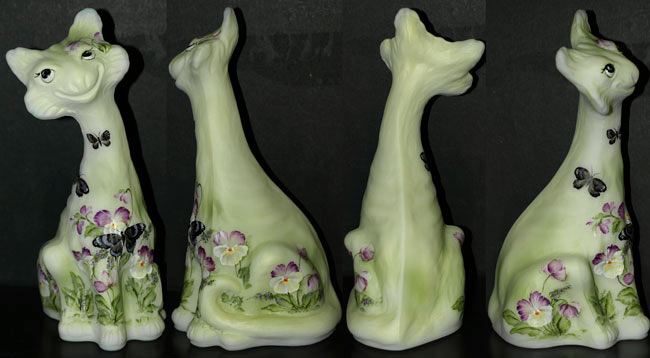 We are definitely ready for Spring in our part of the country and this 11" Opal Satin Alley Cat sets the mood with a hand painted design by Michelle Kibbe. Her design encircles the figurine and includes colorful pansies and sprigs of purple flowers with butterflies hovering nearby. Each butterfly is beautifully detailed. Note the floral design around the eye of this Alley Cat! Each Butterflies 'n Pansies Alley Cat is $230.

This adorable Sitting Bear Figurine is the perfect way to start a figurine collection! Michelle Kibbe airbrushed the entire figurine in brown tones and added a blue jacket covered in daisies. Note the flower blossoms on the head and that sweet expression on the face. Each Sunny Bear Figurine is $75.
Pre-orders for the Ruby Throated Hummingbird Vase, Butterflies 'n Pansies Alley Cat and Sunny the Sitting Bear Figurines will be accepted until midnight (ET) on Monday, January 22, 2018. To place your pre-order, please call the Fenton Gift Shop: 1-800-319-7793, ext. 342 or send us an email: purchasing@fentongiftshop.com and include the names of the items you want to purchase in the subject line, as well as your full name and daytime phone number so we may follow-up on your order. You may also request that we add your name to our mailing list to receive news about future Limited Edition offerings.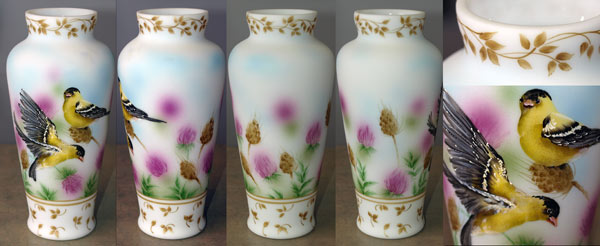 Our stately 11" Opal Satin Vase provides the perfect canvas for Robin Spindler's hand painted design of a pair of male American Goldfinches with a colorful thistle background. Robin added golden brown leaf accents on the top and bottom of this vase to frame the scene. Did you know. . . The American Goldfinch, a welcome sight at feeders, is the state bird of New Jersey, Iowa, and Washington. Goldfinch males are brilliant yellow and shiny black with a bit of white, while the females are more dull in color. The brightening yellow of male Goldfinches each Spring is a welcome sign of the approaching warmer months. Needless to say, we are ready to see more American Goldfinches in our area! Each Goldfinch Vase is $180.

This Opal Satin 3.5" Duckling Figurine is ready for a rainy day! Kim Barley created a hand painted design that includes natural tones for the duckling, a green rain cap and a green sweater and bow tie with white polka dot accents. A blue umbrella is at the ready for rainy weather! Note those big brown eyes! Each Rainy Day Duckling Figurine is $75.
The name "Goldwing" seems to suit this 5" long Opal Satin Mallard Figurine. Kim Barley hand painted the body in beautiful aqua-blue tones. She used a sponge technique with metallic gold paint to create an elegant mottled effect. Each Goldwing Mallard Figurine is $75.

Pre-orders for the Goldfinch Vase, Rainy Day Duckling and Goldwing Mallard Figurines will be accepted until midnight (ET) on Wednesday, January 24, 2018. To place your pre-order, please call Fenton Gift Shop: 1-800-319-7793, ext. 342 or email: purchasing@fentongiftshop.com and include the names of the items you want to purchase in the subject line as well as your full name and daytime phone number. You may also request that we add your email address to our mailing list for future Limited Edition specials!
---
Unique Gifts & More
at Fenton Gift Shop. . .
Limited quantities are still available for our three latest Ringholder styles. A great gift idea for Valentine's Day or any occasion. . . or treat yourself!

Each Opal Satin Daisy & Button pattern Ringholder (3" diameter) was handcrafted exclusively for Fenton Gift Shop, using the Fenton mould, at Mosser Glass. The Fenton logo is on the underside. The outside is shiny Opal and the inside is satin finished. The photo shows the THREE new designs plus a side view so you may see the Daisy & Button pattern. Michelle Kibbe's hand painted design features delicate rosebuds in a lovely red or yellow color and Violets in the Snow. Michelle also initialed each Ringholder.

Each Ringholder is $37 postage paid with shipping via USPS. Make check payable to Fenton Gift Shop, 2242 Williams Hwy., #108, Williamstown, WV 26187 or stop by the Fenton Gift Shop in Boaz and pay $30 (+ tax) for in-store pickup! Fenton Gift Shop Hours: Tuesday-Saturday from 10 a.m.
to 4 p.m. Phone: 304-375-7772 or 800-319-7793.
---
Glass Identification Requests. . .
PLEASE NOTE: We no longer have staff to research inquiries about glass: value, history, identification, etc. There are reference books on Fenton Art Glass, however, they do not include current price guides. We suggest you contact your local antiques dealer, the local library, or one of the collector clubs: http://www.fentonartglass.com/collectors. The Williamstown Antique Mall (local) may also provide assistance: 304-375-6315 or email: antiquemall@suddenlinkmail.com. A piece like yours may be listed on eBay, which can provide current pricing information. Otherwise, please send any email inquiries about glass "production" to: askfenton@fentonartglass.com
---
Fenton Art Glass eBay Auctions. . .

Here's an opportunity to own a beautiful "one-of-a-kind" art glass creation or unique art glass item through our weekly eBay auctions. These auctions will end at noon (ET) on Wednesday, January 24th. Items featured this week. . .

With cased Persimmon/Milk Glass for her canvas, Fenton artist Michelle Kibbe designed and hand painted this wonderful, one-of-a-kind 10.75" tall vase. Her design features animals found in the Savannah. . . an elephant, a giraffe, a zebra and a tiger. For more than half a century, overlay colors were produced by Fenton. Typically, a core of Milk Glass is gathered and shaped by a skilled glassworker called a Blocker. Then, a layer of colored glass is gathered over the Milk Glass. Fenton's glass technologists assured that the two layers of glass matched perfectly, expanding and contracting at the same rate. Michelle's hand painted details on each animal is meticulous and true-to-life. You almost want to reach out and touch them! Note especially the eyes on the giraffe and the expression on the tiger. This vase is sure to become a family heirloom.
Spring is in the air! Kim Barley's ready for warmer weather with her delightful hand painted design of a chickadee and colorful seasonal flowers. Note the vibrant pink and white daisies and purple flowers as well as that mischievous expression on the Alley Cat's face! Kim also added a pink heart-shaped nose and a large white daisy to the face. The details on the Chickadee are meticulously executed. The Alley Cat is among the most collectible items in Fenton's history. The mould for this piece originated at the United States Glass Co. in Ohio during the 1920s and was purchased by Fenton Art Glass about 40 years later. This 11" Alley Cat was handcrafted in Rose glass by Mosser exclusively for Fenton, using the Fenton Art Glass mould. These auctions will end at noon (ET) on Wednesday, January 24th.
---