Fenton Art Glass Presents . . . Delightful December Deals!
Complete your holiday shopping with discounts on beautiful handcrafted Fenton Art Glass jewelry, accessories and more! Items from the categories shown below must be ordered via our web site: www.fentonartglass.com to receive the online discount. Choose from the selections shown here (several with just one available!) or choose from the category links below. NOTE: A $3 shipping charge will be added to all orders $25 and under. Orders $25 and above will receive free shipping via USPS.


Grace Pendant Necklace
Originally $114, Now $79.80
Just one available!


Oceans by Moonlight Pendant Necklace Originally 89.50, Now $62.65
Just one available!


Blue Danube Bead on Bangle
Just two available! Please specify Bangle size 7.5", 8" or 8.5"
Originally $153, Now $107.10
Tranquil Pond on Ribbon Pendant
Originally $178.50, Now $124.95
Just two available!
Check out these other Online Specials. . .

2017-BGA Blue & Gold Cored Bead Assortment
Originally $193, Now $120, Buy Now!

Check out the new additions
to our First Quality Cored Handcrafted Fenton Beads!

Limited Quantity Available.

Beads Fenton Handcrafted
---
NEW Limited Editions from Fenton Gift Shop. . .
We are pleased to offer these new Limited Edition selections for pre-orders. Each piece features a hand painted design and will be signed, numbered and dated by one of our talented designers. Each Limited Edition piece was handcrafted in Opal Satin by Mosser Glass, using Fenton moulds, exclusively for the Fenton Gift Shop.

Robin Spindler continues her "Clouded Leopard" design on our 11" Opal Satin Alley Cat. As you can see from the photos, the results are spectacular on the larger scale canvas! The details on the face are wonderful. Each Clouded Leopard Alley Cat Figurine is $240.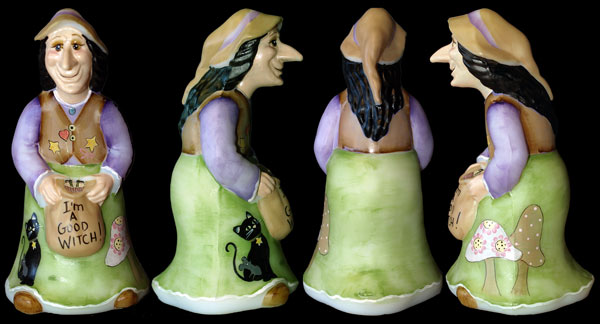 This smiling witch is letting you know that "I'm a Good Witch"! Kim Barley's whimsical design includes a smiling black cat sporting a golden star charm collar and his gray mouse friend. Polka Dots and whimsy flowers adorn the mushrooms sprouting on the side of the witch's gown.

Note the cupcake decorated with the upside down legs of a witch sticking out of the top and the heart- and star-shaped balloons. Each Good Witch Figurine is $110.


This 3.5" Opal Satin Sitting Bear Figurine is the perfect gift for figurine collectors! Michelle Kibbe has the figurine dressed in a light blue shirt and she added colorful blocks with hand lettering, a stack of books, and a red apple. Note the ladybug and polka dot accents on top of the bear's head. Each ABC Bear Figurine is $75.

Pre-orders for the Clouded Leopard Alley Cat, Good Witch and ABC Bear Figurines will be accepted until midnight (ET) on Monday, December 11, 2017. NOTE: Due to a backlog of orders, we can not guarantee delivery by Christmas on these "pre-orders". We suggest you print out the photo ("in place" of the actual piece for now) to wrap and give to the recipient and let them know the original will follow soon!
To place your pre-order for any of these Limited Editions, please call the Fenton Gift Shop: 1-800-319-7793, ext. 342 or email: purchasing@fentongiftshop.com and include the names of the items you want to purchase in the subject line, as well as your full name and daytime phone number so we may follow-up on your order. You may also request that we add your name to our mailing list to receive news about future Limited Edition offerings.
Robin Spindler celebrates the beauty of nature with her lovely hand painted winter landscape design on our Girl and Boy Angel pair.

The 6.25" Girl Angel features a doe standing watch over a newborn fawn. Robin added a gemstone as a shining star accent that really sets off her design. A bunny hops in the snow on the back of this figurine.

The 6" Boy Angel has a buck deer watching from the snow-covered pines while on the back a Chickadee perched on a branch observes the scene.

The photos above show more of the lovely hand painted designs on these Angels. The Nature's Angels Girl and Boy Angel Figurines are $175 for the pair or $95 each (please specify Girl or Boy Angel in your request).
You can display this lovely Snowflake Ornament all season long!

Kim Barley's delightful "LET IT SNOW" hand painted design features a smiling snowman and two pine trees (one topped with a golden star). The back of this 3.25" dia. Ornament has an embossed Snowflake design. Each scalloped edge Snowflake Ornament includes a silver string for easy display!

Each Let It Snow Ornament is $49.50.
Our 11" Opal Satin Vase provides the perfect canvas for Michelle Kibbe's hand painted "Sledding Fun" design.

Against a winter landscape with snow covered hills and lush pine trees, a young girl (attired in a black and white polka dotted jacket with gold trim) slides down the hill in an old fashioned sled in one scene and another child is being pulled back uphill in the other scene. Delicate pinstripes and swirl accents complete this piece.

Each Sledding Fun Vase is $180 and is limited to 14 Vases.
Pre-orders for the Nature's Angels Girl and Boy Angel Figurines, Let It Snow Ornament and the Sledding Fun Vase will be accepted until midnight (ET) on Wednesday, December 13, 2017. To place your pre-order, please call the Fenton Gift Shop: 1-800-319-7793, ext. 342 or email: purchasing@fentongiftshop.com and include the names of the items you want to purchase in the subject line as well as your full name and daytime phone number. NOTE: Due to a backlog of orders, we can not guarantee delivery by Christmas on "pre-orders". We suggest you print out the photo ("in place" of the actual piece for now) to wrap and give to the recipient.
---

Open Tuesday-Saturday
10 a.m.-4 p.m. (ET).

35% Discount on 1st Quality Fenton Beads + More
"In-Store Specials!

Finish Your Holiday Shopping at Fenton Gift Shop!

---
Daisy & Button Opal Ringholders. . .
Great gift idea or treat yourself with our handcrafted Opal Satin 3" diameter Ringholder in the Daisy & Button pattern. Handcrafted for Fenton Gift Shop, using the Fenton mould, at Mosser Glass. The Fenton logo is on the underside. The outside is a shiny Opal and the inside has been satin finished.

Michelle Kibbe's design features hand painted delicate rosebuds in a lovely blush pink or hyacinth (purple) color. Michelle's initials are also on each Ringholder.

Each Ringholder is $37 postage paid with shipping via USPS. Make check payable to Fenton Gift Shop, 2242 Williams Hwy., #108, Williamstown, WV 26187 or stop by the Fenton Gift Shop in Boaz and pay $30 for in-store pickup!
LAST CALL! Fenton Art Glass Mould Information. . . New Pricing Discounts!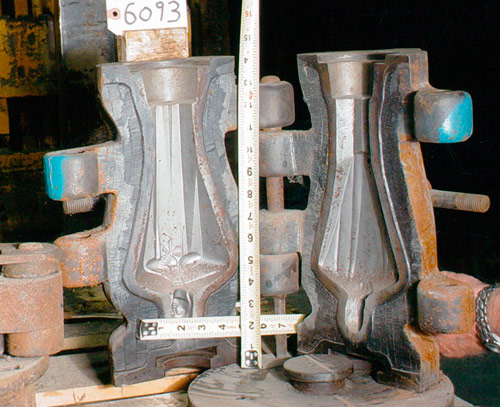 LAST CALL FOR MOULDS! New pricing discounts have been introduced for moulds. As we approach demolition of the building we have added discounts starting at 50% off the listed price for 1-9 purchases and increasing up to 90% for over 100 moulds purchased.
Target date for moulds to be picked up is Dec. 17, 2017.
The link below will take you to an Excel spreadsheet that lists all of the moulds in numerical order from the Fenton record system. The spreadsheet lists the moulds in numerical order (column A) as recorded in the Fenton system. Information in other columns will help you. Columns D and K provide brief descriptions of each mould. When known, the previous owner of a mould is listed in column Q. Fenton historian James Measell traced the histories of many moulds, and his comments are in columns S and T. The current status of any moulds sold (or promised) to a particular purchaser is noted in column U. The prices for moulds are in column M. This Excel file is "searchable" so you can use your search terms to try to find particular moulds. See spreadsheet at https://spaces.hightail.com/space/OUw8ImK2Kc

The links below will take you to files with the Fenton mould pictures including crimps and optic moulds.
These color photos of the moulds are in the same numerical order as column A in the Excel spreadsheet. View these photos on your computer and keep the Excel spreadsheet at hand simultaneously. Please note: the Excel spreadsheet will be updated from time to time as moulds are sold or promised to purchasers.
---
Fenton Art Glass eBay Auctions. . .


Here's an opportunity to own a beautiful "one-of-a-kind" art glass creation or unique art glass item through our weekly eBay auctions. This auction ends at noon (ET) on Wednesday, December 13th. Items featured this week. . .
Created in 2011 at Glass Axis Studio in Columbus, Ohio by internationally-recognized glass artist, Doug Frates, this 8" tall vase was one of several pieces commissioned by Tom Fenton for his Artful Remembrance project. Frates calls this style of coloring "Sedona," and it is one of the silvered finishes for which he has become famous. Doug Frates is a United States Marine who served in Iraq in 2003. This piece has a black ring around the top. The vase is signed by Doug Frates. His signature is large, but it blends in, so you need to look closely near the bottom of the piece. The finished bottom of the vase reveals the characteristic pontil mark typical of offhand glass artistry. The bottom surface also displays an inscribed alphanumeric Artful Remembrance identification code. The finish on this vase is iridescent and really sparkles in the light so it is a challenge to capture its true beauty.

Perfect for the holidays and sure to be a favorite piece to display each season! With classic Fenton Burmese glass for her canvas, Fenton artist Michelle Kibbe designed and hand painted this splendid one-of-a-kind vase (6" tall) with adorable kittens playing under the Christmas tree! The graceful shape of the vase provided ample room for two tabby kitties! Each kitten is colorful and perfectly detailed, as Michelle's extraordinary hand painting talents and skills are shown to perfection. One kitten plays with a garland of cranberries and popcorn, while the other kitten reaches for a bright red ornament. Note the delicate golden scrollwork and greenery that encircles the vase at top. Burmese glass contains pure gold, and careful reheating techniques by Fenton glassworkers create the distinctive pink blush that collectors love. This one-of-a-kind vase is identified, dated and signed on the underside: "hand painted by M. Kibbe OOAK 2017".

Here's a wonderful one-of-a-kind hand painted "iceberg" paperweight from the talented Fenton artist Michelle Kibbe. Three colorful favorite American birds (Chickadee, Bluebird and Goldfinch) are perched side by side on a leafy branch. We wonder what they might be chatting about! Made of pure crystal, this paperweight is 5" wide and 4.38" tall. This paperweight is identified, dated and signed: "M. Kibbe 2017" on the front and "OOAK" on the bottom.
---